Former White House press secretary Sean Spicer appeared at the 2017 Emmys on Sunday in a gag bit with host Stephen Colbert. He jokingly echoed the falsehood he told about the number of people who watched President Donald Trump's inauguration in January.
But many people on Twitter criticized the awards show — and the Hollywood heavyweights who chuckled with and applauded Spicer.
In the press room, Alec Baldwin, who won an Emmy for impersonating Trump on SNL, told reporters, "I think that people in the business, the average person, is very grateful for him to have a sense of humor and participate."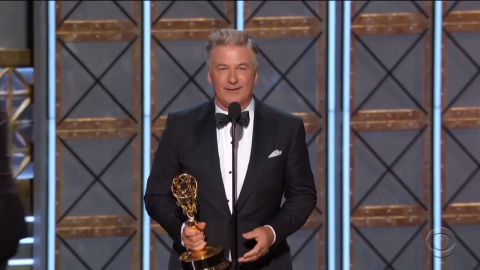 The Television Academy did not immediately respond to BuzzFeed News' request for a comment.
UPDATE
In an interview with the New York Times, Spicer said the gag was "an attempt to poke a little fun at myself and add a little bit of levity to the event." He also said it was Colbert who suggested the idea.