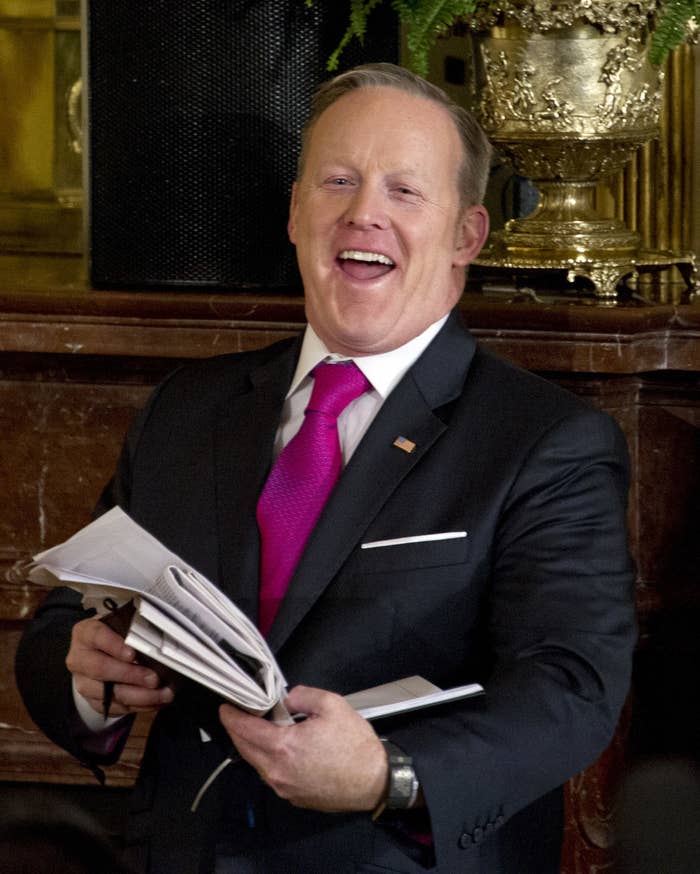 It was only five months ago, but it seems like another era. On February 16, during what's since proven to be the only major press conference of his presidency, Donald Trump got into it with CNN's Jim Acosta during a discussion over what constitutes an illegal leak vs. fake news.

"I'm changing it from fake news, though," a self-satisfied Trump said of his label for Acosta's employer, punchline chambered. "Very fake news."
Many in the assembled room laughed, but none harder and with more unrestrained joy than press secretary Sean Spicer. The line was classic Trump, and it served as a message from the CEO to his employee: This is entertainment, and these reporters are your props.
Spicer took note, and worked to channel Trump during his reign as press secretary, which ended unceremoniously Friday after months of rumored discontent from the Oval Office. Spicer, whether because he felt like it was what Trump wanted or because he genuinely enjoyed the role, strived to be tough and brash and fight with the media like the boss does. But in doing so, he ignored a lesson learned the hard way by many throughout Trump's decades in the spotlight: there is only one Donald J. Trump.
"He couldn't be a mini-Trump," said one White House ally, close to chief strategist Steve Bannon. "Because he didn't have the personality to pull it off."
Roger Stone, a longtime Trump adviser, said that over the years he has noted that people who work closely with Trump begin acting like him, from his brother Robert to the lobbyist Richard Fields.
"It is one thing to be an alpha male," Stone said of Spicer. "It's another to be a poor Trump imitator."
Spicer is no wilting lily. But while he had heated clashes with reporters during his long career in Washington, he was seen as a fairly typical — and even cooperative — Republican flack. Before joining the White House, he spent years leading the hard-hitting communications strategy for the Republican Party; with the last two bashing Hillary Clinton from his perch at the RNC.
But his role with Trump was different. Serving as press secretary for a president who trampled on rules of decorum and tradition, Spicer was forced on his first day to trash the media, haranguing reporters for not — incorrectly — saying that Trump's inauguration crowd size was the largest in American history.
At first, Trump was pleased with his media battering ram. Spicer's briefings were a huge audience draw on cable news early in his tenure, netting an average of 4.3 million viewers per briefing in his first three weeks. The press secretary quickly became a target of Trump opponents who wanted him to lose his job for misrepresenting the truth and railing against "fake news" — really just news that made Trump look bad — but early on, Trump loved the attention Spicer was getting.
And Spicer became a folk hero in rallies across the country, as Trump's base embraced the man who took fire daily from the reviled mainstream media. Before a Trump rally in Nashville in March, Spicer found himself swarmed by fans with one demand: a selfie with the press secretary. Spicer obliged the requests, with a huge smile breaking across his face.
But Spicer quickly began to make his job more difficult for himself, even as reports swirled that Trump was looking to replace him as Trump discarded a unified communications strategy through his frequent freelancing.
In early April, while speaking about Syrian leader Bashar-al-Assad in April, Spicer curiously observed that Adolf Hitler "didn't even sink to using chemical weapons," before completely walking his comments back in a rare apology from the Trump administration.
Privately, Spicer seemed worn out by the white-hot attention given to his role. In a conversation with BuzzFeed News an hour after he made the Hitler comments, Spicer said outside criticism came with the job, before plopping onto a chair, kicking his legs out and letting his arms dangle by his side. He momentarily tried to relitigate the episode with a "what I meant to say" aside, before stopping himself and adding, "but I shouldn't have said it."
Those in Trump's orbit say Spicer was trying to be someone he wasn't. And Trump has a history of growing frustrated with aides with high profiles — the president reportedly fumed for months over a February Time Magazine cover that called Bannon "The Great Manipulator."
A source who advises the White House on communications strategy said they hated to say it, but Spicer began losing the confidence of the president when he was pilloried on "Saturday Night Live" by a Melissa McCarthy impression that debuted in February that cast Spicer as in over his head, trying and failing to act tough and intimidate reporters.
"He was being played by a woman in a funny way that rang true, and Trump didn't like that," the source said. "What it unveiled was that he was acting so hard, a square trying to fit into a circle, and it wasn't working. It took the comedy to unveil that he was never right for the role."
Anthony Scaramucci — who Trump named as his new communications director on Friday, spurring Spicer's exit — looks to be the opposite, the source said.
Scaramucci strode to the White House Press Briefing Room podium Friday and immediately asserted his place in the administration, announcing the promotion of Sarah Huckabee Sanders as the new press secretary and laying out the way things were going to work in the White House communications shop going forward.
The former hedge fund manager held court for nearly 30 minutes among reporters working to make sense of the week's torrent of news, saying he had "empathy" for journalists. He apologized to the president for "the 50th time" for disparaging comments he made when Trump's candidacy was a long shot bid, and he sketched a triumphant scene with Trump as a star athlete "winner" zipping perfect spirals through tires, swooshing free throw shots, and sinking golf putts.
Scaramucci said he reports directly to Trump, as the White House confirmed Friday night. But he also worked to make public peace with Spicer-ally and White House chief of staff Reince Priebus, too. And how were he and Huckabee Sanders going to approach their roles getting out the president's message?
"The Navy Seals say that when you want to eat an elephant you have to eat it one bite at a time," he helpfully explained. Then Scaramucci, who seemed content parrying reporters' questions for even longer, finally relinquished the podium, but not before blowing a kiss to reporters, his Trump-pleasing, on-camera curtain-raiser complete.
It was a move Spicer could have never pulled off.