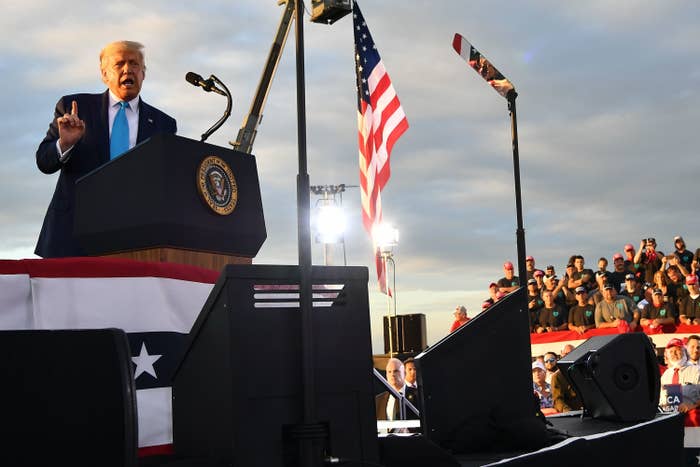 LATROBE, Pennsylvania — President Donald Trump made fun of two political opponents for wearing face masks in the course of a long and scattered campaign rally in Pennsylvania Thursday night, where many in the packed crowd did not wear masks.
"I've never seen a man who liked a mask more," Trump said of Democratic presidential nominee Joe Biden, to some laughs. And he mocked Sen. Mitt Romney for having "a lot of mask on" when he joined Black Lives Matter protesters in a June march.
Trump has fluctuated between suggesting Americans wear masks to slow the spread of the coronavirus and falsely suggesting masks are somehow unsafe. When the CDC formally recommended mask use in early April, as the pandemic was first peaking, Trump emphasized that wearing a mask was only voluntary and that he himself would not wear one. He wore a mask in public for the first time in early July, in a visit to Walter Reed, and soon after called wearing one "patriotic."
Many of the attendees at the rally, which was held in a hangar at the Arnold Palmer Regional Airport, didn't wear masks and many who did wear them wore them improperly on their chins or without covering their noses. Some confidently said face coverings don't protect from the coronavirus.
"I don't believe in the mask. That's all," Tony Germaine, a Trump supporter at the rally, told BuzzFeed News. "I don't care. I just don't believe in it. Because I don't understand what good it's really going to do, unless you're in a high-risk area like a nursing home or a hospital. I think the left is playing the mask thing to the hilt all the way to the election. In my opinion, they're trying to steal the election."
Recent scientific research, including some recently pushed by the CDC, suggests mask use can be very effective in limiting the spread of the coronavirus, especially when paired with other measures like social distancing.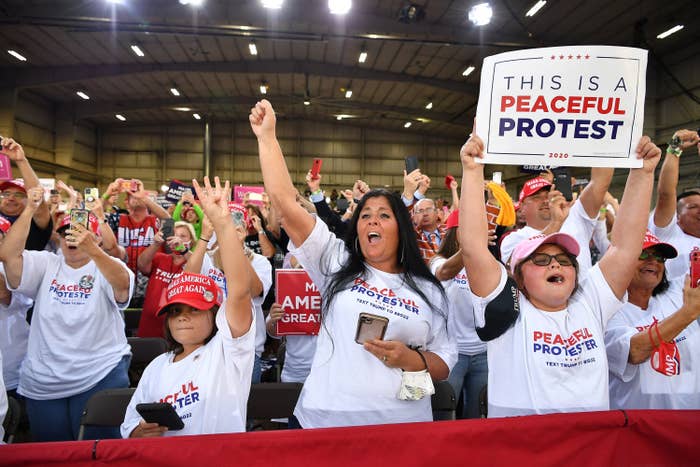 Most of Trump's mocking on Thursday night was for Biden, who Trump has tried to label as mentally or physically unfit for the presidency.
"Look, I'm all for it," Trump said of wearing a mask. "But did you ever see a man that likes a mask as much as him," he later asked.
"And then he makes a speech, and he always has it — not always, but a lot of times, he has it hanging down," Trump said of how Biden sometimes wears a mask over his ear once he's removed it for a speech. "Because, you know what, it gives him a feeling of security. If I were a psychiatrist — right? I'd say, this guy's got some big issues. Hanging down."
One rally attendee who BuzzFeed News spoke to after his speech agreed with the president's comments and suggested Biden should wear masks for health reasons without, of course, proof to support such claims.
John, a 77-year-old attendee who told BuzzFeed News he wears a mask because "they're after old guys like me" but believes it's "at the discretion of the individual," didn't have a problem with the president's framing around Biden mask-wearing practices.
"I think the president is entitled to talk about him any way he wants to," he said.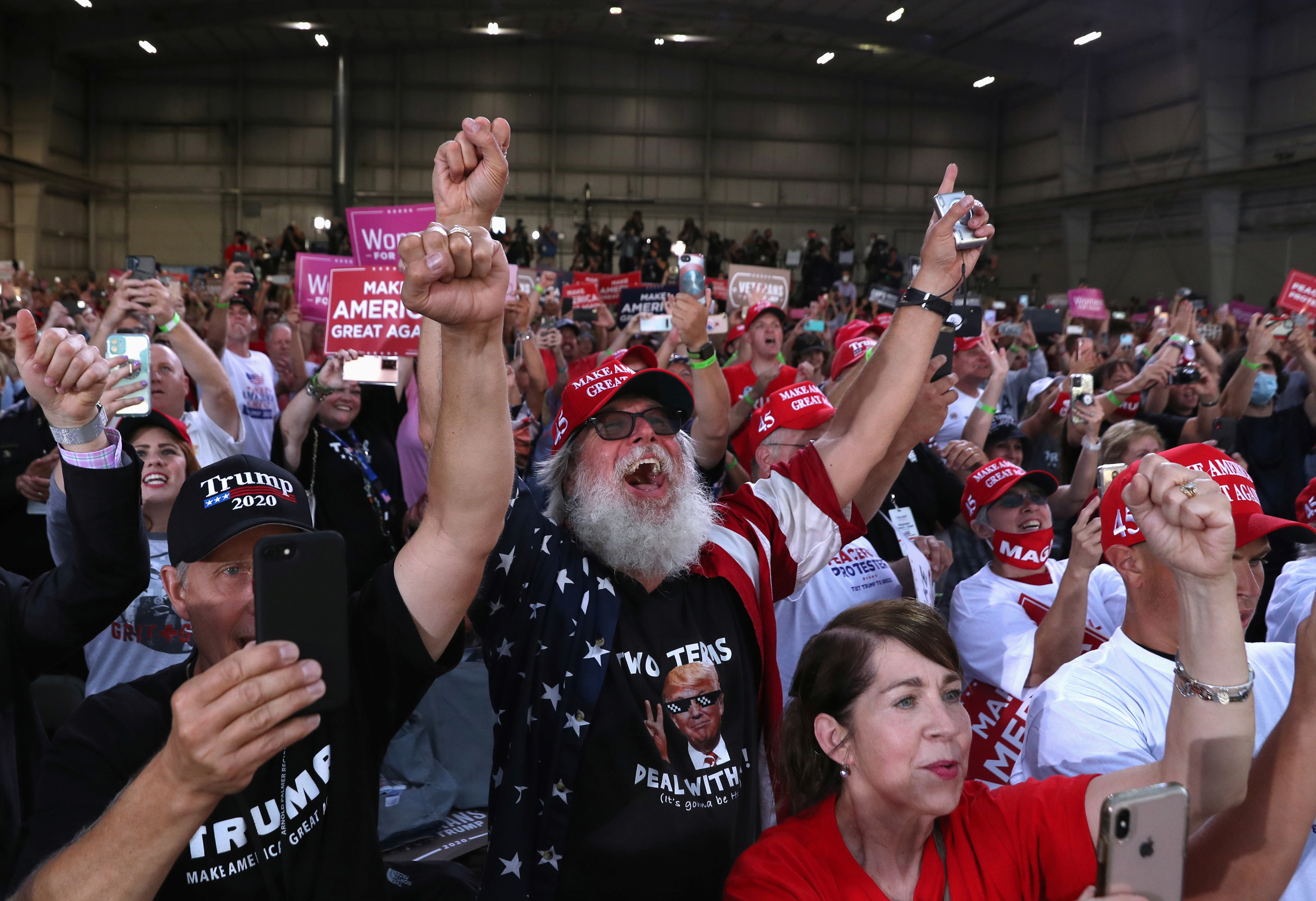 Trump has not held many political rallies in the last several months because of the pandemic, after a disastrous rally in Tulsa, Oklahoma in late June that local officials later blamed for a rise in coronavirus cases. Many at the indoors rally did not wear masks, including former presidential candidate Herman Cain, who died of COVID-19 just over a month later.
But the president has played down the coronavirus pandemic ahead of the election, despite hundreds of Americans still dying of COVID-19 a day, as the country nears 190,000 reported deaths. At the Republican National Convention last week, some speakers referred to the pandemic in the past tense, and few paid significant attention to those who have become seriously ill or died. Trump gave his acceptance speech at last week's convention from a packed White House lawn wear there was little social distancing or mask use.
Patty Rodriguez of Westmoreland County told BuzzFeed News "some people carry it way too far" when asked after the speech what she thought about the president's comments about masks. "Just do it and get over it. I'm wearing a mask because my husband is in a nursing facility. And if this helps in some small way to end this garbage, then I will wear it and do my small part."