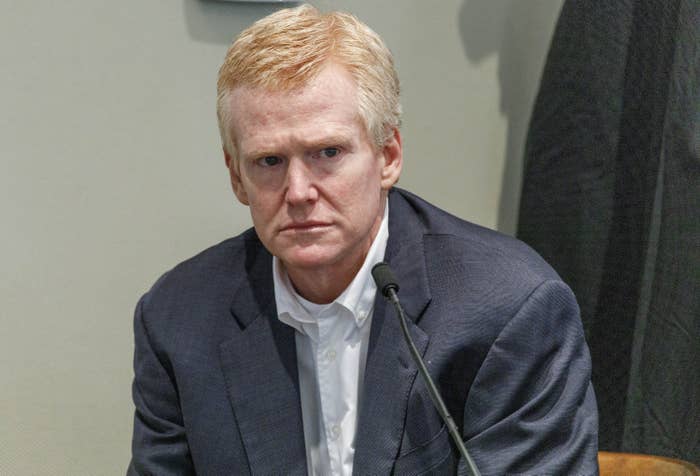 "I am going to testify. I want to testify."
Those words by Alex Murdaugh on Thursday were among the first he has uttered in his weekslong murder trial in South Carolina, and they were also some of the most pivotal.
Alex's surprise decision to take the stand, which he was not legally required to do, could aid in explaining some of the ongoing mysteries in the case — and help to portray him as a devastated family man who has been wrongly accused of murdering his wife, Maggie, and son Paul on June 7, 2021.
But it will also open him up to extensive cross-examination from prosecutors about his decades of deceit and thefts — lies that, prosecutors say, continue today.
Hoping to preempt some of this scrutiny, Alex quickly admitted under questioning from defense attorney Jim Griffin that he had lied repeatedly to investigators and to his loved ones about his whereabouts in the short period before the killings — although he continued to deny he was the killer.
"Oh, what a tangled web we weave," Alex said, quoting the 1808 epic poem Marmion by Sir Walter Scott. "Once I told the lie, and I told my family, I had to keep lying."
Alex had repeatedly told investigators in the hours, days, and weeks after the killings that he had not seen Maggie and Paul after dining with them at their rural hunting lodge property and proceeding to take a nap. He insisted that they were not in the house when he awoke and left to visit with his mother. When he returned from that brief visit, he said he drove down to the property's dog kennels, where he discovered the pair had been fatally shot.
But after working for months to break into Paul's locked iPhone after the killings, investigators made a key discovery: The 22-year-old had filmed a 50-second video of a dog at the kennels. In the background, two other voices could be heard, which witness after witness in the trial have said belonged to Maggie and Alex.
Conceding to the jury that he'd been caught in a lie, Alex apologized and admitted to being at the kennels that night, blaming drug-induced paranoia for what he said was a hasty decision. (Alex has told investigators he was addicted to prescription painkillers for 20 years — a habit that he said sometimes cost as much as $50,000 per week.)
"Normally when these paranoid thoughts would hit me, I could take a deep breath real quick, think about it, reason my way through it, just get past it," Alex said. "On June 7, I wasn't thinking clearly. I don't think I was capable of reason and I lied about being down there and I'm so sorry that I did."
Alex testified that Maggie had asked him to accompany her to the kennels after dinner, but he initially declined to do so because of the heat and that he had just taken a shower. However, he soon felt guilty and went down to join her.
She and Paul were already there when Alex arrived via golf cart, he testified, and he then helped remove a guinea fowl from the mouth of one of the dogs — the sound of which was captured in Paul's cellphone footage.
He said he then returned to the house on the golf cart, napped on the couch, then left shortly after 9 p.m. to visit his mother, who has Alzheimer's disease. Alex wanted to visit her so late, he said, because he believed she would be agitated that his father had been taken to a hospital.
Prosecutors have suggested Alex visited his mother to create an alibi and to potentially stash the two murder weapons, neither of which has been recovered. But Alex explicitly denied he used the visit to hide evidence.
"Were you disposing of murder weapons, Alex?" Griffin asked.
"No," he replied.
"Were you disposing of bloody clothes?" Griffin asked.
"No," he said.
Whether to believe Alex's testimony will ultimately be a decision for the 12 members of the jury. They've already heard extensive evidence about his years of deception and thefts from his law firm and clients in order to support his drug habit.
"He effortlessly and easily lied to you for years, and you didn't know it?" prosecutor Creighton Waters asked Alex's former law firm partner Mark Ball on Wednesday.
"Didn't know it, and didn't catch it," Ball said. "The way he was doing it was very, very cunning."
Indeed, some of Alex's testimony contradicted things other witnesses said in the trial so far, meaning the jury will need to decide whom to ultimately believe.
Alex denied, for example, that he had ever taken a blue tarp (which may or may not have been, or contained, a blue raincoat that was found to have gunshot residue on it) to his mother's house in the weeks after the killings, despite his mother's caretaker Mushell Smith saying she saw him do so. Smith also said Alex had tried to convince her he'd been at his mother's house for as long as 40 minutes on the night of the killings, when she said it was closer to 20. But Alex said Thursday that he had only ever told Smith that he wanted her to speak with investigators and tell the truth.
Alex also said that Maggie had never intended to accompany him to visit his mother that night. Maggie's sister, Marian Proctor, testified that she told her Alex had wanted his wife to join him that night in visiting his parents. This was the whole reason Maggie returned to the property from the family's beach house, according to Proctor. But Alex said she had not been planning to join him at all because she didn't like seeing his mother in such poor health.
The defense team also used Alex's testimony to try to undermine the prosecution's key theory about his alleged motive: that a series of legal and financial troubles were about to explode, leading him to kill his family to deflect attention and engender sympathy.
While Alex admitted in court that he had stolen from clients, he denied that he was very concerned on the morning of June 7 when his law firm's chief financial officer confronted him for the first time with suspicions that he'd stolen almost $800,000. He also denied that he was worried about a June 10 hearing in a civil lawsuit against him over a fatal boat crash involving his son. Prosecutors have said this hearing could have required him to hand over financial documents for review, potentially exposing his precarious situation, but Alex said he expected this to only be a routine hearing.
"On June 7, did you believe that your financial house of cards was about to crumble?" Griffin asked him.
"On June 7? Absolutely not," Alex responded.
Alex told the jury he had suffered from an "extremely bad" addiction to opiate painkillers that first started in the early 2000s after surgery to treat a knee he had initially injured playing college football. Beginning in December 2017, Alex said he went to detox facilities three times to try to wean himself off the drugs that had taken over his life.
"It just escalates and escalates," he said of his addiction.
Ultimately, he was not successful until he went to a rehabilitation facility in September 2021 following a botched suicide attempt in which he hired his alleged drug dealer to kill him. That came a day after Alex was fired from his firm when partners discovered his thefts. Alex said he's since been drug-free for 535 days.
Prosecutors have tied Alex's suicide attempt to the killings of his wife and son, alleging that when he is set to be exposed or face financial reckoning he comes up with violent schemes that appear as if his family is being targeted by vigilantes. But Alex told the jury he meant to die in the September incident to spare humiliation and to ensure his surviving son received $12 million in life insurance.
"I knew all of this was coming to a head," Alex said. "I knew how humiliating it was going to be for my son. I'd been through so much. At the time, in the bad place that I was, it seemed like the better thing to do."
Alex insisted to the jury that he was exceptionally close with his wife and two sons — the surviving one of whom, Buster, was present in court on Thursday to hear his father after testifying two days prior.
From the beginning of his testimony, Alex strenuously denied that he would ever harm his family and he openly wept on the stand as he described finding the pair's bodies.
"Mr. Griffin, I didn't shoot my wife or my son any time, ever," Alex said.