On Friday, special counsel Robert Mueller filed a brief sentencing memorandum in response to Michael Cohen's guilty plea for lying to Congress.
In those seven pages, however, the tight-lipped prosecutor revealed significant information about his investigation into Trump campaign ties to Russia's efforts to interfere with the 2016 presidential election that Trump won.
Unlike his office's other filings this week, none of the information in Cohen's case was redacted.
Here's what we learned:
1. Mueller sees a connection between the Trump Tower Moscow project and the core of his investigation into election interference.
As BuzzFeed News reported earlier this year, efforts by those close to Trump to finally get a Trump Tower built in Russia continued well into the campaign. Cohen's efforts, which included discussions with Trump about the efforts, were hidden from public view during the campaign and downplayed by Cohen once Trump took office.
In the wake of BuzzFeed News' reporting, Cohen also pleaded guilty to lying about the project to Congress. He told Congress that the project "was terminated in January of 2016," when efforts had continued into June of that year. As noted in Friday's filing, Cohen also initially lied to the special counsel's office about the project.
For the first time in his investigation, Mueller in Friday's filing directly stated that Trump was aware of activity during the campaign that Mueller believes is "material" to his investigation. The activity surrounding the Trump Tower Moscow project is "particularly" relevant, Mueller said, because it happened in the time when "sustained efforts by the Russian government to interfere" in the election were taking place.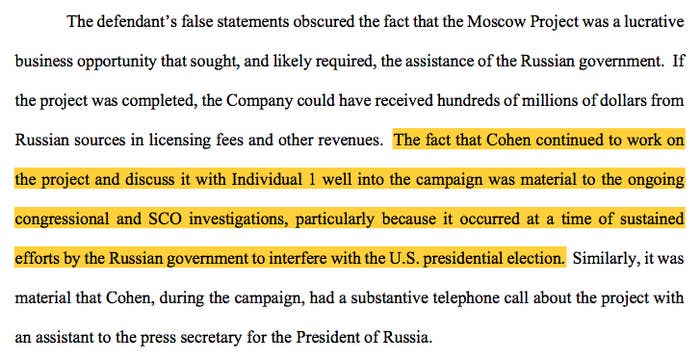 2. As such, Mueller appears to see Cohen's false statements to Congress about the project as part of his obstruction of justice investigation and hints at the possibility that Cohen had help in preparing his statements.
Mueller makes clear that he believed Cohen's lies to Congress were a key piece of the effort to derail investigations into Russia, writing that they aimed to "set the tone and shape the course" of congressional hearings in a way that Cohen hoped would "[limit] the investigations into possible Russian interference in the 2016 U.S. presidential election."

Later, in detailing the "four significant respects" in which Cohen's assistance to the special counsel's office "has been useful," Mueller acknowledges that Cohen has told his office "the circumstances" behind preparations for his congressional testimony.
Those circumstances would almost certainly not be notable if Cohen told Mueller's office that he prepared the testimony by himself without anyone else's input or assistance.
3. Mueller has evidence that those with Trump connections and those claiming connections to Russian President Vladimir Putin were both interested in arranging a Trump–Putin meeting before a single vote was cast in the 2016 election.
Although no pre-election meeting between Trump and Putin took place, efforts to arrange such a meeting have been a regular part of discussions over the past two years regarding the many contacts between the Trump campaign and those with Russian connections.
In Friday's filing, Mueller made clear that he knows people on both sides — Team Trump and Russia — were interested in setting up such a meeting as early as 2015.
On Thursday, Sept. 17, 2015 — just over three months after Trump launched his campaign for president — Cohen told Sean Hannity on his radio show that there was "a better than likely chance Trump may even meet with Putin when he comes here for the United Nations."
Although Cohen, according to the special counsel's office, previously had said that the statement was "spontaneous" and had not involved discussions with people involved in the campaign or at the Trump Organization, Mueller wrote on Friday that Cohen now says that is not true and that "he had in fact conferred" with Trump "about contacting the Russian government" before "reaching out to gauge Russia's interest in such a meeting."

Attempts from the Russian nationals to arrange for a Trump–Putin meeting began in 2015 as well and are the subject of Mueller's interest, Friday's filing revealed.
Specifically, Mueller stated that Cohen spoke with a Russian national in November 2015 who promised "political synergy" and said he was a "trusted person" within the Russian Federation. Cohen told Mueller's office that the person repeatedly proposed a Trump–Putin meeting.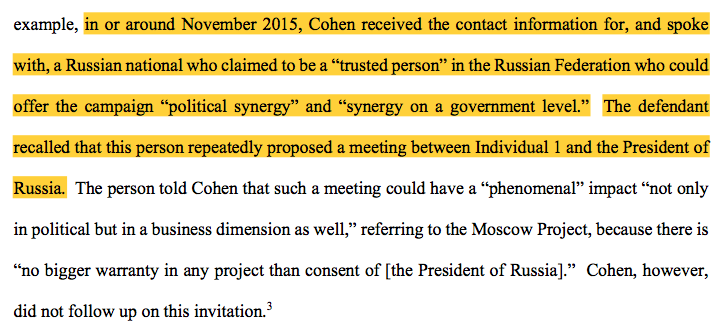 The Russian national detailed in the filing is former Olympic weightlifter Dmitry Klokov, BuzzFeed News has confirmed. BuzzFeed News previously reported on his communications with Cohen relating to the Trump Tower Moscow project.

BuzzFeed News also previously reported that Ivanka Trump connected Cohen with Klokov — although her name is not mentioned in Friday's filing. In fact, the connection is presented in the passive voice: "Cohen received the information for" the Russian national.
4. Cohen has given Mueller information about key "Russia-related matters" that Cohen knew about because of his close contact with Trump Organization executives.
In detailing the assistance that Cohen has given his office, Mueller noted that Cohen provided information about Russia-related matters and the campaign beyond the Trump Tower Moscow project and the floated meeting during the United Nations General Assembly.

He does not detail what matters they are, besides stating that they are "core" to the investigation.
Prior reporting from CNN, however, has suggested that Cohen could have relevant information about the June 9, 2016, meeting in Trump Tower in which Donald Trump Jr. was expecting "information that would incriminate" Hillary Clinton from a Russian lawyer, Natalia Veselnitskaya. Paul Manafort and Jared Kushner also attended the meeting from the campaign, and a constant question has been whether Trump himself knew about the meeting. CNN reported this summer that Cohen claimed to know that Trump did know about the meeting in advance, although questions have been raised about the sourcing for CNN's story.
5. Finally, Mueller has determined that information Cohen provided about his contact with people connected to the Trump White House is "relevant and useful" to Mueller's investigation.
Apart from crediting Cohen's information about the preparations for his congressional testimony, which took place once Trump took office, Mueller lists information Cohen has given about his contacts with people "connected to the White House" as a separate way in which his assistance has been "relevant and useful."

Mueller provided no information about this area.
BuzzFeed News previously reported, however, on Mueller's moves to look into Cohen's efforts once Trump took office to start a consulting business trading on his knowledge of and relationship with Trump.

Notably, Mueller also referenced communications between Paul Manafort and Trump administration officials in his filing on Friday in Manafort's case — although there the filing was to detail Manafort's lies about those contacts.