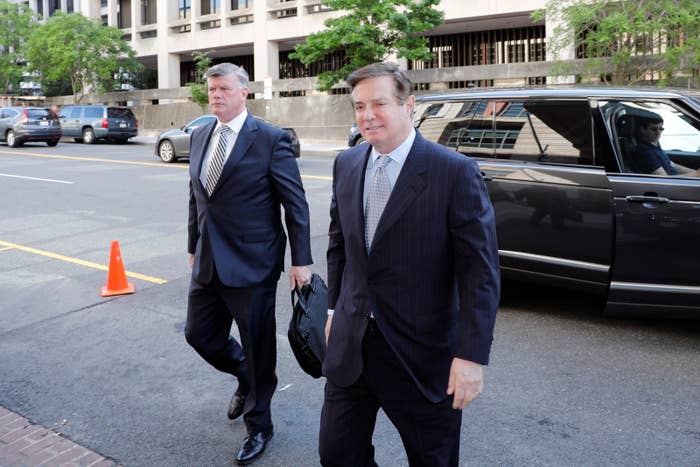 WASHINGTON — The special counsel's office said in a new filing Friday night that former Trump campaign chair Paul Manafort told a series of lies about a variety of topics after signing his plea deal in September, including lying about his contacts with Trump administration officials.
In a heavily redacted filing, prosecutors in special counsel Robert Mueller's office also contend Manafort lied about interactions with his former longtime associate Konstantin Kilimnik, about information he provided related to another Justice Department investigation, and about money paid to a firm Manafort worked with.
Details about what exactly Manafort said that was false, and how it related to the special counsel's investigation and at least one other Justice Department investigation, are being kept secret for now. The special counsel's office filed an unredacted version under seal for the judge to review, and asked to keep under seal information related to "pending investigations or uncharged persons."
Prosecutors say that by lying, Manafort violated his plea deal, which means the government shouldn't have to hold up its end of the bargain, including agreeing to a request by Manafort for a lesser sentence.
"Manafort told multiple discernible lies — these were not instances of mere memory lapses," prosecutors wrote.
In a statement late Friday, White House press secretary Sarah Huckabee Sanders said that the filing "says absolutely nothing about the President. It says even less about collusion and is devoted almost entirely to lobbying-related issues. Once again the media is trying to create a story where there isn't one." The public version of the filing does not directly reference Trump individually.
Manafort's lawyers are due to respond to the special counsel's office's filing by Dec. 12. They may not directly address the allegations, but could instead suggest a longer-term briefing schedule, seek to gather evidence, and ask the court to hold a hearing. Mueller's office said in Friday's filing that it was prepared to prove that Manafort lied at a hearing. US District Judge Amy Berman Jackson ultimately will have to decide if Manafort did in fact breach the agreement.
In Friday's filing, prosecutors said that after signing the plea deal in September, Manafort said he had no "direct or indirect communications with anyone in the Administration while they were in the Administration." That was a lie, the government says.
"The evidence demonstrates that Manafort had contacts with Administration officials. For instance, in a text exchange from May 26, 2018, Manafort authorized a person to speak with an Administration official on Manafort's behalf," prosecutors wrote. They did not provide any other information about this communication. They also said that a "Manafort colleague" said that Manafort said in February 2018 that he "had been in communication with a senior Administration official up through February 2018," and that "Manafort's electronic documents demonstrates additional contacts with Administration officials."
In a section called "Another DOJ Investigation," prosecutors said Manafort gave different versions of events in connection with "an investigation in another district" before and after signing his plea deal. The details of what that investigation was about were redacted. After signing his plea deal, Manafort gave "a different and exculpatory version of the events," but then later offered a different version to better match his original statements.
Manafort also lied about a $125,000 payment to an unnamed firm that he was working with in 2017. Much of that section is also redacted.

Prosecutors also say that Manafort told a series of lies about his interactions with Kilimnik, a Russian Ukrainian who was charged earlier this year in a superseding indictment with conspiring with Manafort to obstruct justice. The government alleged that after Manafort was hit with a new charging document in February that included new information about his work on behalf of the Ukrainian government and alleged failure to report what he was doing to the US government, he and Kilimnik tried to contact two people who were potential witnesses.
The government alleged that Manafort and Kilimnik had tried to contact the two potential witnesses in the hopes of convincing them to tell investigators that a group of former European officials Manafort had organized to lobby on behalf of Ukraine were only working in Europe, when in fact, according to prosecutors, they were doing work in the United States.
In a section of Friday's filing called "Interactions with Kilimnik," prosecutors wrote that Manafort lied about "the fact and frequency" of something — much of the rest of the section is redacted. In another section, prosecutors said Manafort lied about Kilimnik's involvement in the alleged obstruction conspiracy. Manafort initially denied Kilimnik was involved, and then later conceded that Kilimnik was part of the obstruction conspiracy after Manafort pleaded guilty to that crime as part of his plea deal.
According to the filing, Manafort met with the special counsel's office and the FBI nine times after entering his guilty plea — at four of those meetings, "prosecutors from other Department of Justice components attended." The filing didn't specify what offices those prosecutors were from or why they were there. Manafort also testified before the grand jury twice, on Oct. 26 and Nov. 2. On Nov. 8, prosecutors told Manafort's lawyers that they believed Manafort had "lied in multiple ways and on multiple occasions."
At Manafort's plea hearing on Sept. 14, special prosecutors had asked for 90 days before they updated the court on the status of the case and Manafort's cooperation. Over the next month and a half, prosecutors didn't give any indication, at least not in public or to the court, that they were having problems with Manafort.
But on Nov. 26, the special counsel's office filed a report revealing the bombshell allegation that Manafort lied to them and to the FBI after signing his plea deal. It didn't specify what he had lied about, only that it covered "a variety of subject matters." Manafort's lawyers countered in their section of the report that Manafort "believes he has provided truthful information and does not agree with the government's characterization or that he has breached the agreement."

US District Judge Amy Berman Jackson held a hearing on Nov. 30 to discuss scheduling to address the new claims against Manafort. Special counsel prosecutor Andrew Weissmann told the judge that his office hadn't decided whether it would bring more charges against Manafort — it twice referred to Manafort's "crimes" in the Nov. 26 filing — or whether it would pursue a new trial on the charges it had agreed to drop as part of the plea deal.
Manafort is tentatively scheduled for sentencing in his DC case on March 5, although Jackson said that could change if the court needs more time to resolve the plea deal issue. Manafort is already set for sentencing on Feb. 8 in the US District Court for the Eastern District of Virginia, where a jury over the summer found him guilty of eight tax and bank fraud charges.

Manafort has been in jail since June, when Jackson ordered him detained after prosecutors raised new allegations that he had been trying to interfere with potential witnesses. The judge concluded that there weren't any release conditions that would assure her that he wouldn't try to contact people he shouldn't again.
At a hearing in his Virginia case on Oct. 19, Manafort appeared in court in a wheelchair with his right foot wrapped. His lawyer, Kevin Downing, asked the judge to expedite the sentencing process because Manafort was suffering from "significant" health issues. Downing didn't elaborate, but a source familiar with Manafort's condition said he had a serious medical condition related to his diet, and that was related to inflammation in his foot.