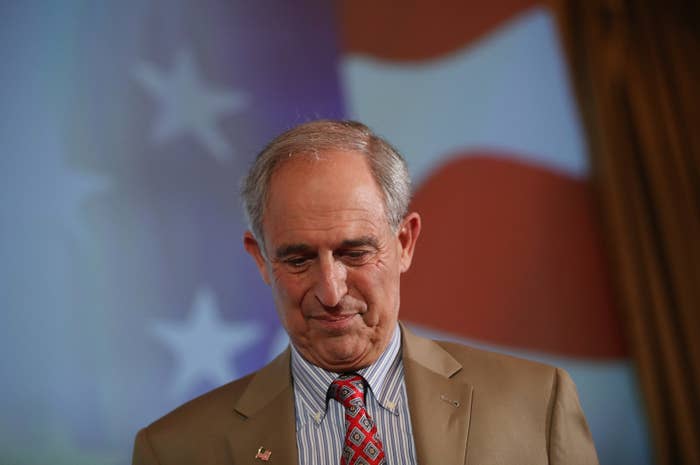 Attorney Lanny Davis says he was an anonymous source in a July CNN story that reported his client, Michael Cohen, had privately claimed that President Trump had advance knowledge of the infamous Trump Tower meeting between his son and Russians — contradicting Davis's own words on CNN's air last week.
In the story, Cohen was reported to have claimed he had personally witnessed Donald Trump Jr. informing then-candidate Trump about the June 2016 meeting. Such a claim from Cohen would directly contradict Trump's statements about his knowledge of the meeting, where Russians were set to offer dirt on Hillary Clinton.
CNN's July 26 story has come under fresh scrutiny in recent days after Davis acknowledged he had served as an anonymous source for multiple news outlets who were seeking to confirm the CNN article in the hours after it published. Davis has backed away from the story in recent days, telling the Washington Post that he is not certain if the claim is accurate, and that he could not independently corroborate it.

Last week, Davis told Anderson Cooper, "I think the reporting of the story got mixed up in the course of a criminal investigation. We were not the source of the story."

On Monday evening, Davis told BuzzFeed News that he regrets both his role as an anonymous source and his subsequent denial of his own involvement.
Davis told BuzzFeed News that he did, in fact, speak anonymously to CNN for its story, which cited "sources with knowledge" — meaning more than one person.
"I made a mistake," Davis said. Regarding his comments about a month later to Cooper, he added, "I did not mean to be cute."
After Davis publicly backtracked from the claims, the New York Post and the Washington Post outed him as their confirming source and published apologies from Davis, a lawyer and communications expert who became well known for his work for Bill Clinton. The original CNN story — broadcast during Chris Cuomo's prime-time show and written by Jim Sciutto, Marshall Cohen, and Watergate reporting legend Carl Bernstein — said that Davis had "declined to comment." His involvement in the story, on so-called "background," has not been previously reported.
After publication of this story, Davis added to BuzzFeed News that he did not lie to Cooper, but that he "unintentionally misspoke."
"We stand by our story, and are confident in our reporting of it," a CNN spokesperson told BuzzFeed News.
The unfolding saga around CNN's July report highlights an uncomfortable reality for reporters in the Trump era — about the pitfalls of anonymous sourcing, the dangers of the reliance on capricious narrators, and what it means for news outlets when the backstory can matter as much as the story.
As Trump-Russia bombshells often do, the story sparked a dash from media competitors to confirm the news. One by one — from NBC News to CBS News to the Washington Post — they did. When another outlet breaks a story, reporters tend to call up the requisite spokesperson to ask for comment. In this case, that spokesperson was Davis. BuzzFeed News wrote an article about CNN's story, citing reporting from CNN and NBC News. (Neither Cohen nor his lawyers responded for comment for that BuzzFeed News story.)
Even for the uninitiated Trump-Russia reader, CNN's article appeared a clear message from the beleaguered Cohen team to the special counsel's office. The story went a step further than just Cohen's personal knowledge: Cohen, CNN's sources said, was willing to make his claim to special counsel Robert Mueller. The article came amid the storm of legal troubles for the embattled Cohen, who weeks later pleaded guilty to eight federal crimes stemming from a separate investigation led by the US attorney's office for the Southern District of New York.
CNN's story was made all the more convincing thanks to the series of mainstream media rivals "matching" elements of the account, thanks in large part to Davis, who had requested and received anonymity to confirm that CNN's reporting was accurate. Trump, for his part, tweeted that he did not have prior knowledge about the meeting. His lawyer, Rudy Giuliani, sought to knock down the report, as did Trump Jr.
About a month later, Cohen pleaded guilty to criminal charges, including campaign finance violations. Freed from self-imposed media silence, Davis began making the TV rounds to defend his client. He appeared across cable news and said that Cohen had information that would be of interest to Mueller, including what Trump knew of Russian hacking. But Davis's complicated role in the Trump Tower story was about to become apparent after he appeared on CNN with Cooper.
The host pressed Davis on a statement issued by Sens. Richard Burr and Mark Warner of the Senate Select Committee on Intelligence. The statement said that Cohen had told the committee in a sworn testimony that he learned of the Trump Tower meeting when it was reported in July of last year. Cooper asked how Cohen's statement to the committee could be true if he also had prior knowledge of Trump's awareness of the meeting.
Davis responded that Cohen did not have any knowledge that Trump knew about the meeting. Davis has since told multiple outlets, including BuzzFeed News, that the Cohen camp could not seek to correct the CNN story at the time because it was in the midst of a criminal investigation.
But Davis's media tour set in motion his outing as a confirming source for other outlets following the Trump Tower story. Davis said he should have been much more clear to reporters that he did not personally know the information was accurate. "I'm glad to take ownership of the mistake. Now I'm taking the heat, and it's justified," Davis told BuzzFeed News.
CNN's decision to stand by the story has irked some staffers inside the network, which has taken strong action on errors in the past, forcing out three employees last summer over a bungled Trump-Russia article.
The network, in effect, doesn't appear to believe it made a mistake — the story was, some inside CNN argue, carefully worded to hedge against those in the Cohen camp changing their tune. In other words, the story reports claims that Cohen had said he was willing to make, not the underlying truth of those claims.
The decision from CNN to continue to stand by the story suggests that it believes the strength of its other sources outweighs any waffling from Davis — or that the network believes Davis was telling the truth then, and not now. But Davis's new statement that he was a source for a story he now refutes raises questions about what action, if any, the network might take.
"We should address Lanny Davis's comments in our reporting and be more transparent with our readers about our reporting," one CNN staffer told BuzzFeed News.
In recent days, conservative outlets such as the Daily Caller have hammered the network, claiming that Davis's public admission of his involvement in confirming the story amounts to a debunking of the original story. The Daily Caller also criticized CNN host Brian Stelter for not asking Bernstein to defend the report when he appeared on the network's weekly media show.
Davis's role in the CNN story also offers a window into the kind of anonymous sourcing common across newsrooms. Some news outlets have a policy to not let sources speak "on background" — that is, as a "person familiar with the matter" or some other unnamed moniker — and also be allowed to decline to comment on the record.
In practice, however, reporters and sources often find a good degree of wiggle room, maneuvering that covers for anonymous sources but can also deceive readers over the provenance of information.
Reporters will sometimes offer sources inelegant solutions, like allowing someone to decline to comment on a specific matter so as to allow them to become a background source on another piece of information in the story. In the Washington Post's case, for instance, Davis had declined to comment on the record, though he appeared as an anonymous source in the same story.