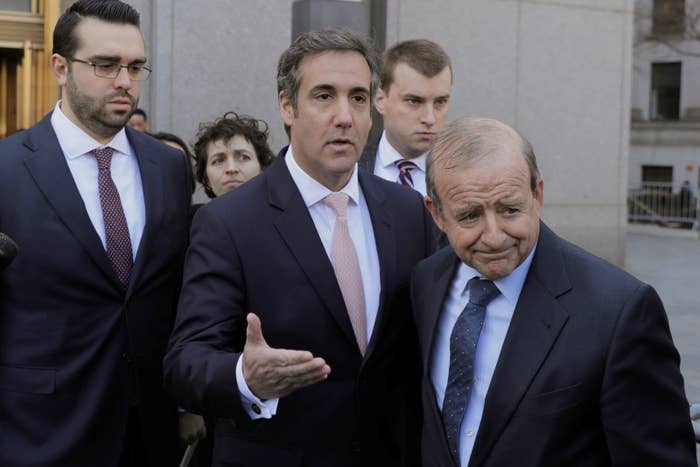 One of the world's largest pharmaceutical corporations acknowledged Wednesday morning that it paid a company set up by Michael Cohen, President Donald Trump's longtime personal lawyer, for consulting services and that it was contacted by special counsel Robert Mueller's office regarding those payments this past fall and "cooperated fully."
Novartis, which is based in Switzerland, said in a Wednesday statement to BuzzFeed News that "Novartis was contacted in November 2017 by lawyers from the Special Counsel's office regarding the company's agreement with Essential Consultants. Novartis cooperated fully with the Special Counsel's office and provided all the information requested. Novartis considers this matter closed as to itself and is not aware of any outstanding questions regarding the agreement."
AT&T, another company that has acknowledged paying Cohen's company, also acknowledged Wednesday evening that it, too, was contacted in late 2017 by the special counsel's office and that it, too, "cooperated fully."

In Novartis's statement, it said it entered into a one-year contract with Essential Consultants LLC, a company set up by Cohen in 2016 to facilitate the payment to Stormy Daniels.
"In February 2017, Novartis entered into a one-year agreement with Essential Consultants shortly after the election of President Trump focused on US healthcare policy matters. The terms were consistent with the market. The agreement expired in February 2018," Novartis said. A company spokesperson confirmed that Novartis paid Cohen's company nearly $1.2 million under the contract, as reported initially by Reuters.
The revelation means that the special counsel's office had been looking into payments to Cohen's company months before the Wall Street Journal broke the news of the payment to Daniels in January. The special counsel's office declined to comment on the Novartis statement.
However, the search warrants that allowed Cohen's properties to be searched on April 9 were executed by the Southern District of New York US Attorney's Office. In a court filing, attorneys for that office acknowledged that the special counsel's office "referred this investigation to the USAO-SDNY" — adding that the investigation "has proceeded independent[ly]" since then. A spokesperson for the SDNY US Attorney's Office declined to comment.

In its statement, Novartis added, "As already stated, the engagement of Essential Consultants predated Vas Narasimhan becoming Novartis CEO. Dr. Narasimhan had no involvement whatsoever with this arrangement."
Narasimhan took over as CEO of Novartis in February, replacing Joseph Jimenez, who retired after leading the Swiss company for eight years.

Narasimhan was among other executives who had dinner with Trump when the president attended Davos earlier this year. A Novartis spokesperson told BuzzFeed News the dinner was "organized by the Swiss government."
At the White House press briefing on Wednesday, White House press secretary Sarah Sanders deflected several questions about the payments to Cohen — which came from multiple companies, including Novartis, AT&T, and the Russian-oligarch-linked Columbus Nova LLC.
Asked whether the president was "embarrassed" by such "swampy behavior," Sanders responded, "That would be up to those individuals who make the decision to hire someone. Just the same way that the companies that you work for make the decision to determine whether or not they think that you're qualified to serve in a position. That is the decision of an independent company and has nothing to do with the White House."

It was revealed on Tuesday that another company that paid Cohen was Columbus Nova LLC, an investment firm run by Andrew Intrater that is linked to Renova Group, a company owned by Russian oligarch Viktor Vekselberg. Vekselberg, a one-time business associate of Commerce Secretary Wilbur Ross, was sanctioned last month by the Trump administration as retaliation for Russian election meddling.

Columbus Nova's attorney, Richard Owens of Latham & Watkins, acknowledged the company hired Cohen "as a business consultant regarding potential sources of capital and potential investments in real estate and other ventures" in a statement provided to BuzzFeed News on Tuesday night. Owens also said that Columbus Nova "is a management company solely owned and controlled by Americans" and that any claims that Vekselberg "used Columbus Nova as a conduit for payments to Michael Cohen are false." Owens said that Vekselberg was not involved in the decision to hire Cohen and had not "provided funding" for his hiring.
By Wednesday morning, that statement appeared on the front page of Columbus Nova's website, along with two additional paragraphs further detailing Columbus Nova's explanation of its relationship with Vekselberg's company, Renova Group.
Meanwhile, Intrater's biography — which had been available online on Tuesday evening, according to the Internet Archive's Wayback Machine — was not available Wednesday.
In the now-removed biography, it described Columbus Nova as "the US investment vehicle for the Renova Group" and noted that Intrater "is a former Director and current Member of the Executive Board of Renova Group." A 2017 story in Mother Jones also noted an SEC filing that described Intrater as Vekselberg's cousin.
Columbus Nova website: