This is an excerpt from Incoming, BuzzFeed News' morning newsletter dedicated to making sense of this chaotic world we live in. Join the club here.
Online sex educators are trying to empower people while abortion rights are under attack
As more and more states restrict abortion access following the Supreme Court's decision to overturn Roe v. Wade, online sex educators are seeing a shift in audience demand.
"I don't think I've seen such fear about unplanned pregnancy to such an extent anywhere else," Tessy Vanderhaeghe, known as @Yes.Tess on TikTok, told BuzzFeed News. "I get messages through Instagram all the time like, 'I did X, am I going to get pregnant? I haven't had my period in two days; what should I do? I'm freaking out.'"
In the US, the risk of being forced to carry an unwanted pregnancy to term is greater than it's been in decades, and the country's paltry sex education programs have left people panicked and turning to the internet for answers.
Currently, only 17 states require that public school sex education be medically accurate, according to research from the Guttmacher Institute. Public schools in 29 states are legally required to stress abstinence if they teach sex ed, even though studies have shown that this teaching approach is ineffective in preventing teen pregnancy. Twelve states don't require sex ed to be taught at all.
"Before Roe v. Wade was overturned, people saw what I do as like, Oh, that's fun, like Danielle makes like sex ed videos on the internet, that's kind of cool," Danielle Bezalel, MPH, said. "But when they realized how many people ... harmful laws impact negatively, it became this thing of like, Oh wow, this is really important work that you're doing. This is critical information that you're getting out to people."
"Armageddon"
President Joe Biden urgently sounded the alarm about the threat of a Russian nuclear attack, the New York Times reports. "We have not faced the prospect of Armageddon since Kennedy and the Cuban Missile Crisis," Biden said at an NYC fundraiser.

Peace activists from Russia, Ukraine, and Belarus win this year's Nobel Peace Prize. "The peace prize laureates represent civil society in their home countries," said one Norwegian Nobel Committee chairperson. "They have for many years promoted the right to criticize power and protect the fundamental rights of citizens."
SNAPSHOTS
A coward's guide to editing tweets. A word of warning: Editing your tweets will let people know you actually pay for Twitter Blue, which is potentially more damaging to your reputation than a typo or stupid tweet.
Can your allergic reaction be triggered by kissing someone? It sure can! "Third-hand exposure" is rare but possible. Here's how to avoid it.
The wives of lineworkers doing repairs after Hurricane Ian are beefing with Florida "bucket bunnies." None of these words are in the Bible.

Kevin Spacey's sexual assault trial has begun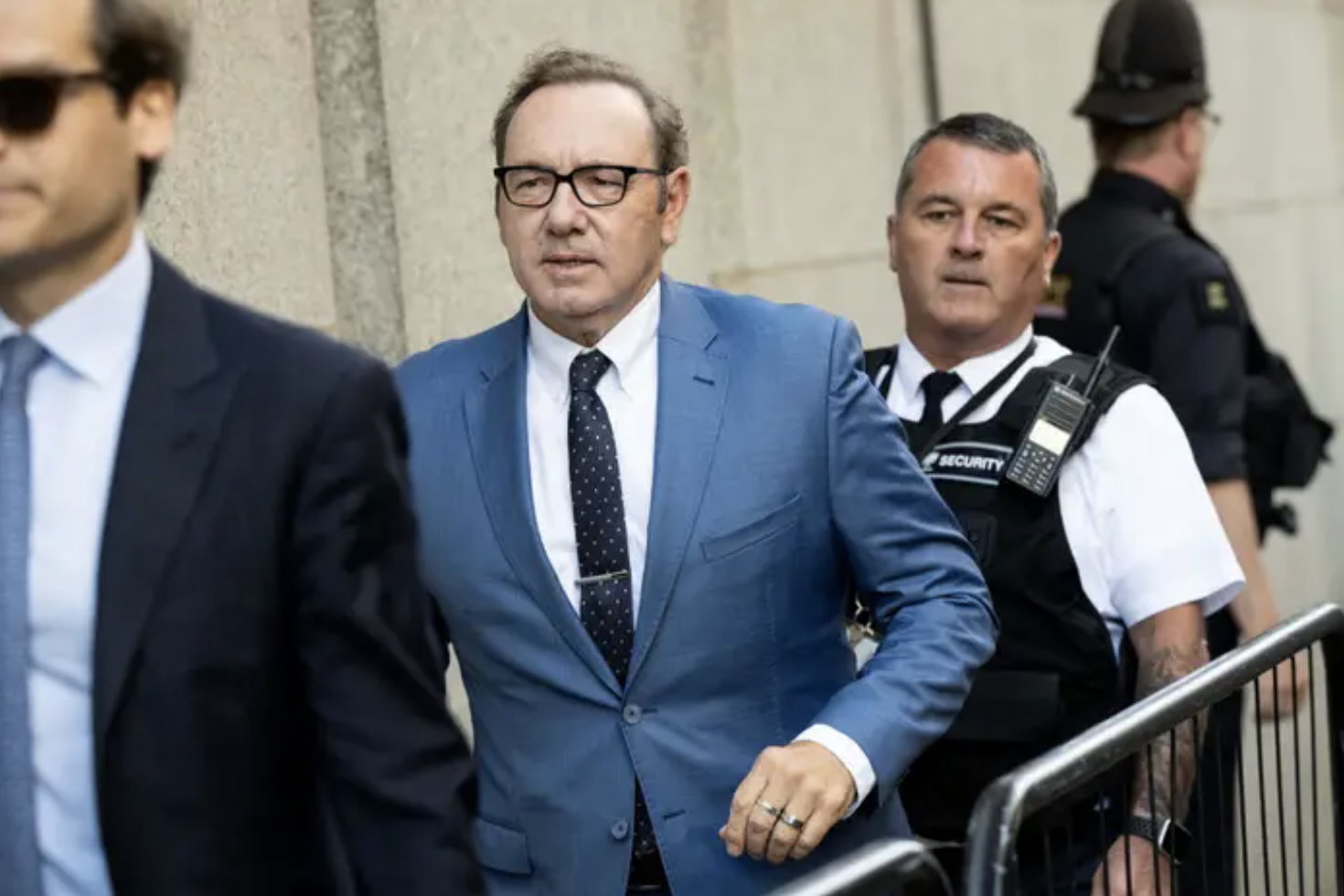 The full story contains graphic descriptions of sexual assault.
The sexual assault trial against Kevin Spacey, 63, began with jury selection in federal court on Thursday.
Spacey faces a civil lawsuit brought by actor Anthony Rapp, who has accused Spacey of sexually assaulting him when he was 14 and Spacey was 26. Rapp, best known for his roles in Star Trek: Discovery and the original Broadway cast of Rent, first spoke publicly about the alleged incident in a BuzzFeed News story in 2017. In the days that followed, more than a dozen other people also accused Spacey of sexual misconduct.
In an April court filing, Spacey "categorically" denied Rapp's allegations and called them "absolutely false." However, in 2017, Spacey did not deny the incident but said he does not remember it. If the jury rules in Rapp's favor, Spacey will likely be made to pay monetary damages to him. Spacey does not face criminal charges for the alleged incident.
However, Spacey faces more legal battles: In May, British prosecutors charged Spacey with sexually assaulting three men. In addition, a judge ruled in August that Spacey must pay $31 million in damages to House of Cards production company MRC for alleged sexual misconduct on set and monetary losses resulting from his removal from the show.

I'm pretty sure Michaela Coel is the next Black Panther
In the trailer for Black Panther: Wakanda Forever — hitting theaters next month — the death of T'Challa looms large over Wakanda in the same way Chadwick Boseman's early death looms over the premiere of the sequel, writes Elamin Abdelmahmoud. Who can step up with the gravitas required to fill T'Challa's shoes?
Well, how about Michaela Coel? Please understand: I have no proof that Coel is going to be the next Black Panther. But I have become convinced that she will be. Let me present my evidence.
First, Shuri is too obvious. Why would director Ryan Coogler spend so much time in the first film laying out the Wakandan rules of disputing Black Panthership, then not make use of these rules when the role becomes vacant?
Next, there's a lot of mystery surrounding Michaela Coel's casting. She's only billed as "Aneka, a Wakandan warrior." AND YET. She is on the cover of November's issue of Vogue; she is the only star of the movie on the cover of a major magazine ahead of the film's release in a month. It's extremely interesting that it has fallen to Coel to carry the promotional weight of the film.
Let's meet back here when the next Black Panther is revealed. I'll be waiting.

Still reading, eh? Seems like you might want to get this in your inbox. No pressure though. Just some food for thought.