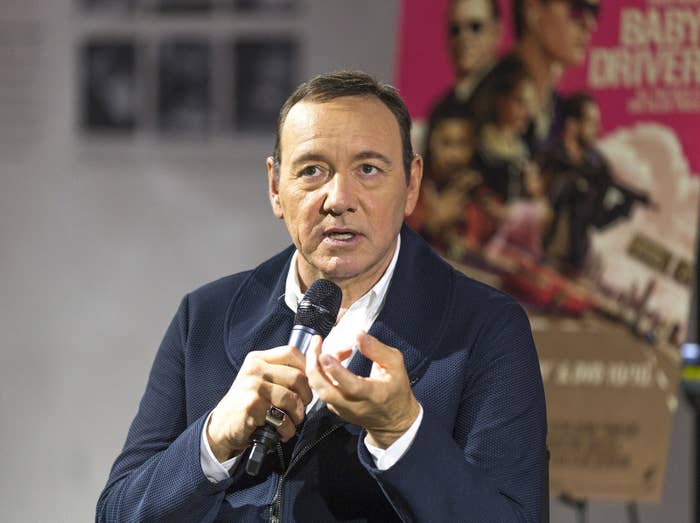 In response to a BuzzFeed News report that he made sexual advances toward Star Trek: Discovery's Anthony Rapp when the actor was 14, Kevin Spacey apologized for any "inappropriate behavior" and said that the allegations had encouraged him "to address other things about my life."
"I know that there are other stories out there about me and that some have been fueled by the fact that I have been so protective of my privacy," Spacey said in a statement posted to Twitter.
"As those closest to me know, in my life I have had relationships with both men and women. I have loved and had romantic encounters with men throughout my life and I choose now to live as a gay man," he continued. "I want to deal with this honestly and openly and that starts with examining my own behavior."
Spacey also apologized to Rapp, stating that he does not remember lying on top of the young actor in his bedroom at the end of a party at his apartment.
"I'm beyond horrified to hear this story," Spacey tweeted. "I honestly do not remember the encounter, it would have been 30 years ago. But if I did behave then as he describes, I owe him the sincerest apology for what would have been deeply inappropriate drunken behavior and I am sorry for the feelings he describes having carried with him all these years."
Spacey's sexual orientation has been the subject of much speculation, and the actor has had a contentious relationship with discussing the topic in the media. After a 1997 Esquire cover story strongly implied Spacey is gay, the actor denied it in a Playboy interview, and then in a 60 Minutes segment in which he said he had been in a relationship with a woman for many years.

Spacey further addressed the rumors in a 2010 interview with the Daily Beast, emphasizing that talking about his sexuality was "a line I've never crossed and never will. … No one's personal life is in the public interest. It's gossip, bottom line. End of story."
But then, last June, Spacey joked twice about "coming out" while hosting the 2017 Tony Awards.
In an interview with BuzzFeed News, Rapp publicly alleged for the first time that he was befriended by Spacey in 1986, while they were both performing in Broadway shows. Around that time, Spacey invited Rapp to his apartment for a party and, at the end of the night, picked Rapp up, placed him on his bed, and climbed on top of him, making a sexual advance. According to public records, Spacey was 26 at the time; Rapp was 14.
Former television news anchor Heather Unruh also recently accused Spacey of assault. On Oct. 13, she tweeted, "The #weinsteinscandal has emboldened me … I was a Kevin Spacey fan until he assaulted a loved one. Time the dominoes fell." Unruh declined to elaborate when asked for comment. BuzzFeed News also asked Spacey's representatives about this allegation, but received no response.
Rapp is the first to go on the record bringing allegations against the actor.

Beau Willimon, the long time show runner for House of Cards, released a statement Monday calling Rapp's allegation "deeply troubling" and adding that he never witnessed any inappropriate behavior by Spacey "on set or off."
Anthony Rapp's story is deeply troubling. During the time I worked with Kevin Spacey on "House of Cards," I neither witnessed nor was aware of any inappropriate behavior on set or off.

That said, I take reports of such behavior seriously and this is no exception. I feel for Mr. Rapp and I support his courage.
And a prestigious London theatre where Spacey was artistic director for over a decade said they were "deeply dismayed" by the allegations.
The Old Vic theatre, where Spacey was artistic director from 2004 to 2015, said in a statement online: "Inappropriate behaviour by anyone working at The Old Vic is completely unacceptable."
"We want our employees to feel confident, valued and proud to be part of The Old Vic family. Any behaviour we become aware of which contravenes these goals will not be tolerated."

The theatre continued that they had appointed external advisors, should any past employees feel they had a "complaint that you were unable to raise," adding, "any experience shared will be treated in the utmost confidence and with sensitivity."
Victoria Featherstone, artistic director of the Royal Court Theatre, told BBC's Radio 4 Today Programme that Spacey was among individuals that there were "concerns" about.

"I think that many people in the theatre and in the creative industries have been aware of many stories of many people over a lot of years, and Kevin Spacey would be one of the people that people have had concerns about, yes," she said.
Featherstone continued that after the Harvey Weinstein allegations emerged, there was a "opening of the floodgates", and said it was "a very important moment for us all throughout society, not just in our industry".