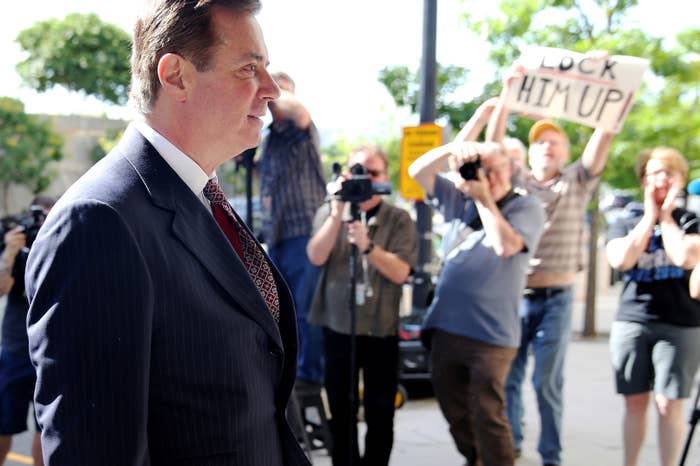 WASHINGTON — Former Trump campaign chair Paul Manafort reached a plea deal that includes an agreement to cooperate with federal prosecutors, a dramatic reversal after he spent the past year fighting the charges filed by special counsel Robert Mueller's office at every turn.
Manafort appeared in federal court in Washington, DC, midday on Friday to enter his guilty plea. He acknowledged to the judge that he understood that he was agreeing to cooperate with Mueller's office, and to delay sentencing while he works with prosecutors.
Manafort will remain in jail, where he's been since June. He appeared in court wearing a dark suit, white shirt, and blush tie, and seemed in good spirits — he smiled and laughed with his lawyers before the hearing began. He spoke little during the hearing, and did not display emotion as he answered the judge's questions about whether he understood what he was pleading guilty to and the terms of the deal he reached with prosecutors.
Earlier on Friday morning, Mueller's office announced a new superseding criminal "information" against Manafort — a type of charging document that usually signals a plea deal. It charges Manafort with two felony counts: conspiracy against the United States and conspiracy to obstruct justice. A previously-scheduled pretrial hearing set for mid-morning on Friday was then changed on the calendar to "plea agreement hearing."
At the plea hearing, US District Judge Amy Berman Jackson read aloud some of the terms of Manafort's cooperation agreement, saying it could include interviews, providing documents, and testifying. The plea agreement states that Manafort agreed to "cooperate fully, truthfully, completely, and forthrightly with the Government ... in any and all matters as to which the Government deems the cooperation relevant."
Special counsel prosecutor Andrew Weissmann asked for 60 days until the parties file a status report with the court about where Manafort's case stands; the first report is due Nov. 16.
As part of the plea deal, Manafort also agreed to forfeit multiple properties — including his apartment in Trump Tower in New York in lieu of money in a Charles Schwab & Co. account — a life insurance policy, and money held in multiple bank accounts. He also agreed to not accept any money for sharing information — in interviews, books, articles, and speeches, for instance — about his work in Ukraine, the investigation, and the prosecution.
Just three weeks ago, President Donald Trump strongly criticized such moves in an interview, telling Fox News, "It's called flipping and it almost ought to be illegal."

On Friday, however, Trump's lawyer, Rudy Giuliani, was more muted, telling BuzzFeed News, "Once again an investigation has concluded with a plea having nothing to do with President Trump or the Trump campaign. The reason: the President did nothing wrong." Giuliani told Politico earlier this week that the president's legal team was part of a joint defense agreement with Manafort's lawyers. He confirmed the continued existence of the agreement to BuzzFeed News on Friday morning, writing that Manafort "has not withdrawn" from it. He said there have been no pardon discussions between Trump and Manafort's legal teams, or between Trump and Manafort directly.
Press Secretary Sarah Sanders put out a statement after the plea hearing, saying, "This had absolutely nothing to do with the President or his victorious 2016 Presidential campaign. It is totally unrelated."
Manafort has had the president's support for pushing back against Mueller's office. After the verdict in Virginia, Trump tweeted that Manafort was a "brave man" and compared him with Trump's former longtime personal lawyer Michael Cohen, who pleaded guilty to federal charges and implicated the president in illegal campaign finance activity. Unlike Cohen, Trump tweeted, Manafort "refused to 'break' - make up stories in order to get a 'deal.'"
In pleading guilty, Manafort avoids what was shaping up to be another multi-week trial that would lay bare his finances and shed new light on his political consulting and lobbying work. His trial was scheduled to start less than a month after a federal jury in Alexandria, Virginia, found Manafort guilty of eight felony counts; the jury hung on the remaining 10 charges, but it was still considered a significant loss for him. He hasn't been sentenced yet in that case.
As part of the deal reached in the DC case, Manafort admitted to the bank fraud charges that the jury was unable to reach consensus on in Virginia, but the government agreed to dismiss the 10 hung counts in Virginia once Manafort is sentenced, as well as the counts that he didn't plead guilty to in Washington.
"Tough day for Mr. Manafort but he's accepted responsibility," Manafort's lawyer Kevin Downing told reporters after the hearing. "He wanted to make sure that his family was able to remain safe and live a good life."
Jury selection in the US District Court for the District of Columbia was scheduled to begin Sept. 17. Manafort was facing a seven-count indictment that included charges with maximum penalties of up to 20 years in prison.

The Charges
Although the latest charging papers include just two criminal counts, the conspiracy to defraud the United States charge still encompasses a broad range of financial and other crimes. It charges Manafort with conspiring to commit money laundering, tax fraud, failing to report foreign bank accounts, violating the Foreign Agents Registration Act, and lying to the Justice Department.
The second count charges Manafort with attempting to contact two individuals who prosecutors said were potential witnesses in February 2018, after a new indictment was returned by the grand jury in Washington. Those allegations, first brought to the court's attention by prosecutors in early June, were what prompted a judge to order Manafort jailed pending trial, after she concluded there weren't any release conditions that would ensure he wouldn't try to contact people he wasn't supposed to.
Manafort was accused of orchestrating a group, known as the "Hapsburg" group, to engage in an illegal lobbying scheme in the United States on behalf of his Ukrainian clients. Two people, referred to as D1 and D2 in court papers, worked for a public relations company that served as "intermediaries" between Manafort, his codefendant and associate Konstantin Kilimnik, his former campaign deputy (and former codefendant) Rick Gates, and the Hapsburg group.

The government alleged that after a superseding indictment was filed in February, Manafort and Kilimnik repeatedly attempted to contact D1 and D2. Prosecutors said that Manafort used an encrypted messaging application to send D1 an article about the Hapsburg group, and then wrote, "We should talk. I have made clear that they worked in Europe." But D1 told a federal investigator that he thought Manafort was trying to "suborn perjury" because D1 knew the Hapsburg group worked in the United States, according to court filings.
The two counts each carry maximum sentences of up to five years in prison, and fines of up to $250,000.
After Weissmann summarized the allegations against Manafort in court, Jackson asked Manafort if it was an accurate description of what he did. "It is," he replied.
In the days leading up to Friday's plea hearing, prosecutors and Manafort's lawyers had been filing pretrial documents and raising arguments about what evidence could be introduced at trial, a sign that both sides were still preparing for trial in the event negotiations fell through.

Although the cases against Manafort came out of Mueller's investigation into Russian interference in the 2016 election, the charges against him didn't directly relate to his work on President Donald Trump's campaign. The cases instead revolved around Manafort's political consulting work from 2006 to 2015 on behalf of a now-defunct pro-Russia Ukrainian political party, the Party of Regions, and the party's leader, former Ukrainian president Viktor Yanukovych.
Prosecutors allege Manafort earned tens of millions of dollars from his work in Ukraine and used bank accounts in Cyprus, St. Vincent and the Grenadines, and the United Kingdom to hide that money from US authorities and to finance his "lavish lifestyle."
In DC, Manafort was charged with conspiring to defraud the United States by failing to register as an agent for a foreign entity, failing to report his interest in overseas bank accounts, and failing to pay taxes on millions of dollars in income. He was also charged with conspiring to launder money, acting as an unregistered agent and making misleading statements about his work abroad, and attempting to interfere with potential witnesses.
Although the DC case was filed first, in late October 2017, the Virginia case was the first one to go to trial this summer. In that case, Manafort was charged with filing false personal income tax returns that understated the money he earned from his work overseas as a political consultant, failing to report his interest in foreign bank accounts to US authorities, and bank fraud.
On Aug. 21, after nearly four days of deliberating, the jury in the US District Court for the Eastern District of Virginia found Manafort guilty of eight of the 18 counts in the indictment, spanning each of the three categories of allegations that he faced there. The jury failed to reach a consensus on the remaining charges and the judge declared a mistrial on those counts. The government has yet to say if it plans to retry him on those charges; the judge agreed to delay that deadline.
In both cases, Manafort unsuccessfully argued to have the indictments thrown out, challenging the validity of Mueller's appointment. He also filed a separate civil lawsuit against the Justice Department and Mueller's office, arguing that Mueller's appointment as special counsel last year by Deputy Attorney General Rod Rosenstein was unlawful. A judge dismissed that case; Manafort dropped his appeal of that ruling just before his first trial in Virginia began.
Pretrial setbacks
Over the past few weeks, prosecutors and Manafort's lawyers fought over what evidence and testimony they could put to the jury. US District Judge Amy Berman Jackson hadn't ruled yet on several key points of contention, including whether a lawyer who advised Manafort on his registration requirements under the Foreign Agents Registration Act could testify — Manafort was opposed, arguing attorney-client privilege should apply — and whether Manafort could introduce information about how few FARA prosecutions the Justice Department has brought in the past.
Manafort came into the first trial in July after losing a string of motions in both cases to get evidence seized from his condo in Virginia and a storage unit suppressed.
He also suffered a significant setback in mid-June, when Jackson ordered him jailed pending trial, amid new allegations from the government at the time that he had tried to interfere with potential witnesses. Manafort has been behind bars ever since, and his lawyers argued that this had hurt their ability to prepare for trial.
Manafort's second trial was expected to differ in a few key ways from the first trial in Virginia. Although there was some overlap in the financial crimes Manafort was charged with in both cases, the DC case was expected to focus more on the substance of his work for Ukrainian officials, particularly in the United States. The obstruction charges are also unique to the DC case. Those counts were added in a superseding indictment returned by the grand jury in June, which also named Kilimnik as a codefendant. Kilimnik, a Russian Ukrainian, is not believed to be in the United States and has not participated in the US court proceedings.
The prosecution team in DC was also different — it featured special counsel office lawyers Andrew Weissmann, Greg Andres, and Jeannie Rhee. In the Virginia case, Andres led the prosecution, accompanied by special counsel lawyer Brandon Van Grack and Assistant US Attorney Uzo Asonye, who was detailed from the US attorney's office in Alexandria to work with Mueller's office on Manafort's case.

The judge in Virginia, US District Judge T.S. Ellis III had been hard on the government from the start, expressing skepticism about the government's motivations in charging Manafort — at one hearing, he said he believed the case was about getting Manafort to flip on Trump — and making clear his disapproval of the previous independent counsel law. During the trial, he repeatedly criticized prosecutors over the type and amount of evidence they presented, including in front of the jury.

Jackson, by contrast, hasn't been overtly critical of prosecutors or of Mueller's investigation, although she did give similar warnings to prosecutors about spending too much time on evidence that isn't directly relevant to the charges — about Manafort's spending habits and lifestyle, for instance. Ellis would sometimes digress during court proceedings into lengthy and colorful stories about his time as a lawyer and a judge; Jackson doesn't have a habit of doing that.
At a pretrial hearing on Sept. 5, Jackson identified a few things that would be different about Manafort's trial in her courtroom. These weren't issues that either side had raised, but that the judge said she wanted to address. In Virginia, Gates had testified about extramarital relations, and Manafort's lawyers had tried to ask more questions about that. Jackson said that wasn't relevant and shouldn't come up. She also said she'd allow references to Manafort's financial backers in Ukraine as "oligarchs" — a term Ellis banned, saying he thought it implied criminal activity — as long as the lawyers also presented a definition of the word to the jury.
Jackson and Ellis shared an aversion to the lawyers making faces in the courtroom, especially while the jury was seated. Ellis had accused prosecutors of inappropriate facial expressions in response to his rulings. Jackson had called out Manafort's lawyers for their expressiveness, and warned the lawyers about keeping their emotions in check while the jury is seated.
"I'm an expressive human being and I have managed to control myself during jury trials," Jackson said at the Sept. 5 hearing. "And I expect you to do the same."
This is a developing story. Check back for updates and follow BuzzFeed News on Twitter.
Chris Geidner contributed to this report.