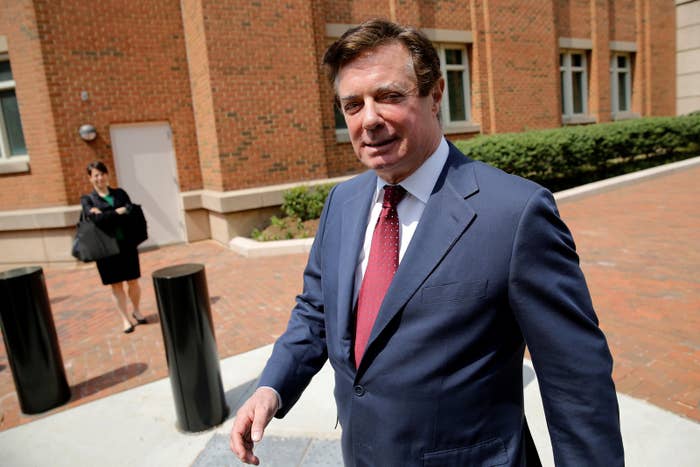 Special counsel Robert Mueller's office filed papers late Monday accusing Paul Manafort of attempting to tamper with potential witnesses, asking the court to consider changing his release conditions and whether he should be held in jail.
Prosecutors say that after President Donald Trump's former campaign manager learned that a grand jury in Washington, DC, had returned a new version of the indictment against Manafort in late February, he attempted to contact individuals connected to his alleged criminal activity "in an effort to secure materially false testimony."
"Manafort's efforts to influence the testimony of potential witnesses, both directly and through an intermediary, threaten 'the integrity of the trial' even though those efforts have not been violent in nature and the underlying prosecution involves 'white-collar' offenses rather than 'narcotics' or violent crimes," lawyers from the special counsel's office wrote.
Mueller's office has asked the judge to hold a hearing to consider whether Manafort's current terms of release are appropriate and whether detention is necessary. The government contends that Manafort's actions violated the conditions of release, triggering a "presumption that no conditions or combination of release conditions will assure the safety of the community and of others."

"At the same time, Manafort's obstructive conduct — carried out at a time when he was seeking relief from his current conditions of release — instills little confidence that restrictions short of detention will assure Manafort's compliance with the Court's orders and prevent him from committing further crimes," the special counsel's office argued.
Jason Maloni, a spokesman for Manafort, said in a statement that, "Mr. Manafort is innocent and nothing about this latest allegation changes our defense. We will do our talking in court." US District Judge Amy Berman Jackson previously barred the parties from making public statements that are likely to prejudice the case.
Under federal law, the offense of attempting to interfere with a person's testimony carries a maximum sentence of up to 20 years in prison. Manafort has not been charged with that crime, and has pleaded not guilty to the charges filed against him so far, which include money laundering conspiracy, failing to register as an agent for a foreign entity, filing false tax returns, and bank fraud.
Manafort has been on home confinement since he was originally charged in the fall in the US District Court for the District of Columbia. A federal grand jury in Virginia separately returned an indictment against him, and the judge in that case also ordered him on home confinement while that case is pending, meaning that he's had to wear two GPS monitoring bracelets. Mueller's office filed papers about his alleged attempted witness tampering efforts in the DC and Virginia cases.
The superseding indictment accused Manafort of orchestrating a group, known as the "Hapsburg" group, to engage in an illegal lobbying scheme in the United States on behalf of the Ukrainian government. Two people, referred to as D1 and D2 in the latest filing from Mueller's office, worked for a public relations company that served as "intermediaries" between Manafort, an unidentified person referred to as Person A, Manafort's codefendant and former campaign deputy Rick Gates, and the Hapsburg group.

According to the filing, the government contends that after the superseding indictment was filed in February, Manafort and Person A repeatedly attempted to contact D1 and D2. On one occasion, prosecutors said that Manafort used an encrypted messaging application to send D1 an article about the Hapsburg group, and then wrote, "We should talk. I have made clear that they worked in Europe." But D1 told a federal investigator that he thought Manafort was trying to "suborn perjury" because D1 knew the Hapsburg group worked in the United States, according to the filing.
The government wrote that Person A contacted D2 to communicate that Manafort was trying to reach D1, and also tried to contact D1 — it "would strain credulity to suggest that Person A" made those contacts without Manafort's approval, prosecutors said. D2 also believed the communications were aimed at influencing testimony, and that Manafort and Person A were hoping D1 and D2 would communicate the message to members of the Hapsburg group that, if asked, they should say their work was in Europe, they said.
According to a declaration that Mueller's office submitted from an FBI special agent, D1 and D2 provided the text messages at issue in May. The Monday night filing also includes a log of the phone calls and text messages between Manafort and D1, and Person A and D1 and D2; the government said it recovered the messages and information about calls from Manafort's iCloud account — via a court-authorized search — as well as information produced by D1 and D2.

Manafort has for months been trying to put together a package of assets to post as bond in exchange for having his home confinement lifted, at least in the DC case. As of last week, he appeared to be on the verge of reaching a deal with Mueller's office about which properties he could pledge in exchange for getting them to agree with new release conditions. The judge has not yet issued an order.