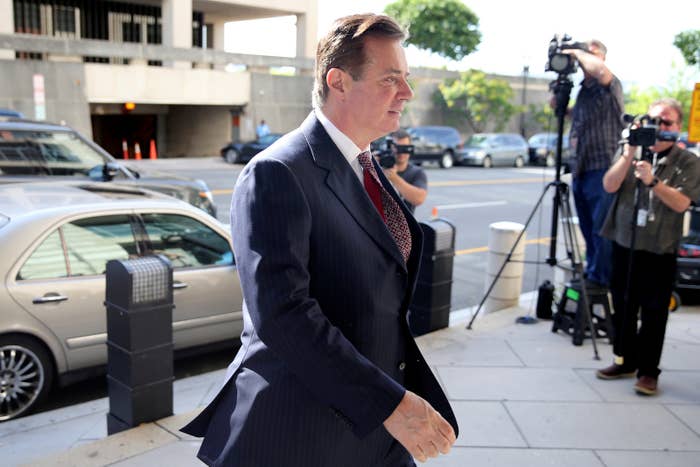 A federal judge on Tuesday denied Paul Manafort's motion to have the charges filed against him in Virginia by special counsel Robert Mueller's office dismissed — becoming the second judge to reject Manafort's challenge to Mueller's appointment.
The ruling from US District Judge T.S. Ellis III echoed some of the concerns the judge raised about the scope of Mueller's power during arguments in May, but he ultimately concluded that Mueller did have authority to investigate and prosecute Trump's former campaign chair.
"To be sure, it is plausible, indeed ultimately persuasive here, to argue that the investigation and prosecution has some relevance to the election which occurred months if not years after the alleged misconduct. But in the end, that fact does not warrant dismissal of the Superseding Indictment," Ellis wrote.

Manafort's trial in the US District Court for the Eastern District of Virginia is scheduled to begin at the end of July.
Ellis's opinion is the latest in a series of setbacks in efforts by Manafort's lawyers to attack the prosecution, if not knock it out completely. US District Judge Amy Berman Jackson in Washington, DC, rejected a similar challenge that Manafort raised to Mueller's authority in the criminal case against him there, and subsequently ordered him jailed pending trial amid new allegations that he tried to interfere with potential witnesses; Manafort is appealing her decision to revoke his pretrial release.
A spokesman for Manafort and a representative of the special counsel's office declined to comment.
In both cases, Manafort had argued that Deputy Attorney General Rod Rosenstein's order appointing Mueller last year as special counsel to investigate Russian interference in the 2016 presidential election was too broad and gave Mueller too much power at the start. The order gave Mueller authority to investigate any links between the Russian government and people associated with Trump's campaign, as well as "any matters that arose or may arise directly from the investigation."
During arguments in May, Ellis had sharp questions for special counsel lawyer Michael Dreeben about what Manafort's case had to do with the Russia investigation — Manafort is facing mostly financial charges that are unrelated to his work on Trump's campaign in 2016 — and prosecutors' motivations in pursuing the charges. The judge tried, unsuccessfully, to get Dreeben to admit that prosecutors were charging Manafort in order to get him to "sing" about Trump.
Trump praised Ellis in a speech shortly after arguments concluded and news reports about his questioning of Dreeben came out, saying that Ellis was "very special" and a "highly respected" judge.
But in his written opinion on Tuesday, Ellis concluded that Mueller's investigation of Manafort "falls squarely" under the Russia-specific section of Rosenstein's appointment order. There was no question that Manafort was part of Trump's campaign, Ellis wrote, and it was reasonable for prosecutors to explore his previous work for a pro-Russia political party in Ukraine and former Ukrainian president Viktor Yanukovych.
"To be sure, history is replete with evidence of the existing and longstanding antagonism between the Ukraine and Russia. Indeed, armed conflict in the eastern Ukraine is still underway. Nonetheless, the fact that the Yanukovych was a strongly pro-Russian President warranted the investigation here. The fact that the Russian government did not make payments to defendant directly is not determinative because the text of the May 17 Appointment Order authorizes investigation of 'any links and/or coordination between the Russian government and individuals associated with the campaign of President Donald Trump,'" Ellis wrote.
Ellis wrote that Manafort's argument that the investigation couldn't fall under Mueller's appointment order because he was ultimately charged with crimes that had nothing to do with the election "at first glance ... appears to have some force." He found that Manafort misunderstood the structure of Rosenstein's appointment order, however — Mueller had authority to investigate Russian interference, but his authority to prosecute wasn't limited to issues related to the election, the judge wrote.
Even if Mueller's appointment order didn't clearly give him authority to investigate Manafort, an August memo from Rosenstein to Mueller clearly did, Ellis wrote.
Ellis also rejected Manafort's arguments challenging the part of Rosenstein's order that gave Mueller authority to investigate "any matters that arose or may arise directly from the investigation." Ellis said it was a "close question" whether the "any matters" section of Rosenstein's order was overbroad, but ultimately one he did not need to resolve because Rosenstein's order included a reference to regulations that required Mueller to consult with Rosenstein if he wanted to broaden the scope of his investigation.
The judge found that even if Rosenstein ran afoul of the Justice Department's special counsel regulations, Manafort still couldn't get the case dismissed because the regulations didn't give him any rights that he could enforce in court. Manafort did not challenge Rosenstein's authority to appoint Mueller in the first place — a defendant in the Russian troll farm case filed by Mueller's office is pursuing that argument — and Ellis found that Mueller's appointment was constitutional.
Ellis made clear that his decision was not an endorsement of appointing special counsel to take on high-profile cases. In a footnote, he wrote that he believed that a "better mechanism" for investigating alleged election interference would be the creation of a bipartisan commission with subpoena power, which could refer cases for prosecution to the Justice Department.
"This case is a reminder that ultimately, our system of checks and balances and limitations on each branch's powers, although exquisitely designed, ultimately works only if people of virtue, sensitivity, and courage, not affected by the winds of public opinion, choose to work within the confines of the law. Let us hope that the people in charge of this prosecution, including the Special Counsel and the Assistant Attorney General, are such people," Ellis wrote. "Although this case will continue, those involved should be sensitive to the danger unleashed when political disagreements are transformed into partisan prosecutions."