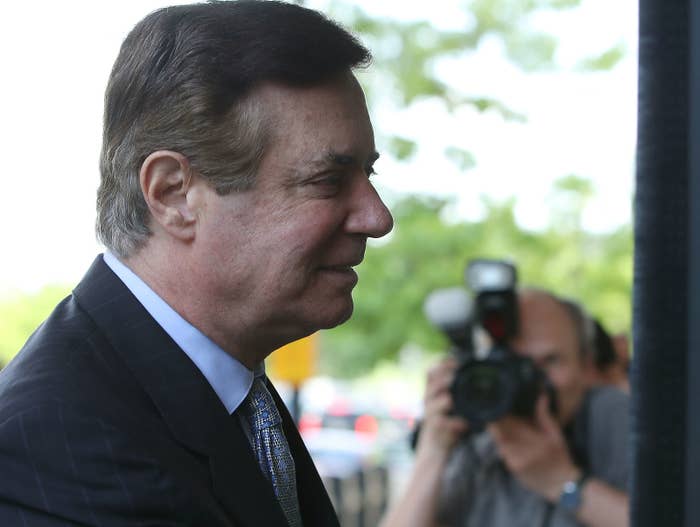 Special counsel Robert Mueller on Friday brought new charges against former Trump campaign chair Paul Manafort, as well as his longtime Russian-Ukranian business partner, Konstantin Kilimnik.
The superseding indictment — which includes charges of obstruction of justice and conspiracy to obstruct justice — stems from attempts to contact and communications with people identified in a June 4 filing from the special counsel's office as D1 and D2.
Specifically, the new charges allege that Manafort and Kilimnik "knowingly and intentionally attempted to corruptly persuade" D1 and D2, "with intent to influence, delay, and prevent the testimony of any person in an official proceeding" and that Manafort and Kilimnik conspired to do so.
Manafort, who has been under indictment by the special counsel's office since this past October, faced a first superseding indictment in February that accused him of orchestrating a group, known as the "Hapsburg group," to engage in an illegal lobbying scheme in the United States on behalf of the Ukrainian government.
In the February indictment, Manafort was charged with conspiracy to defraud the United States, money laundering conspiracy, failing to disclose to the US government the extent of his work on behalf of former Ukrainian president Viktor Yanukovych and other Ukrainian entities, and making false statements. Those charges remain in the new indictment, in addition to the obstruction-related charges.
In the June 4 filing, the special counsel's office — in relation to Manafort's conditions of release pending trial on the February charges — accused Manafort of trying to tamper with potential witnesses in his case.
D1 and D2 worked for a public relations company that served as "intermediaries" between the Hapsburg group and Manafort, an unidentified "Person A," and Rick Gates — another Manafort associate who has pleaded guilty and is now cooperating with the special counsel's office.
"Person A" had been reported to be — or to apparently be — Kilimnik, but Mueller had not named him until Friday's indictment.
The June 8 superseding indictment alleges that "from 2006 until 2014 ... Manafort, with the assistance of Gates, Kilimnik, and others, engaged in a multi-million dollar lobbying campaign in the United States at the direction of Yanukovych, the Party of Regions, and the Government of Ukraine." In the February superseding indictment, that paragraph only alleged that Manafort acted "with the assistance of Gates and others."
"Following the public disclosure of the February 23 Superseding Indictment, Manafort and Person A — who is a longtime associate of Manafort's — repeatedly contacted Persons D1 and D2 in an effort to secure materially false testimony concerning the activities of the Hapsburg group," lawyers for the special counsel's office wrote in the June 4 filing.
The June 4 filing included an exhibit that detailed 12 messages sent by "Person A" to D2 and one sent to D1.
"Hi. This is [Person A's first initial]. My friend P is looking for ways to connect to you to pass you several messages. Can we arrange that," Person A wrote to D1 via WhatsApp.
With Friday's indictment, Kilimnik and his role in Manafort's efforts are now front and center in the ongoing charges that Manafort faces — charges that are now compounded.
Kilimnik, Manafort's longtime business associate and right-hand man in Kiev, worked with him for more than a decade.
A native of Ukraine, he trained as a linguist at the Military Institute of the Ministry of Defense in Moscow, which experts believe to be a training ground for Russian spies. Kilimnik, who became a Russian citizen after the breakup of the Soviet Union, has previously denied ties to Russian intelligence.
But a Dutch lawyer who worked with him and Manafort admitted to Mueller's investigators that he knew that Kilimnik had ties to Russian intelligence.
According to court documents, the Dutch lawyer, Alex van der Zwaan, told investigators that Gates had told him that Kilimnik was "a former Russian Intelligence Officer with GRU," Russia's military intelligence agency.

Van der Zwaan, who pleaded guilty to lying to federal agents, is thus far the only person who's served time in Mueller's probe. He was sentenced to 30 days in federal prison for lying to the special counsel's office about his interactions with Gates. He was deported to his native Netherlands earlier this week.
Kilimnik met Manafort in 2005, when he began working for his consulting firm and handling its clients in Ukraine. For the next 10 years, they became deeply involved in Ukrainian politics, managing pro-Russia political parties' campaigns and helping them stay in power.
These included the Kremlin-aligned hardliner Viktor Yanukovych, who was elected president of Ukraine in 2010.
When Yanukovych fled to Russia four years later, Kilimnik worked for the pro-Russia Ukrainian party Opposition Bloc, supported by the same backers. With Kilimnik's help, Manafort worked for his client to keep seats in Ukraine's parliament, reportedly even personally approving the candidates.
Manafort only stopped receiving payments from Opposition Bloc in April 2016, a month after he joined the Trump campaign, according to the Washington Post, but stayed in touch with his old business colleague.
He reportedly emailed Kilimnik in 2016 to offer "private briefings" to Oleg Deripaska, a Russian billionaire close to President Vladimir Putin.
Manafort continued to communicate with Kilimnik as recently as last November, a month after Manafort was accused of serving as an unregistered foreign agent for Ukraine as well as money laundering.
Manafort was paid $17.1 million for his work for Yanukovych's party between 2012 and 2013, which he did not disclose until last year, when he retroactively registered with the Justice Department as required under the Foreign Agents Registration Act. He became the second member of the Trump campaign to do so, after former national security adviser Michael Flynn registered as a foreign agent for more than $500,000 worth of lobbying on behalf of Turkey.