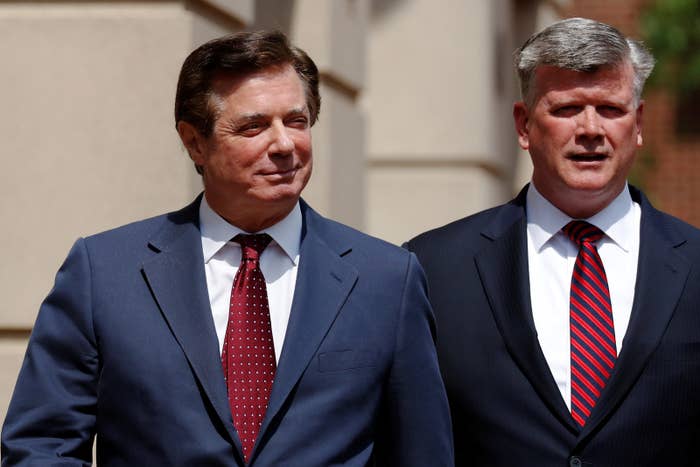 A federal judge in Virginia on Friday tried, unsuccessfully, to get a lawyer from special counsel Robert Mueller's office to say what has long been speculated: that the charges against former Trump campaign chair Paul Manafort, which don't relate to his campaign work, are aimed at pressuring Manafort to "sing" about President Donald Trump.
It wasn't clear if US District Judge T.S. Ellis III's skepticism about the special counsel's office's motives for the indictment, and whether the charges actually related to the Russia investigation, would lead the judge to dismiss the case. But he made his doubts known.
"You really care about what information Mr. Manafort can give you that would reflect on Mr. Trump or lead to his prosecution or impeachment," Ellis said, saying he was speculating about why Mueller's office was interested in Manafort's pre-campaign finances.
Manafort is arguing that the indictments returned against him by grand juries in Washington, DC, and Alexandria, Virginia, should be dismissed because Mueller's original appointment order by Deputy Attorney General Rod Rosenstein in May 2017 was too broad and gave Mueller too much power at the start. The judge in the DC case heard arguments last month and has yet to rule.
Arguing before Ellis in the US District Court for the Eastern District of Virginia on Friday, special counsel lawyer Michael Dreeben said Mueller's appointment order didn't need to outline everything he was authorized to investigate, and that the full scope of his authority was later articulated by Rosenstein. It wouldn't make sense for Rosenstein to have to publicly explain all the details of an investigation that touched on national security, counterintelligence, and other sensitive, nonpublic matters, he said.
Ellis said the government seemed to be arguing that despite Rosenstein laying out in a public memo what Mueller was authorized to do, he wasn't bound by it and wasn't "really telling the truth."
"It kind of invites: 'Come on, man,'" the judge said, in what he described as a football-related reference. (The hearing was full of colorful asides from the judge, including a digression about how court hearings work in the United Kingdom and an admonishment to one of the lawyers at the special counsel's table to stop nodding along as Dreeben spoke.)
Ellis repeatedly pressed Dreeben to say that the Manafort prosecution was about getting leverage. Dreeben tried to steer the discussion away from the subject, saying the issue was whether Manafort could get the indictment tossed out; Ellis at one point accused Dreeben of "running away" from his questions. Dreeben argued that the special counsel's office had an interest in exploring the relationship that Manafort, someone directly connected to Trump's campaign, had with Russia through his work for the former pro-Russia president of Ukraine, Viktor Yanukovych.
Ellis appeared unconvinced, noting that in his tenure on the bench — he was confirmed in 1987 — he was familiar with how prosecutors used investigations to pressure people for information.
"The vernacular is 'to sing,'" the judge said. He warned Dreeben that in those circumstances, "they may not just sing, they may also compose."
Ellis expressed concern about the extent to which the special counsel's office was arguing the court shouldn't pay too close attention to the language of Mueller's original appointment order. "We don't want anyone with unfettered power," Ellis said, ticking off a list of government officials who shouldn't have that, including the president.
Ellis questioned Dreeben about how the decision was made to refer information obtained by the special counsel's office about Trump's longtime personal lawyer, Michael Cohen, to the US attorney's office in Manhattan. The FBI executed search warrants last month on Cohen's home and office; he has not been charged with a crime. Ellis asked if the referral was made because the special counsel's office determined the information wasn't related to its authority, and if so, how that was different from prosecuting Manafort for crimes unrelated to the campaign.
Dreeben said he wasn't at liberty to discuss details about the Cohen case. He said that, generally, the office takes "very seriously" its core mission to investigate Russian interference in the election and any ties between Russia and the Trump campaign. The office might uncover other information that was necessary to fulfill that mission, Dreeben said, but may also uncover information that was appropriate for another office to handle.
Manafort was clearly within the special counsel's area of interest because of his role in the campaign and his affiliations with Ukraine and Russia, Dreeben said. In trying to understand the full scope of Manafort's possible Russia ties, he said, they had to "follow the money where it led."
Ellis asked Dreeben how the special counsel's office was spending its money, and when the investigation would end.
"I'm sure you're sensitive to the fact that the American people feel pretty strongly about no one having unfettered power," Ellis said, referring to the controversial, and now-expired, independent prosecutor laws.
Dreeben declined to answer questions about operations within Mueller's office, but told the judge that they were operating under the regulations in place that govern the work of special counsels and were reporting to Rosenstein.
The judge asked the government to produce an unredacted copy of an August 2017 memo from Rosenstein to Mueller, which laid out in greater detail the matters that Mueller's office was authorized to investigate. The majority of the memo, which was publicly filed, was redacted. Ellis said he wanted to see it — it would only be produced to him, not to the public or the defense — to determine if prosecutors were truthful in saying the rest of the document didn't relate to Manafort.
Dreeben said he would need to consult with his office and the intelligence community. The judge gave the special counsel's office two weeks to turn it over.
As skeptical as Ellis appeared regarding the government's arguments, he also had questions for Manafort's lawyer that suggested he hadn't made up his mind. Even if there were issues with the breadth of Mueller's original appointment order, the judge asked, didn't the August memo address that by specifically referring to Manafort's work in Ukraine as falling under Mueller's jurisdiction?
"Let me ask you: So what?" Ellis asked Manafort's lead attorney Kevin Downing. Downing replied that Rosenstein couldn't retroactively fix the problems with the original appointment order. If it was unlawful, Mueller lacked authority to conduct the investigation and convene a grand jury, Downing said.
Ellis asked Downing if one possible outcome would be that he could send the case to the US attorney's office in Virginia to handle. Downing said that could be an option.
Ellis did not say when he would rule. The trial in Virginia is scheduled to start July 10. Manafort has also asked Ellis to hold a hearing to investigate leaks of information about his case to the media, and he filed separate motions to suppress evidence seized from his home and storage unit. A hearing on those motions is scheduled for later in May.