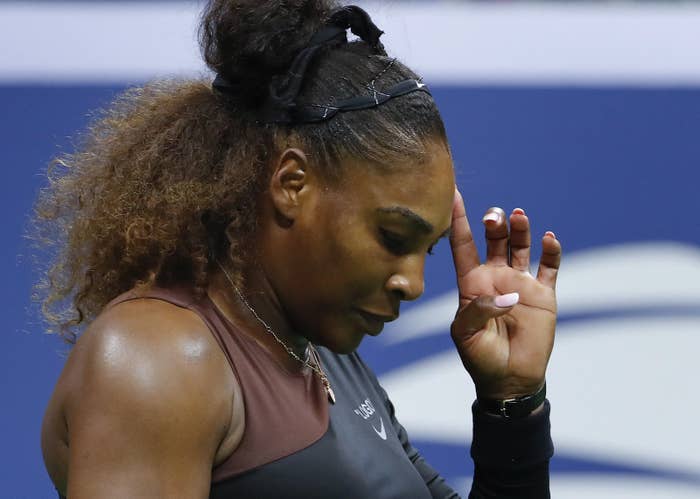 Serena Williams was given one of the highest penalties in tennis in the US Open final Saturday after the chair umpire accused her of cheating, sparking a heated argument that mired the historic game in controversy. The professional tennis world responded to the match, with some players defending Williams.
Playing in her 31st Grand Slam final — and her second since giving birth — Williams lost to 20-year-old Naomi Osaka, the first Japanese woman to win a major tournament, after losing a point and a game to penalties for three consecutive code violations.
The United States Tennis Association said on Sunday that Williams was fined $17,000 for the game: $4,000 for the coaching warning; $3,000 for smashing her racket; and $10,000 for the "verbal abuse."
It all started when Carlos Ramos, the chair umpire, accused Williams of getting coaching from the box — a charge that the most decorated athlete in women's tennis took with offense.
"I understand why you may have thought that was coaching but I'm telling you it's not. I don't cheat to win. I'd rather lose. I'm just letting you know," Williams told the umpire.
The umpire issued Williams a code violation for coaching, which is against the rules. But it was unclear if she was aware of that because she appeared stunned after receiving another code violation, for breaking her racket in frustration, which resulted in a point penalty.
After seeing the point deduction in the score, Williams resumed the argument with Ramos, telling him that he owed her an apology for accusing her of getting coaching.
"You owe me an apology," she told the umpire. "I have never cheated in my life."
Later on, while again demanding an apology, Williams told Ramos, "You stole a point from me. You're a thief, too."
For that, Ramos gave her a third code violation for verbal abuse, resulting in a game penalty that put Osaka just a few serves away from her first Grand Slam win.
Here's a video of the interaction:
As the referee consulted with Ramos, Williams, near tears, addressed Women's Tennis Association supervisor Donna Kelso, saying it was not right that she was penalized for coaching.
"I was not being coached," Williams said. "You know me. You know my character and that's not right. This is not fair. This has happened to me too many times."
"You know how many other men do things — they do much worse than that. This is not fair," Williams continued. "There's a lot of men out here that have said a lot of things and because they are men that does not happen to them."
In an interview after the match, Williams' coach, Patrick Mouratoglou, admitted to coaching, but said he didn't think his player was looking at him, and accused the umpire of enforcing the rule inconsistently.
"I was like 100% of the coaches in 100% of the matches," Mouratoglou told a reporter. He pointed out that Ramos has chaired finals for Rafael Nadal, whose coach, Mouratoglou said, is "coaching every single point."
"They never gave a warning. I don't really get it. It's strange," he added.
During a press conference after Saturday's match, Williams said she felt it was sexist for Ramos to take a game away from her.
"He's never taken a game from a man," she said. "This is outrageous."
She concluded saying she hoped that the controversy, while unfavorable for her, would be beneficial for the next woman player who "has emotions and wants to express themselves."
"Maybe it didn't work out for me, but it's going to work out for the next person," Williams said.
It was not the first time Williams was penalized for arguing with US Open officials.
In 2009, she was fined $82,500 and placed on probation for cursing out and threatening a lines person who called a foot fault against her.
She was again fined in 2011 for arguing with the umpire during the championship match.
Unsurprisingly, the controversy sparked lots of reaction online about whether the penalties were fair and if they represented a double standard in tennis.
"All fair."
"...even if you think Patrick Mouratoglou was coaching, that doesn't justify taking a whole game from Serena Williams for arguing."
"He showed absolutely no discretion and common sense."
"Ridiculous behavior here from Serena Williams ... demanding an apology from umpire Carlos Ramos, who is merely doing his job."
"Men players get away with far more abusive language to chair umpires and it seems like every player's coach signals from the box without getting called for it."
Retired tennis player Andy Roddick at first called the rulings the "worst refereeing I've ever seen," but later said Ramos was "within his power to make that call."
Tennis legend Billie Jean King also weighed in and argued that coaching should be allowed in tennis.
"When a woman is emotional, she's 'hysterical' and she's penalized for it. When a man does the same, he's 'outspoken' & there are no repercussions."
Regardless of where you stand on the issue, we can all agree that this is not the US Open final anyone wanted.