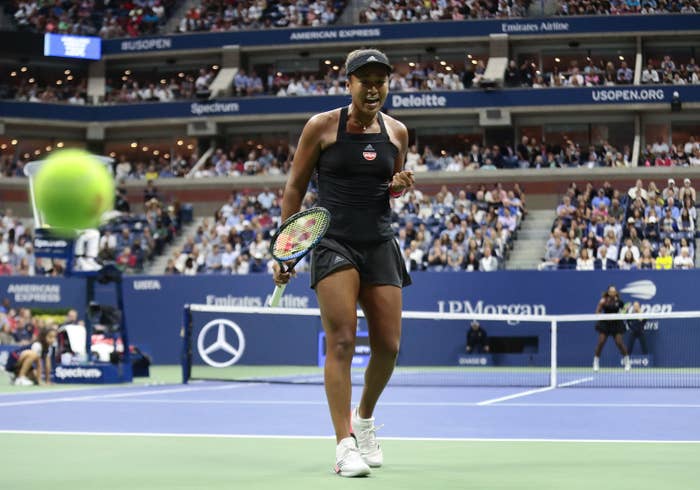 Naomi Osaka beat Serena Williams in the final of the US Open on Saturday.

On Sunday, the United States Tennis Association said that Williams was fined $17,000 for the game: $4,000 for the coaching warning; $3,000 for smashing her racket; and $10,000 for the "verbal abuse." The controversial final drew widespread criticism from across the professional tennis world.
In a match marked by a blowout argument between Williams and tennis officials, the 20-year-old Osaka is the first Japanese-born woman to win a Grand Slam final, and is currently the youngest woman in the world's Top 20.

Osaka defeated the iconic American champion in decisive fashion, beating Williams 6–2, 6–4 with a 114-mph serve that her opponent could not return. Osaka pulled her visor down over her eyes in apparent disbelief and embraced Williams at the net.
It was an unexpectedly quick end to a match that devolved into chaos after Williams was penalized an entire game for getting in an argument with the umpire. Fans alternately booed and cheered as Williams confronted the umpire over a code violation for coaching in the second set, with the umpire citing an apparent gesture Williams' coach made from the stands.
"I don't cheat to win," Williams told the umpire. "I'd rather lose. I'm just letting you know."
After receiving a second code violation, for smashing her racket, Williams again confronted the referee, demanding that he apologize for and rescind the first violation. The two violations resulted in a point penalty for Williams. Following another confrontation at the next changeover, the umpire issued the game penalty, citing "verbal abuse."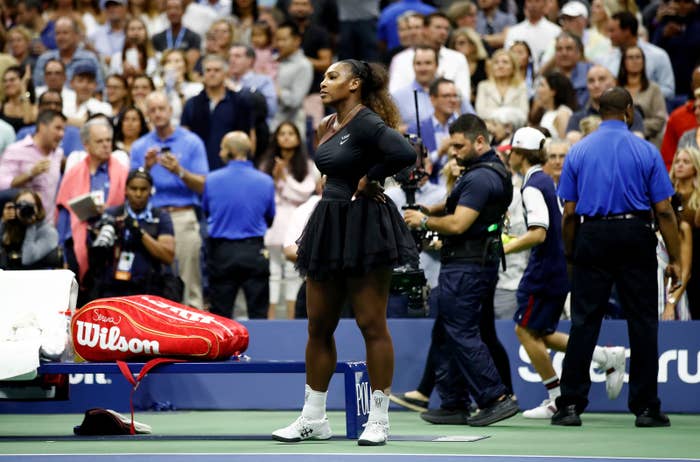 But though the match was largely overshadowed by the argument, Williams was bested on the court by her younger opponent, who has publicly stated her admiration of Williams. The 16-year age gap between the two women is the second largest in US Open history.
Osaka, whose mother is Japanese and whose father is Haitian, has lived in the United States since she was 3 and has dual citizenship. Her father made the decision that she should represent Japan early in her career, and her mixed background has challenged notions of identity in Japan. "Everything about Naomi breaks the mold," Kenshi Fukuhara, a producer with the Japanese tennis broadcaster Wowow, told the New York Times.

The final was a rematch for Williams and Osaka, who had played against each other at the Miami Open in March, when Osaka beat Williams in a dramatic match.
Saturday's US Open final was Osaka's first Grand Slam final and Williams' 31st, but only her second since giving birth. She lost to Angelique Kerber at Wimbledon in July.
"To all the moms out there, I was playing out there for you today and I tried," Williams said after the Wimbledon loss. "I look forward to continuing to be back out here and do what I do best."
Williams suffered life-threatening complications after giving birth to daughter Alexis Olympia Ohanian in 2017 and needed multiple surgeries, enduring a long recovery before returning to the game earlier this year.
Her post-pregnancy return has sparked debate about the way tennis organizations treat women who take time off to give birth. The US Tennis Association announced that they would change the way they seed players earlier this summer, in response to criticism Williams did not get a seeded spot in the French Open.
The March win against Williams in Miami cemented Osaka's reputation as a rising star in women's tennis. She was born the year that Williams played her first WTA tour and has said that playing against her idol is "surreal."
"Even when I was a little kid, I always dreamed that I would play Serena in a final of a Grand Slam," she said at a press conference. But, she added "I shouldn't really think of her as, like, my idol. I should just try to play her as an opponent."
In an emotional trophy ceremony following the match, both Williams and Osaka cried, with the elder player putting her arms around the champion, and encouraging the raucous crowd to remain positive.
"I know you guys were here rooting, and I was rooting, too, but let's make this the best moment we can," Williams said. "We're going to get through this and let's be positive. So congratulations, Naomi. No more booing."

Osaka, her voice shaky, thanked her parents and the crowd, acknowledging their disappointment at Williams' loss.
"I know that everyone was cheering for her and I'm sorry it had to end like this. I just want to say thank you for watching the match," Osaka said. "It was always my dream to play Serena in the US Open finals so I'm really glad I was able to do that."