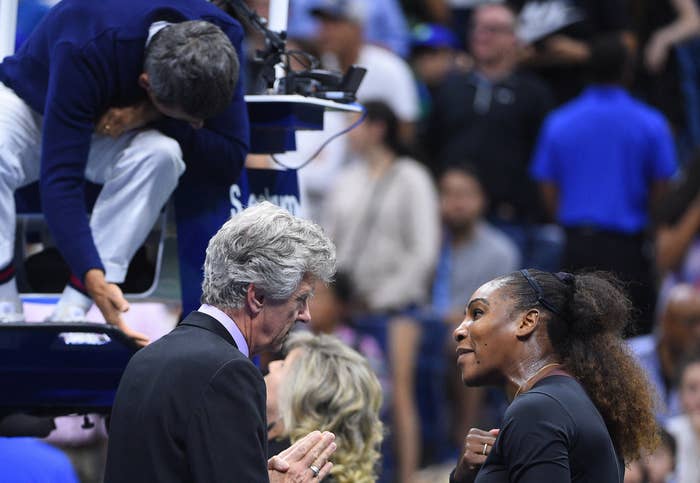 Serena Williams was fined $17,000 after she was issued three code violations at the US Open final Saturday night.

Williams was fined $4,000 for the coaching warning, $3,000 for smashing her racket, and $10,000 for the "verbal abuse" directed at umpire Carlos Ramos, the USTA told BuzzFeed News.
The fine will be deducted from Williams' winnings of $1.85 million as runner-up, the USTA said.
The Associated Press first reported the news Sunday.

Williams lost to Naomi Osaka, 20, in the final.

The match ended in chaos Saturday night after the umpire, Carlos Ramos, accused Williams of getting coached from the box.
"I don't cheat to win. I'd rather lose," Williams told Ramos. Ramos issued Williams a code violation for coaching, which is against the rules.

Shortly thereafter, Williams received another violation after smashing her racket and was given a point penalty.

Her confrontation with the umpire continued: "You owe me an apology," Williams told Ramos. "I have never cheated in my life."
The umpire ultimately gave Williams a third code violation for verbal abuse, after Williams called him a "thief."

"You stole a point from me," Williams said to him. "You're a thief, too."

The events provoked an uproar, with many criticizing the umpire's actions as sexist.
Tennis legend Billie Jean King said that Williams effectively called out what is a double standard in the sport.
Williams comforted Osaka during the emotional awards ceremony. Osaka, tearful, apologized during it. "I'm sorry it had to end like this," she said.