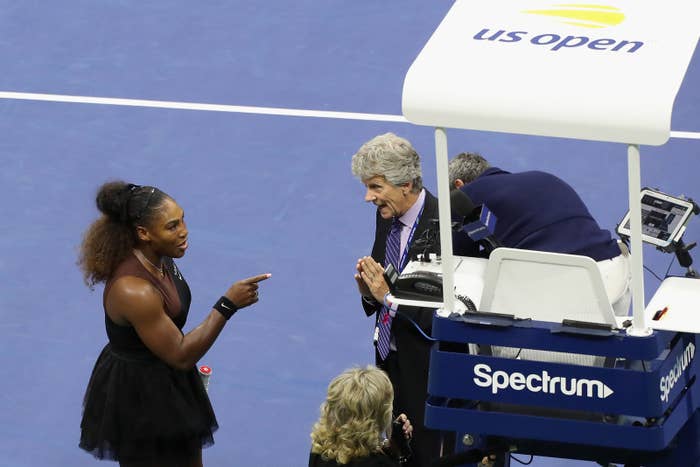 Naomi Osaka beat Serena Williams in the US Open final Saturday night, closing a chaotic and controversial match during which Williams argued with tennis officials about her treatment on the court.

In response to the final, many current and retired professional tennis players defended Williams, and expressed their frustration with what they see as sexism and a double standard in the sport.
Tensions began to rise when the umpire, Carlos Ramos, accused Williams of breaking the rules by getting coached, and then issued her a code violation. Later in the game, Ramos docked Williams a second violation when she smashed her racket, which cost her a point. After calling Ramos a "thief," Williams received a third code violation for "verbal abuse."

"You stole a point from me," the tennis star said to Ramos. "You're a thief, too."
On Sunday, United States Tennis Association said that Williams was fined $17,000 for the game: $4,000 for the coaching warning, $3,000 for smashing her racket, and $10,000 for the "verbal abuse."
The game drew criticism from across the professional tennis world.
One writer for ESPN encouraged male tennis players to speak out about what they have previously said to umpires. "Would be nice if some of Serena's male counterparts had her back and admitted they've said a lot worse to the umpire," Ramona Shelburne tweeted.

James Blake, a retired tennis player, responded. "I will admit I have said worse and not gotten penalized," he said.
Another retired tennis player, Andy Roddick, said similarly.
Roddick initially said that it was the "worst refereeing I've ever seen." But later he walked back the statement and said that it was an "emotional first take."

Roddick also defended Williams after someone criticized her behavior.
Mardy Fish, another former professional tennis player, said that there were "two ridiculous calls" in the match. "I can promise you, that's not coaching, racquet abuse no doubt, but the verbal abuse???," he said. "It's the US Open Final!!!"
Some criticized the controversial game while also applauding the success of the younger champion, Naomi Osaka.

"If it was men's match, this wouldn't happen like this," said Victoria Azarenka, a professional tennis player from Belarus, adding that the 20-year-old "played incredible."
Others, like former professional Rennae Stubbs, said that she felt awful for both Williams and Osaka. "This is crazy!" she said.

Another retired tennis professional pointed out that a lot of coaches advise their players from the sidelines. "Every coach coaches from the sidelines whether it's in their own language or a few hand signals," Melanie Oudin said.

Williams' coach, Patrick Mouratoglou, said in an interview that he was coaching, but said he didn't think Williams was looking at him. He also said that the rules aren't enforced consistently.

"I was like 100% of the coaches in 100% of the matches," Mouratoglou said. He said that Ramos has chaired finals for Rafael Nadal, whose coach, according to Mouratoglou, is "coaching every single point."

"They never gave a warning. I don't really get it. It's strange," Williams' coach added.
Chris Evert, another former professional player, agreed. "Everyone coaches," she said, suggesting that the rule be changed. Evert added that Williams should have been told about the abuse rule before she was penalized for it.
Tennis legend Billie Jean King was among the first to comment on the game. She argued that the rules should be changed so that players aren't punished for the behavior of their coach.

Billie Jean King also applauded Williams for challenging a double standard in the sport. "More voices are needed to do the same," she said.

Williams said she felt it was sexist for Ramos to take a game away from her at a press conference following Saturday's match.

"He's never taken a game from a man," she said. "This is outrageous."
French tennis professional Kristina Mladenovic expressed support for both players, calling them champions.
Retired professional Ana Ivanović applauded both women too, she called attention to Osaka's "performance" and called Williams a "champion."
"Thank you both, to show us how to be limitless!" said Timea Bacsinszky, a professional tennis player from Switzerland.