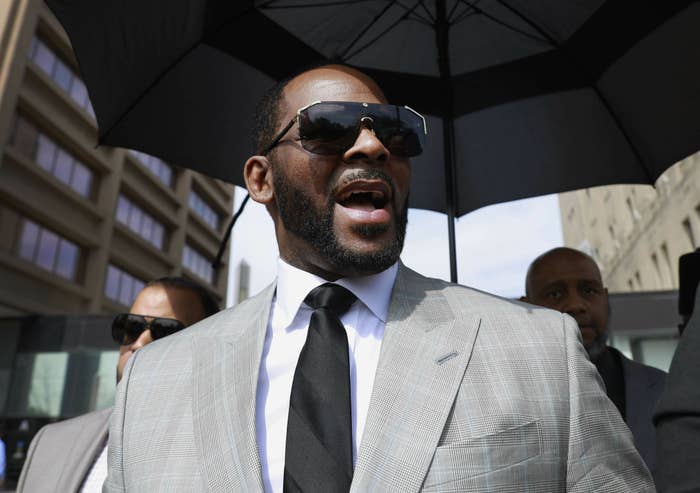 R. Kelly was sentenced to even more time in prison Thursday for producing child sexual abuse images, including an infamous video of him sexually assaulting and urinating on a 14-year-old girl.
The 56-year-old, who is already serving a 30-year prison sentence for his 2021 New York conviction, was sentenced in a Chicago federal courtroom to 20 years imprisonment.
All but one of those years will be served concurrently with his New York sentence, adding one additional year to his overall time in prison.
The new prison sentence comes after Kelly was convicted of federal sex crimes for the second time in a year. In September, a federal jury in Chicago found the R&B singer guilty of three counts of producing child sexual abuse images and three counts of enticing underage girls to engage in criminal sexual activity. The jury acquitted Kelly and two of his former employees of several other charges, including conspiring to obstruct justice and receiving and conspiring to receive child sexual abuse images.
That verdict followed Kelly's 2021 conviction in New York, which marked the first time the R&B artist has been held accountable for the sexual abuse claims that have dogged him for decades. The 56-year-old is currently serving a 30-year prison sentence for the New York conviction.
In a sentencing memorandum filed earlier this month, Kelly's attorney Jennifer Bonjean asked that the singer be sentenced at the lower end of a range of 135 months to 168 months and that the punishment be imposed at the same time as his New York sentence. Bonjean argued that Kelly is basically already facing a life sentence and that the crimes he was convicted of in the two jurisdictions could have been part of the same indictment.
"As a matter of fairness and double jeopardy, Kelly should not face consecutive sentencing where piece-meal prosecution by the federal government was designed to unfairly enhance his punishment," she said, adding that the government seemed to have an "obsession with ensuring that Kelly dies in prison."
"Even if he beat the statistical odds," Bonjean said, "he would not be released from prison until well into his 80s, long after he is a threat of any kind to the general public."
Prosecutors had sought a consecutive sentence of 300 months or 25 years — far more time than the sentencing guidelines range of 168 to 210 months — arguing that the "nature and circumstances" of his crimes warranted an above-guidelines sentence and that his New York sentence should not be considered here.
"Robert Kelly is a serial sexual predator who, over the course of many years, specifically targeted young girls and went to great lengths to conceal his abuse," the government said in its sentencing memo. "There is no reason that the consequences imposed for his heinous crimes here should be discounted due to the sentence imposed for harming different victims at different times in the New York prosecution."
Thursday's sentence gives the government more assurances that Kelly will spend the rest of his life behind bars despite attempts by his attorneys to appeal both convictions.
The Chicago case was seen as a reckoning on the infamous video that showed Kelly sexually assaulting and urinating on a 14-year-old girl and the failed state trial that followed. In the more recent federal trial, the girl, now in her late 30s, testified that Kelly coaxed her into having sex with him hundreds of times and coached her to lie about the true nature of their relationship, causing her to deny for decades that she was the person in the tape. Despite hearing from more than a dozen witnesses who positively identified the figure on the tape as the 14-year-old, jurors in a 2008 state trial acquitted Kelly of all charges, allowing him to continue preying on girls and young women.
"I did everything I could to keep that a secret," she testified in August, referring to their relationship. "It was embedded in me that this could never come out."
During the 2022 trial, prosecutors tried to show how the R&B singer escaped accountability for so long, but they ultimately were unable to convince jurors that there was a systematic effort to hide Kelly's abuse and rig the 2008 state trial.
Kelly was indicted on federal sex crimes in both Chicago and New York in July 2019. The indictments followed a 2017 investigation by Chicago journalist Jim DeRogatis published by BuzzFeed News and the 2019 docuseries Surviving R. Kelly, which further detailed women's allegations of Kelly's abuse.
In the wake of the documentary, state prosecutors in Illinois also filed new charges against Kelly, though Cook County State's Attorney Kim Foxx recently dropped them in light of his federal convictions.
"While this may not be the result they were expecting, due to the sentences that Mr. Kelly is facing, we do feel that justice has been served," Foxx said in a Jan. 30 statement.