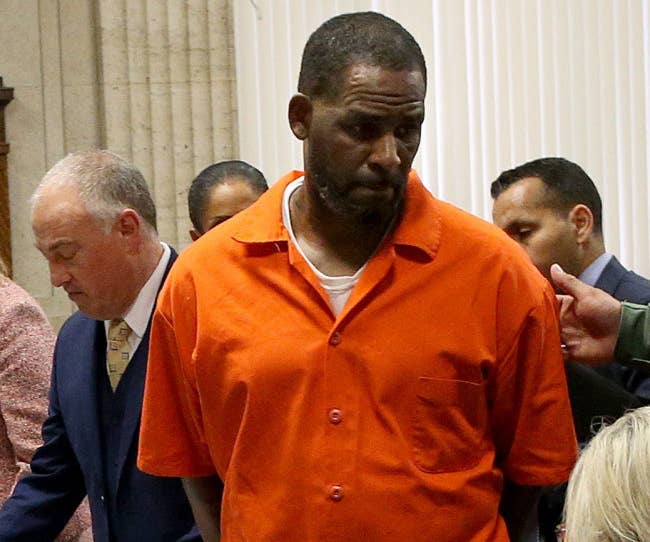 CHICAGO — The woman who was 14 when R. Kelly allegedly sexually assaulted and urinated on her in a video that helped tie flagrantly predatory behavior to the R&B artist's public image described how he coaxed her into having sex with him "hundreds" of times while she was a teenager and then coached her to lie about the true nature of their relationship.
"That was something I would take to my grave," she said.
The girl, now 37 years old, is testifying under the pseudonym Jane in Kelly's second federal trial in Chicago. He is facing 13 counts, including charges for producing child sex abuse images and obstructing justice, in connection with a state trial in 2008 that resulted in his acquittal.

"I didn't know how to say no," Jane said of Kelly's sexual advances, adding that she felt "uncomfortable" at first, but then over time the sexual aspect of their relationship "somewhat became normal."
"I wanted to give him what he wanted or required," she said.
Jane's testimony was highly anticipated after her absence in the 2008 trial and decadeslong denial that she was the person in the tape and had a sexual relationship with Kelly. She confirmed in her testimony on Thursday that she lied to law enforcement and the Cook County grand jury when they charged him with producing the infamous tape in 2002.

Over the course of four hours, Jane described how she was groomed for sexual abuse shortly after developing a mentor-like relationship with the R&B singer and described the sexual encounters she had with him, including in the infamous tape and two other alleged child sex abuse videos he's charged with producing. She testified that she was 14-years-old at the time all three videos were recorded and that she lost her virginity to Kelly at age 15. Jane told the court they had sex "uncountable times" while she was underage, but estimated the number to be in the "hundreds."
At times during her testimony, Jane grew quiet and choked up as she described what happened in the three videos. Wiping away her tears with a tissue, she testified that in one of the encounters she was laying on the floor of Kelly's living room during oral sex and that he urinated on her vagina while telling her to talk about how old her body parts were.
"He asked me to say 'my 14-year-old vagina,'" Jane said, audibly sniffling.
In the infamous video from the 2008 trial, Jane testified that Kelly is seen giving her money before she performs oral sex on him because the R&B star wanted to make it look like she was a prostitute "if anybody saw the tape or if it was released."
When she later told the Cook County grand jury that the girl in the tape wasn't her, Jane said she lied because she was "afraid" of exposing Kelly, but she also "didn't want that person to be me."
"I was ashamed," Jane said as her voice grew shaky.
Jane, who grew up in Oak Park, a suburb of Chicago, said she first met Kelly in 1996 or 1997, when she was 12 or 13, at a concert at her church.
"I was excited like every other fan in the world," she testified, describing Kelly's celebrity status as being at a superstar level.
The next time she saw Kelly was a few weeks or months later when he came to her musical group's performance. At the time, she was a rapper and singer in a four-person group with her cousins that toured in Europe, gaining popularity in places like Germany.
After she finished performing, Kelly told her "how great of a job" she did, which made her feel accomplished and happy, she testified.
"Such a successful person was saying I was gifted, so I was excited," Jane said.
Soon after that, she began spending more time with Kelly through her aunt, Stephanie, a singer who was collaborating and having a sexual relationship with the R&B star.
At some point, Stephanie encouraged Jane to ask Kelly to be her godfather so she could build a better relationship with him. Jane said at the time "he was the person that I looked up to," and she "thought it was a good idea."
As instructed by Stephanie, Jane said she sat on Kelly's lap and rubbed his head when she brought it up with him. She said when she asked, Kelly looked up at her and "chuckled a little bit" and said yes.
Within weeks of becoming her godfather, Kelly's behavior toward her started changing, she testified. Jane told the court that he began asking her sexual questions while they talked on the phone, such as what color her panties were, and talking about her breasts growing. Their phone calls then progressed to what Jane described as "phone sex," where Kelly would ask her questions and let her know that he was masturbating. From there, it escalated into physical sexual abuse.
During their sexual encounters, Jane said Kelly provided her with alcohol, saying that it helped her "loosen up" and took her "away from the moment." He also showed her other pornographic tapes of him having sex with other people during their encounters.
When she was 14 or 15, Jane said Kelly started asking about her friends and encouraged her to invite them to join their sexual activities. "I told him yes, I would basically pitch the idea," Jane said.

Jane testified that she recruited two other girls, who are being referred to under the pseudonyms Pinky and Brittany, to have threesomes with her and Kelly. Pinky and Brittany and two other women who were minors when they were allegedly sexually abused by Kelly are also expected to testify during the month-long trial.
Kelly was sentenced to 30 years in federal prison less than two months ago a jury in New York convicted him last year on racketeering and sex trafficking charges. It marked the first time the R&B artist has faced consequences for the sexual abuse claims that have dogged him for decades.

In the Chicago case, Kelly is on trial with two codefendants: Derrel McDavid, his former business manager, and Milton Brown, a former assistant for Kelly. McDavid is accused of conspiring to obstruct justice and of receiving and conspiring to receive child sexual abuse images. Brown is facing one count of conspiring to receive child sexual abuse images. All three men have pleaded not guilty, and over the years they've described his accusers as liars motivated by money.

The indictments out of Chicago and New York followed a 2017 investigation by Chicago journalist Jim DeRogatis published by BuzzFeed News and the 2019 docuseries Surviving R. Kelly, which further detailed the allegations of women who said Kelly had abused them.
Up until a few years ago, Jane had continued to deny that she was the girl in the infamous tape and was among the dozens of women who have been allegedly sexually abused by Kelly. She testified on Thursday that he had instilled fear in her that if she told the truth something bad would happen to him. She also said she had developed feelings of love for the singer wanted to protect him. He coached her to be "strong" and "stern" in denying the allegations to the grand jury in 2002, she added.
"I did everything I could to keep that a secret," Jane said, referring to their relationship. "It was embedded in me that this could never come out."
In 2002, when she was 17, Jane said she moved in to Kelly's home in Olympia Fields, about 30 miles south of Chicago. She testified that Kelly wanted her "to be closer to him" and "under his wing." At the time, he was awaiting his state trial on the child sex abuse image charges. While she lived with him, Jane said she was financially dependent on Kelly because he didn't allow her to work. When she finally moved out at age 24, he helped her pay her rent and provided her with a car so she could drive to and from a job she got after leaving the Olympia Fields house, she testified.
Jane said she finally decided to tell the authorities the truth about her relationship about two or three years ago because she "became exhausted with living with his lies."
Jane is expected to continue testifying under cross examination on Friday.