It looks like things are getting messy between Scott Disick and — wait for it — the entire Kardashian family, after he unfollowed every single member on Instagram.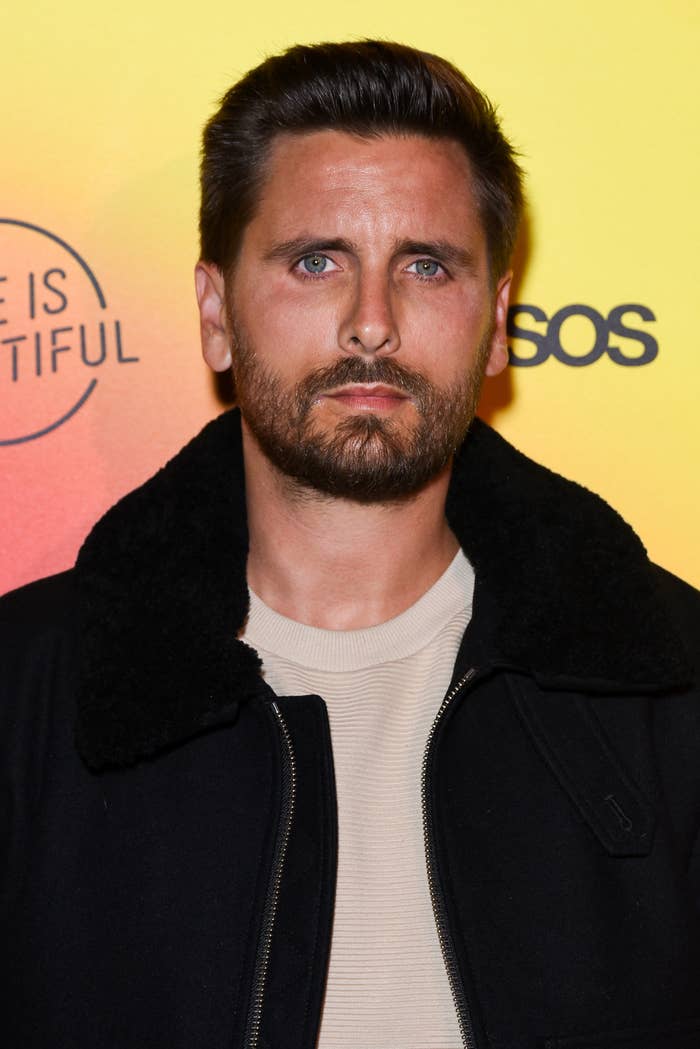 Things began earlier this month, when it was reported that Scott and his most recent girlfriend, Amelia Hamlin, had split up after almost a year together.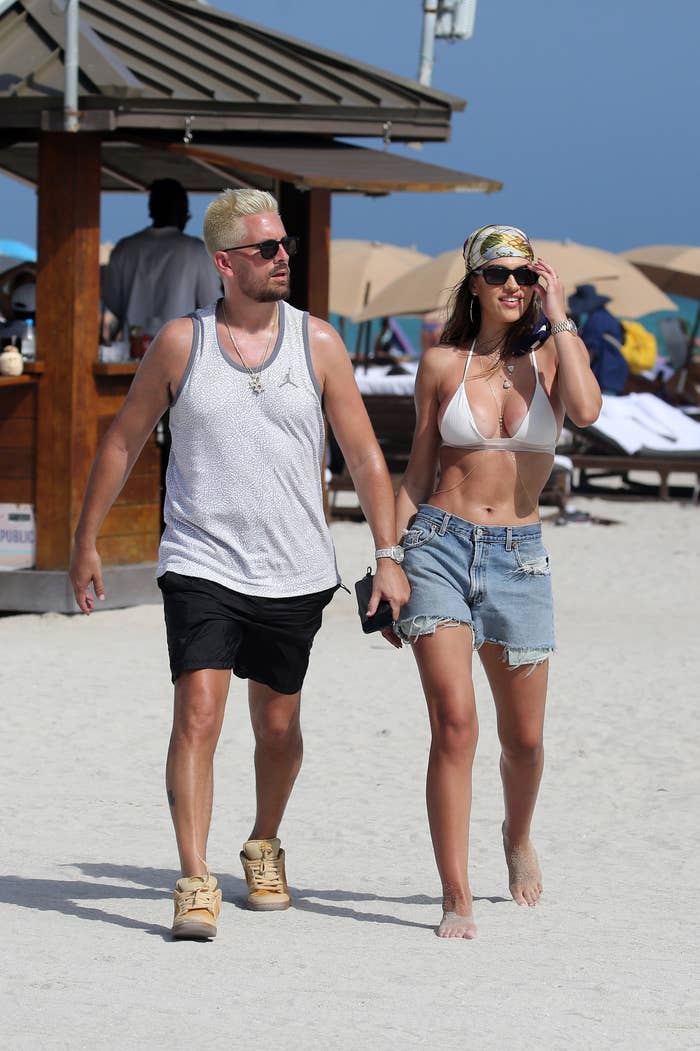 The pair — who were often at the center of public scrutiny due to their 18-year age difference — began dating in late 2020, but reportedly ended things just weeks ago.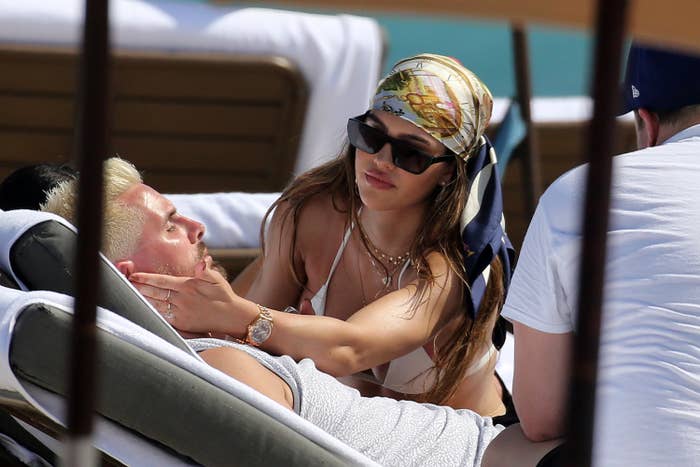 Neither party had publicly addressed their breakup until Thursday evening, when Amelia posted a cryptic quote on her Instagram story, which appeared to be a dig at her ex.
"The longer you entertain what's not for you, the longer you postpone what is," the quote said. "Read that again."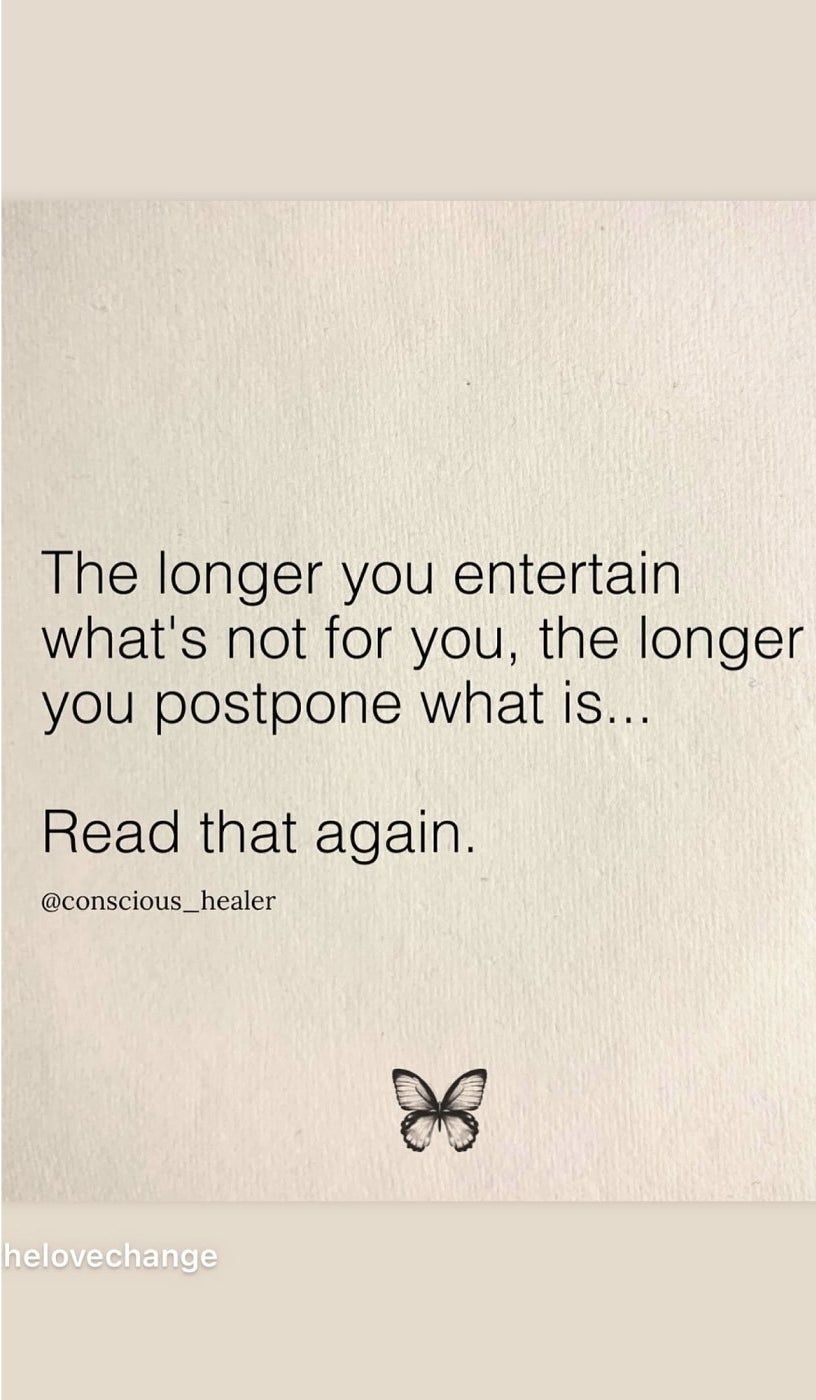 And shortly after the 20-year-old shared the quote to Instagram, it appeared that Scott decided to sever all ties and responded by unfollowing Amelia on the platform.
However, Scott didn't stop there. He went on to unfollow his other ex-girlfriend of almost 10 years, Kourtney Kardashian, along with the rest of her entire family.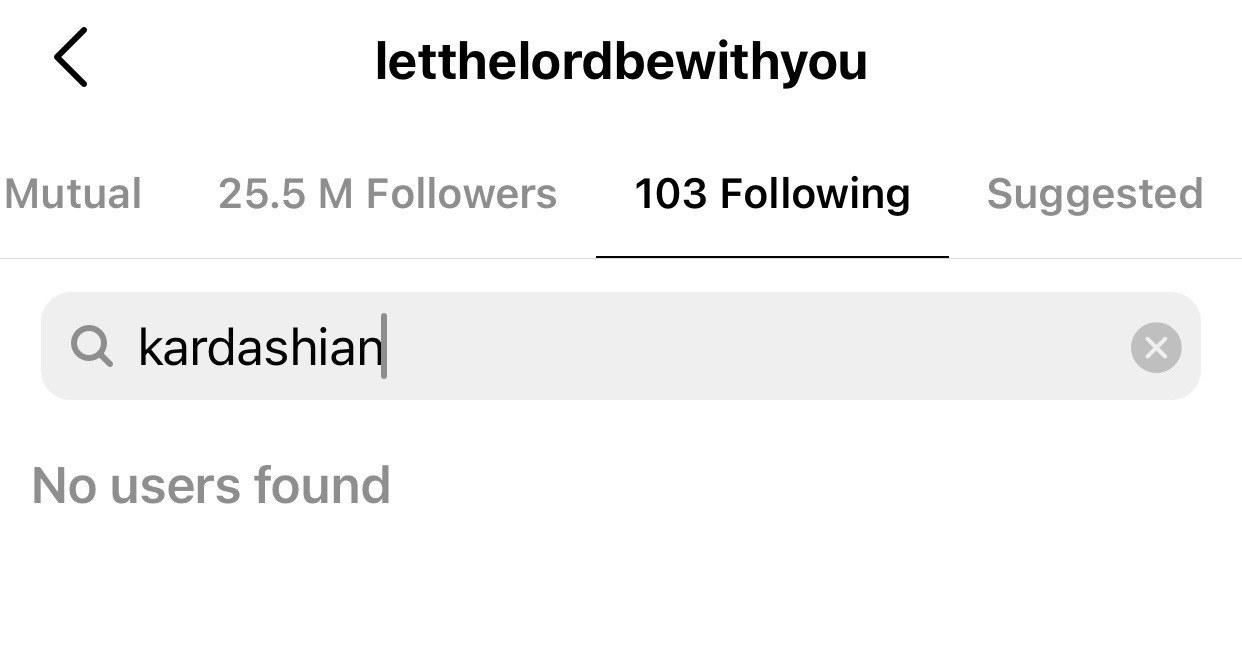 The move was hugely surprising, considering the fact that Scott has been part of the Kardashian/Jenners' innermost circle for over 15 years.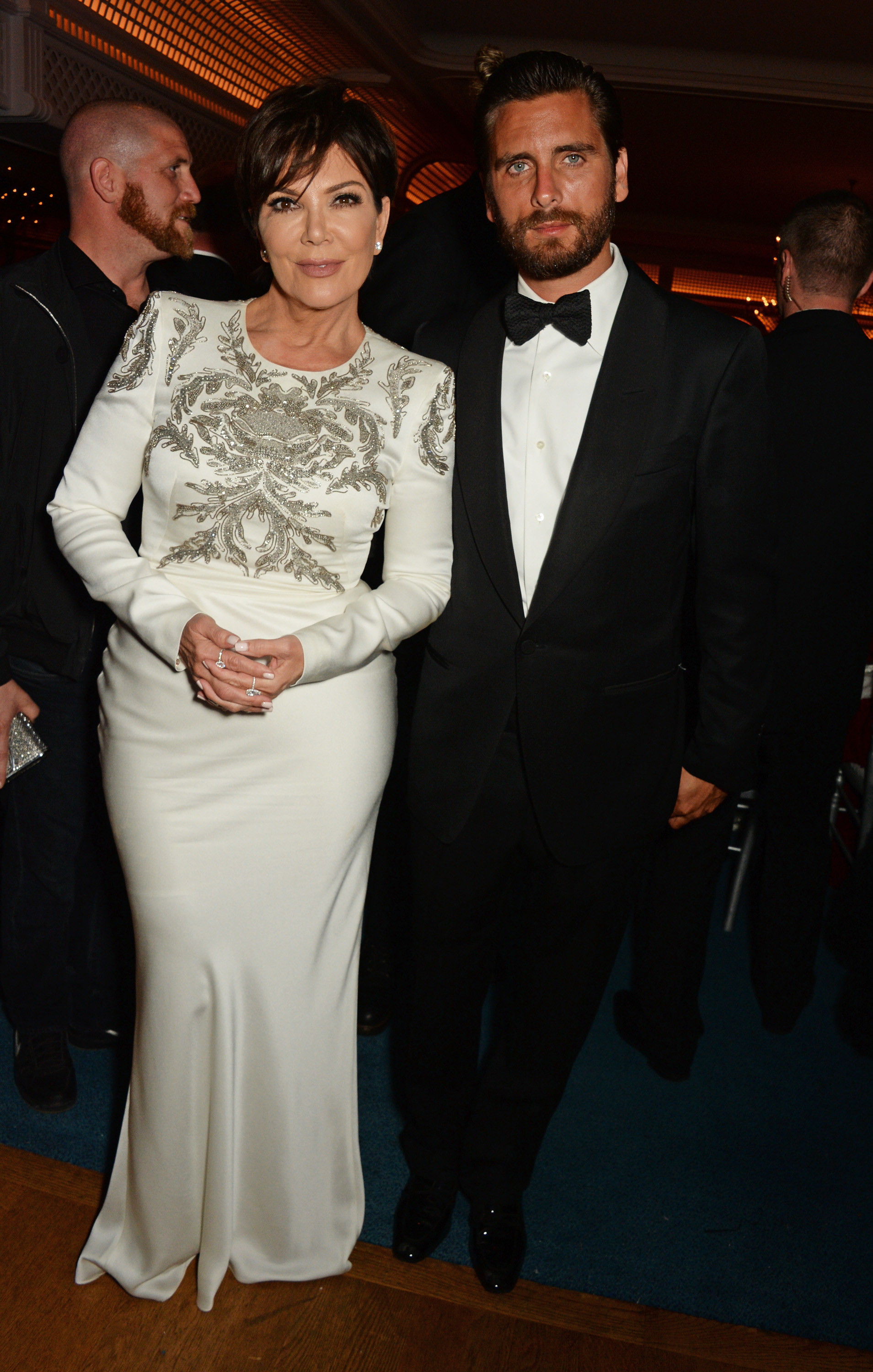 Despite him and Kourtney ending their relationship back in 2015, Scott remained close with the whole family. He continued to appear on Keeping Up With the Kardashians, remained committed to coparenting their three children, and at one point in the most recent season, was even being actively encouraged by Kourtney's sisters to rekindle their romance.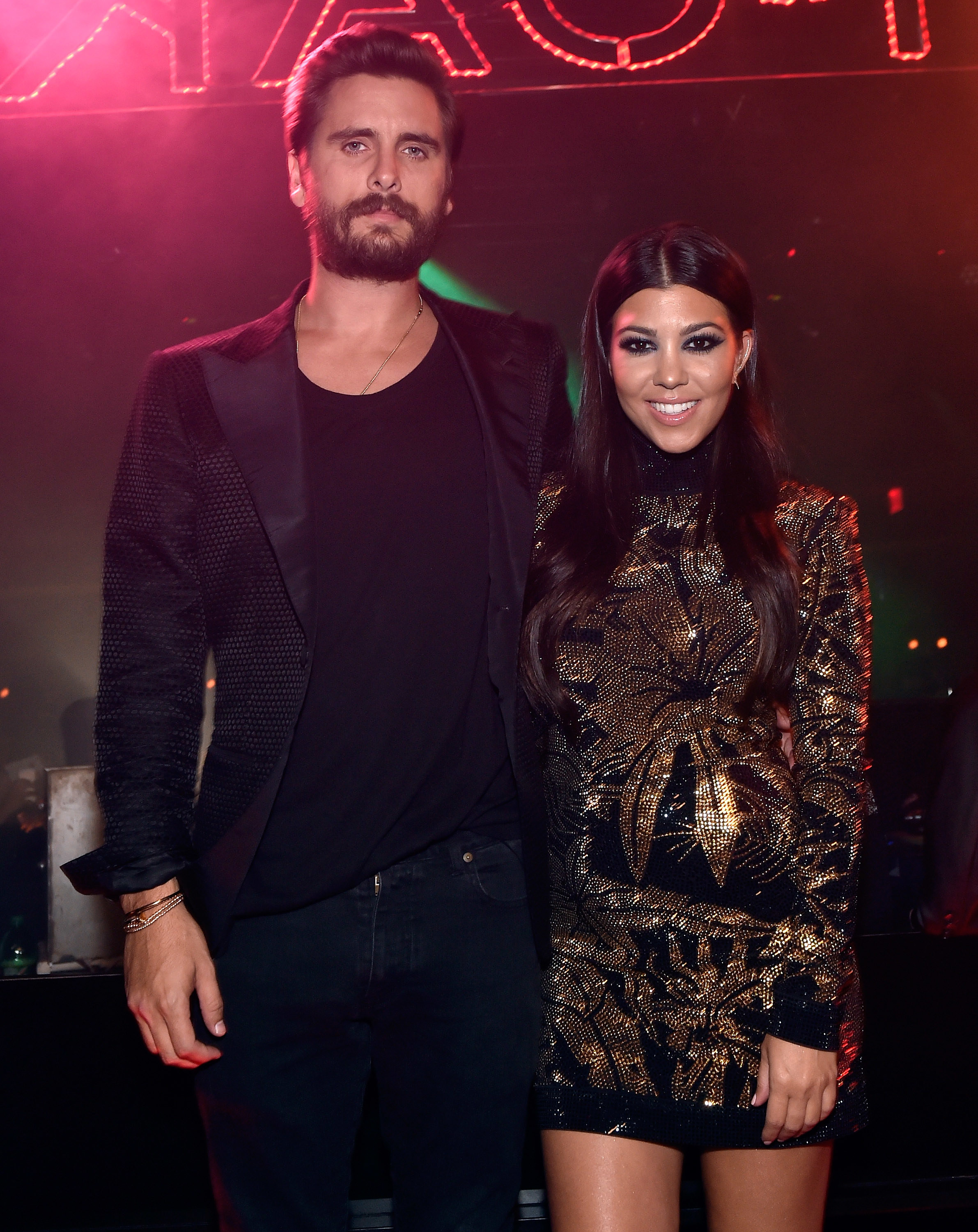 What's more, the timing of his unfollowing spree is interesting. Back in June, during the final season of KUWTK, Scott expressed concern that he would grow apart from the family once filming wrapped.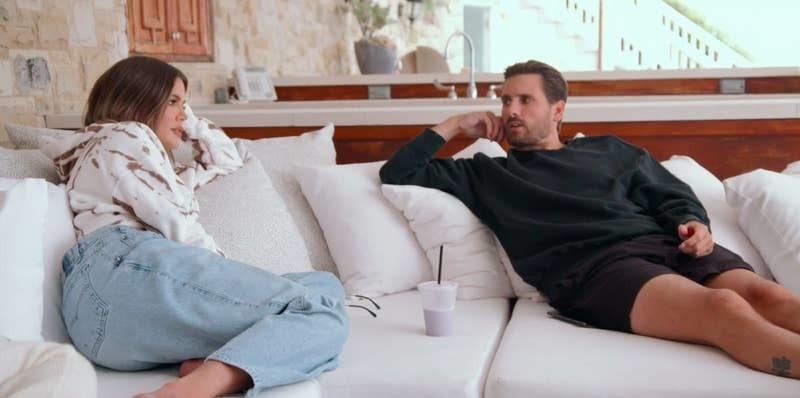 During one episode, he was seen traveling to each family member's home in a bid to bond with them and keep lines of communication open. In another, he suggested they schedule weekly dinners to ensure they remained close despite the lack of filming obligations.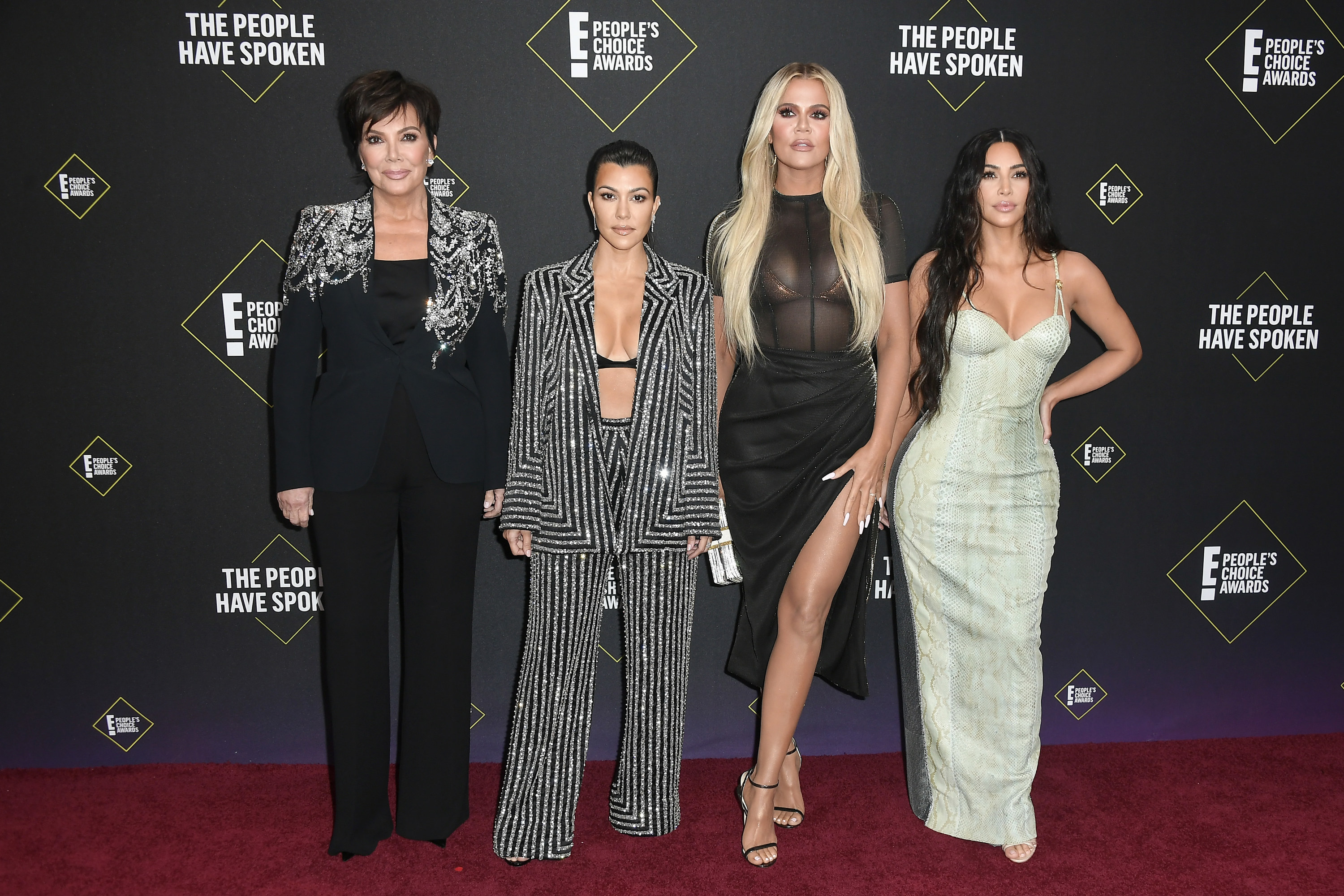 "I think what we have here is amazing," he said during a confessional. "My biggest fear is that we'll float apart, and not see each other nearly as much, because if we don't work together every day we're surely not going to see each other every day. It's very sad to me, you know, it's just kind of the ending of an era."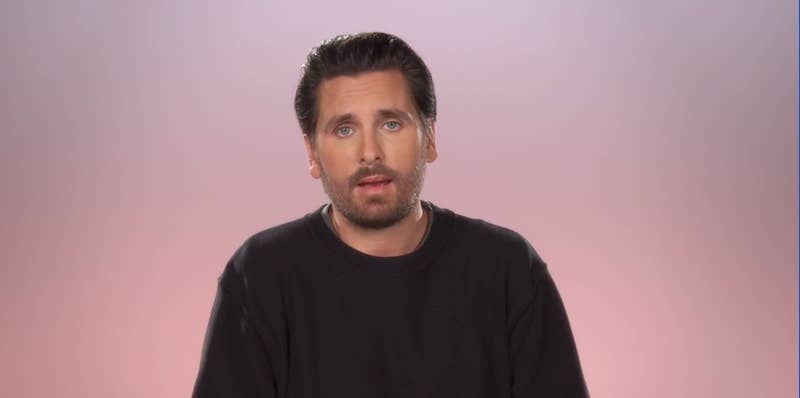 Despite the family's best efforts to reassure Scott that they would remain close, it seems that his concerns have since been exacerbated — and perhaps confirmed — by Kourtney's relationship with Travis Barker intensifying.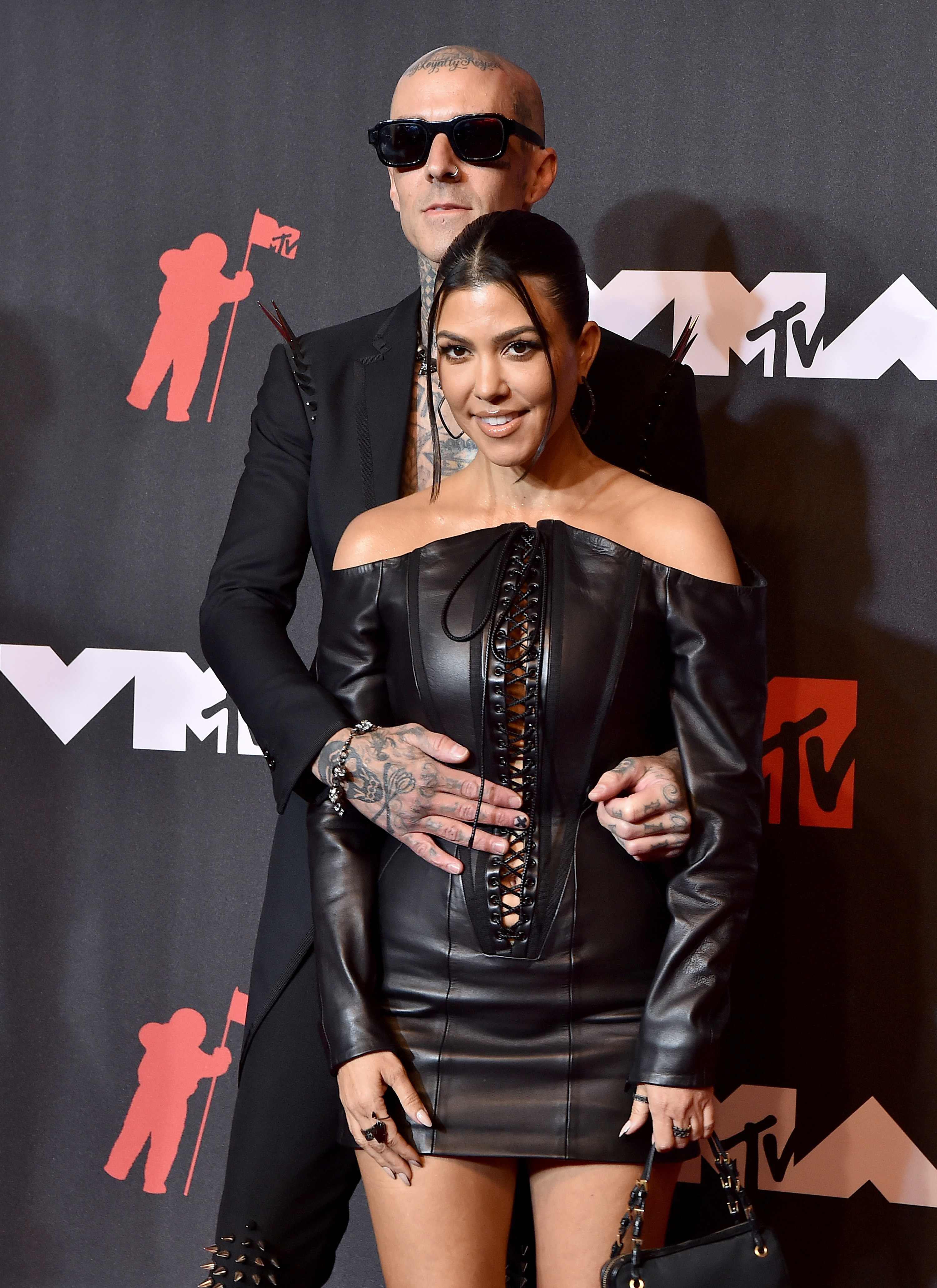 Unlike Kourtney's previous relationships, she and Travis shared a 10-year friendship before they began dating, and became serious very quickly. And since their romance began in February, Scott has been interacting less and less with the Kardashians, notably skipping their annual Easter and Thanksgiving celebrations where Travis was present.
Then, just weeks ago, Scott was exposed for privately messaging Kourtney's other ex-boyfriend Younes Bendjima in a clear attempt to join forces and vent about their mutual ex.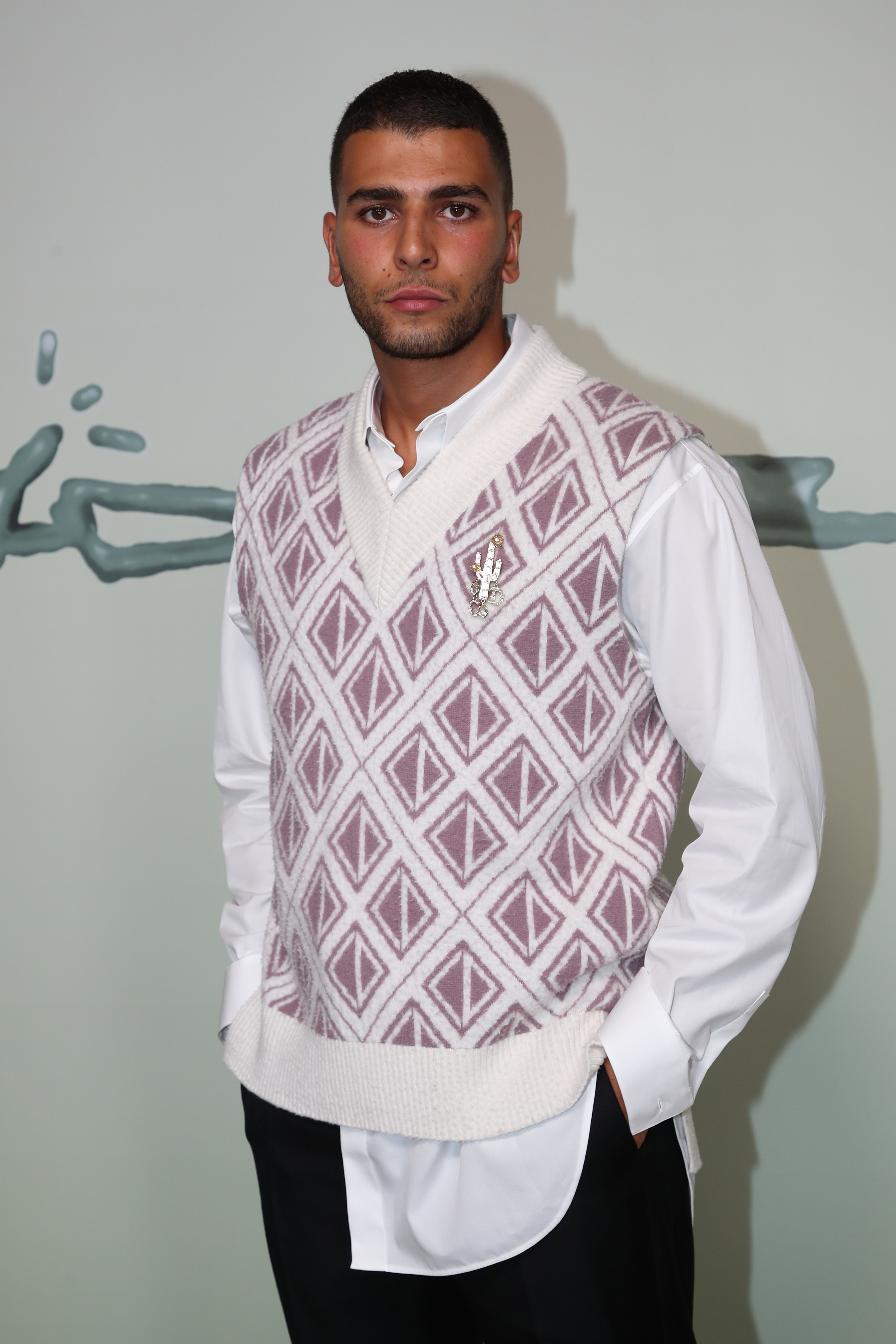 The awkward exchange involved Scott sending Younes — who has been repeatedly denounced by Scott and the entire Kardashian family in the past — a picture of Kourtney and Travis displaying some of their well-known PDA while on vacation in Italy.
"Yo is this chick ok!????" Scott wrote alongside the photo of Kourtney and Travis. "Broooo like what is this. In the middle of Italy."

Scott was quite clearly hoping that Younes would double down on his past shady comments about Kourtney. However, likely to Scott's dismay, Younes did not join in on the gossiping, and instead clapped back at the messages.
"Doesn't matter to me as long as shes happy," Younes responded, before adding: "PS: i aint your bro." Awkward.

And, to make things even messier, Younes added an extra message directly calling Scott out, over the screenshot of their DMs. He wrote: "Keep the same energy you had about me publicly, privately" — which was presumably in reference to Scott stating during the KUWTK reunion three months earlier, that he'd wanted to "kill him" during his relationship with Kourtney.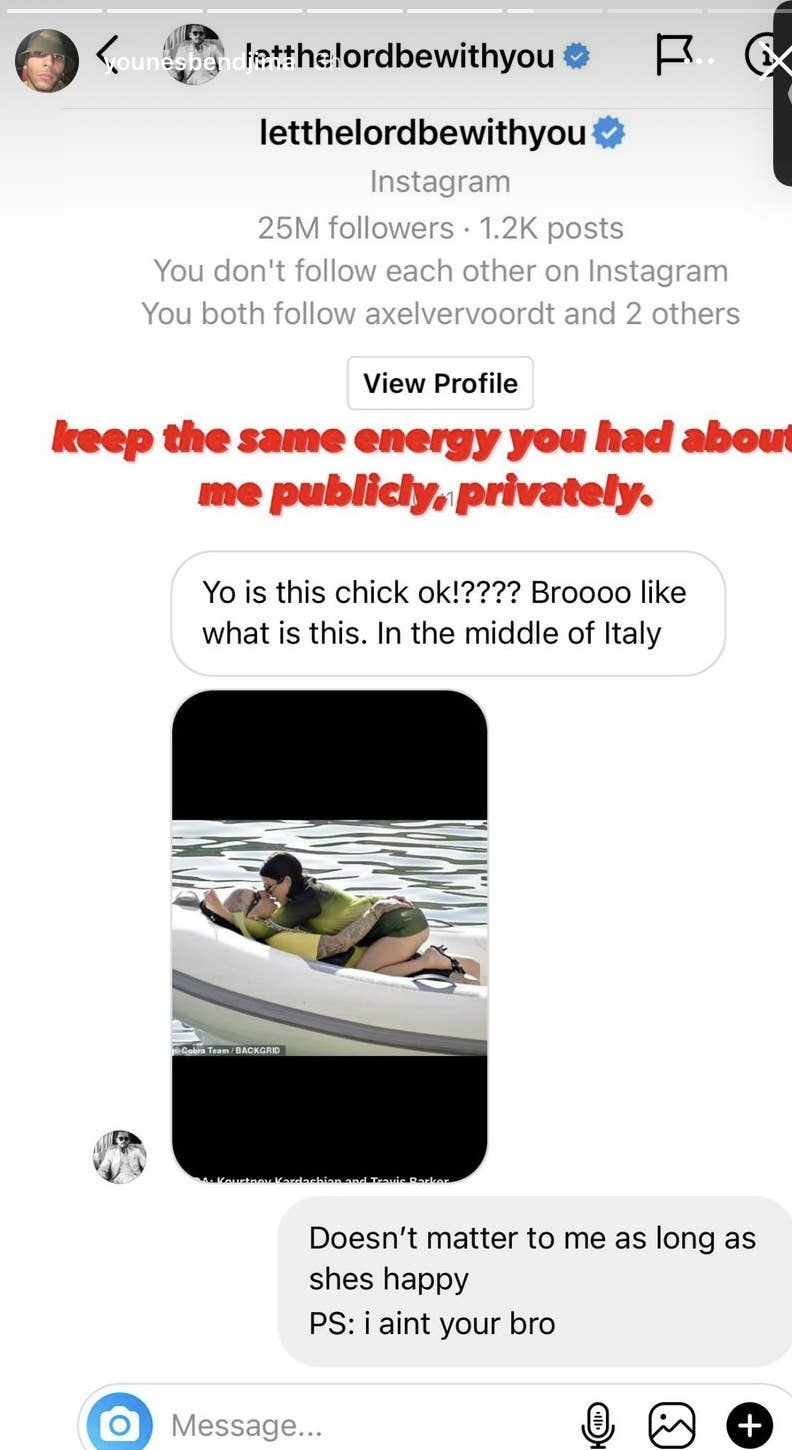 Scott's shady DMs — which have also been widely speculated to be the reason behind his and Amelia's split, since the pair called it quits just days later — marked the first time that he had commented on Kourtney's relationship with Travis since giving his "blessing" during the KUWTK reunion.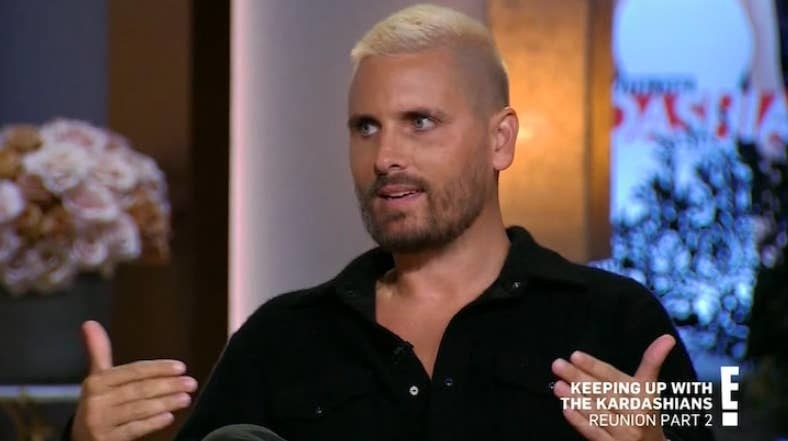 Despite Scott publicly suggesting he was accepting of the relationship, the leaked DMs confirmed what many fans had suspected: that privately, he's been struggling with seeing Kourtney move on so happily and seriously with Travis.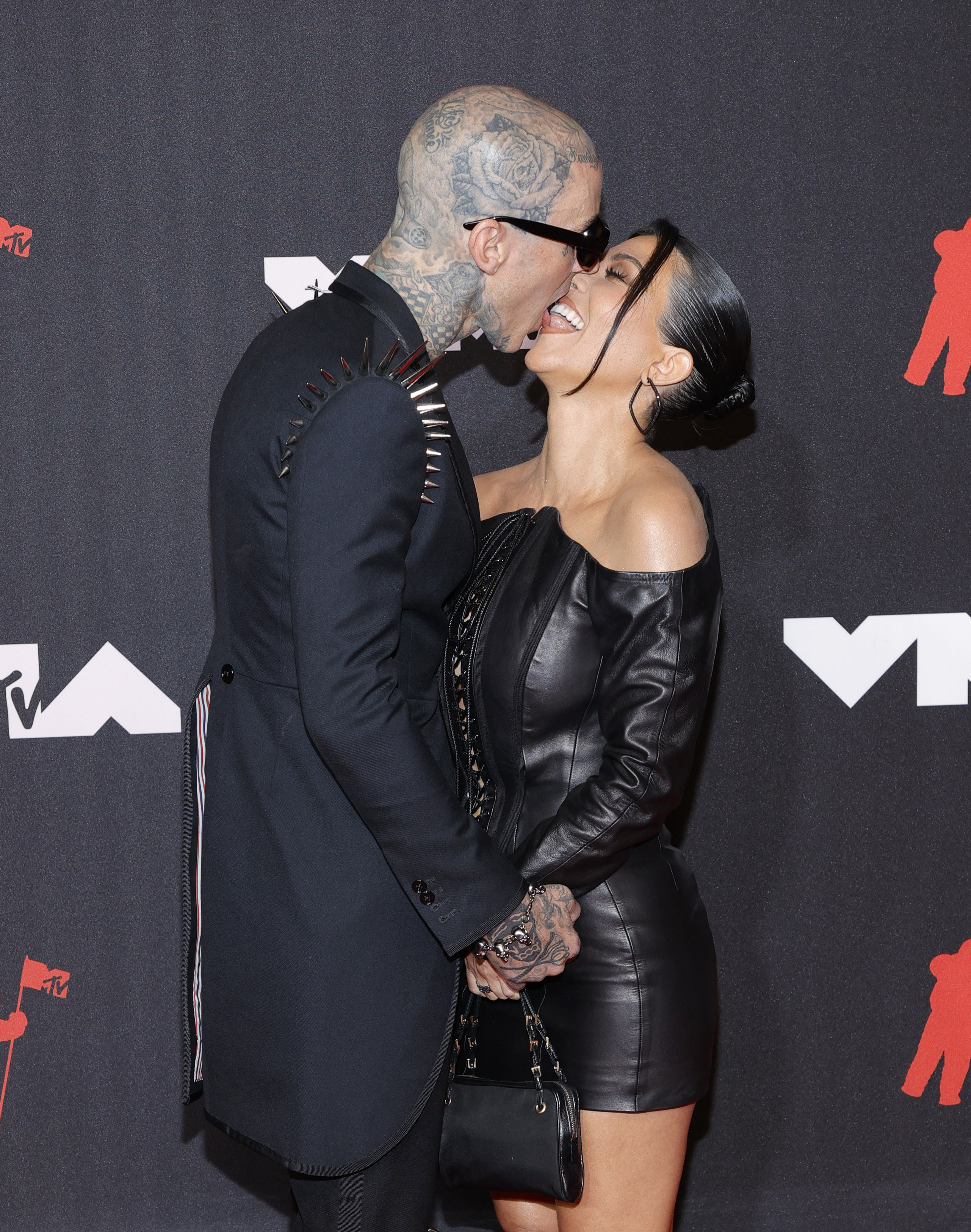 "I'm assuming that 'cause [Travis is] such a big part of Kourtney's life, that hopefully they will be on," Kim told Ellen, when asked if Travis will appear in the upcoming show. "I love their relationship."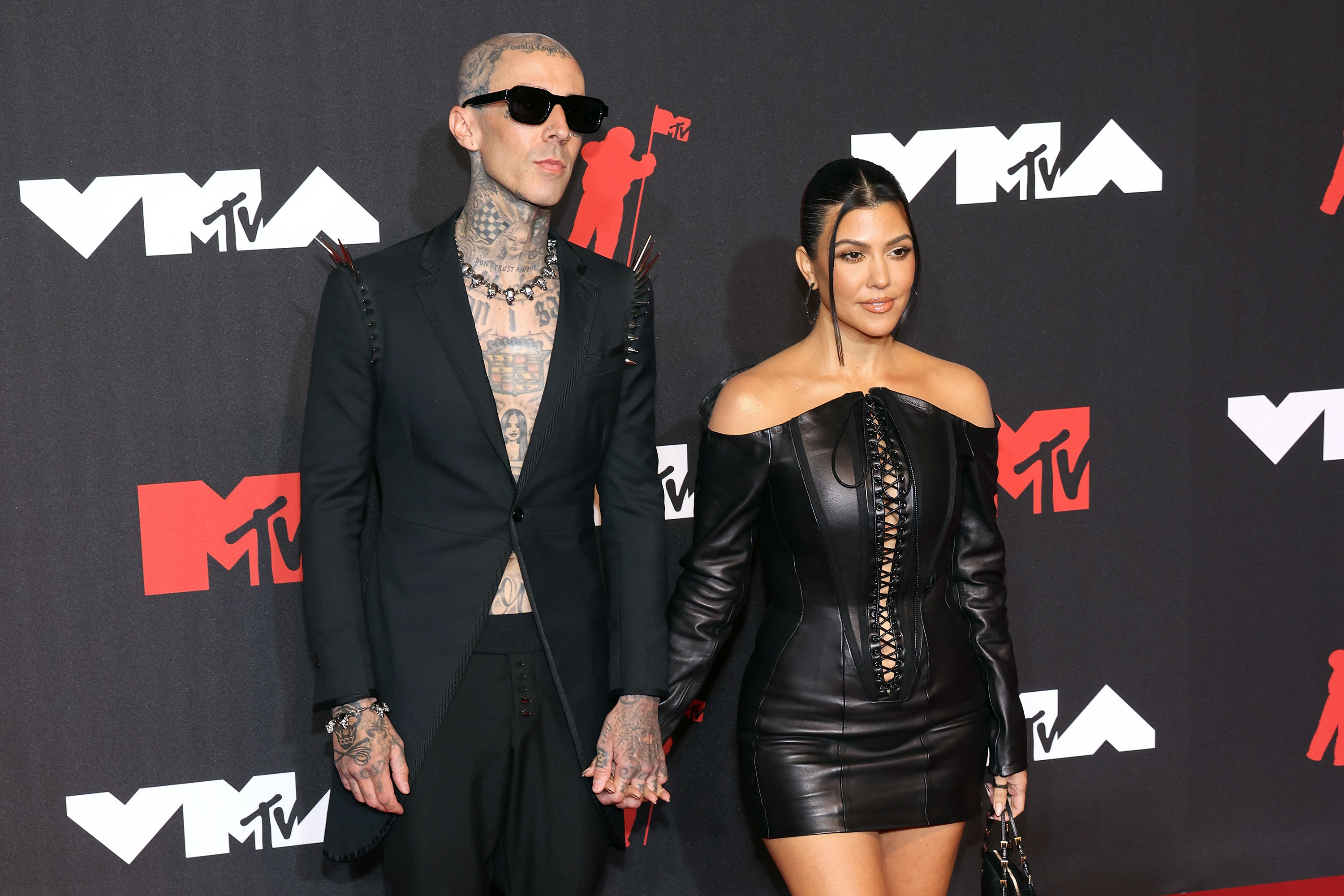 And on Thursday — the same day as Scott's unfollowing spree — Kim appeared to confirm that filming for the show was underway with a post of herself holding a mic pack alongside the caption: "Day 1."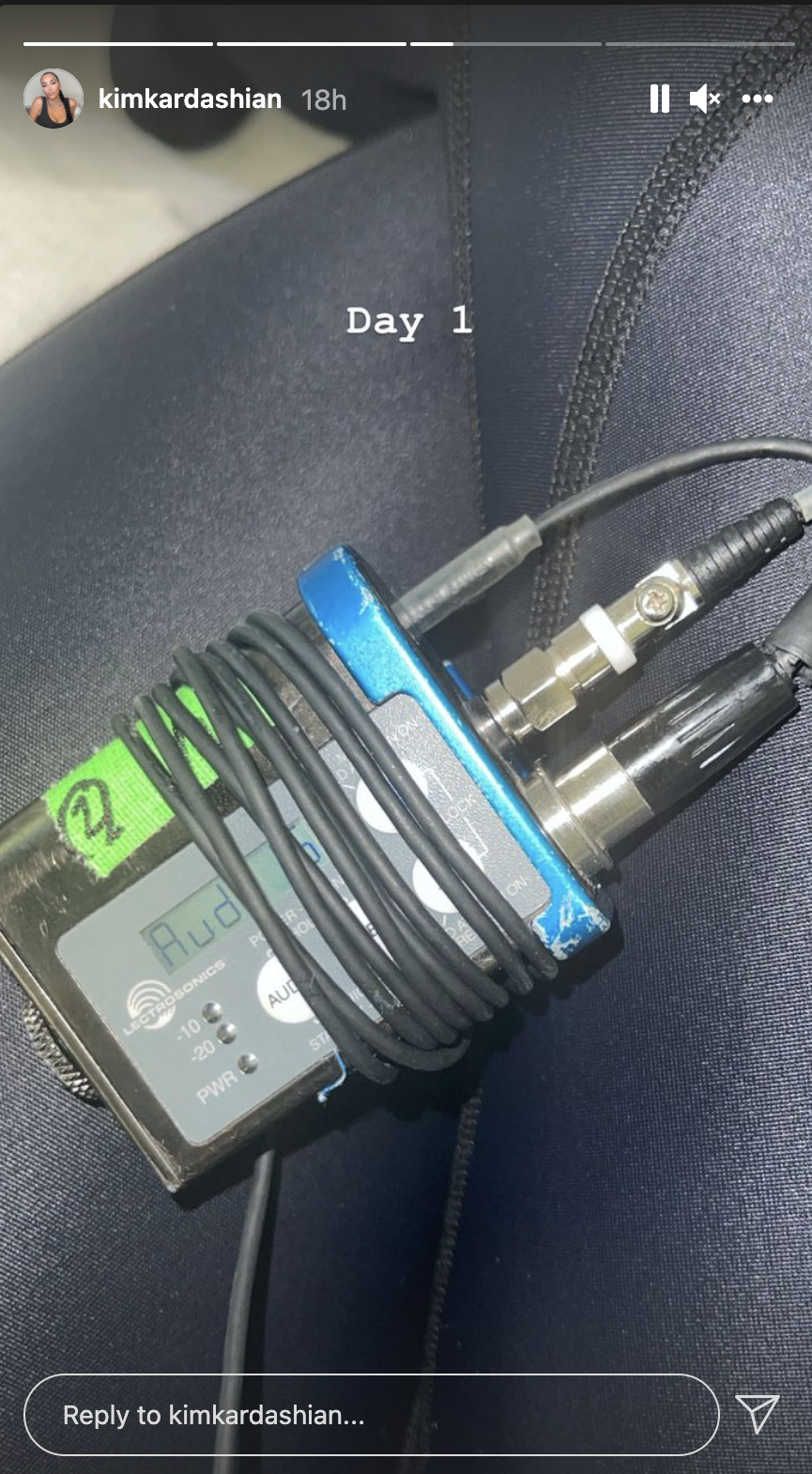 It remains unclear whether Scott will also be involved in the project, or if he's been omitted in place of Travis. But one thing is clear — his unfollowing spree signals a departure from the family he's been a part of for over a decade.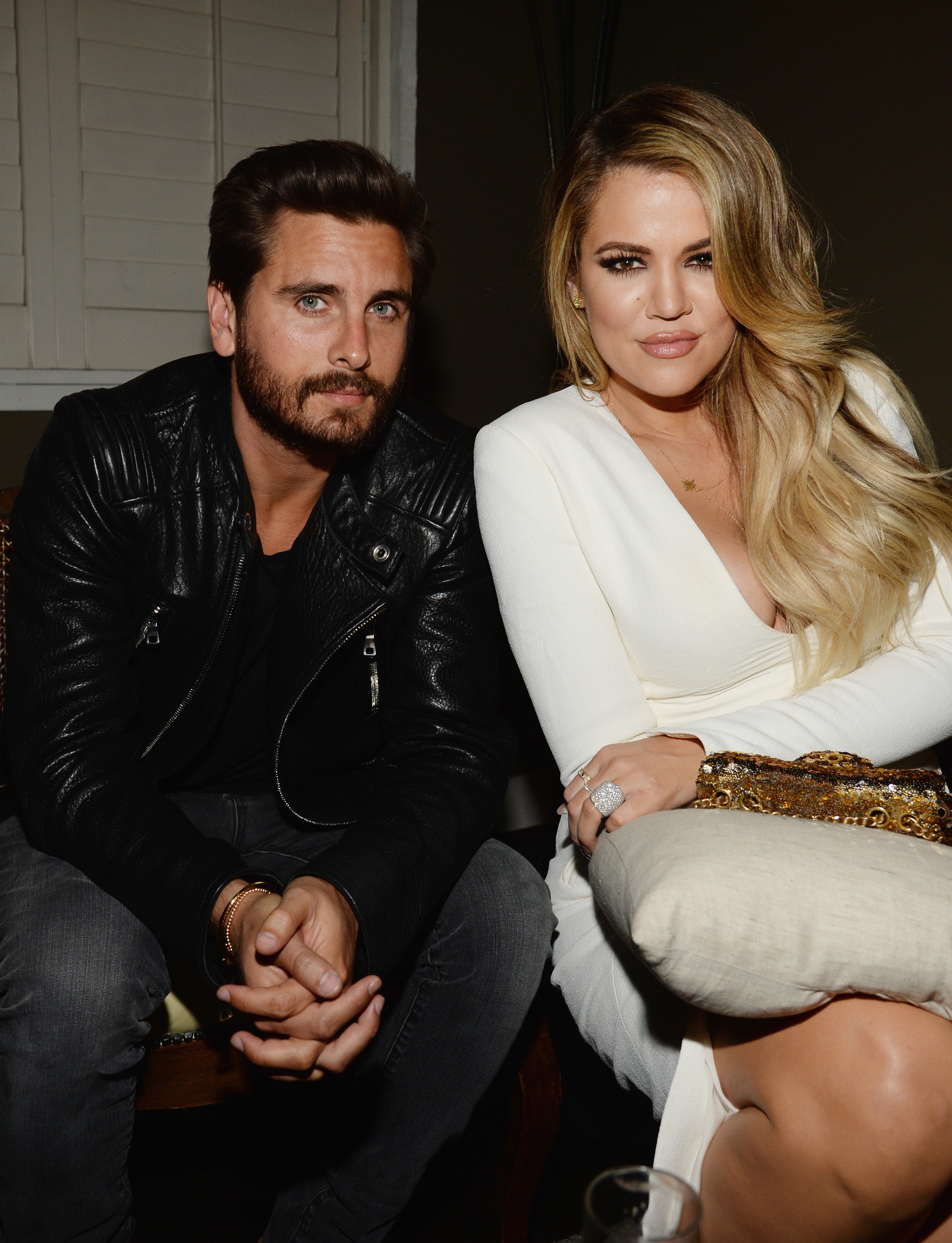 BuzzFeed News has contacted spokespeople for Scott Disick for comment.