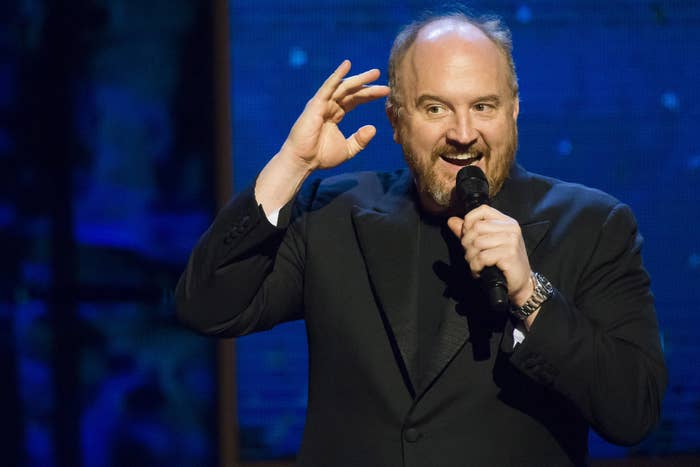 Louis C.K. reportedly opened a comedy set in San Jose, California, on Wednesday night by making a joke about the sexual misconduct controversy that led to his downfall in 2017.

"I like to jerk off," he told the crowd, "and I don't like being alone."
According to a Daily Beast reporter who was at the show, the joke received "a good laugh" from those in attendance.
The sold-out performance at the San Jose Improv was also met with protests by demonstrators outside the venue, some of whom held signs reading, "Sexual harassment is no joke."
Demonstrators were also protesting the venue for offering C.K. a slot after he admitted to masturbating in front of two women without their consent, masturbating while on the phone with another unsuspecting woman, and committing other acts of sexual misconduct.
Representatives of the comedy club told the San Francisco Chronicle that they respected C.K.'s right to perform, as well as the demonstrators' right to protest.
"We see comedy as the final frontier and we don't censor artists," they said. "We want them to perform without scrutiny. We trust that our audiences can decide for themselves what their limits are."

According to multiple reporters on the scene, one man protesting against the comedian was punched in the face by a C.K. supporter. San Jose police spokeswoman Officer Gina Tepoorten told BuzzFeed News a man shouting through a bullhorn was physically assaulted by another man, resulting in minor injuries. The victim sustained minor injuries, she said, and did not want to press charges.
The show came after audio leaked last month of the comedian performing a set in which he joked about survivors of the 2017 school shooting in Parkland, Florida.
"You didn't get shot — you pushed some fat kid in the way, and now I've gotta listen to you talking?" the comedian said.
On Wednesday night, C.K. also addressed that controversy.
"If you ever need people to forget that you jerked off, what you do is you make a joke about kids that got shot," he told the crowd, according to the Daily Beast.
Attendees at Wednesday's show were required to leave their phones in sealed cases in the lobby, per a sign placed outside the venue.
A representative for C.K. didn't immediately respond to a request for comment.

C.K. first returned to the comedy stage in August with a surprise set at the Comedy Cellar in New York City.
"There were at least four to five females that I could see [in the crowd]," a woman audience member told Vulture at the time, "and three or four of them were not having it. They were just looking at him, deadpan, straight, not having it."
Several women comedians, in particular, came out strongly against C.K.'s apparent redemption tour, which began just 10 months after he stepped out of the limelight.
"I'm still on the same shampoo bottle as when Louis C.K.'s time out started," tweeted New York comedian Sarah Lazarus in August.
But it was his December jokes about the Parkland shooting that drew the most criticism.
Parkland shooting survivor Aalayah Eastmond, who testified before the Senate Judiciary Committee and shared her experience of watching her classmates die, responded to C.K.

"Hey Louis CK - since you like making fun of me and other Parkland survivors behind closed doors, I'm right here if you want to talk," she tweeted on New Year's Eve. "Just try to keep it in your pants, ok?
Former Saturday Night Live star Sasheer Zamata also mocked C.K. during a recent set that was recorded by Vulture:
He says that the survivors of the shootings shouldn't be spending their time talking to Congress about gun control. Instead they should be "finger-fucking" each other. But who's to say they're not? They could do both! They're teenagers — of course they're finger-fucking each other! ... They just know how to separate sex from work, which I understand is a hard concept for Louis to grasp. Which is ironic, because we all know how much Louis loves to grasp hard concepts.

UPDATE
This story has been updated with information from San Jose police.