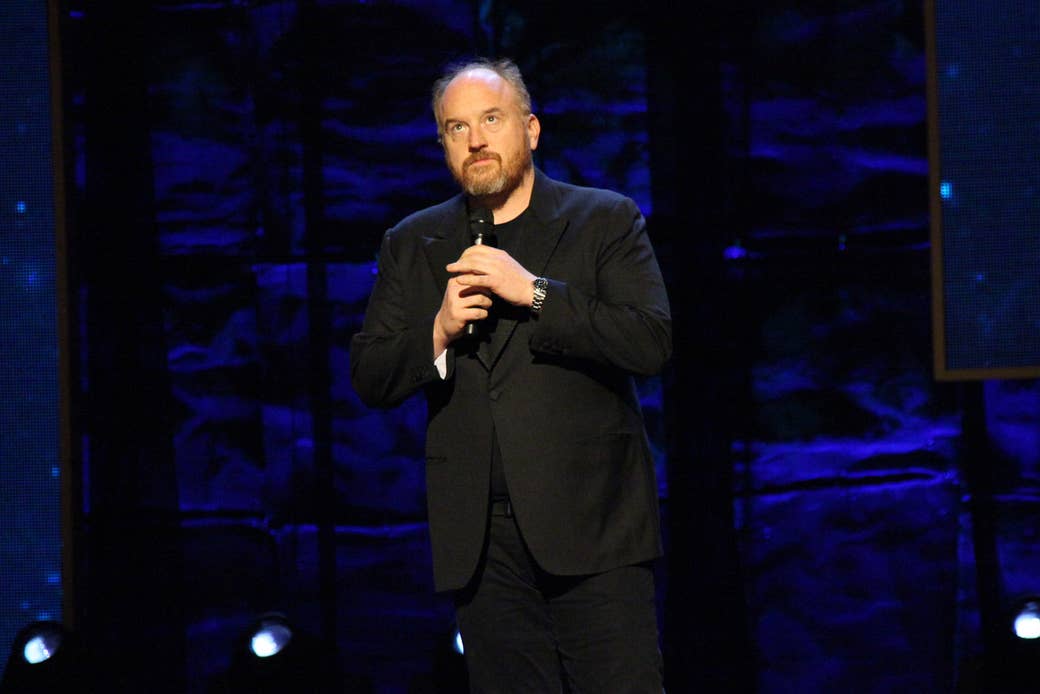 At first, Sunday seemed like just a normal night at the Comedy Cellar in New York City's Greenwich Village. Patrons sipped on drinks as they waited for the next comedian to be introduced to the brick wall–backed stage in the underground club. They could not possibly have predicted the surprise act they were about to see.
Less than a year after he left the spotlight after admitting to masturbating in front of two women without their consent, masturbating while on the phone with another unsuspecting woman, and committing other acts of sexual misconduct, Louis C.K. was back.
He received a standing ovation before he even began. But not everyone was happy to see him.
"There were at least four to five females that I could see [in the crowd]," a woman audience member told Vulture, "and three or four of them were not having it. They were just looking at him, deadpan, straight, not having it."
C.K.'s set lasted just 15 minutes but has sparked days of discussion about whether the world is ready to welcome back prominent male harassers who have been exposed by the #MeToo movement.
The conversation has been particularly pointed among C.K.'s fellow comedians, some of who were keen to see the once-popular comic back behind the microphone, but many others — particularly younger, women comics — who were decidedly not.
"Louis C.K. getting a standing ovation for dropping in to a comedy club less than a year after admitting to sexual misconduct tells you all you need to know about how society applauds powerful men for doing less than the minimum of decency," tweeted Aparna Nancherla, who voices Hollyhock on BoJack Horseman and is featured on Netflix's special The Standups.
"I can only imagine what the survivors of Louis' predation are thinking," said Kathy Griffin. "All I know is we should all be outraged ... the boys club won again."
"Let's please get Louis C.K. on stage tonight," added a sarcastic Megan Amram, an Emmy-nominated writer and producer on The Good Place. "He hasn't done stand up for almost a full day, he's paid his price. How long away will be enough for you people?!?!"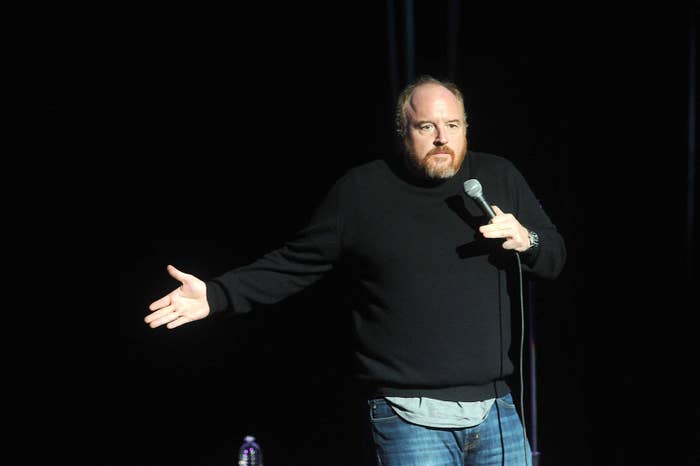 When the New York Times first revealed the allegations against C.K. in November, the industry backlash was swift. A scheduled appearance on Stephen Colbert's show was canceled. Netflix ended plans for a stand-up special. HBO removed his work from their on-demand services. FX, which aired his comedy-drama Louie, cut all ties with him. The premiere of his film I Love You, Daddy was scrapped, and the movie was subsequently pulled from release. (His costar Chloë Grace Moretz said earlier this month she hopes the film is never seen: "I think it should just kind of go away, honestly.")
A day after the Times story, C.K. issued a contrite statement that expressed remorse and regret (yet notably never included an explicit apology). "I have spent my long and lucky career talking and saying anything I want," his statement concluded. "I will now step back and take a long time to listen."
That was 10 months ago.
"I'm still on the same shampoo bottle as when Louis C.K.'s time out started," tweeted New York comedian Sarah Lazarus after his Sunday set.
Others, though, were more welcoming.
Nick Di Paolo, who's worked alongside C.K. in the past and has known him for years, said his friend should get another chance and "doesn't deserve the death penalty as far as his career goes."
"I mean, what he did, if he did that to my sister or somebody I knew I'd probably punch him in the head," Di Paolo told BuzzFeed News in a phone interview. "But that being said, this #MeToo thing has gone crazy."
Di Paolo argued C.K. had suffered enough because of the cancellation of his show and the pulling of his movie from theaters. "I think that's more than enough," he said. "We're talking millions of dollars. Some people are never going to be happy."
"I don't think the punishment of what people want fits the crime," he said.
"I don't think the punishment of what people want fits the crime."

Wet Hot American Summer star Michael Ian Black also said he was glad C.K. was making an effort to move forward with his life.
"Will take heat for this, but people have to be allowed to serve their time and move on with their lives," Black wrote on Twitter. "I don't know if it's been long enough, or his career will recover, or if people will have him back, but I'm happy to see him try."
Black continued to say that a next step in the #MeToo movement, among others, "has to be figuring out a way for the men who are caught up in it to find redemption."
Black's tweets soon spurred backlash and headlines of their own.
Feminist writer Jessica Valenti told BuzzFeed News that she doesn't "understand why we're so concerned about a way back for men than we are for a way forward for their victims."
"Until we really address all of the women who have been driven out of professions and entire industries, really I don't see why this needs to be our priority," Valenti said Wednesday on AM to DM, BuzzFeed News' Twitter morning show.
"[I don't] understand why we're so concerned about a way back for men than we are for a way forward for their victims."
The Comedy Cellar's owner, Noam Dworman, didn't respond to requests for comment from BuzzFeed News, but told the New York Times that C.K.'s set featured "typical Louis C.K. stuff" that riffed on issues like racism and tipping servers.
But according to two women audience members who spoke to Vulture, C.K. also made a passing reference to a rape whistle.
"When he said 'rape whistle' people were laughing, and I was just sitting there like oh my fuck," one of the women told Vulture. "This is so uncomfortable and so disgusting. Everyone around me was laughing. That was just depressing."
Valenti said choosing not to applaud can be one form of protest.
"We can't really control if abusive men come back into the limelight," she said. "We can control if we give them attention, if we give them our money, if we give them our applause."
But Di Paolo, the comic friend of C.K., said audiences need to lighten up.
"It's sad we have a whole generation who finds Jerry Seinfeld too edgy and they think they have the right not to be offended. And comedy has changed for the worse," he said. "Louis actually said this years ago and I have said it many times, not in the same words as Louis, but feminists are the natural enemy to comedy because they're humorless for the most part."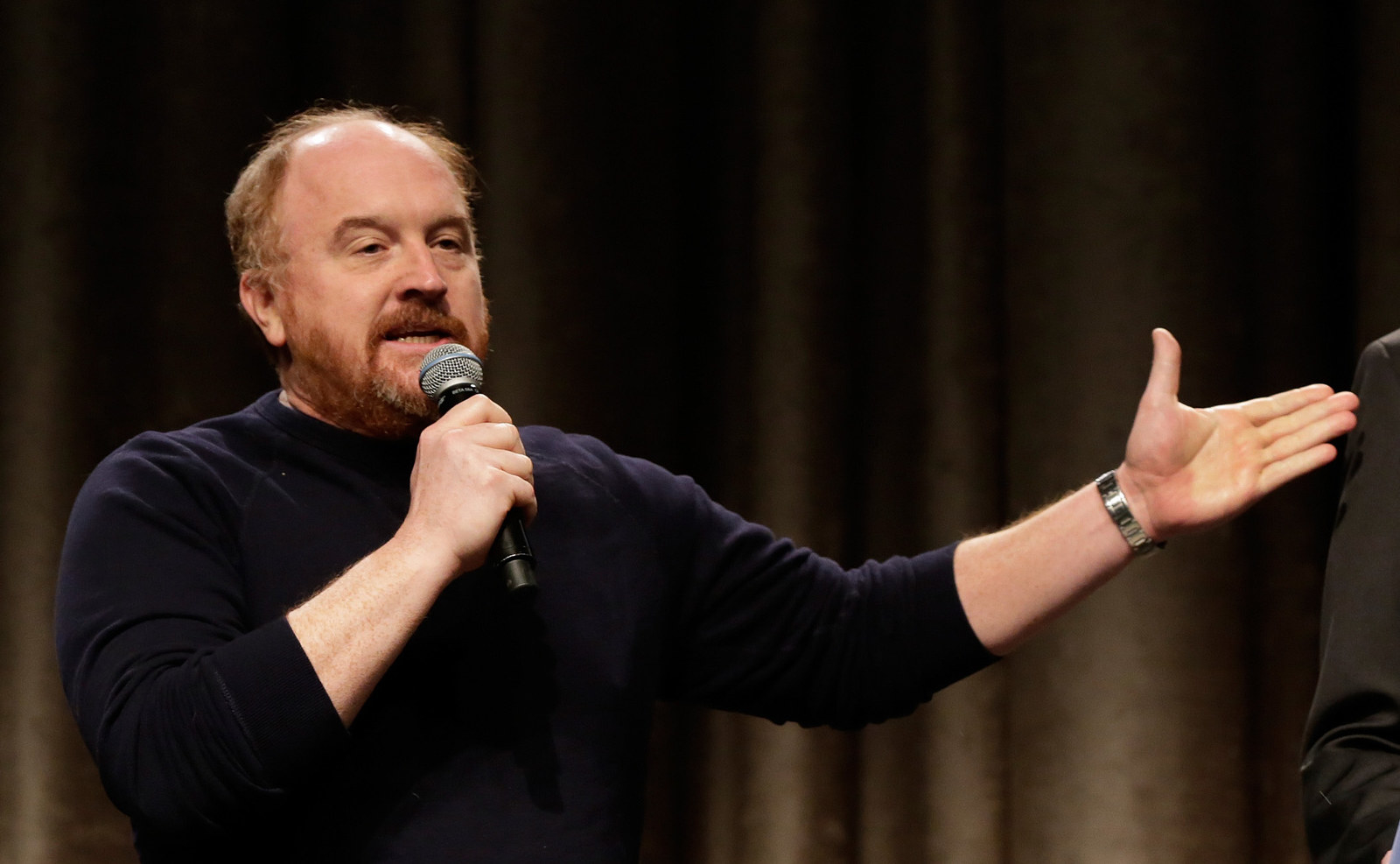 After ultimately tweeting an apology to his followers on Tuesday, Michael Ian Black published a lengthier blog post titled "The Way Back." In it, Black wrote about C.K.'s return to comedy and how other men who have been named as alleged abusers in the #MeToo movement might try to revive their careers.
"For some of these guys, there ought to be a way for them to return from exile ... because I believe that the important, vital, and necessary work of the #MeToo movement will only survive if men feel as invested in its survival as women," Black wrote.
"Everybody's case is different," he wrote. "On the scale of horribleness, I place Louis somewhere in the middle. He did some terrible shit. He abused his power. He hurt people. Many people have done different terrible shit, abused their power, hurt others, and found their way to forgiveness."
Still, other women comedians had ideas of their own on how C.K. and others could "atone" for "their sins."
"Atoning for Sexual Assault in Comedy Idea #1," tweeted Jenny Yang in a lengthy thread. "Privately apologize to each of your victims."