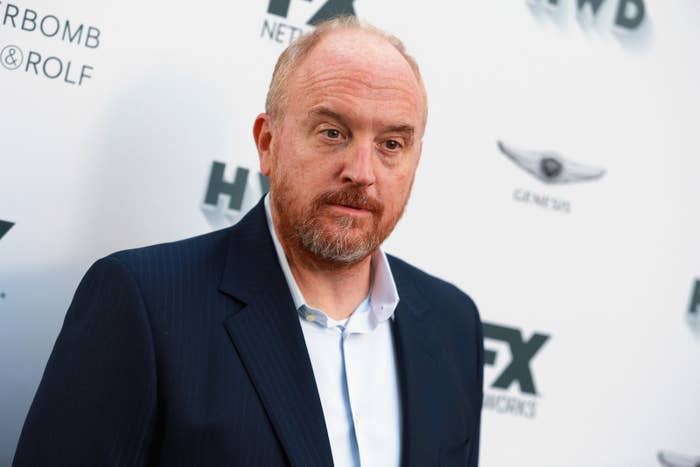 Louis C.K. has been accused of sexual misconduct by five women, according to a new report published by the New York Times on Thursday, with two women telling the paper the comedian exposed himself to them in 2002 and began masturbating. On Friday, C.K. released a statement, saying, "These stories are true."
"We were paralyzed," Dana Min Goodman told the newspaper of the time she said C.K. invited her and her comedy partner, Julia Wolov, to hang out in his Aspen hotel room before asking if he could take out his penis.
"He proceeded to take all of his clothes off, and get completely naked, and started masturbating," Goodman said.
Another woman, Abby Schachner, told the Times she could hear C.K. masturbating during a phone call with her in 2003.
"I definitely wasn't encouraging it." Schachner said. "You want to believe it's not happening."
Lewis Kay, the comedian's publicist, told BuzzFeed News Thursday that C.K. had no immediate comment. Kay had previously told the Times that C.K. "is not going to answer any questions."

In the past, C.K. has dismissed gossip similar to the allegations reported by the Times on Thursday as just "rumors."
Rumors that the Times was working on a story investigating C.K. had been widely shared in media circles for weeks.
The scheduled Thursday night premiere in New York City for C.K.'s controversial new film, I Love You, Daddy, was abruptly canceled just hours before the story was published. His scheduled appearance on The Late Show With Stephen Colbert was also axed, and William H. Macy took his place. On Friday, film distribution company Orchard canceled its scheduled release of I Love You, Daddy. Netflix scrapped a planned standup special.

HBO said in a statement Thursday night that C.K.'s past work would be removed from its on-demand services and that the comedian will no longer be participating in the "Night of Too Many Stars" benefit for autism programs.
Meanwhile, FX, which aired the comedy-drama Louie based loosely on his life in standup, said it was "very troubled" by the Times' report.
"We are obviously very troubled by the allegations about Louis C.K. published in The New York Times today," FX said in a statement. "The network has received no allegations of misconduct by Louis C.K. related to any of our 5 shows produced together over the past 8 years. FX Networks and FXP take all necessary actions to protect our employees and thoroughly investigate any allegations of misconduct within our workplace. That said, the matter is currently under review."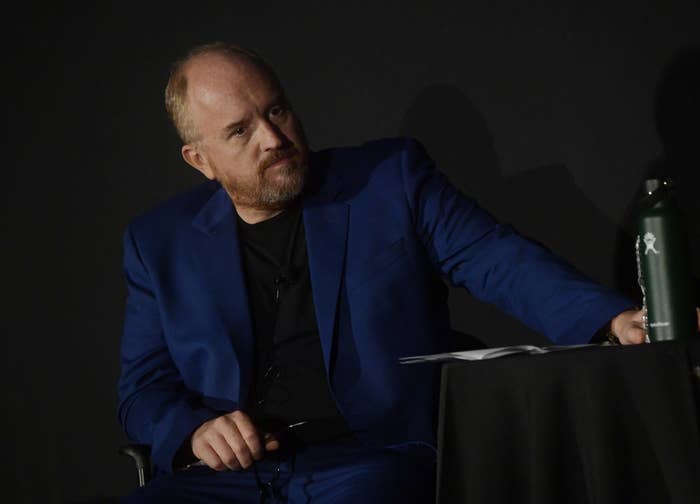 The Times story comes just weeks after the newspaper and the New Yorker revealed multiple allegations of sexual assault and harassment against Hollywood producer Harvey Weinstein spanning back decades. More than 60 women have come forward about their experiences with the producer, inspiring a surge of women — and some men — to start publicly telling their own stories of harassment and abuse with other celebrities. (Reporter Jodi Kantor worked on both the C.K. and Weinstein pieces for the Times.)

Gawker posted a blind item in 2012 that some believed was about C.K. "We've heard from several sources that this shameless funnyman whips it out at the most inopportune moments, often at times when his female companions have expressed no interest in watching him go at it," the blind item said. When Gawker reached one of the female comedians who was the subject of the rumor, they reported she said the "facts were wrong" and she didn't want to be part of the story. In 2015, Gawker's sister site Defamer published an anonymous secondhand account from a man who said he confronted C.K. on behalf of two women C.K. had allegedly preyed on. But the anonymous source declined to name the women and C.K. did not comment to Defamer.
The closest thing to a firsthand allegation seemed to be made by comedian Jen Kirkman on her podcast in 2015. On the podcast, she said "a very famous comic" who was "lauded as a genius" was "a known perv." She did not get into specifics, but she said, "This guy didn't rape me, but he made a certain difficult decision to go on tour with him really hard. Because I knew if I did, I'd be getting more of the same weird treatment I'd been getting from him." She said she knew she couldn't talk about it openly because it would damage her career.
About a month later, journalists began speculating that Kirkman had been talking about C.K., and as a result, she deleted the episode. In August 2015, she told Nerdist that the media had blown things out of proportion, and then in 2017, she publicly denied she had been referencing C.K. "There are rumors out there that Louis takes his dick out at women. He has never done that to me," she told the Village Voice in September 2017. "I never said he did, I never implied that he did."
Some powerful female comedians have addressed the rumors about C.K. over the years.
Tig Notaro told the Daily Beast in August 2017 that he needed to "handle" the sexual misconduct rumors, "because it's serious to be assaulted. … It's serious to be harassed. It's serious, it's serious, it's serious." (C.K. executive produces Notaro's Amazon series One Mississippi, which featured a storyline in which a character is accused of sexual misconduct and masturbates in front of a woman in his office.)
Notaro told the Times that she believes C.K. released her 2012 comedy album to "cover his tracks."
"He knew it was going to make him look like a good guy, supporting a woman," she said.
"Sadly, I've come to learn that Louis C.K.'s victims are not only real," Notaro told the Times, "but many are actual friends of mine within the comedy community," citing Goodman and Wolov, who Notaro said confided in her.
In 2016, Roseanne Barr was very upfront with the Daily Beast: "Some of the biggest comics, males, are doing some terrible things. And they're about to get busted." She went on to specify, "It's Louis C.K., locking the door and masturbating in front of women comics and writers. I can't tell you — I've heard so many stories." She said she didn't have firsthand knowledge, but had heard whispers of the behavior "for years." Barr herself had tweeted about these stories before.
C.K., for the most part, had not addressed the allegations over the years. In September 2017, when he was promoting his film I Love You, Daddy, he tried to avoid the question from the New York Times, saying, "If you actually participate in a rumor, you make it bigger and you make it real." He then denied that the stories were true. "They're rumors, that's all that is."
He responded similarly in 2016, when Vulture asked him whether the column Gawker posted in 2015 was part of "click-bait and what you see as online misinformation." He responded: "No. I don't care about that. That's nothing to me. That's not real."
When pressed further about the secondhand allegation that he had masturbated in front of women without their consent, he said, "Well, you can't touch stuff like that. There's one more thing I want to say about this, and it's important: If you need your public profile to be all positive, you're sick in the head. I do the work I do, and what happens next I can't look after. So my thing is that I try to speak to the work whenever I can. Just to the work and not to my life."
In I Love You, Daddy — which would have opened Nov. 17 — John Malkovich plays a respected auteur with a reputation for sexual impropriety. In the film, C.K.'s character grapples with his daughter's relationship with the filmmaker, who is a figure in the mold of Roman Polanski or Woody Allen: lauded as a genius, and dogged by allegations of sexual abuse and assault.
BuzzFeed News reporter Kate Aurthur contributed to this story.
UPDATE
This story has been updated to reflect network and distributor responses to the sexual misconduct allegations reported by the New York Times.
UPDATE
This story was updated after C.K. responded to the allegations.