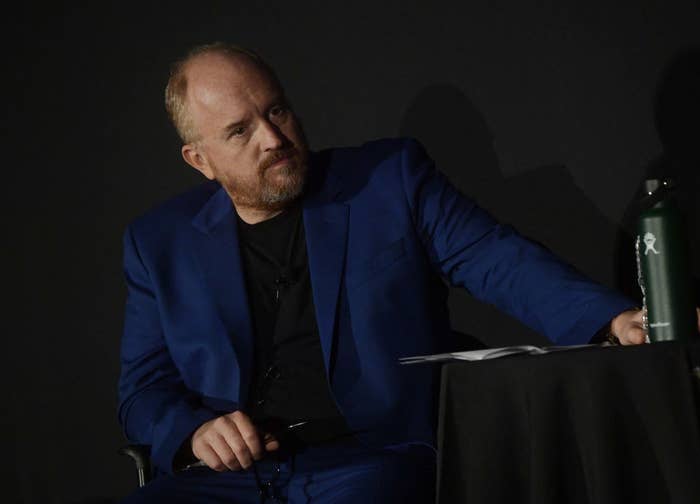 Audio has emerged of comedian Louis C.K. joking about Parkland High School shooting survivors and mocking teens who use gender-neutral pronouns during a recent stand-up set, 13 months after allegations of sexual misconduct were made against him by five women.
In the nearly 50-minute set posted on YouTube from a recent stand-up appearance, C.K. also speaks extensively about the word "retarded," says that all Asian men are women, and calls his doctor "faggot — you old fucking Jewish fag."
Speaking about the Parkland shooting survivors who spurred a political movement calling for greater gun control with March for Our Lives, which won widespread coverage and support, C.K. said:

I don't know, they testify in front of Congress, these kids. I mean, what the fuck? What are you doing? You're young, you s,hould be crazy, you should be unhinged. They're in suits saying "I'm here to tell you..." Fuck you, you're not interesting because you went to a high school where kids got shot. Why does that mean I have to listen to you? You didn't get shot — you pushed some fat kid in the way, and now I've gotta listen to you talking?
Parkland shooting survivor Aalayah Eastmond testified before the Senate Judiciary Committee during the nomination of Supreme Court Justice Brett Kavanaugh. She spoke about how two of her classmates were killed in front of her, and that she hid under the body of her deceased classmate Nicholas Dworet.

Eastmond responded on Twitter to C.K. by referencing how the comedian exposed himself to women without their permission.
Also in his set, C.K. complained about the attention given to the deaths of high school shooting victims, noting that around 7,500 people die daily in the United States.

"So that day 17 got shot in a school. What about the other 7,500 people? They didn't die in their sleep… People get upset that they're young, they died so young. That's offensive to me. What, if I die now, fuck me?"

The shooting at the Marjory Stoneman Douglas High School in Parkland, Florida, in February 2018 killed 17 staff and students and injured 17 more.

Fred Guttenberg, whose 14-year-old daughter Jaime died in the Parkland shooting, tweeted a message to C.K. about the leaked audio: "Why don't you come to my house and try out your new pathetic jokes?"
Kyra Parrow, a Stoneman Douglas student at the time of the shooting, responded to C.K.'s assertion that kids these days should be doing mushrooms and jello shots by tweeting, "that is not the luxury that we have after having to see our friends and classmates in caskets."
C.K. also bemoaned young trans and nonbinary teens identifying as gender neutral and specifying which pronoun they prefer people use.

"They tell you what to call them. 'You should address me as they/them, because I identify as gender neutral.' Oh, OK. You should address me as 'there' because I identify as a location. And the location is your mother's cunt," said C.K.
In a later extensive riff about the word "retarded" and how C.K. thinks it is ridiculous that it is now widely viewed as an inappropriate term to call anybody who is mentally disabled or to use as slang because of the connotations, he joked that Jenny would be an appropriate name for a girl with mental disabilities, "or a trans retarded boy."
After some in the audience appeared to be shocked at his extensive joke about people with mental disabilities, C.K. told the crowd: "Fuck it, what are you going to take away, my birthday? My life is over, I don't give a shit. You can be offended, you can get mad at me."
He then began telling a racist joke about the different sizes of penises between black, white, and Asian men.
"You know why Asian guys have small dicks. 'Cause they're women. They're not dudes. They're all women. All Asians are women. And they have big clits, really big clits, and when they have sex they just stick their clits in each other's pussies and then they procreate using math," said the 51-year-old comedian.
C.K. has made a handful of impromptu and low-key stand-up appearances since August, when he appeared at the Comedy Cellar in New York City, marking the end of a long public absence after revelations of sexual misconduct.

The comedian opened his set in the leaked audio by talking about the impact on his career of a report published in the New York Times in November 2017 — later confirmed by C.K. — that he'd masturbated in front of five women in professional settings.
"I bet none of you had the same year that I had… You ever have a whole bad year? Have you ever had an entire year that sucks, 365 shit cunt days in a row?" he asked.
A planned film release and a Netflix stand-up special were swiftly canceled after news of C.K.'s actions broke, and HBO said it would remove the comic's work from its on-demand platforms.

During the leaked set, C.K. said he lost $35 million in one day.
The YouTube caption of the audio said it was recorded at the Governor's Comedy Club in Long Island, New York, on Dec. 16. The comedy club was unable to confirm to BuzzFeed News that C.K. appeared there that night, but it has previously hosted C.K., posting these images on its Facebook page Dec. 6.
And at one point in the recording, when his audio levels are adjusted, C.K. says, "Please come to Governor's a lot."
The audio is spreading across social media, with many people noting how alt-right his politics seem to have become, comparing him to President Trump and Milo Yiannopoulos.

Many made the point that this stand-up material contrasts with his statement acknowledging his misconduct, when he said, "I have spent my long and lucky career talking and saying anything I want. I will now step back and take a long time to listen."