Days after former FBI lawyer Lisa Page testified in a closed-door meeting with the House Oversight and Government Reform and House Judiciary committees, pro-Trump website True Pundit published an explosive — and false — report about what she said.
The article cited anonymous "well-placed FBI sources" to claim Page revealed that Chinese hackers had accessed Hillary Clinton's private server, stolen her emails, and intercepted hundreds of top secret documents including even the president's daily schedule — and that the FBI knew about it and did nothing.
In response, Page's lawyer spoke publicly to say the story was unequivocally false. Even Republican Rep. Louie Gohmert — who has pushed the as-yet unproven claim that a foreign power "other than Russia" gained access to Clinton's server — disputed the story about Page. He told Fox News she "apparently didn't know" about anything related to China, directly contradicting True Pundit.
Regardless, the false story generated more than 22,000 shares, reactions, and comments on Facebook, and was a hit on Twitter, where famed Trump supporter Bill Mitchell shared it. (The story was also copied by notorious fake news peddler YourNewsWire, which generated another 77,000 Facebook engagements.)
The most Twitter engagements for the article were generated by the owner of True Pundit, who uses the handle @Thomas1774Paine and goes by the historical pseudonym Thomas Paine. He shared the link more than 25 times to his close to 200,000 followers, generating thousands of retweets and likes.
"MSM Quiet on This One -- Wonder Why?" Paine tweeted, suggesting big media outlets were covering up his false scoop.
"True Pundit has carved out a unique niche among the news grifters capitalizing on our conspiracy-laden, deeply polarized information environment."
It was classic Paine: publish a false story that paints the FBI and Hillary Clinton in a bad light, credit the information to anonymous sources, and claim the mainstream media is covering it all up.
Since launching the site in June 2016, Paine and True Pundit have carved out a unique niche among the news grifters capitalizing on our conspiracy-laden, deeply polarized information environment. As New York magazine noted in a piece debunking two True Pundit stories, Paine is "fluent in the paranoid language of 2016 social media."
Paine combines the use of a pseudonym with almost exclusive use of anonymous sources to establish the persona of a deeply connected reporter with a vast network of FBI, law enforcement, and government sources. As with the Page story, he adds false or conspiracy-filled claims to real events or documents in order to create the impression of being rooted in fact. And the retweets, traffic, and supporters have rolled in.
True Pundit is frequently cited by other hyperpartisan and conspiracy websites, and its stories are shared by prominent pro-Trump figures such as former White House national security adviser Michael Flynn, actor James Woods, and others.
One of Paine's 2016 stories even led to an email exchange between then–FBI director James Comey and his former deputy, Andrew McCabe, about whether True Pundit really had sources inside the FBI. Paine, of course, seized upon that as evidence that he's as well-sourced as he claims. (He loves to criticize the bureau: The site has used the phrase "Federal Bureau of Incompetence" in the headline of five different stories.)
The question of who's behind True Pundit has itself become the source of wild theories. Viral #resistance tweeter Seth Abramson dedicated an 84-tweet thread to True Pundit and Paine. Abramson argued that True Pundit was being fed information by "a cadre of pro-Trump FBI agents and intel officers — some active, some retired — [who] conspired to swing the election to Trump." (Another Twitter user investigated the account and concluded it's a fake persona concocted by the Trump campaign's social media team.)
More credibly, Zachary Elwood, an author of poker books who also investigates social media accounts, published a detailed investigation of True Pundit at whoistruepundit.com that revealed a litany of details about Paine's identity.
Among the many clues: Paine and his lawyer say he is based in the Philadelphia area; he has talked publicly about covering the 1996 crash of TWA Flight 800 as a newspaper reporter; he used to run a Twitter account called @HockeyIntel before changing his handle to @Thomas1774Paine; and he once tweeted a photo of what he said is his Gerald Loeb Award, a prestigious business journalism prize.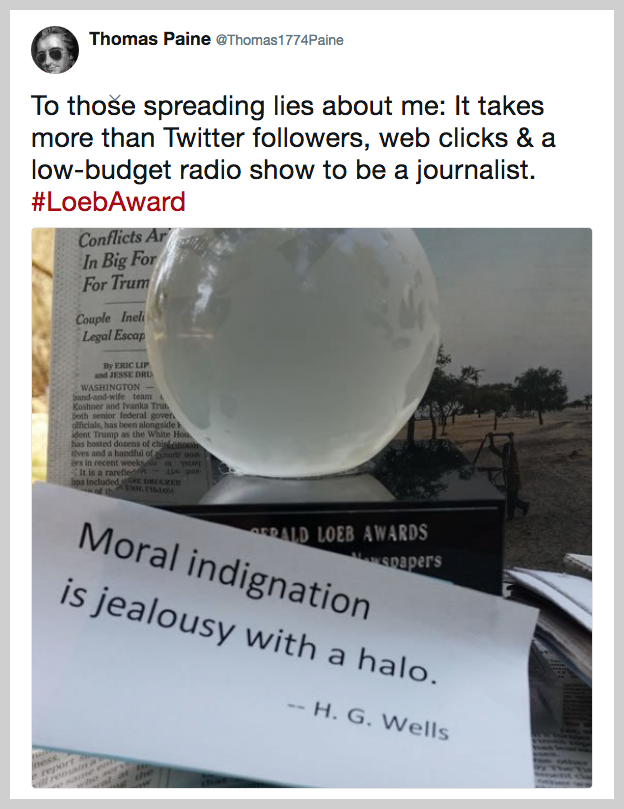 Could Paine really be perhaps the best-sourced reporter in America when it comes to big cases being investigated by the FBI, NYPD, and other agencies? Is he someone federal agents would leak incredibly sensitive information to, at the risk of being fired and/or prosecuted? Or is he using his pseudonym to conceal relevant details about his background that further undermine his many dubious claims?
To get answers, BuzzFeed News investigated Paine's and True Pundit's social media accounts, business and court records, and other publicly available information. They reveal that Thomas Paine is, in fact, Michael D. Moore, 51, a Pennsylvania man with a background in journalism, a criminal record as a result of an FBI investigation, and a long history of shady and illegal business practices.
After being contacted for comment, Moore did not respond and instead published a story on his website confirming BuzzFeed News' reporting.
Just as Paine has publicly stated, Moore won a Loeb Award in 1996 while working for the Record, a New Jersey newspaper. He also authored at least some coverage of TWA Flight 800: A copy of the front page of a New Jersey newspaper from Sept. 12, 1996, features a story with his byline that examined airport security in light of the crash. (To read how BuzzFeed News found Moore, see the section "Connecting Michael D. Moore to True Pundit and Thomas Paine" at the bottom of this story.)
Paine has also talked publicly about leaving journalism in the late '90s to work in "intelligence." During that same time period, Moore created a company called Dig Dirt that he described as an investigations service. He left his newspaper job to work on it full time. The company's site is now offline, but as recently as the fall of 2016 it contained language that directly echoes the messaging of True Pundit.
"We subordinate our desire for public recognition and publicity to the ever-growing need for confiendiality [sic] and LOYALTY. Old School," said the Dig Dirt site.
True Pundit's Patreon says it's "creating old school journalism," and the Paine Twitter account constantly refers to things as "old school."
The Patreon's description also says True Pundit offers "investigative intelligence unmatched elsewhere."
Dig Dirt's tagline? "Investigative intelligence."
Moore also has a connection to the FBI that could explain True Pundit's fixation with the agency: He was arrested by federal agents in November 2011 for running two websites that sold pirated hockey DVDs and downloads. Months earlier, FBI agents executed a search warrant on his home and carted off the equipment he used to pirate hockey games and other content.
Moore pleaded guilty to one count of copyright infringement in June 2013. He was sentenced to time served of one day in prison, a year of house arrest, and three years of supervised release. During his release he had to provide monthly income statements and facilitate the "investigation of his financial dealings," according to a sentencing document filed on June 17, 2013.
And so, almost exactly three years later, with probation and its financial disclosure requirements behind him, Moore launched True Pundit.
He didn't waste any time pumping up its credentials. "True Pundit has folks who worked for the FBI and other agencies on staff," claimed one of the site's earliest articles.
Moore's hastily published admission that he is in fact Thomas Paine made it clear that his case later fed his motivation to start a site that would hit back at the FBI.
"These bastards — and their bosses — were going to pay for violating my family. My kids. My home. One way or the other, I would have the last word," he wrote. "As I have throughout my life and career. And I was going to have to go back into journalism to even the score."
Many would have found it hard to believe that a man who'd been recently been arrested by the bureau, and pleaded guilty, now had former FBI employees on staff at his just-launched website.
But no one knew that True Pundit was the work of Michael D. Moore. Instead, it was Thomas Paine, his Loeb Award, and all of his impressive-seeming anonymous sources pumping out frequently false stories to fire up the pro-Trump base.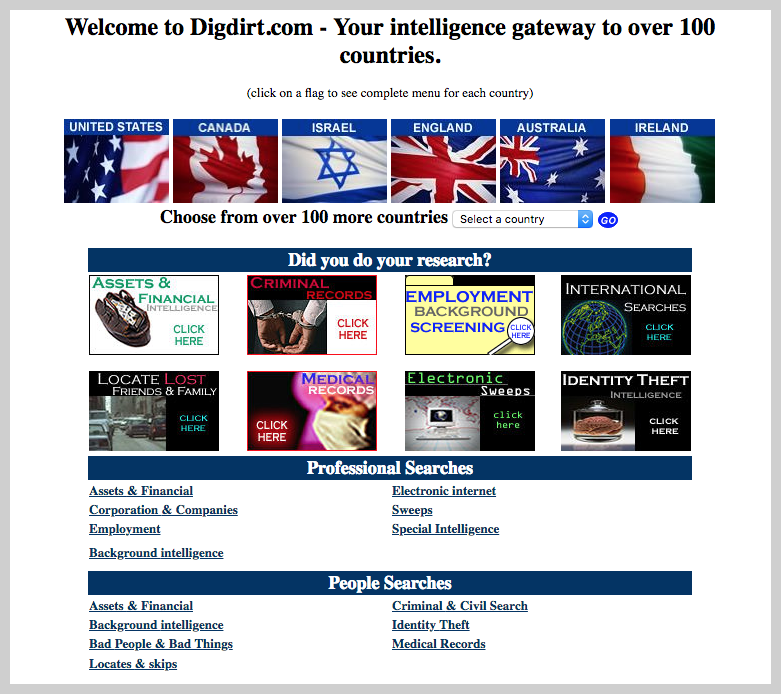 When he launched True Pundit, Moore was careful to cover his tracks. He registered the domain privately, and later created a Delaware limited liability company, True Pundit Media LLC, through a third-party administrator. (Delaware LLCs do not require that the beneficiaries be publicly disclosed.)

Moore appears to have avoided using existing personal emails or social media accounts as contacts or administrators for his new project, or even to promote the site. This level of operational security makes sense in light of the fact that one of Dig Dirt's main services was finding people. Moore knew how to hide.
"It's very hard for a legitimate individual to become invisible," he told the Columbus Dispatch in a 2000 article about his company.
Like True Pundit, Dig Dirt boasted of having strong connections to the intelligence and law enforcement communities.
"To enhance DigDirt.com's investigative arsenal, the company also uses a number of former federal agents who spent their respected careers in agencies including the Secret Service, Central Intelligence Agency and Internal Revenue Service among others," read the company's About page in October 2000.
It's unclear to what extent, if at all, Moore was in contact with former federal agents while running Dig Dirt. His website also made the eye-popping claim that in just a few years of operation the company had solved "more than 20,000 cases in over 100 countries."
Rather than describing the company as a global investigative or intelligence agency, media articles about Dig Dirt that quoted Moore typically described it as an "online research firm," an "information broker," or a "public-records search firm."
"Moore's subsequent businesses, including his illegal DVD and downloads operation, also left a trail of irate customers who said they'd been ripped off."
Dig Dirt was also the source of negative online comments from private investigators who used the service. One thread of messages on alt.private.investigator included complaints about being overcharged for services that didn't work, having prices raised without notice, and receiving incorrect data. Moore's subsequent businesses, including his illegal DVD and downloads operation, also left a trail of irate customers who said they'd been ripped off.
Moore started and ran Dig Dirt while he was still working full time as a reporter for the Record, a newspaper in New Jersey. In 1996, the year he shared a prestigious Loeb Award with two colleagues, the paper found out about Moore's side hustle and opened an internal investigation.
Editors were concerned he might have used his press access to public records to benefit his business. Moore was eventually cleared of any wrongdoing, though the paper's editor said the business "very clearly created the appearance and potential for a conflict of interest," according to an article in Editor & Publisher.
Moore resigned and spoke out about what he felt was mistreatment at the hands of the paper's leadership. "I think it's a problem when colleagues are actually investigating you with the permission of the newspaper," Moore said. "It's like a bad movie, and that's the main factor why I couldn't go back to work there."
Criticism of mainstream media now permeates the work of True Pundit. "One of the reasons you launch your own media site is to say what the main-stream media and other pundits simply won't say. It's called the truth," he wrote in one story. (Moore's also not a fan of BuzzFeed or of the author of this story.)
But in spite of his disdain for traditional media, Paine's Twitter bio claims some very mainstream accolades. It identifies him as a winner of a Loeb, which is true. It also claims Paine/Moore is a "2-Time Pulitzer Prize" investigative reporting nominee, and that he received a "George Polk Political Reporting" nomination. Neither is true. The Polk Awards does not announce nominees, only winners. The Pulitzers began announcing "finalists" in 1980, and Moore has never been one.
The Polk Awards told Elwood, the independent researcher, that True Pundit submitted a story for consideration for the 2017 awards. Anyone can make a submission; it is not a "nomination." But True Pundit published a false article claiming it had received a "coveted" nomination anyway. (The Paine Twitter account has also falsely claimed to have won a Polk Award.)
Once out of journalism in the late '90s, Moore became embroiled in lawsuits. In 1999, he sued the Washington law firm Steptoe & Johnson for $10 million. Moore's suit alleged that people working for the firm had hacked into Dig Dirt's websites hundreds of times, posted defamatory messages about him online, "and tried to cover it all up by doing their evil deeds under an e-identity swiped from an Alexandria, Virginia, furniture store owner," according to a report in Wired at the time.
One key element of the case involved Moore's ownership of a domain name that was similar to the URL of a competing investigation service used by the law firm. Moore in part alleged that the firm's people had attempted to penetrate his systems via that URL. The firm, however, said the visits to the website were a mistake and the result of Moore cybersquatting on the domain.
The suit was dismissed with prejudice in August 2000 by agreement of all parties.
Also that year, Moore's cybersquatting came back to haunt him. He was ordered to pay $25,000 in damages for squatting on six domains that contained names of law firms. When representatives of the firms contacted him to object to his ownership of the URLs, Moore asked for money, according to a news brief from the International Trademark Association.
"The complaint also claimed that Mr. Moore diluted and detracted from the distinctiveness of the firms' trademarks by using the domain names to advertise his investigative services business," it said.
Delaware corporate records indicate that Dig Dirt still owes $525 in back taxes dating from 2003, and that the company has not filed an annual report since 2000. It's unclear how active Dig Dirt was from 2000 onward. A scaled-down version of the website remained online until late 2016 before being taken fully offline after True Pundit launched. Moore, however, had long been working on other businesses by then.
As early as 2007, according to website archives and domain ownership records, Moore was selling Irish peat logs. That company soon became the focus of angry customer reviews online.
"I too could not get a response from either irishpeat.com or moore and assosciates [sic] … It's been over 5 weeks and I have not received my item," read one review from 2009.
Others also complained of paying for but not receiving their orders. The same kind of complaints can be found online about hdhockey.com and broadstreetbullies.com, the sites Moore used for his illegal hockey DVD and downloads business. It was in operation as early as 2006, according to a federal indictment. Domain records from DomainTools suggest both sites may have changed ownership as early as 2004. (Moore also owns a company called Moore & Associates that was registered in Pennsylvania in 1999, according to state records. It's unclear what this company does, but it remains active.)
"I've been after this douche for years after he ripped a ton of people on here years ago. Kharma [sic] is a bitch!" wrote one person on the hockeyfights.com message board after learning of Moore's arrest. The thread was soon filled with others who said they had paid for DVDs that never arrived. (One person, however, said he'd received his order.)
Even today, Moore is still engaged in his old habit of copyright infringement. Patrick Brown, CEO of Liftable Media, which publishes Conservative Tribune and the Western Journal, told BuzzFeed News he would be contacting True Pundit to demand it stop "stealing the first 10 paragraphs or so of our content" in articles on the site. (True Pundit has many articles that consist entirely of several paragraphs of a story published elsewhere, with a link to "read more.")
"We will be reaching out to True Pundit to ask them to cease and desist regarding the text," Brown said in an email.
The True Pundit YouTube channel was also terminated at some point since early June due to "multiple or severe violations of YouTube's policy against spam, deceptive practices and misleading content or other Terms of Service violations."
Given that he was busy selling Irish peat logs and pirated hockey content, it's difficult to know how much, if any, investigative work Moore did in the decade or more before launching True Pundit. And when the site launched he had been out of journalism for roughly 20 years.

Did Moore maintain whatever contacts he might have had in the heyday of Dig Dirt and his newspaper career? Would these contacts have reengaged with a convicted criminal fresh off probation and now writing under a pseudonym? And what useful current information could longtime former agents have about current investigations and cases?
What's clear is that Moore's background in journalism, at Dig Dirt, and in online marketing gave him the skills needed to create incredibly suspect and outright false stories that spread widely among pro-Trump networks on Facebook and Twitter. True Pundit's bread and butter — what drives viral traffic to the site and inspires Paine's supporters on Patreon — are the stories often credited to its "investigative bureau."
A review of True Pundit's top-performing content on Facebook and Twitter reveals many false stories and those built on big unverified claims that veer into the realm of conspiracy. Its biggest hit on Facebook is a November 2016 story that helped contribute to the creation and spread of the Pizzagate conspiracy theory. It has generated more than 174,000 shares, reactions, and comments on Facebook; been shared on Twitter more than 15,000 times; and received more than 19,000 upvotes and comments on Reddit.
"BREAKING BOMBSHELL: NYPD Blows Whistle on New Hillary Emails: Money Laundering, Sex Crimes with Children, Child Exploitation, Pay to Play, Perjury," read the headline.
The story was built on the recent news that the FBI had reopened an investigation into Hillary Clinton's emails after discovering messages on a laptop belonging to Anthony Weiner, the husband of Clinton aide Huma Abedin.
In the end, the FBI found that the emails in question were largely duplicates, and it soon closed the investigation. But before that happened, True Pundit quoted "NYPD sources" to claim that there was enough information on the laptop "to put Hillary (Clinton) and her crew away for life."
It quoted one "NYPD Chief" saying, "What's in the emails is staggering and as a father, it turned my stomach."
The story also claimed that this senior NYPD officer was ready to go public with the contents of the laptop if they were not released by the FBI. But in reality, no incriminating information was found on the laptop about perjury, money laundering, or child exploitation related to Clinton or any of her advisers. And in spite of the anonymous "NYPD Chief" declaring the emails had "turned [his] stomach," no such emails ever surfaced. (Weiner pleaded guilty to federal obscenity charges related to text messages and Skype chats with a minor.)
Clinton is a frequent target of the site. True Pundit was the source of the made-up claim that Clinton once asked "Can't we just drone this guy?" about Julian Assange of WikiLeaks. Paine's report cited "State Department sources" and relied on a total misrepresentation of standard State Department language. The story was soon amplified by WikiLeaks itself, as well as by Infowars, Russia Today, and others. It generated more than 83,000 engagements on Facebook and was shared on Twitter more than 80,000 times. (It's also the story True Pundit submitted for a Polk Award.)
The false claim that Hillary Clinton used a tiny earpiece during one of the presidential debates also originated with True Pundit. It cited "NYPD sources involved with the NBC forum's security detail." Fox News, Infowars, and others picked it up. (Donald Trump Jr. also tweeted the resulting Infowars story.)
The site has also falsely claimed that Clinton used hand signals with one of the debate moderators during a 2016 presidential debate, and that she was drunk one morning before a campaign rally.
The FBI is another favorite target. The site published a series of conspiracy-laden stories alleging that the bureau's leadership covered up evidence suggesting that Las Vegas mass shooter Stephen Paddock was not alone. One story also falsely claimed Paddock was a member of the self-described "antifa" and that "FBI & Vegas police worked hard to conceal Paddock's politics."
The site also speculated that Orlando Pulse nightclub shooter Omar Mateen was an FBI informant and that the agency was trying to cover that up. Moore later updated his theory to say "definitively" that Mateen was either an FBI informant or he was somehow radicalized by FBI informants during a botched operation. (Neither are true, though Mateen's father was an informant.)
More recently, True Pundit has been focused on stories that paint the picture of a broad conspiracy involving every US intelligence agency, the FBI, the Department of Homeland Security, former attorney general Loretta Lynch, British intelligence, Sen. John McCain, former US attorney Preet Bharara, former deputy attorney general Sally Yates, and others in an illegal plot to prevent Trump from winning the election.
The site has also claimed that Paul Manafort, Donald Trump Jr., Jared Kushner, and Michael Flynn were all wiretapped as part of this plot as early as 2015. (It's no surprise, then, that in one of his YouTube appearances as Paine, Moore voiced praise for Infowars conspiracy theorist Jerome Corsi, a major proponent of the QAnon conspiracy theory.)
David Gomez is a former FBI national security executive who reviewed several True Pundit stories at the request of BuzzFeed News. He said some displayed a lack of understanding about basic FBI procedures.
"The key thing that I took away from those stories is that a lot of the quotes and a lot of the factual situations that he relates do not ring true based on my 28 years of experience in the FBI."
"The key thing that I took away from those stories is that a lot of the quotes and a lot of the factual situations that he relates do not ring true based on my 28 years of experience in the FBI," Gomez said in an interview.
Gomez said it's possible True Pundit is in touch with a former agent or two, but said the articles do not reflect the work of someone with high-level bureau sources and insight into ongoing investigations.
"I think he may have one or two people that he's talking to on a regular basis. I think it would be the same person providing a similar type of information," Gomez said. "But I also think, and it's clear from his writing, that he'll also take a bit of what someone says and spin it. And I don't for a second believe his quotes."
In some cases, Moore (as Paine) later claimed his "exclusives" were correct when news broke that was tangentially related. His story that helped feed the Pizzagate conspiracy now carries five bullet points at the top that reference subsequent events as if they support his initial report.
The fact that Weiner later pleaded guilty to federal obscenity charges is cited as proof of True Pundit's claim that his laptop would show evidence of "child exploitation" and "sex crimes with minors (children)." In reality, the laptop was originally obtained by law enforcement as part of its investigation into Weiner for exactly those reasons. But none of True Pundit's claims about the laptop having evidence of crimes by Clinton or others proved true.
None of that stopped the site from boasting in June of this year that its story was correct. As evidence, it cited the FBI inspector general's report about bureau activity leading up to the 2016 election. In a section about Weiner's laptop, the report contained a reference to "crime against children" and the "sexual exploitation of children." As noted above, the investigation into him sexting with a minor was why law enforcement obtained his laptop in the first place. Neither reference to child exploitation in the report was connected to Clinton or anyone other than Weiner.
True Pundit claimed vindication anyway. "So who in the media or some of the other half-witted critics out there in social media land are going to be the first to apologize for hammering True Pundit's reporting in 2016?" its story asked.
Any of the above stories alone should do deep damage to a site's credibility, and its ability to earn revenue and attract an audience. But the opposite has happened for True Pundit, according to traffic measurement services Alexa and SimilarWeb.
Over the past period of nearly a year, as other conservative sites struggled with low or inconsistent traffic, True Pundit has enjoyed a climb in audience.
Moore also sells True Pundit merchandise, has close to 250 people supporting a Patreon, and earns advertising revenue thanks to an arrangement with Revcontent. (A 2017 analysis by BuzzFeed News found that Revcontent was monetizing more fake news sites than any other ad network. The company responded by labeling the story fake news.)
For a period this summer, True Pundit was also working with Intermarkets, a Washington ad firm that handles advertising for the Drudge Report, among other prominent conservative sites.
"We no longer work with Truepundit.com," said Kary Jones, the manager of publisher development for Intermarkets, in an email to BuzzFeed News. "You can reach out to them directly."
Jones did not answer follow-up questions about how long they worked together or why the relationship ended.
Unmasking Moore and revealing his criminal history, potential grudge against the FBI, lack of recent work in journalism or investigations, and the string of false stories attributed to anonymous sources should cause many to discount True Pundit as a source.
But the reality is his audience is already invested in his fake scoops about the deep state, out-of-control federal agencies, and child exploitation. They will almost certainly stay with him. Moore can simply portray himself as yet another victim of the FBI, mainstream media, and deep-state complex, all while promoting his Patreon and True Pundit merchandise.
As Moore has demonstrated over the last two years, there's a fake angle for every real story. ●

Connecting Michael D. Moore to True Pundit and Thomas Paine
Before he became Thomas Paine, Moore was @HockeyIntel on Twitter. With that account, he showed a particular interest in smaller leagues such as the United States Premier Hockey League. He also displayed the same combativeness and ego that would come to the forefront when he later switched to @Thomas1774Paine. (Twitter allows people to swap one username for another and keep their followers and old timeline.)
But prior to taking on his Paine account and persona, Moore unwittingly left enough clues on his old hockey account to connect the dots.
As part of his research into True Pundit, Twitter user Chris David collected old tweets that referenced @HockeyIntel. BuzzFeed News noted that another Twitter account, @Dig_Dirt, often replied to threads to support @HockeyIntel's comments.
In one 2014 tweet, @Dig_Dirt jumped in on a thread between @HockeyIntel and another account. The phrasing of the tweet ("As a parent … we know the scoop.") suggested the same person might be running both @Dig_Dirt and @HockeyIntel: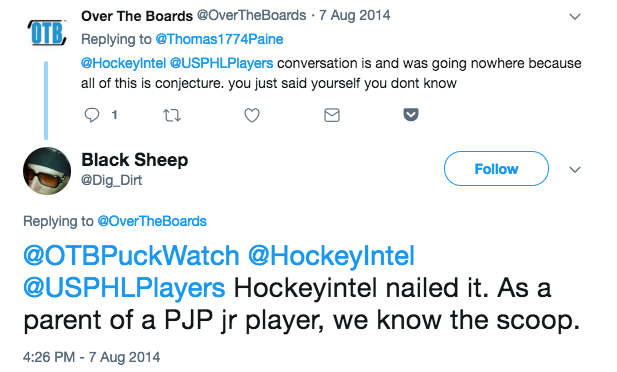 That account had earlier shared a YouTube video of a young hockey defenseman with the last name Moore. The person running @Dig_Dirt also spoke about the player in another tweet as if they were his parent. From there, BuzzFeed News was able to determine that the player's father is Michael D. Moore. Research on Moore quickly revealed he fits all of the disclosed characteristics of Thomas Paine's real identity.
Another link between Moore and True Pundit is that the @Thomas1774Paine Twitter account has twice praised tweets sent from the Twitter account of the sports apparel company run by Moore's son, the former hockey player.

In the end, Moore's careful work to conceal his true identity was undone by a sock puppet account and a father's pride.
CORRECTION
Seth Abramson's Twitter thread about True Pundit and Thomas Paine argued that the site was being fed information by "a cadre of pro-Trump FBI agents and intel officers — some active, some retired — [who] conspired to swing the election to Trump." He did not claim that these people were running the site, as was stated in an earlier version of this post.