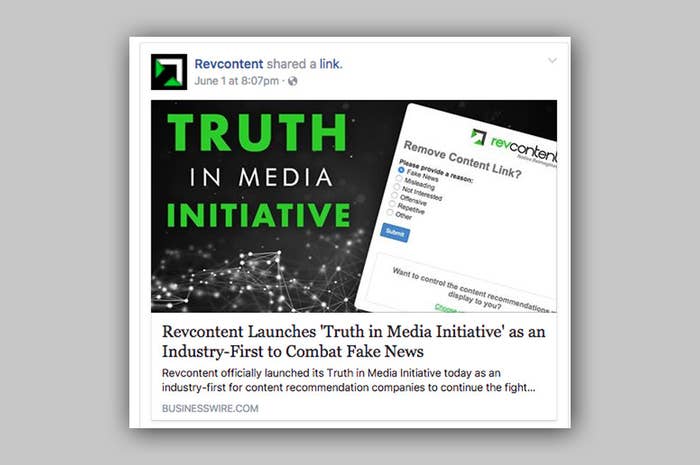 An ad network launched a new initiative to "continue the fight against fake news" at the same time it was working with 21 websites that have published fake news stories, according to a review conducted by BuzzFeed News.

When contacted for comment, Revcontent subsequently removed four of the sites from its network, and in a statement suggested that a previous BuzzFeed News story about ad networks on fake news sites could itself be considered "fake news."
Revcontent operates one of the biggest content-recommendation ad networks in the world, and its ad module appears on major websites such as Forbes, Newsweek, and Reuters. Similar to companies such as Outbrain and Taboola, Revcontent enables publishers to earn revenue by placing a widget on their website that shows a selection of headlines and images from companies that have paid for placement.
Late last week, Revcontent issued a press release to announce a new "Truth in Media Initiative" to combat fake news. The release explained the company will now enable readers to file a report if they see fake news displayed in the Revcontent widget.
"The cornerstone of journalism is about a relationship between media companies and their users," said Revcontent CEO John Lemp in the press release. "As with any relationship, it needs to be built upon trust and creating a better user experience."
But at the same time the company is calling on users to report fake news on its network, Revcontent continues to help popular fake news websites earn money. A recent BuzzFeed News review of ad networks on fake news sites found Revcontent's content ad module was present on 22 sites — making it the most common ad network on the more than 100 fake news sites reviewed.
BuzzFeed News visited those 22 sites again the day after Revcontent issued its release touting an "industry-first" initiative against fake news. Twenty of the original 22 sites were still displaying with Revcontent ads. BuzzFeed News also found at least one additional fake news site, ViralMugshot.com, was added to the network since March, bringing the total number of sites working with Revcontent to 21.
Of the two sites no longer displaying Revcontent ads, the company said both were removed due to violations of its publisher guidelines.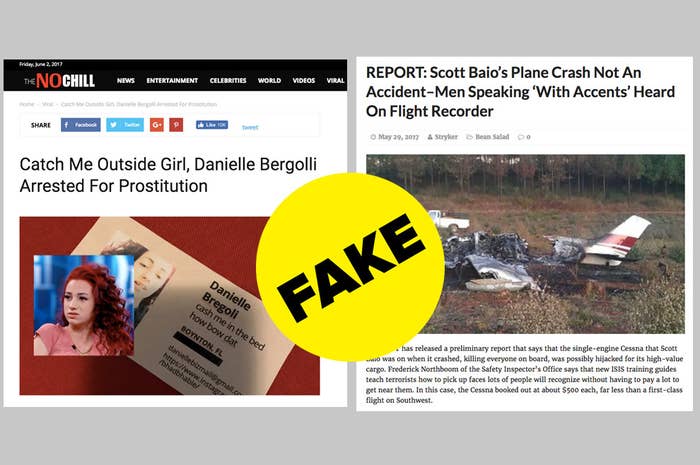 BuzzFeed News first contacted Revcontent in late March and provided it with a list of fake news sites earning money with its ad module. At the time, Katherine McDermott, the company's brand manager, said Revcontent refuses roughly 94% of publishers who apply to join its network. She said it has "some of the most stringent standards out there" and performs "millions of terminations and denials every year." McDermott did not comment on the specific list of sites.
BuzzFeed News contacted McDermott again late last week to ask why Revcontent was still working with many of the same sites while at the same time promoting an initiative to fight fake news. In a statement, the company said the definition it uses to determine whether a site is fake news is as follows: "content intentionally intended to deceive the public, and not satire disclosed as such."
"We have enforced on this since Day 1 and, through our normal compliance activities, had already terminated some of the sites previously flagged and denied attempts by some of them to reapply," the statement said. "We have also re-audited the list you sent over and terminated additional sites which we felt did not have sufficient satirical disclosure."
The company said that as a result of BuzzFeed News reaching out again last week, it terminated an additional four sites from the original list of 22. But in spite of taking action based upon data provided to it for a second time, the company also said in its statement that BuzzFeed News' original March article about ads on fake news sites could itself be considered "fake news."
"If our investigators used the last article BuzzFeed had written as a test case and judged it on its own accord, then they would have a difficult decision because many would consider this article to be 'fake news' itself," the statement said, citing the story's "sensational claims" and "click-bait" tactics.
The company's full statement — including a description of why a story that provided data it used to remove sites might be akin to "fake news" — is reprinted in full at the bottom of this article. The list of 21 sites that were monetizing with Revcontent as of late last week is also listed below.
Revcontent's statement said many of the sites identified by BuzzFeed News offer a disclosure that their content is meant to be satirical, and the company said it does not want to restrict free speech by removing them. In a subsequent statement it said the four terminated sites were removed this weekend because it "determined that the disclosure was inadequate and therefore ran the risk of misleading the public."
But a simple review of some of the sites that remain with Revcontent reveal inconsistencies in how the company applies its policy.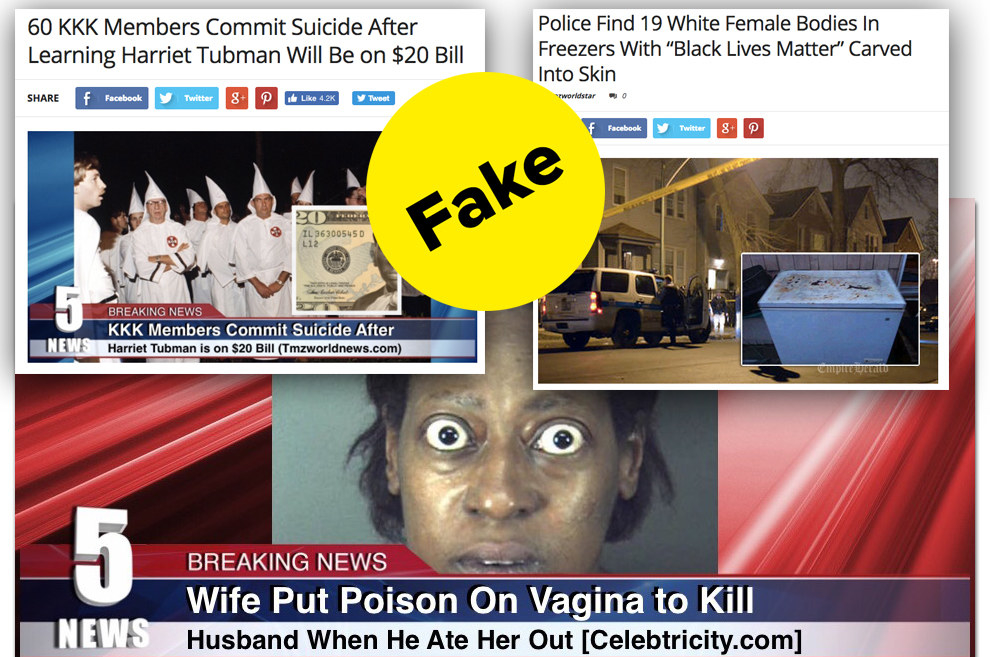 Two of the sites removed by Revcontent over the weekend are Celebtricity.com and TMZComedy.com, which are part of a network of over 30 sites that BuzzFeed News profiled in March. The sites have produced viral hoaxes such as "Angry Woman Cuts Off Man's Penis for Not Making Eye Contact During Sex" and "Donald Trump Dead From A Fatal HEART ATTACK!"
Nine sites in that network continue to monetize with Revcontent and were not removed by the company this weekend. BuzzFeed News found that five of those sites have the same design template and disclosure text as TMZComedy.com, and also published some of the same fake stories. Yet these sites passed Revcontent's latest compliance review.
Similarly, BuzzFeed News found two sites that share the same template and disclosure text as Celebtricity.com, and that also have fake news stories. But only Celebtricity was terminated.
Two other sites from that network — FedsAlert.com and TheNoChill.com — also use Revcontent. They both contain completely fake stories, and in the case of FedsAlert.com there is no disclosure on the homepage warning that its content is satirical.
BuzzFeed News asked Revcontent why these sister sites were treated differently by its compliance team.
"All of these sites are changing everyday, and if they violate our policies when we see it, we will take action," the company said in a statement.
Another site using Revcontent is NationalReport.net, which is owned by Jestin Coler, the so-called godfather of fake news. He says he is now retired from the fake news game, and the site has removed its biggest fake news hits, such as a story claiming that a Texas town has been quarantined due to Ebola. Coler told BuzzFeed News that ad networks should be free to work with whichever sites they choose.
"Ad networks exist for the sole purpose of serving ads," he said. "If an advertisement is served on a site that does not contain hate speech/threats of violence, pornography, or pedophilia, then the ad itself is still served, and likely to the appropriate demographic. I understand advertisers want to protect themselves from such exposure, but that is the responsibility of the advertiser, not the ad network."
Revcontent said it continues to review the sites provided to it by BuzzFeed News, and that additional terminations are "likely."
"As the compliance team continues their ongoing reviews, there will likely be additional instances where terminations are warranted based on the structure, content and disclosures of the then-current sites," it said in a statement.
Below is the full statement from Revcontent, and well as the list of 21 sites that have published fake news and were found to be monetizing with Revcontent.
Truth in media is extremely important to us which is why we have been investing in technology to help facilitate truth between media companies and consumers. It is that focus that has allowed us to create machine learning technology to determine political bias in news articles even before "fake news" became a buzzword. It is also that focus which has allowed us to enhance our current user driven feedback mechanisms to allow consumers to report fake news from within the widget as a first step but with a future update including the ability to report articles on a page or domain as well. We also have been reaching out to other stakeholders, volunteering our time and technology resources in an effort to create solutions for the industry that can viably address a problem which, on the surface, appears simple but is actually highly complex.
Revcontent's policy echoes the generally accepted definition of fake news: "content intentionally intended to deceive the public, and not satire disclosed as such." Revcontent has a comprehensively documented history of enforcing this policy, along with its many other policies as a part of its acclaimed compliance program, that has resulted in the denial of 94% of sites that apply for our network. We have enforced on this since day 1 and, through our normal compliance activities, had already terminated some of the sites previously flagged and denied attempts by some of them to reapply. We have also re-audited the list you sent over and terminated additional sites which we felt did not have sufficient satirical disclosure.
If, however, we use the definition stated in your last article ("the sites were added to this list if they had caused sites such as Snopes, BuzzFeed News, or others to debunk their work more than once") then a lot of "false positives" are created which include media sites that are genuine satire, such as "TheOnion," as well as other large media organizations which have numerous stories "debunked" by your definition. A definition which does not have an exception for disclosed satire. This miscategorization creates a fundamental bias in the results and exemplifies the true challenge we are all faced with each day as we fight against "fake news."
To further illustrate this point, if our investigators used the last article BuzzFeed had written (https://www.buzzfeed.com/craigsilverman/fake-news-real-ads?utm_term=.xcR3VBp6NJ#.shnAewEdOm) as a test case and judged it on its own accord, then they would have a difficult decision because many would consider this article to be "fake news" itself based on the following parameters.
First it appears the whole intent of the article is to maximize clicks via a common click-bait tactic of piggy backing on a major keyword and story within the news cycle, e.g. the term "fake news" which appears in the headline and is then combined with sensational claims against the companies mentioned.
Second, the text then abruptly changes the emphasis in a classic "bait and switch" tactic which could be perceived as intentionally poisoning the editorial data to create a conclusion that would intentionally generate more clicks and revenue. This is exacerbated by the inclusion of disclosed satire sites through a methodology that would include sites such as "The Onion."
Third, the methodology is overtly inconsistent as it appears scientific and, yet, many major media organizations that would also fail under the definition are excluded.
Fourth, Buzzfeed itself is already involved in a lawsuit with claims against it regarding "fake news" which it does not disclose in the articles about the subject.
We only mention these points to illustrate the challenge and complexity of this issue. We all face the fight on this together and we believe both Buzzfeed's and Revcontent's interests are aligned in creating and implementing effective processes that will encourage transparency and education. This effort starts however by recognizing the inherent complexity and balancing the desire of solving this without putting companies in the position of censoring the internet and infringing freedom of speech. Freedom of the written word and the ability for people like you to report on tough topics, even topics with which we don't agree, is at the heart of Revcontent's mission. Otherwise, before we know it, we will be waging a war — the wrong war on the written word itself, on satire, on people whose opinions may differ from our own, where does it stop?
That is not the war we want to wage as it's a war against society as we know it and the ultimate protection of our society which is the voice of the people.
Our goal is to help build trust in media and our technology is not the final step and you have every right to criticize us for doing it but at the heart of it we will continue to build this technology, because of the importance we feel it has towards our society and the hundreds of millions of articles our widgets touch everyday.
List of sites: