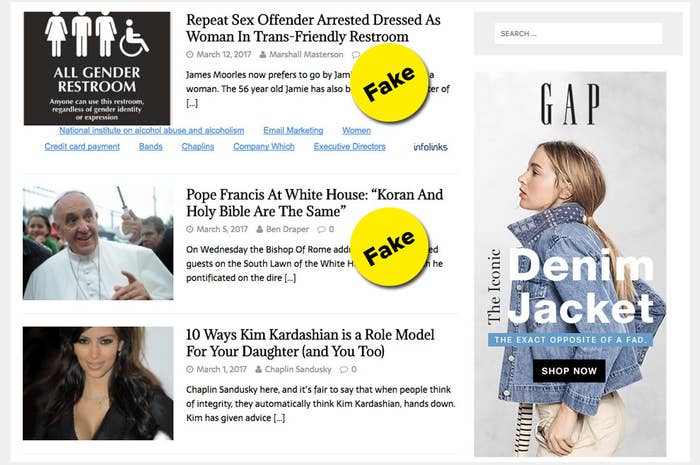 More than 60 websites publishing fake news are earning revenue from advertising networks and most of them are working with major networks such as Revcontent, Google AdSense, and Content.ad, according to a review by BuzzFeed News.
An additional analysis, conducted in partnership with a co-investigator on of the forthcoming project A Field Guide to Fake News, found several cases where fake news sites that were kicked out of one network simply moved to another in order to continue earning money. It shows that in spite of calls for the digital ad industry to crack down on fake news and fraud in its ecosystem, fake news publishers continue to find ways to earn money from major advertising networks.
The research also reveals that content-recommendation ad units, which provide ads made to look like real news headlines, were by far the most common ad format on the sites reviewed. But banner ads are still a factor: BuzzFeed News was served an ad for the Gap right next to a fabricated story about a sex offender pretending to be a woman in order to enter a washroom, and a false story about the pope.
Marc Goldberg, the CEO of Trust Metrics, a company that evaluates online publishers and apps for quality, told BuzzFeed News that "there is still a significant amount of money to be made" in fake news.
He said that in evaluating sites many ad networks "are not really for the most part looking for quality. They're looking to see if it meets the minimum threshold: It's not porn, it's not hate or guns."
Pablo Reyes, who runs fake news sites such as Huzlers.com, said in his experience ad networks don't care about the content as long as the traffic comes from real people.
"What matters the most is that they get their [ad] impressions," he told BuzzFeed News. "As long as the traffic is real and the ads are being served to real people, it's never a problem."
Adding to the confusion for readers and ad networks is the fact that some sites reviewed by BuzzFeed News publish real news as well as hoaxes, while others switch between satirical articles and fabricated stories that fool people and require sites such as Snopes to debunk them.
Ad Networks On Fake News Sites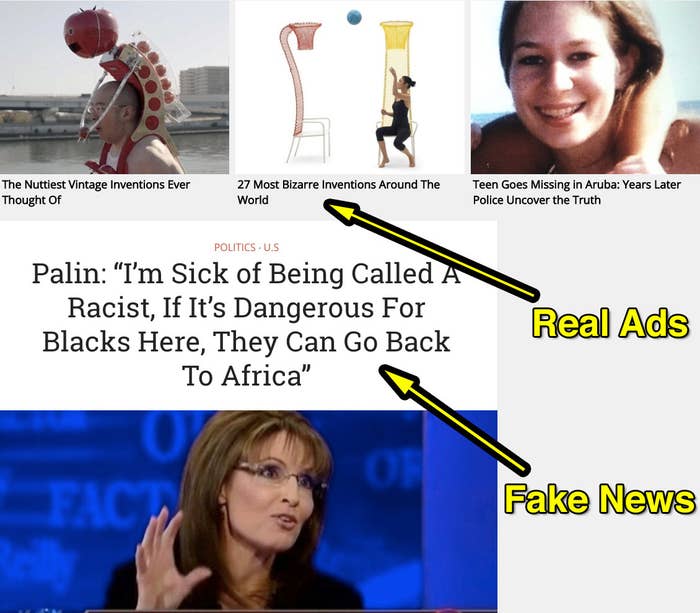 To gather the data, BuzzFeed News visited the homepage and at least one article page for 107 websites that publish fabricated stories designed to look like real news. BuzzFeed News viewed the ads on the pages and collected the names of the corresponding ad networks.
In the end, 62 sites had ads from at least one digital advertising network, with 29 sites running ads from more than one provider or network.
Of the remaining 45 sites, 28 are now offline, four redirect to URLs that were already on our list, and one site no longer publishes fake news. That left a total of 12 sites with fake news but no ads. View a spreadsheet with the list of fake news sites and their related advertising networks here.
The most common ad network on the sites reviewed by BuzzFeed News is Revcontent, which provides a module for publishers to display content-recommendation ad units that often look like news headlines. Its ads, such as the ones shown below, were found on 22 sites.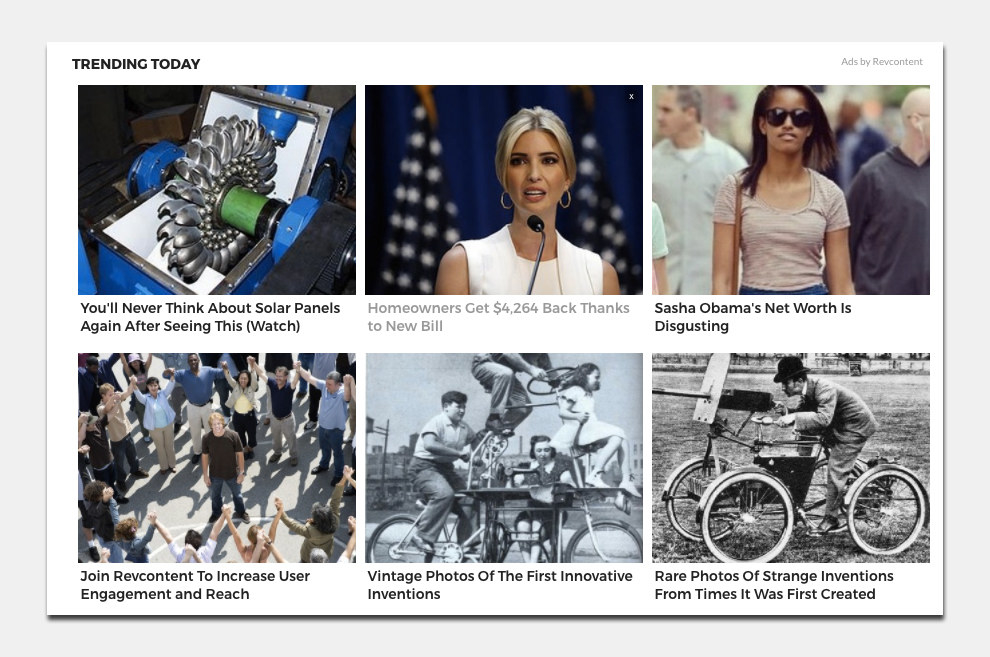 Google AdSense appeared on 17 sites, making it the second-most common ad network on fake news sites.
A spokesperson for Google told BuzzFeed News they reviewed the sites in question and immediately disabled ads on five that were in violation of its policies. The remaining sites continue to show AdSense ads because they include disclosures that their content is satirical and they don't fit the company's definition of misrepresentative or deceptive content, according to Google.
Aside from AdSense, which provides display ads, the other most common ad networks on fake news sites were all related-content ad providers. Along with Revcontent, Content.ad was present on nine fake news sites, MGID was on seven, Newsmax Feed Network was on five, Taboola was on four, and Earnify and Adblade were each on three. Eight sites had pop-under ads, which open in a separate browser window, but it's not clear if these were all from the same ad network.
When BuzzFeed News conducted its review of the sites, one site had an Amazon affiliate link to a diet book. Just before this story was published, the site removed the Amazon link and added Taboola. This addition is not reflected in our totals, the spreadsheet, or the below graphic, since it came after our review period.
This graphic shows the most common ad networks found on fake news sites reviewed by BuzzFeed News:

A representative for Revcontent said they refuse roughly 94% of publishers who apply to join their network, but did not comment on the specific sites monetizing with Revcontent that were provided by BuzzFeed News.
"When it comes to editorial standards, our main mission is to empower an open web of ideas," said Katherine McDermott, brand manager for Revcontent. "We have some of the most stringent standards out there, and we perform millions of terminations and denials every year."
The CEO of Earnify, Kyle Ryan, said he's more focused on evaluating the traffic of a publisher than reviewing its content.
"While content quality is important to us, our most important factor with our onboarding of publishers is the quality of their traffic and how it performs for our advertisers," Ryan told BuzzFeed News. "If both parties are happy, there is no reason to exclude them."
After being sent a list of sites using its ad module, Adam Singolda, the CEO of Taboola, echoed Google's comment by telling BuzzFeed News he considers the sites in question to be satirical.
"While there are different definitions of what 'fake news' is, we assume it to include a deliberate intent to deceive and cause harm to consumers," he said, noting that he published a detailed blog post about his company's policies back in November. "The stated goal of these sites that you sent us is to entertain through parody, we believe."

Google and Taboola both said they accepted sites identified by BuzzFeed News because the publishers disclose that the content is intended to be satirical. Ryan of Earnify also said he considered the sites in his network to be satire, though the ones in question do not contain a disclosure. (The sites in Earnify were also the subject of a recent BuzzFeed News story.)
The publishers accepted by Google and Taboola included the Burrard Street Journal, Huzlers, and the Business Standard News. Each of these sites has had multiple articles debunked by Snopes, BuzzFeed News, and others due to people being fooled by them.
BuzzFeed News emailed Content.ad, Newsmax Feed Network, and MGID a list of sites using their ad modules, along with a request for comment. They did not respond.
Ad Trackers On Fake News Sites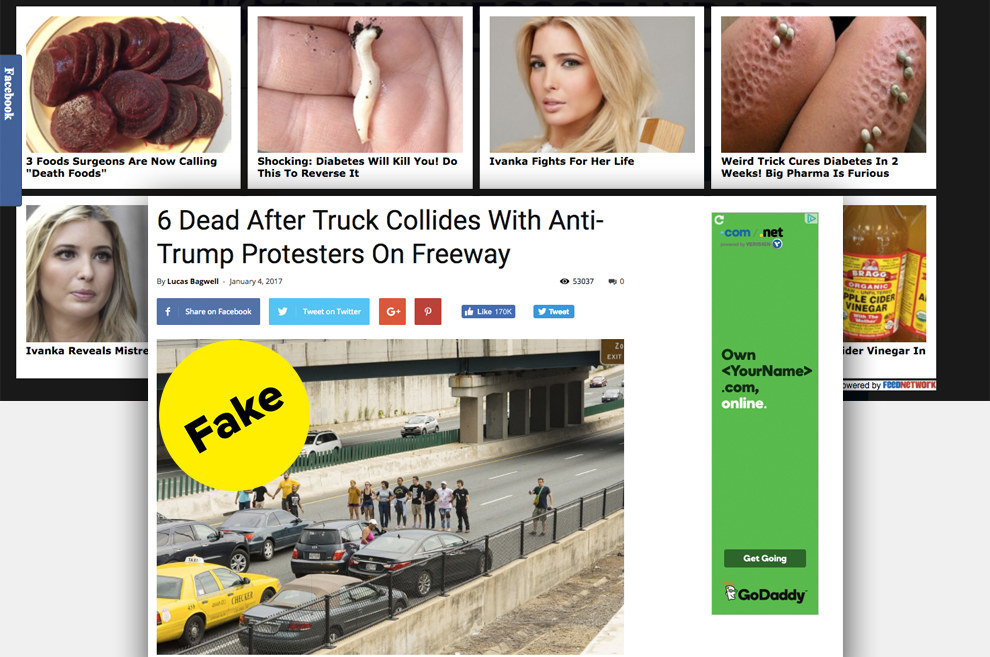 BuzzFeed News also gathered data to try to determine which trackers from ad networks have been added or removed from fake news sites since public outcry began in November of last year. (Trackers are snippets of code installed by websites to enable them to run ads from networks, and to gather data about their audience, among other things.)
The researchers creating the Fake News Field Guide analyzed ad trackers present on the homepage and at least one article page on over 100 fake news sites compiled by BuzzFeed News. The current tracker data was then compared with the ad trackers present on sites prior to November 2016, the month when concerns about fake news began to capture public attention. (You can view the data we gathered here. For more details on the methodology of this analysis, see the bottom of this story. )
Ad networks don't publish lists of banned sites, so BuzzFeed News looked for sites that had removed particular ad trackers from their pages. A website removing an ad tracker doesn't necessarily mean they've been banned; for instance, a website owner might remove an ad network for financial or aesthetic reasons. But this analysis provides data that shows which ad trackers disappeared after the fake news crackdown began.
BuzzFeed News found that the Google AdSense tracker was removed by 10 websites at some point between November and March. This was out of a total of 51 sites for which current and archival tracker data was available. This aligns with a recent Google report that said it banned 200 publishers from AdSense for deceptive content, which can include impersonating news websites.
The analysis also found that the DoubleClick Ad Exchange Seller, which helps facilitate real-time bidding for ads and is connected to Google's AdWords program, was removed by 10 of the 51 sites. The Google Syndication tracker, which is used to store data about users who click on AdSense ads, was removed by 17 sites. The main DoubleClick ad tracker was also removed by five sites. All of these trackers are owned by Google.
The other ad networks that saw their trackers removed at a comparatively high rate since November were Trade Desk (removed from 10 sites), Revcontent (eight sites) Yahoo Ad Exchange (removed from six sites), and AppNexus (six sites).
In some cases, the removals were partly offset by other fake news publications adding those ad networks to their sites. Although Trade Desk was removed from 10 sites, it was added by five others. Revcontent's eight removals were offset by four additions.
This graphic shows which ad trackers saw the most net additions and removals by fake news sites since November:
A Field Guide To Fake News / BuzzFeed News
The data also revealed that some sites booted from AdSense moved to related-content ad networks such as Revcontent and Content.ad. The site USPOLN.com, which publishes a mix of fake politics stories along with real ones, had AdSense and DoubleClick trackers on its site prior to November. Those were removed at some point since that month and the site added the Revcontent tracker during the same period. The site now shows Revcontent ads.
Content.ad saw its tracker added by three fake news sites that removed their Google AdSense trackers during the same period.
Goldberg of Trust Metrics said fake news sites will just keep moving to new ad networks, even if they pay less than those in the top tier.
"Once [Google] kicked them out then it continues to keep going down the food chain — and that's where all of these guys live," he said.
How We Gathered The Data
We began with a list of more than 100 websites that have published hoaxes since 2014. BuzzFeed News media editor Craig Silverman has been building this list — keeping track of known sites, adding new ones as they crop up — since the fall of that year.
Liliana Bounegru, a a co-investigator on the upcoming A Field Guide To Fake News, used the Tracker Tracker tool to extract ad trackers currently present on the homepage and one article page of each of these sites. Some sites on the list are no longer active, so those were discarded in the analysis. Bounegru then used the Wayback Machine to look for archived versions of the homepage and an article page for each of these sites prior to November 2016. In the end, we identified 51 sites that had trackers on their archived pages and were still online in March 2017.
We then compared the ad trackers on the current and archival pages to see which had been most removed, and most added. View the data related to this work here. As noted in the story itself, the removal of an ad tracker does not necessarily mean that a site has been kicked out of that network. The same can be said for the addition of a tracker — it does not necessarily mean that a site is now running ads from that network.
In order to determine the ads currently running on fake news sites, Silverman visited 76 active fake news sites without an ad blocker, and with the Ghostery browser plugin enabled. (Ghostery identifies which ad trackers are active on a given webpage, and is also used in the Tracker Tracker tool.) For each site he visited the homepage and at least one article page to examine the ads.
The networks serving ads on the pages were collected into a spreadsheet. In some cases, we were not able to identify the provider responsible for pop-unders that were present on several sites. We noted that in the spreadsheet.
We also noted which sites publish a disclaimer that describes their work as satirical, as this is admittedly an area open to interpretation. One person's satire could be another's deceptive fake news. Some sites, such as NC Scooper, clearly publish genuine satire. But they also publish stories, such as this one about millions of Bernie Sanders ballots being discovered on Hillary Clinton's email server, that mislead people and get picked up by Facebook pages that share them as true. The sites were added to this list if they had caused sites such as Snopes, BuzzFeed News, or others to debunk their work more than once.
In examining the sites to determine which networks are providing ads, it's possible we missed some ads or incorrectly labeled some. To mitigate the potential for error, we contacted the ad networks with the most sites and sent each a list of the URLs we identified as using their products. This resulted in at least one error being fixed prior to publication. If you believe a site was labeled in error, please email us.