The Milwaukee Bucks Set Off A Postponement Of NBA Playoff Games In Protest Of The Shooting Of Jacob Blake
"We shouldn't have even came to this damn place," Bucks player George Hill said earlier this week. Wednesday's NBA games have been postponed.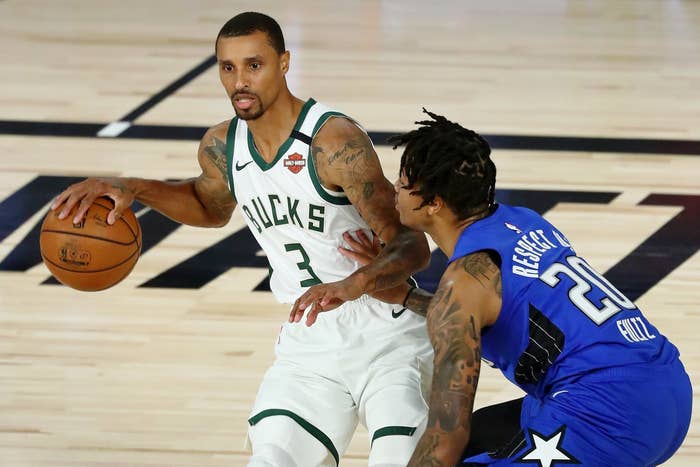 The Milwaukee Bucks decided to sit out Game 5 of the first round of the NBA playoffs Wednesday in protest of the police shooting of Jacob Blake, a 29-year old Black man, in Wisconsin, setting off a leaguewide delay in games.
"Despite the overwhelming plea for change, there has been no action. So our focus today cannot be on basketball," Bucks player Sterling Brown said, reading a statement on behalf of his team.
Blake was shot in the back seven times as he got into his car with three of his children inside in Kenosha Sunday evening, according to his family and their attorney. Blake is now paralyzed, his family has said.
The shooting, which was captured on video and shared on social media, has led to protests in Kenosha, Madison, and other cities across the US. The video shows Blake walking away from several officers before an officer grabs his shirt and then shoots him several times from behind as Blake opens the car door.
"We are calling for justice for Jacob Blake and demand the officers be held accountable," Bucks player George Hill said, also reading from the team statement. "For this to occur, it is imperative for the Wisconsin state legislature to reconvene after months of inaction and take up meaningful measures to address issues of police accountability, brutality, and criminal justice reform."