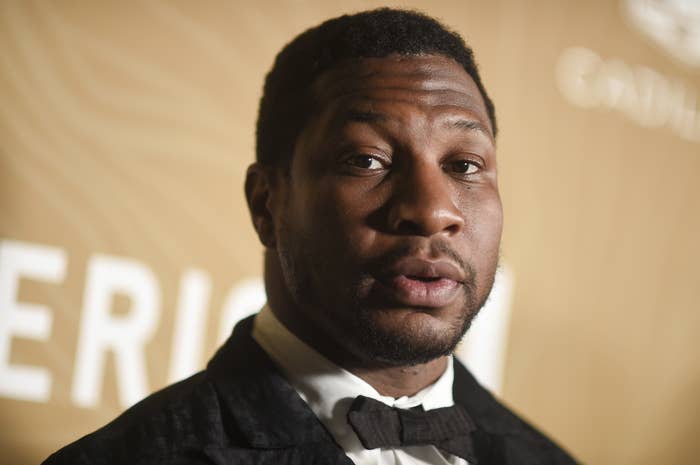 Jonathan Majors's attorney again proclaimed that the actor is innocent after a new report that multiple women are now cooperating with authorities in a domestic abuse investigation against him.
Citing sources familiar with the matter, Variety reported on Wednesday that more alleged abuse victims of Majors have come forward after the actor was arrested in New York on March 25 for an altercation involving a 30-year-old woman, who was taken to hospital with minor injuries to her head and neck.
"Jonathan Majors is innocent and has not abused anyone," his attorney Priya Chaudhry said in a statement provided to BuzzFeed News shortly after Variety published its story. "We have provided irrefutable evidence to the District Attorney that the charges are false. We are confident that he will be fully exonerated."
Majors is facing charges of assault, attempted assault, harassment, and aggravated harassment in connection with his March arrest, according to the Manhattan district attorney's office.
Majors, who had become one of Hollywood's fastest-rising new talents, has seen his stardom dim as a result of the incident. Institutions including the US Army have pulled advertising campaigns starring the actor. His talent management company and public relations firm have also reportedly cut ties with the Creed III actor.
He recently joined the Marvel Cinematic Universe as Kang the Conqueror, a role expected to be a major villain in multiple movies. Marvel has not commented on its relationship with the actor.
In previous statements, Chaudhry has said that Majors is "provably the victim" and that she expected the charges to be dropped soon. The attorney also said that the alleged victim in the March 25 incident had taken back her allegations. But in text messages released by Majors's crisis publicist to exonerate him, the woman told the actor that police said they arrested him after seeing "the injuries" on her and learning that they "had a fight," according to Variety.
"I know you have the best team and there's nothing to worry about I just want you to know that I'm doing all I can my end," the woman reportedly wrote to Majors. "I also said to tell the judge to know that the origin of the [911] call was to do with me collapsing and passing out and your worry as my partner due to our communication prior."
Majors was released from custody on his own recognizance with a limited order of protection. He is expected to appear before a judge on May 8.