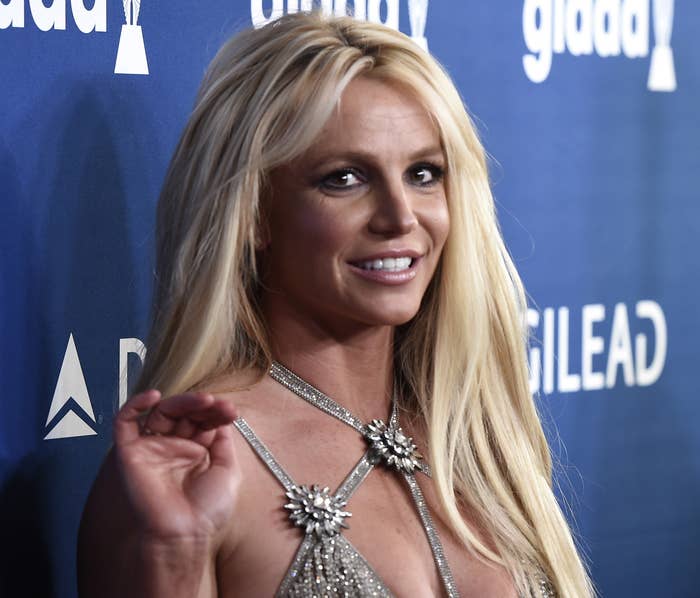 Jamie Spears intends to step down as conservator of Britney Spears' estate, he said in a new court filing, paving the way for the pop star to be free of the control her father has held over her life for more than 13 years.

In a 12-page document filed in Los Angeles County Superior Court on Thursday, an attorney for the singer's dad wrote that while there are "no actual grounds for suspending or removing" him, he didn't think prolonging the "public battle with his daughter over his continuing service as her conservator would be in her best interests."
"Mr. Spears intends to work with the Court and his daughter's new attorney to prepare for an orderly transition to a new conservator," his attorney Vivian Thoreen said in the filing.

Thoreen added that Jamie Spears will step aside after several outstanding issues related to his management of the estate are resolved, arguing that "there are no urgent circumstances justifying Mr. Spears' immediate suspension."
Mathew Rosengart, the singer's attorney, did not immediately respond to BuzzFeed News' request for comment.
In a statement obtained by Variety, Rosengart vowed to continue an investigation into whether the 39-year-old pop star's fortune was mismanaged, but called Jamie Spears' promise to leave the conservatorship "vindication for Britney."
"We are disappointed, however, by their ongoing shameful and reprehensible attacks on Ms. Spears and others," his statement says. "We look forward to continuing our vigorous investigation into the conduct of Mr. Spears, and others, over the past 13 years, while he reaped millions of dollars from his daughter's estate, and I look forward to taking Mr. Spears's sworn deposition in the near future."
Last month, Spears formally requested the court remove her father as conservator and replace him with Jason Rubin, a professional fiduciary and forensic accountant. The move was supported by Jodi Montgomery, the current conservator of the singer's personal life; her medical team; and her mother, Lynne Spears, according to court documents.
The expected departure of Spears' father is the latest in a series of major shifts in the case after the singer derided the conservatorship in a public hearing on June 23, calling the arrangement "abusive" and asking that it be ended without her having to undergo an evaluation.
On July 1, Bessemer Trust, the wealth management firm that had been appointed to manage Spears' finances with her father, resigned, saying that it heard her testimony and "respects her wishes" to end the conservatorship. A few days later, Samuel Ingham, the singer's court-appointed attorney — who came under increased scrutiny after Spears said she hadn't known that she could petition to end the legal arrangement — also resigned. And then, for the first time since the conservatorship was created in February 2008, the court allowed Spears to hire her own attorney.
Her pick, Rosengart, a former federal prosecutor known for taking on celebrity clients, immediately got to work on getting her father removed. In recent court filings, Rosengart described the relationship between Spears and her father as "toxic" as he argued that suspending him as conservator was in her best interest.
In recent months, Spears and her mother have described her father's influence over her life in disturbing terms. During the June 23 hearing, Spears said her father "loved the control" he had over her.
"He loved the control to hurt his own daughter, 100,000%," she told the court. "He loved it."
In a declaration filed with the petition to remove Spears' father, her mother compared his scrutiny of their daughter to that used in prisons and said their relationship "has dwindled to nothing but fear and hatred." Lynne Spears also said that the physical altercation between Jamie Spears and one of his grandchildren in 2019 "understandably destroyed whatever was left of a relationship between them."
Rosengart has also raised questions about Jamie Spears' tenure as conservator. In an Aug. 5 filing, he wrote that "there has been an evident dissipation of assets of Ms. Spears' estate" as he criticized the father's spending and called for an investigation.

"Although a proper conservatorship exists to protect a conservatee from undue influence, it is apparent that this conservatorship has allowed would-be influencers to take control of the Estate and exploit Ms. Spears, often for their own benefit," Rosengart wrote in court documents.
But in Thursday's filing, Jamie Spears disputed the claims that removing him was in the pop star's best interest, taking issue, in particular, with his ex-wife's statements.
"Lynne has had only limited involvement in Ms. Spears' life these last thirteen years," Thoreen wrote, arguing that she "has not had a parental role" in the singer's life "for decades."
"Lynne does not have personal knowledge about the current state of the relationship between Ms. Spears and her father or the recent history of that relationship," she continued. "Therefore, Lynne's allegations in her Declaration are without foundation."
In a statement provided to BuzzFeed News, Gladstone N. Jones III, Lynne Spears' attorney, said his client was pleased that her ex-husband has agreed to step aside, adding that she became involved in the conservatorship almost three years ago "to protect her daughter."
"She has accomplished what she set out to do," Jones said. "She will have no further comment."