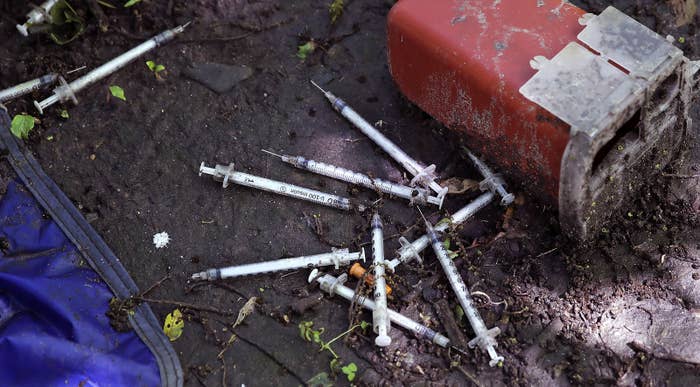 An HIV outbreak in Massachusetts has grown to 129 confirmed cases, state officials said, an alarming cluster largely driven by drug users sharing needles.
That's seven new cases since May, when state and federal scientists completed an investigation of a suspected HIV outbreak in the cities of Lowell and Lawrence. Their report identified 122 HIV cases diagnosed between 2015 and June 2018 in people who injected drugs or their partners. The data was published in July, after a four-week investigation led by the Massachusetts Department of Public Health and the CDC.
This upswing of HIV diagnoses among drug users reverses a steady downward trend since 2010. Experts are worried that the new cases involve a whiter, more rural population that has not been the focus of prevention efforts in the past. And they're bracing for similar reports in other parts of the country.

"We are likely to get other local HIV outbreaks," Dan Ciccarone, professor of family community medicine at the University of California at San Francisco, who was not involved with the CDC report, told BuzzFeed News. "Those outbreaks are out there right now, waiting to be identified."
The Massachusetts event is the second opioid-related HIV outbreak since 2015, when the CDC linked nearly 200 cases in Scott County, Indiana, to the injection of prescription pain medication oxymorphone, or Opana. In 2016, the agency warned of a reemergence of the disease among people who inject drugs, particularly if they lack access to needle exchange programs.
Fentanyl is the defining feature of the Massachusetts outbreak, Charles Alpren, a CDC scientist who led the investigation, told BuzzFeed News.
"Because fentanyl is associated with more frequent injecting, it makes users prone to sharing injection equipment more frequently, and that increases the risk of HIV transmission," Alpren said. About three-quarters of those interviewed by the team said that they injected fentanyl, by itself or along with other stimulants, and a quarter said they injected only cocaine.
(A CDC spokesperson said that the agency is not currently conducting any investigations similar to the program it undertook in Massachusetts. )
The team learned that this deadly opioid had arrived in these two cities, both near the New Hampshire border, before it spread to other parts of the state. Also, the team was told that Lawrence had become a "production hub" for illicit fentanyl.
Everybody interviewed by the team reported being homeless for some period in the past year. Alpren said that people with HIV facing such instability have a harder time keeping up with treatments to keep their infections in check, increasing the risk of further transmission.
The report recommended that the state increase funding for HIV testing by 50% by December 2018 and begin offering it as a routine screen at hospitals and emergency departments for people suspected of injecting drugs. The researchers also called for an expansion of needle exchange facilities in both cities.
Alpren pointed out that there are certain key differences between the 2015 outbreak in Scott County and the Massachusetts one. Unlike the rural Indiana county, Lowell and Lawrence are semi-urban areas. And Massachusetts lacks the ban on needle exchanges that was in place in Indiana under then-governor Mike Pence. Public health officials pointed to that policy as a driving factor in enabling the Indiana epidemic.
Historically, people who inject drugs who become infected with HIV have been primarily black men, typically in urban areas. But CDC reports have found an uptick in diagnoses among white Americans who live in rural areas in the west and midwest, with women almost equally represented.
"Essentially we're going in the wrong direction," Greg Millett, director of public policy at the AIDS research foundation amFAR, told BuzzFeed News.