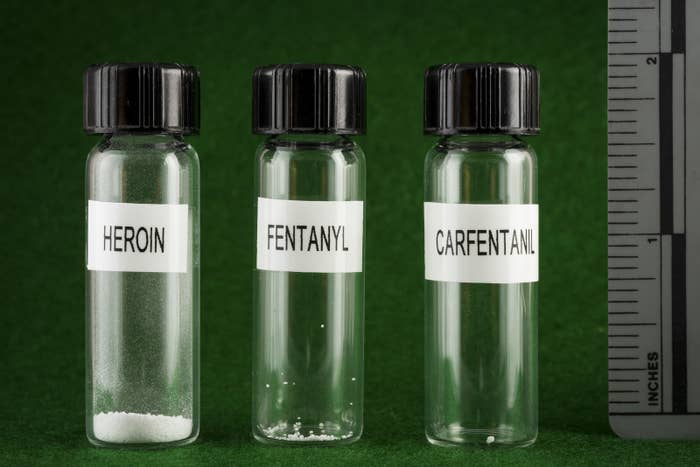 Fentanyl and other synthetic opioid painkillers are now the leading cause of overdose deaths nationwide, killing more than 20,000 people last year, according to provisional CDC data.
"Shocking numbers," epidemiologist Daniel Ciccarone of the University of California, San Francisco School of Medicine told BuzzFeed News. "I see only growing problems in my field work," he added, with fentanyl becoming the new normal for heroin buyers in places like Chicago and Charleston, West Virginia.
The US is in the midst of an epidemic of drug overdose deaths, with nearly 65,000 people killed by heroin, cocaine, and prescription painkillers in 2016, a 21% jump from a year earlier. That rise was first reported by Mother Jones in September.
Underneath the total increase is the surge in deaths dues to fentanyl and related synthetic opioids, more powerful relatives of heroin and morphine. Widely tainting the illicit drug supply of heroin and counterfeit pain pills, these synthetic opioids doubled their share of the previous year's already alarming overdose toll, according to the new data, which is provisional, with final mortality figures expected in December.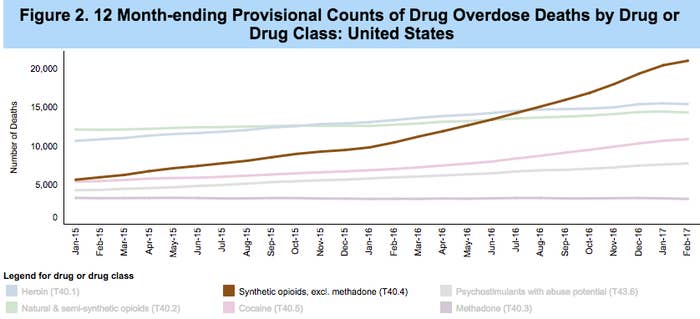 The increase is remarkable because fentanyl only arrived in the illicit drug supply in a noticeable way around 2012, and has now raced ahead of drugs usually responsible for overdose deaths. Fentanyl is roughly 50 times more potent than morphine and about 10 times more potent than heroin.
The death of Prince in April 2016 resulted from a fentanyl overdose, reportedly from counterfeit pain pills found in his possession. Carfentanil, an even more potent relative of fentanyl, has been linked to mass outbreaks of deadly overdoses nationwide. Research by Ciccarone and colleagues has suggested that their link to overdoses comes not from the potency of the these drugs in and of itself, but rather the sharp changes in potency they introduce into illicit drug markets.
Overall, opioid overdose deaths quadrupled from 8,050 in 1991 to 33,091 in 2015, according to the CDC. Heroin deaths quadrupled from 3,036 in 2010 to 12,989 in 2015, driven by a sharp increase in the heroin supply. Now fentanyl is creating a third wave of overdose deaths, as those first two waves have steadied to each kill around 15,000 people a year.
On August 10, President Donald Trump called the overdose epidemic a national emergency in remarks at his golf resort in Bedminster, New Jersey. However, he has still not made an official declaration of an emergency two months later.
"After waiting so long for an emergency declaration, I think it's time to move on," former Office of National Drug Policy official Regina LaBelle told BuzzFeed News.
"Today, let's look at what we need to do to address the epidemic – build an effective treatment system to reduce overdose deaths, improve our recovery system, expand opportunities to intervene at every stage of an opioid use disorder," she said by email. "If there is one issue where there is bipartisan consensus, it's this one."