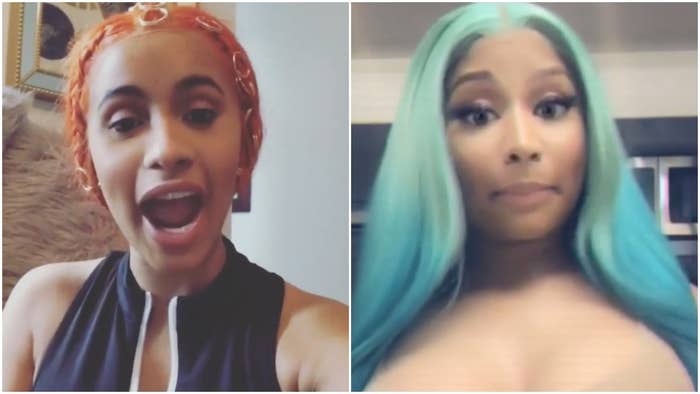 The war between Cardi B and Nicki Minaj escalated Monday night when Cardi B logged onto Instagram to post 11 videos sharing her side of her beef, touching on everything from Minaj's claim that Rah Ali punched her to the real story behind "Motorsport."
In the first video Cardi B posted Monday, she pokes holes in Minaj's account of the Harper's Bazaar party, saying that Minaj both claimed to have footage of the incident and offered a $100,000 reward to anyone who could give her footage of the incident.
Next, Cardi B finally spoke out about what happened during the "Motorsport" music video featuring her, Minaj, and Migos. Minaj had previously said that Cardi would not do the song until Minaj removed the mention of her from her verse. Cardi confirmed that, saying that she was uncomfortable with the line "If Cardi the QB, I'm Nic Lombardi" because Minaj was of no help to her career, and the lyrics are followed by "Bitch, you my son, go sit on the potty," which Cardi B also took offense to.
Next, Cardi denied Minaj's claim that she had campaigned to be on the remix of the Latin trap song "Krippy Kush," which features Minaj saying she was promoting her own Latin song "La Modelo" with singer Ozuna at the time. She also claims that Minaj was incensed after the G-Eazy song "No Limit" featuring Cardi became a hit because it was a song that Minaj had turned down.
Cardi B then switched gears, mentioning that if Minaj was going through with her claim that she would be suing her over the Harper's Bazaar fight, she could sue Minaj for defamation considering Minaj claimed on Queen Radio that Cardi B used payola to get a No. 1 hit.
Cardi continued her criticism of Minaj, saying it was more than coincidental that her phone number, her sister's phone number, and the phone numbers of rappers like Mariahlynn — who had criticized Minaj and Rah Ali after the Harper's Bazaar fight — all were leaked. Cardi B showed off her phone, which had dozens of texts from the night of the fight from Minaj fans harassing her.
In the videos that followed, Cardi denied Minaj's claim that she was stopping Minaj's bag, or preventing Minaj from making money, by noting that the only reason Offset and 21 Savage turned down doing a music video with Minaj for their song "No Flag" was because the song was flopping.
Cardi then claimed that she actually helped Minaj get a bag, and that both the Diesel campaign Minaj participated in and the Little Mix collaboration "Woman Like Me" that Minaj just released both came to Cardi B first and she had to turn them down. Cardi even played a media file of the Little Mix song, which left space for where the rap verse was supposed to go.
Cardi initially ended her series of Instagram videos Monday by saying that she too is tired of talking about their fight and would much rather hash it out in person, but she later returned to add that she took issue with Minaj's past claim that she didn't show proper respect to her.
"Focus on yourself and focus on your craft because you're out here fucking up your legacy looking like a fucking hater," Cardi said to Minaj.
Minaj responded on Twitter, calling Cardi B a liar and "fraud."
Adding that she turned down a deal with Steve Madden that eventually went to Cardi B.
A claim Steve Madden later refuted.
Meanwhile Little Mix refuted Cardi B's claim that they reached out to her first for a verse on "Woman Like Me," saying, "Both were approached by our label to work with us on Woman Like Me, Nicki then Cardi. We went with Nicki. . ."
Things finally got squashed (for now) when Minaj tweeted, "I won't be discussing this nonsense anymore."
And Cardi B posted a screenshot of that tweet on Instagram with the caption "@Nickiminaj alright then! Let's keep it positive and keep it pushing!"