On Friday night's Harper's Bazaar New York Fashion Week event, Cardi B allegedly tried to attack Nicki Minaj. It was BIG news.
Cardi B was escorted out of the fancy event with police present, and photos showed the rapper leaving with a swollen bump visible on her forehead.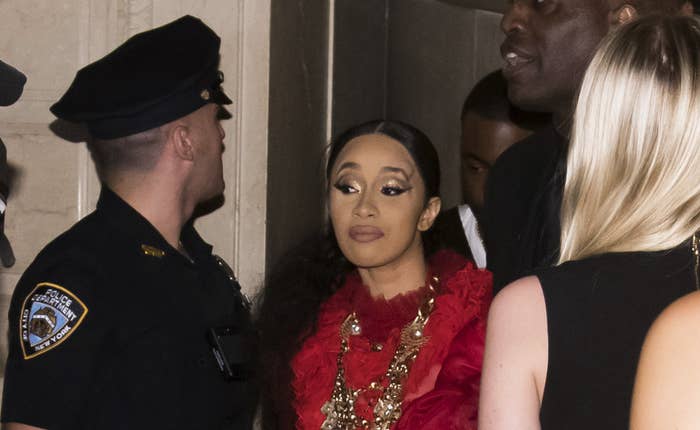 While Friday was the first time an altercation between the pair has allegedly turned physical, it's not the first time there has been drama between them.
Here's an EXHAUSTIVE breakdown of everything we know about their feud:
Way back in March 2017, Pop Crave shared a screenshot from Media Take Out that appeared to show Minaj liking a Instagram comment dissing Cardi B's freestyle.

Many fans called out the screenshot as being fake, and Minaj acknowledged one of those tweets by liking it.
In May 2017, Katy Perry and Nicki Minaj released "Swish Swish," and in it Minaj raps: "Silly rap beefs just get me more checks / My life is a movie, I'm never off set / Me and my amigos (no, not Offset)."
Minaj's mentioning of Offset, Cardi B's husband, upset Cardi B, and she tweeted and went on Instagram live to address the "Swish Swish" diss.

In her Instagram live video, she said:
People think I'm just very out there, but I'm really not. I'm actually low-key. I'm very low-key because I'm a Libra. It's so whack. Now that I'm here, now that I'm considered a musician, it's so crazy how these bitches and these niggas that I looked up to, they trying to crush my mic, and these are people that I used to look up to, used to listen to their record, used to be like, 'Damn, I wish I could make a song with him and her. .... Yo, they album is so fire.' It's the same people that, now that I'm in the industry, is deadass trying to crush my mic, and that's some whack shit, my nigga. That's some real whack shit. I'm so highly disappointed and hurt.

Then, in July 2017, a video of Minaj dancing to Cardi B's "Bodak Yellow" surfaced and people speculated that they had made up.
In an August 2017 performance, Cardi B seemed to indirectly refer to someone many speculated was Minaj when she said, "You know this bitch, right? She never fucking liked me, and now all of a sudden she decided she wants to be friends with me. No, bitch."
Some people thought this was about Minaj, while others assumed it was directed at Love & Hip Hop: Atlanta's Joseline.
A couple of weeks later, Minaj joined London On Da Track alongside 21 Savage and Offset for the song "No Flag," and some people thought she again dissed Cardi B.

She rapped: "Lil' bitch I heard these labels tryna make another me / Everything you're getting, little hoe, is 'cause of me."
But Minaj tweeted that the lyric had nothing to do with Cardi B.
This didn't stop Cardi B from tweeting a lyric hours later from her song "Bodak Yellow," which people assumed to be a subtweet of Minaj.

While at the VMA awards, Cardi B was asked in an interview with Billboard about being pitted against Minaj, and said:
I mean, I don't really want problems with anybody. I don't want to be, like, queen. I don't wanna be no this. I don't wanna be no that. I just wanna make music and make money. I really don't have time to look at other women, what they doing. I'm myself, you know what I'm saying? Nobody got a problem with me. I don't got a problem with them. If somebody got a problem I don't really got to do that whole industry beef. Like, you know, I get it popping with these hands.
In September 2017, Cardi B featured on G-Eazy's song "No Limit" and rapped: "My career takin' off, these hoes jogging in place / Swear these hoes run they mouth, how these hoes out of shape? / Can you stop with all the subs? Bitch, I ain't Jared."
People thought the lyrics were about Minaj; however, when Cardi B went on The Breakfast Club radio show she said she was talking about women from her hood.
Host Charlamagne tha God asked her, "You and Nicki don't have a beef do you?" to which Cardi B replied, "She ain't never fucked my man."
Later that month, Minaj congratulated Cardi B for getting "Bodak Yellow" to No. 1.
And Cardi B said thank you.
In October 2017, the alleged beef appeared to be completely gone when they appeared on the song "MotorSport" together with Migos.

But rumours of a feud again reignited when people noticed that Minaj and Cardi B didn't appear in the same scenes together in the song's video.
Migos member Quavo said in an interview that they had tried unsuccessfully to get Cardi B and Minaj in the same scene. "We tried to create that moment," he said.
In November, Cardi B went on Capital XTRA and said that the "MotorSport" verse that was released isn't the one that she initially heard: "When I heard the track, her verse wasn't finished – well, it's not the verse that is out right now – and Quavo told me to get on the song, and I just felt like it was a perfect opportunity for me to be on a track that's big like that."

But Minaj again shut down rumours of a feud in a series of now-deleted tweets calling it all a conspiracy theory.
In December 2017, Minaj fans accused Cardi B of copying her style and mannerisms in the "No Limit" music video.

Minaj later seemed to agree with fans by tweeting, "I'm glad y'all peeped."
Cardi B then spoke to Ebro Darden on Beats 1 and was asked about her relationship with Minaj. Again, she said there was no beef — at least on her end.

"I just feel like it's really internet-made-up," she said. "I really feel like fans and people, they really want to see that happened, because it's really entertaining to see people beef. It's entertaining."

"Like, I ain't gonna front, when Nicki and Remy [Ma] was beefing, everyone was tuning and asking, 'What's next? What's next?'"
"But I don't really have the time for that. If you not fucking my man, or if you're not taking my money from me, if you're not stopping my money, then I don't really give a fuck about you."

"I spoke to her before, in person," Cardi B said. "So I always say I don't want anybody sneak dissing me. If it's something that we can talk it out, then we can talk it out, because it's not always rah rah this or rah rah that because we grown."

Then in April, an early version of "MotorSport" was leaked wherein Minaj could be heard shouting out Cardi B, but in the official version she shouts out Quavo.
Nicki tweeted about the situation and said she was told to remove parts of the song.
Later that month, in an interview with Zane Lowe, Minaj spoke about the filming of the "MotorSport" music video, and said that she was unable to make it to the shoot because of a scheduling conflict caused by her hairdresser.

While talking about the situation, Minaj got emotional and teared up.

She said she told her hairdresser, "You know, if I don't show up they're gonna act like I'm doing it to be mean, because of the current Nicki hate train."
"Y'all still jumped around that just to paint Nicki as the bad person so that you could play the victim. That really, really hurt me," she said. "I really, fully supported her, and up until this recent interview I did."
"I had never seen her show me genuine love in an interview, and I can imagine how many girls wish they could've been on a song with Nicki Minaj," she said.

At the Met Gala in May, all seemed to be good again when they were both seen speaking to each other.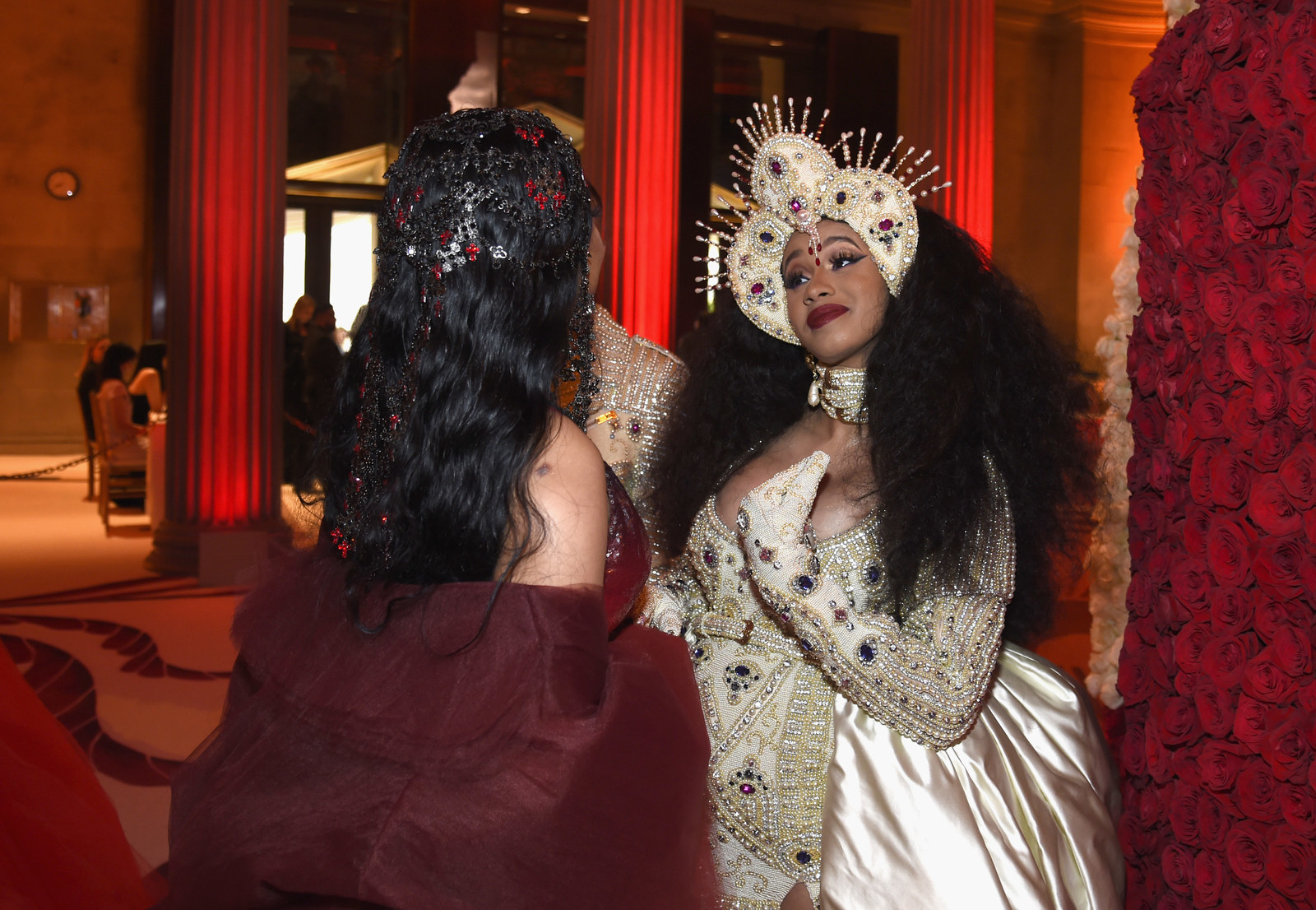 Cardi B told Howard Stern the pair had tried to resolve a "misunderstanding":
I never was feuding with anybody; there was a misunderstanding. I think she felt a certain type of way about something. I definitely felt a certain type of way about something. I didn't wanna ever talk about it in public because I felt like we gonna see each other again and we will talk about it, and it's always, like, little issues. The thing is, it's always little issues, but you know, fans are always gonna make it a big thing.

I spoke to her about it. I spoke to her at the Met Gala about it, and it's just like, see? It's just something that had to be talked about because it was an issue.
More recently in August, Minaj had Ebro on her show Queen Radio, where he asked her about Cardi B and Remy Ma, and she responded, "Can we please move on?"
A few moments later she said, "I didn't know Cardi and I had an issue. To me, she may have taken an issue with things that I've said, but I'm not going to bite my tongue."

"You gotta have thick skin. People talk shit about me all the time. I don't go around and tell people to stop posting me because I see one bad thing about myself."
"You can't be expected to be liked and loved and praised all the fucking time. Give me a break. You coming into the wrong game if you want people to kiss your ass and suck your dick all day, my nigga. Like, come on."
At the end of August, Cardi B tweeted about being blocked by someone.
And fans investigated and found out that she had been blocked by Minaj.
According to Twitter, "Retweets, like regular Tweets, will not show up from accounts you have blocked."
This brings us to Friday night, when there was the alleged altercation at Harper's Bazaar's NYFW party.

Video footage on social media showed Cardi B being held back as she screamed. Outlets, including TMZ, reported that Cardi B allegedly threw one of her high-heeled shoes at Minaj during the altercation.

After the fight, Cardi B posted an explanation on Instagram, and said her child was mentioned.
Minaj is yet to address the alleged fight, posting only some selfies on Instagram.