Back in January, Tristan Thompson announced on Instagram that he'd fathered a child outside of his and Khloé Kardashian's relationship.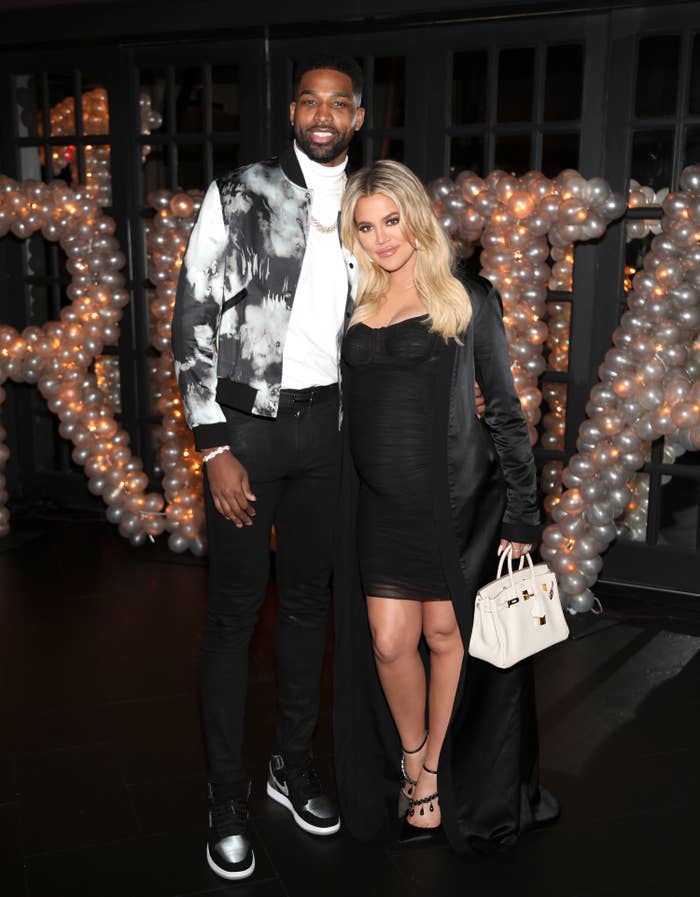 The shocking revelation came after weeks of denial from the NBA star, when the baby's mother, Maralee Nichols, sued him for several child support and pregnancy-related expenses.
Tristan — who was already a dad to 5-year-old Prince with ex Jordan Craig, and 4-year-old True with Khloé — also allegedly texted Maralee saying that he would have no involvement whatsoever in the child's life, seemingly falsely claiming that he was engaged to Khloé.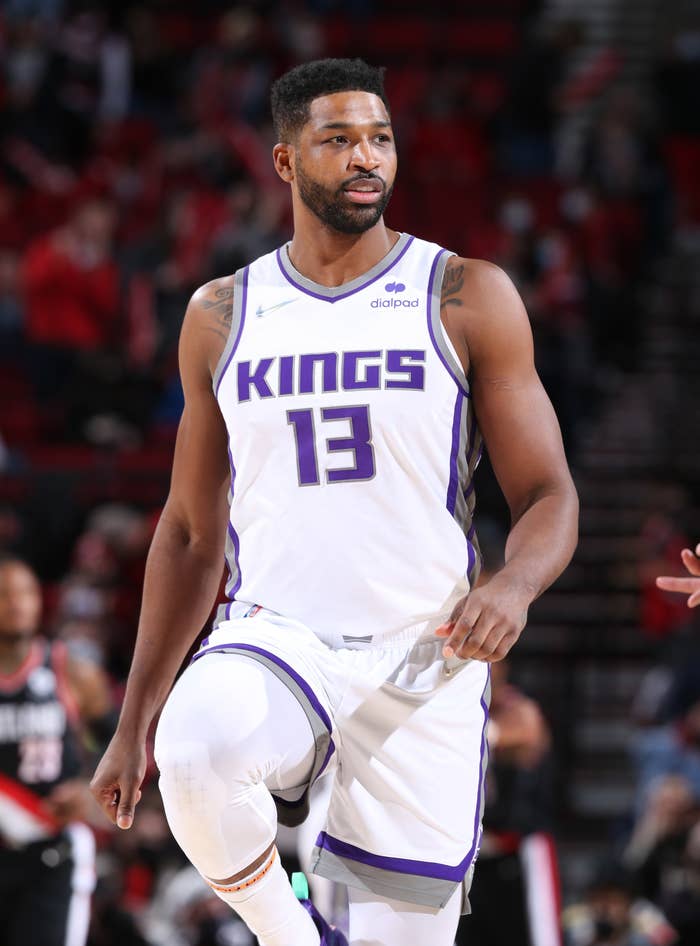 "I'm engaged but I will be married soon," read the alleged message. "I told you I won't and can't be in the child life at all by no means ... Why not wait till [you] find the right person to have a family with. Why would you want a baby with a man that's engaged. You wanna keep a mistake."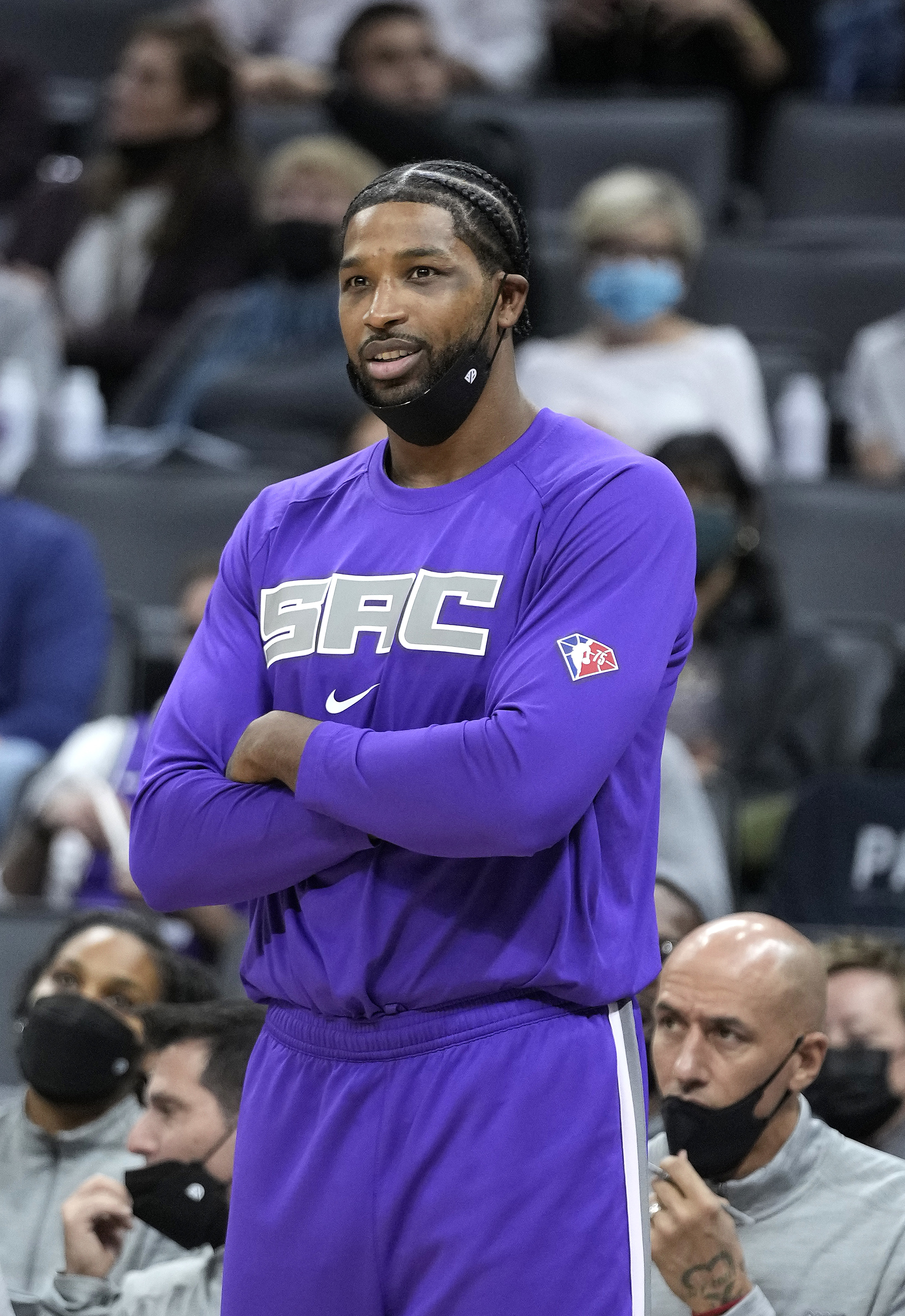 "Today paternity test results reveal that I fathered a child with Maralee Nichols. I take full responsibility for my actions," he wrote on his Instagram story. "Now that paternity has been established, I look forward to amicably raising our son. I sincerely apologize to everyone I've hurt or disappointed throughout this ordeal both publicly and privately."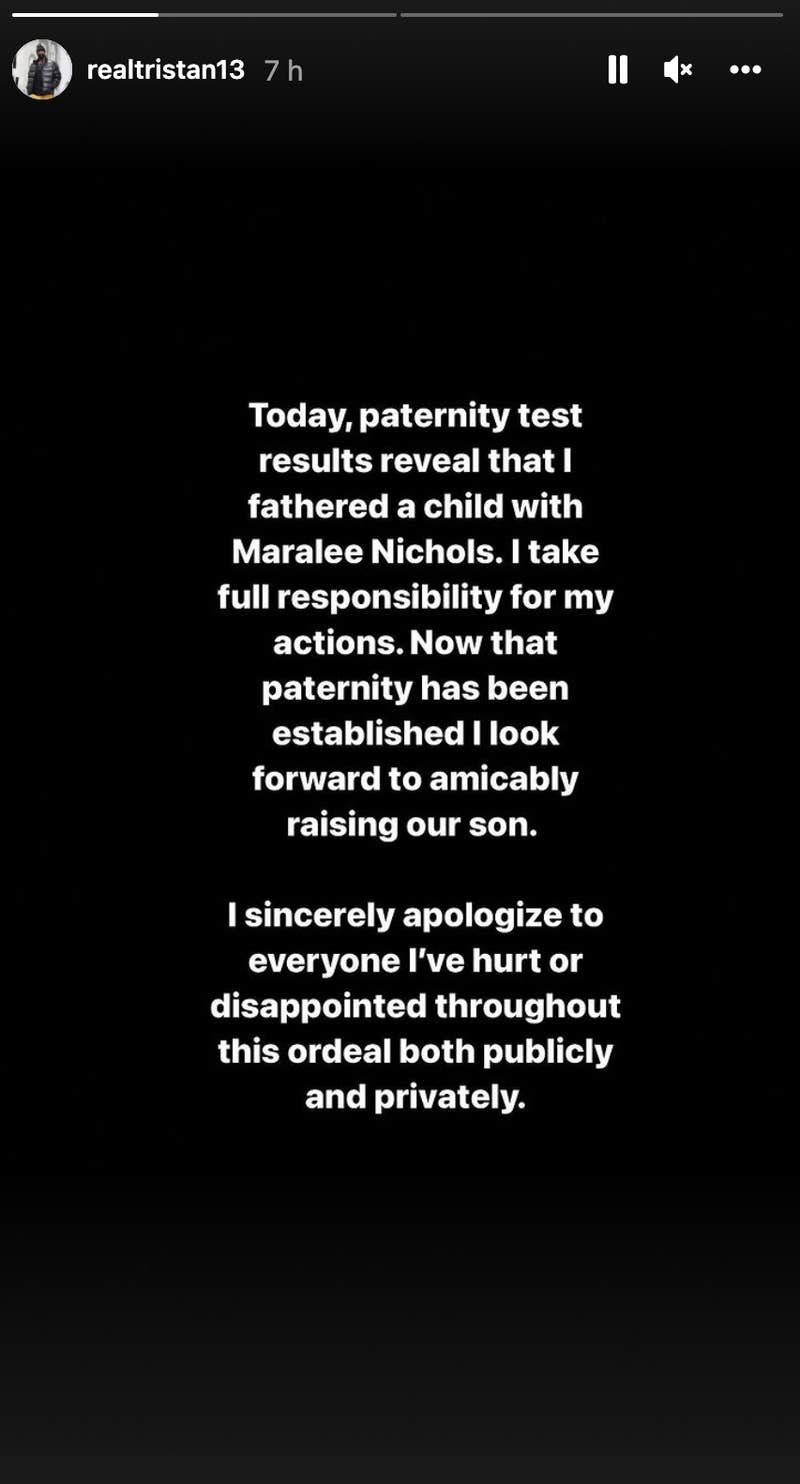 Tristan went on, "Khloé, you don't deserve this. You don't deserve the heartache and humiliation I have caused you. You don't deserve the way I have treated you over the years. My actions have certainly not lined up with the way I view you. I have the utmost respect and love for you. Regardless of what you may think. Again, I am so incredibly sorry."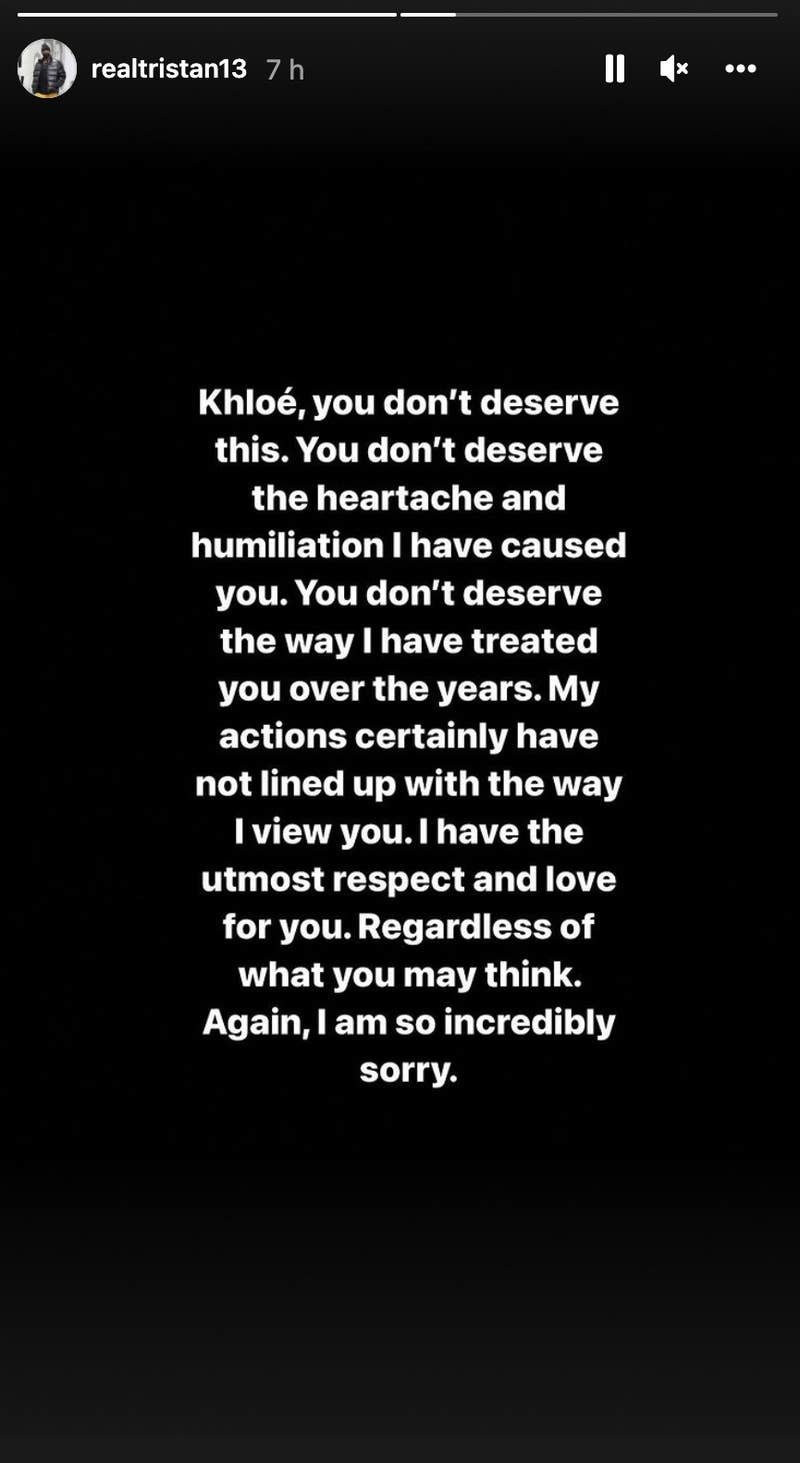 For some quick context, Khloé has split — and rekindled things — with Tristan multiple times since 2016, following several of his cheating scandals. Perhaps the most memorable breakup occurred in February 2019, when the NBA star kissed Khloé's then–close family friend Jordyn Woods at a house party.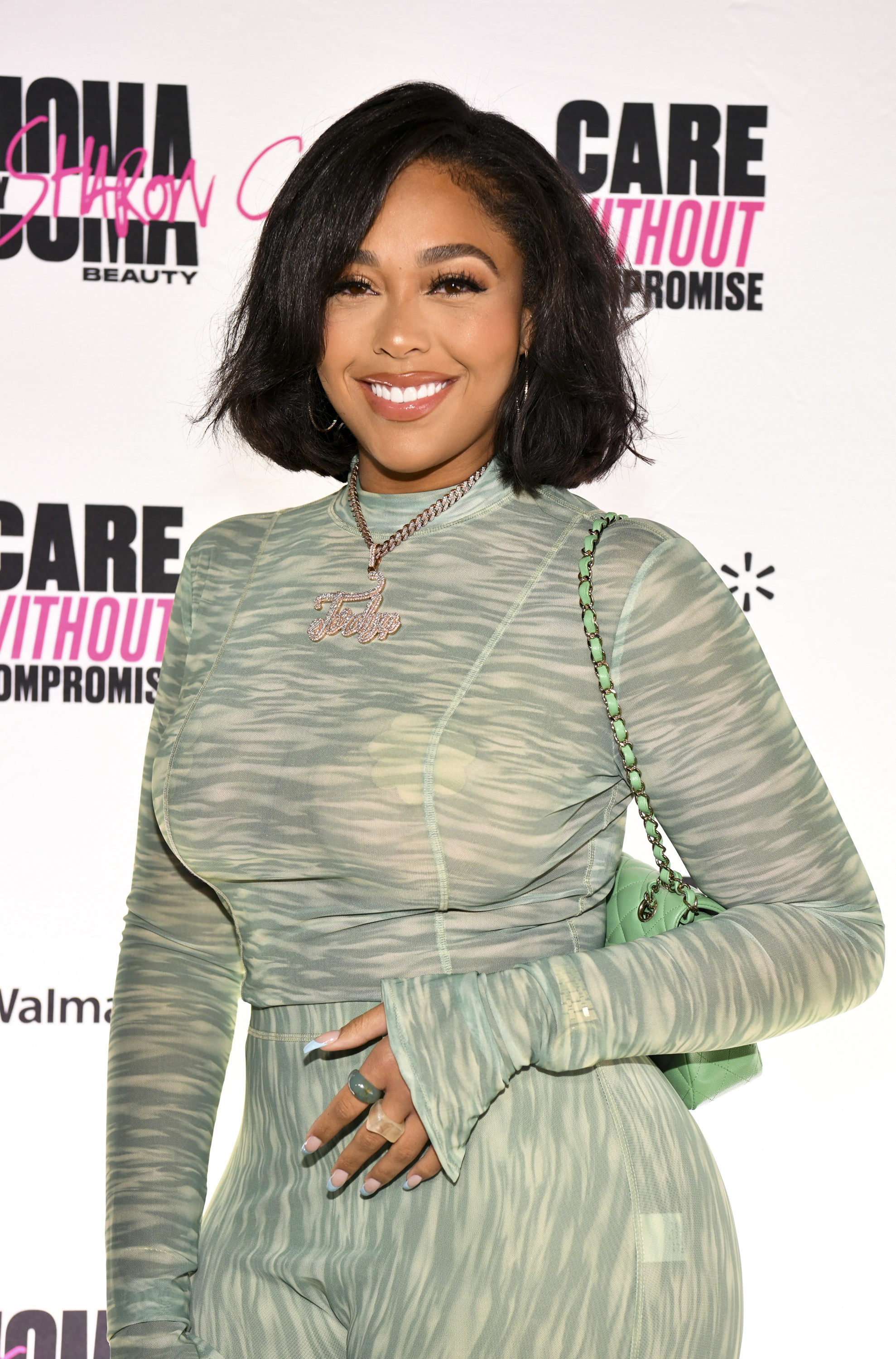 But Tristan and Khloé did end up rekindling things a couple of years later after growing close over the lockdown, with the reality star sharing a sweet Instagram tribute praising him on his 30th birthday last March. A few months later in June, however, they split once again, after the athlete was pictured entering a hotel with three women in Bel Air.
So, when news of Tristan's paternity scandal initially broke, it wasn't quite clear what the status of his and Khloé's relationship was at the time.
But ever since Khloé's family's reality series, The Kardashians, premiered on Hulu in April, we've gained new behind-the-scenes insight into how things were between her and Tristan in the months leading up to the paternity scandal.
In the series' latest episode, which aired last night, Khloé is joined by Kris for lunch at an Italian diner, where the duo discuss Tristan's apparent eagerness to get married.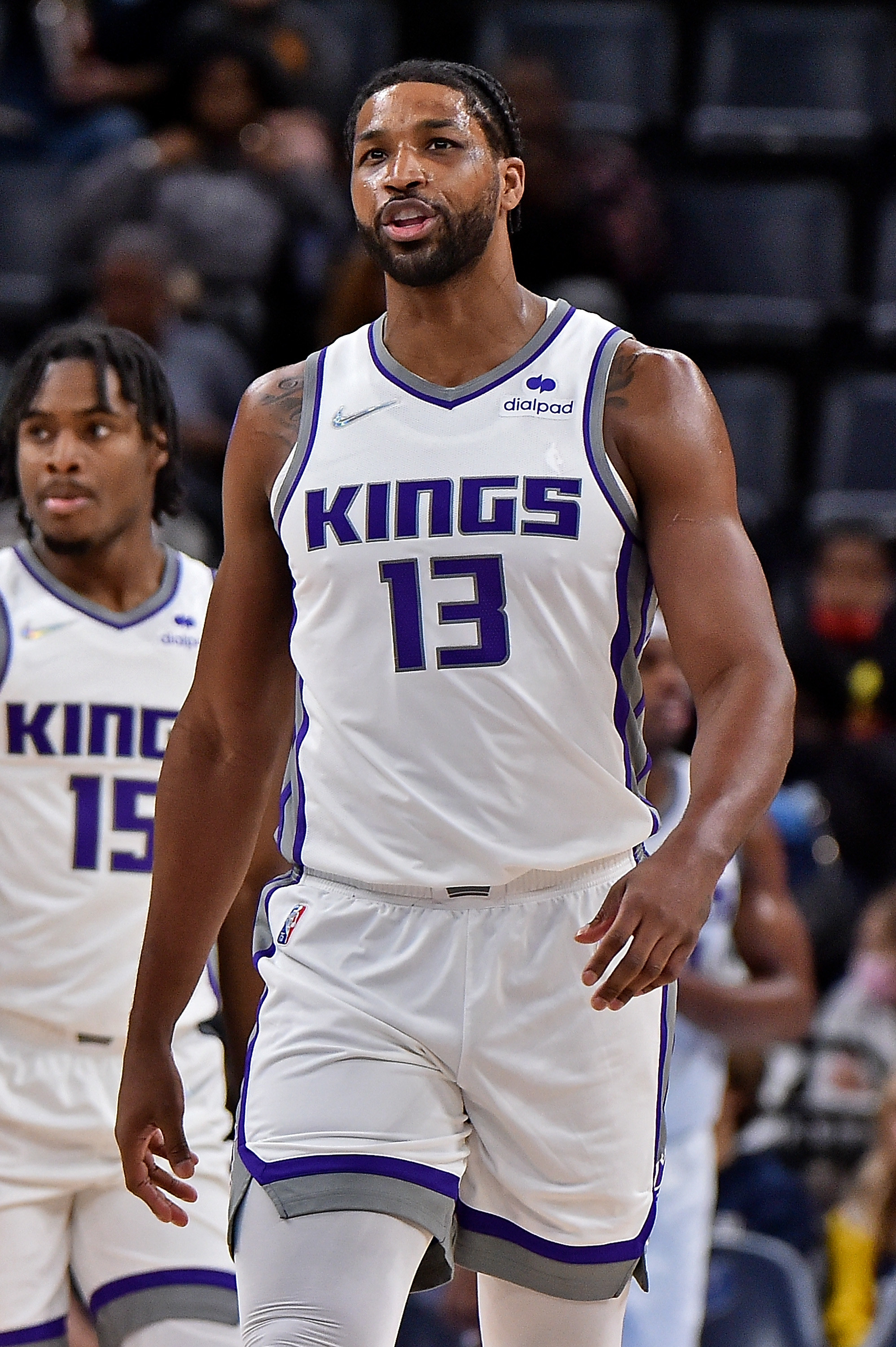 "I'm gonna be honest with you," Kris says. "All Tristan talks to me about sometimes is getting married."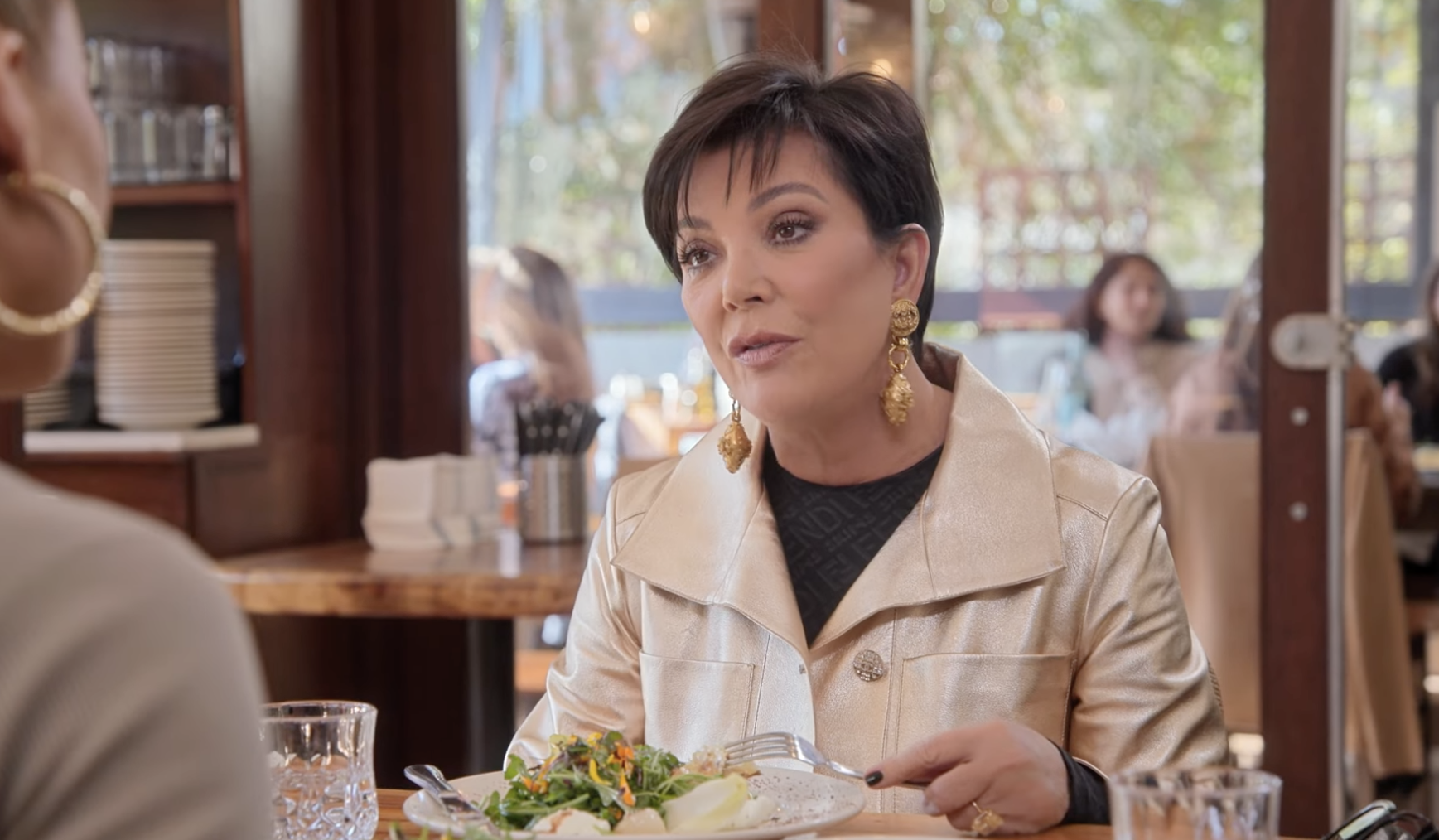 Khloé nonchalantly responds, "Yeah, he talks about it all the time," before gesturing that she seems unfazed by his desire.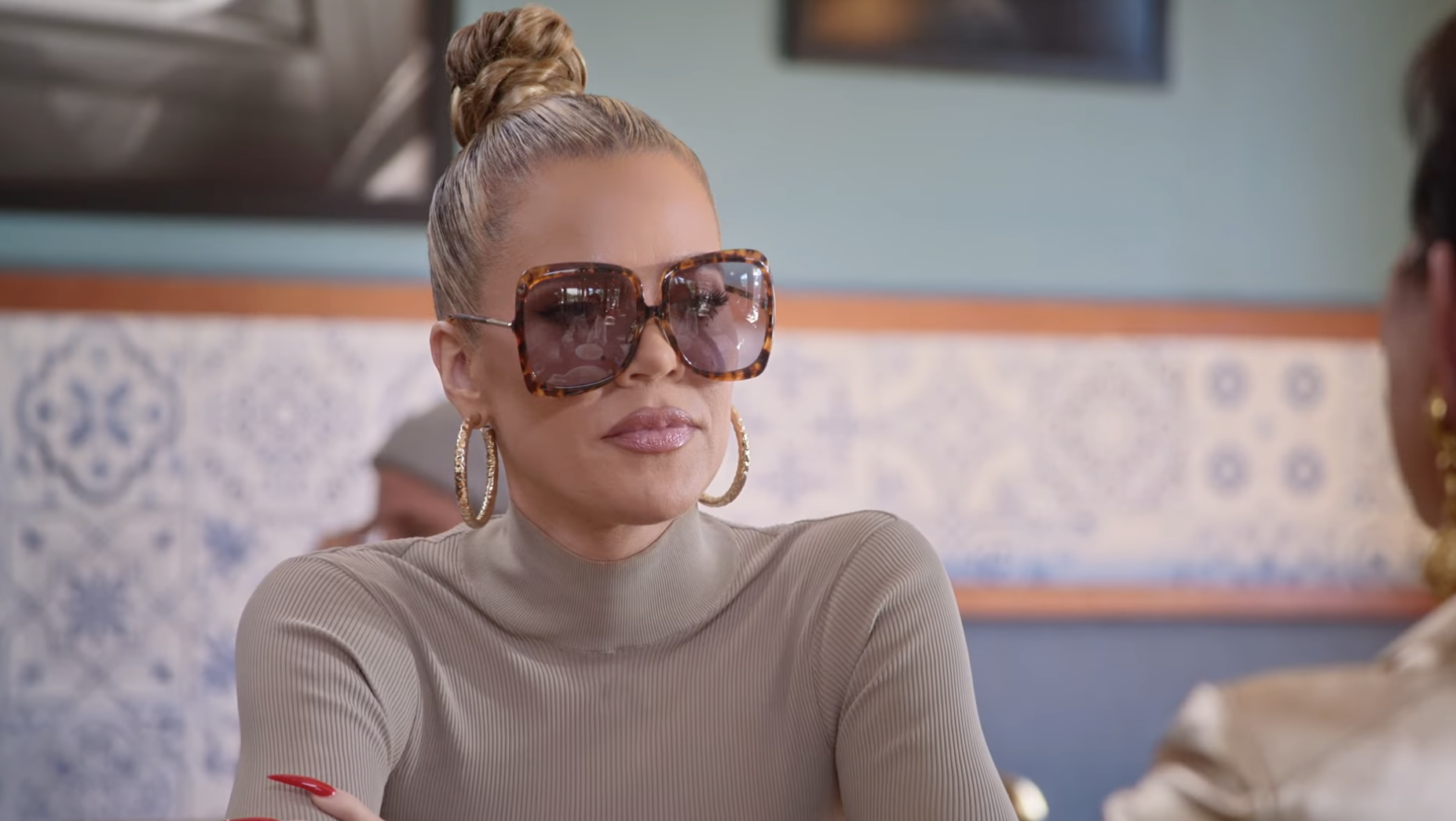 Kris continues, "He's always talking about how much he wants to regain that trust that he knows that he lost. Like, a new fresh start."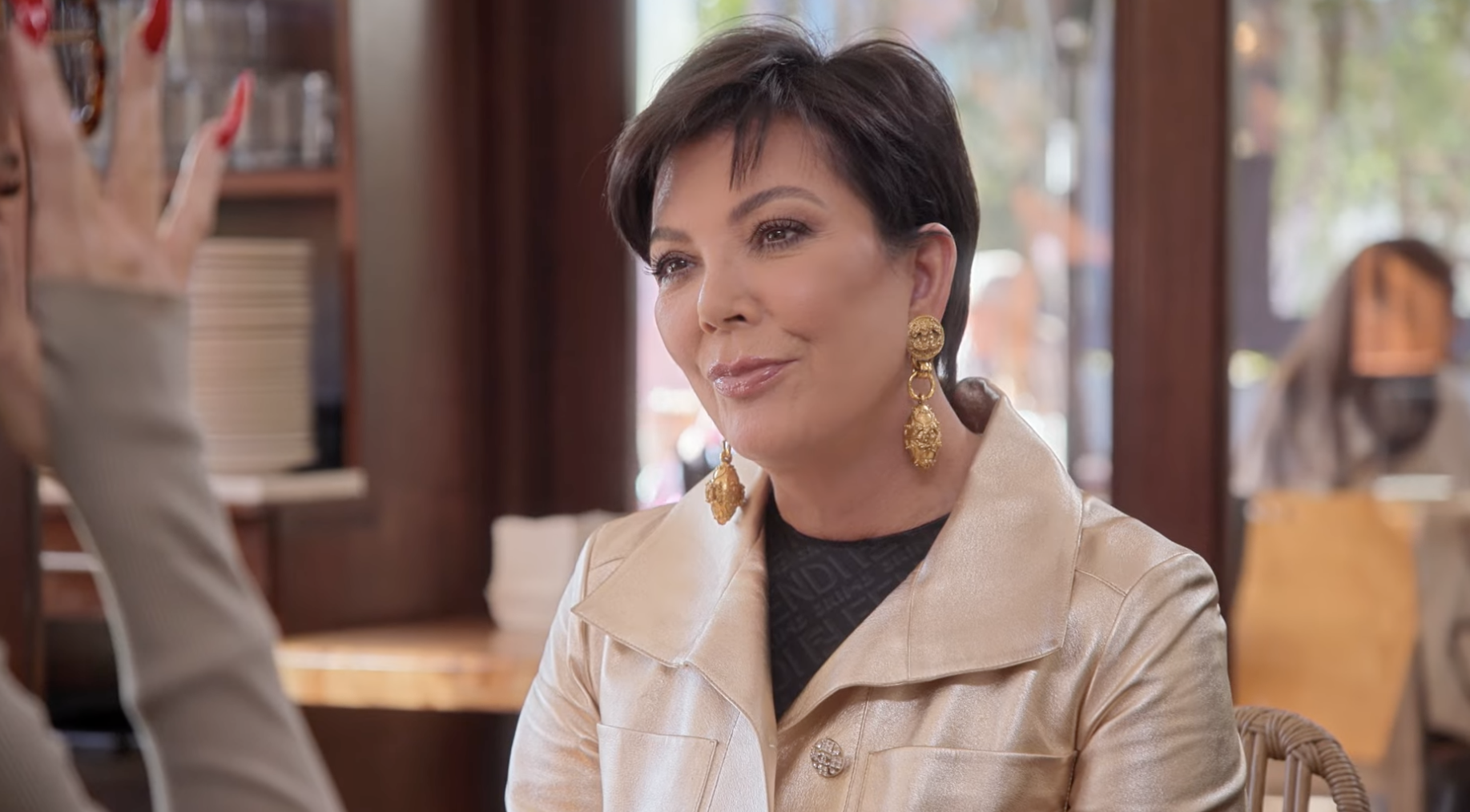 "Totally," Khloé replies. "I think we both do. I think we both are excited for this, and [to] get out of that toxic place we were in."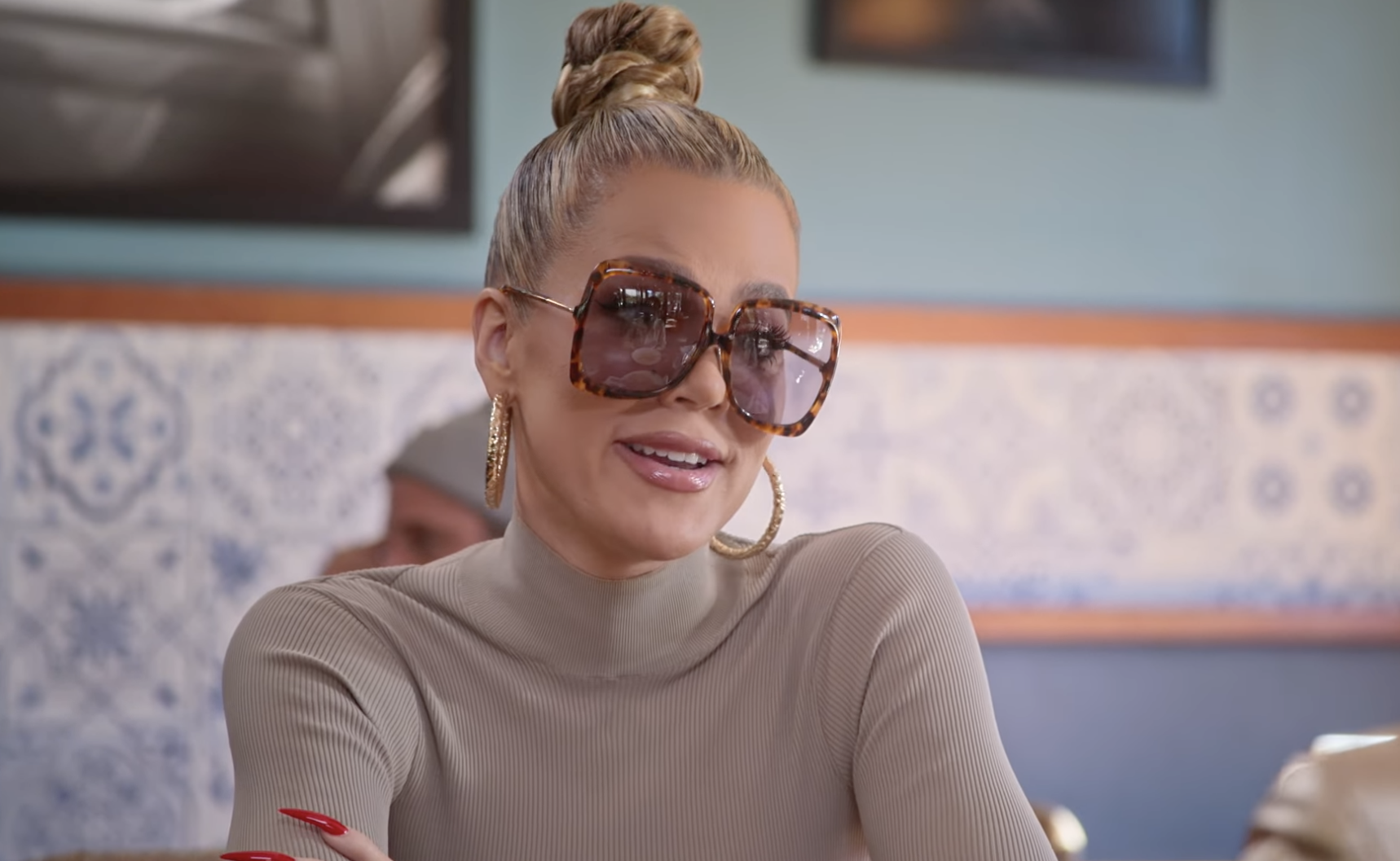 "I believe people should have multiple chances in life," she continues. "But it takes work and it takes time, and everyone just has to be patient — and not everyone is."
Speaking in a confessional, Khloé elaborates a little further about her thoughts on tying the knot. "I love marriage, I believe in marriage, I take it very seriously," she says. "I don't just think people should go and get married because it's a Tuesday and they're bored."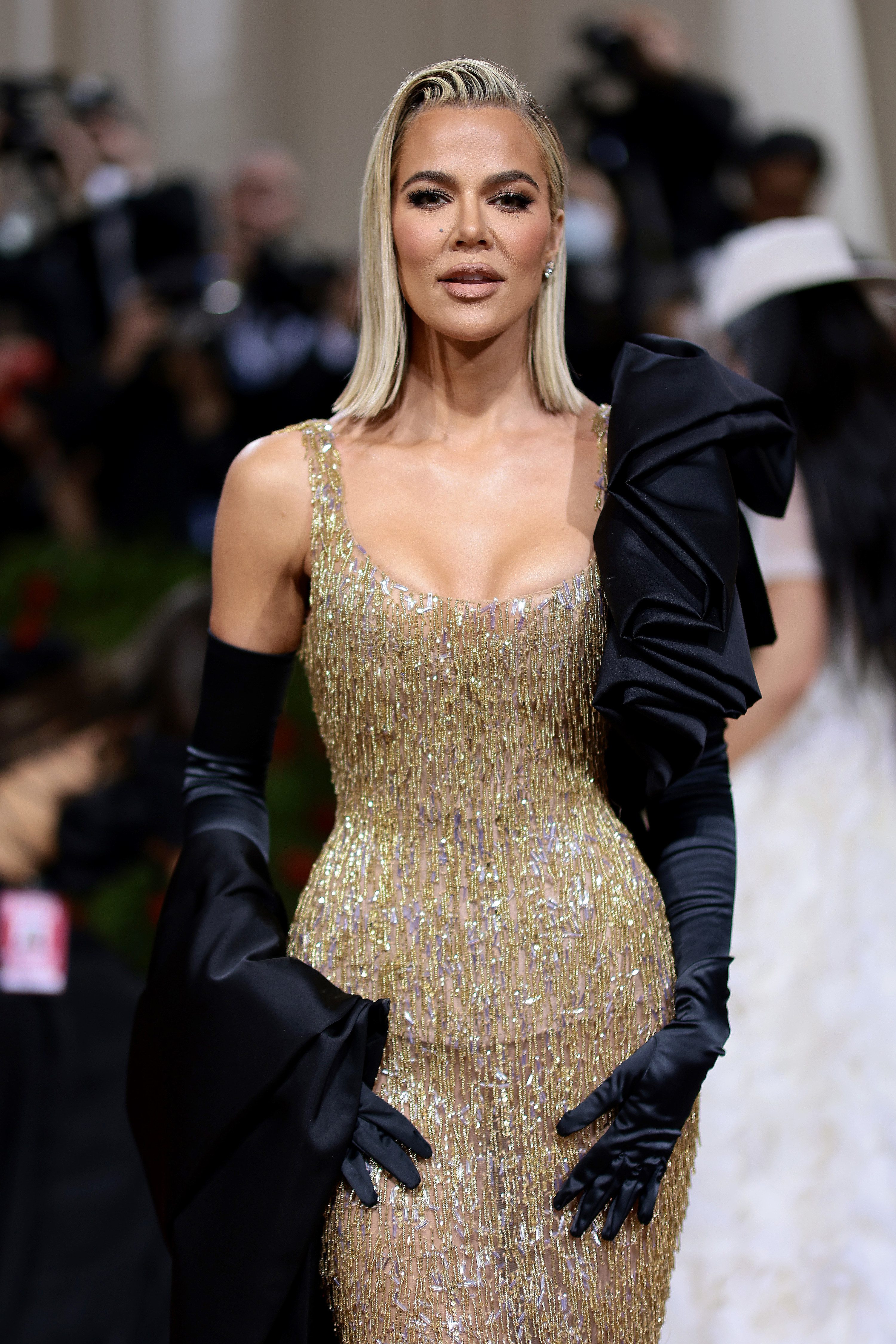 "I'm not with Tristan to just float around with Tristan," she adds. "I mean, marriage is the end goal. But right now I still think there's just work to be done with him and I both."
If you didn't know, Khloé was previously married to former NBA player Lamar Odom. The pair tied the knot after less than a month of dating in 2009, though the Good American founder ended up filing for divorce in 2013 in light of several rumors surrounding his infidelity, and his heavy use of drugs and alcohol.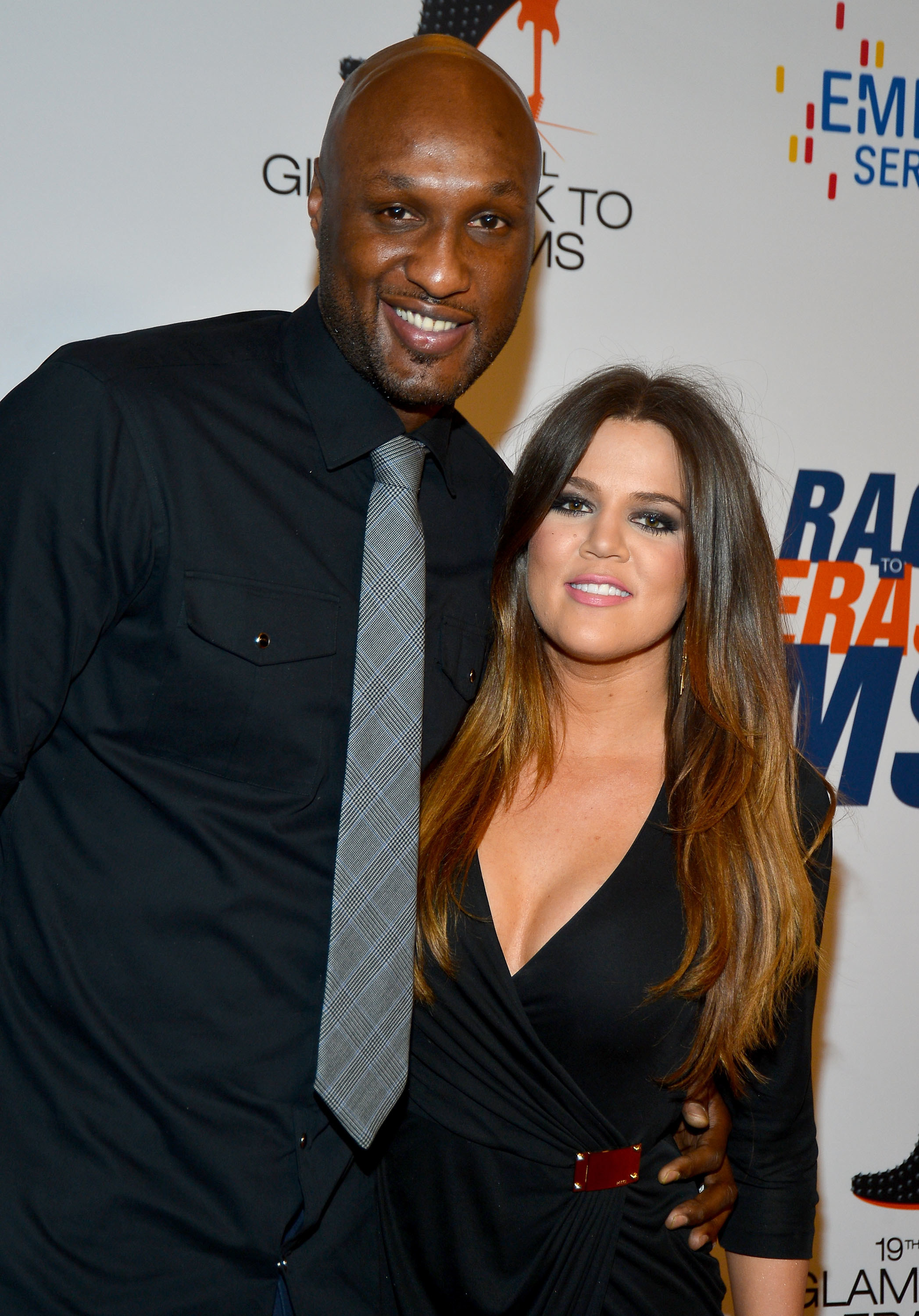 However, the divorce process was briefly paused after Lamar almost died from a drug overdose in 2015, through which Khloé stuck by his side and supported him. In fact, during his recovery, she went as far as to rent and furnish an LA mansion for him as she took charge of his affairs.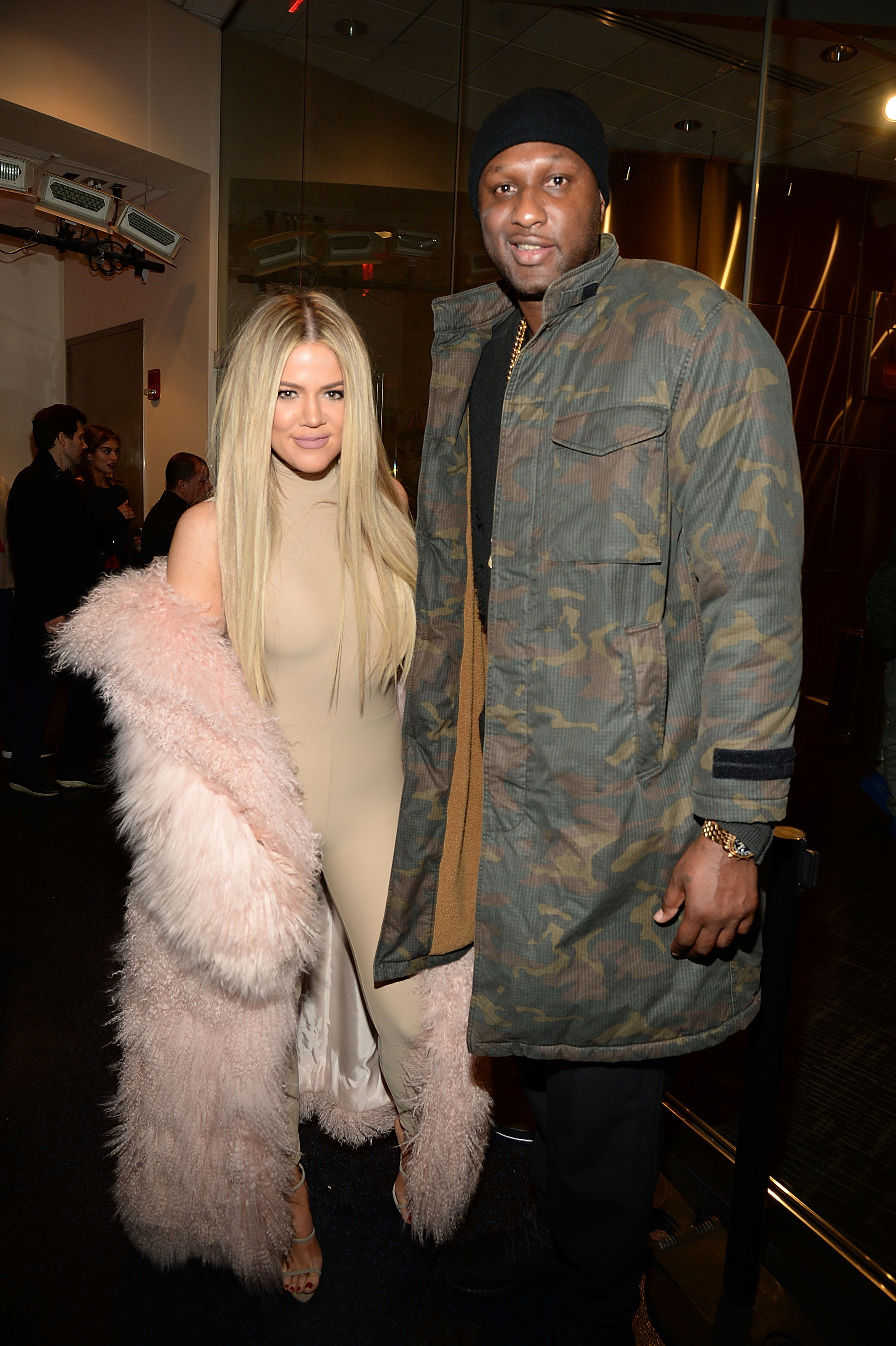 But when Lamar was seen out drinking alcohol shortly after he'd recovered, Khloé ultimately ended up restarting the divorce filings, and their split was ultimately finalized in 2016.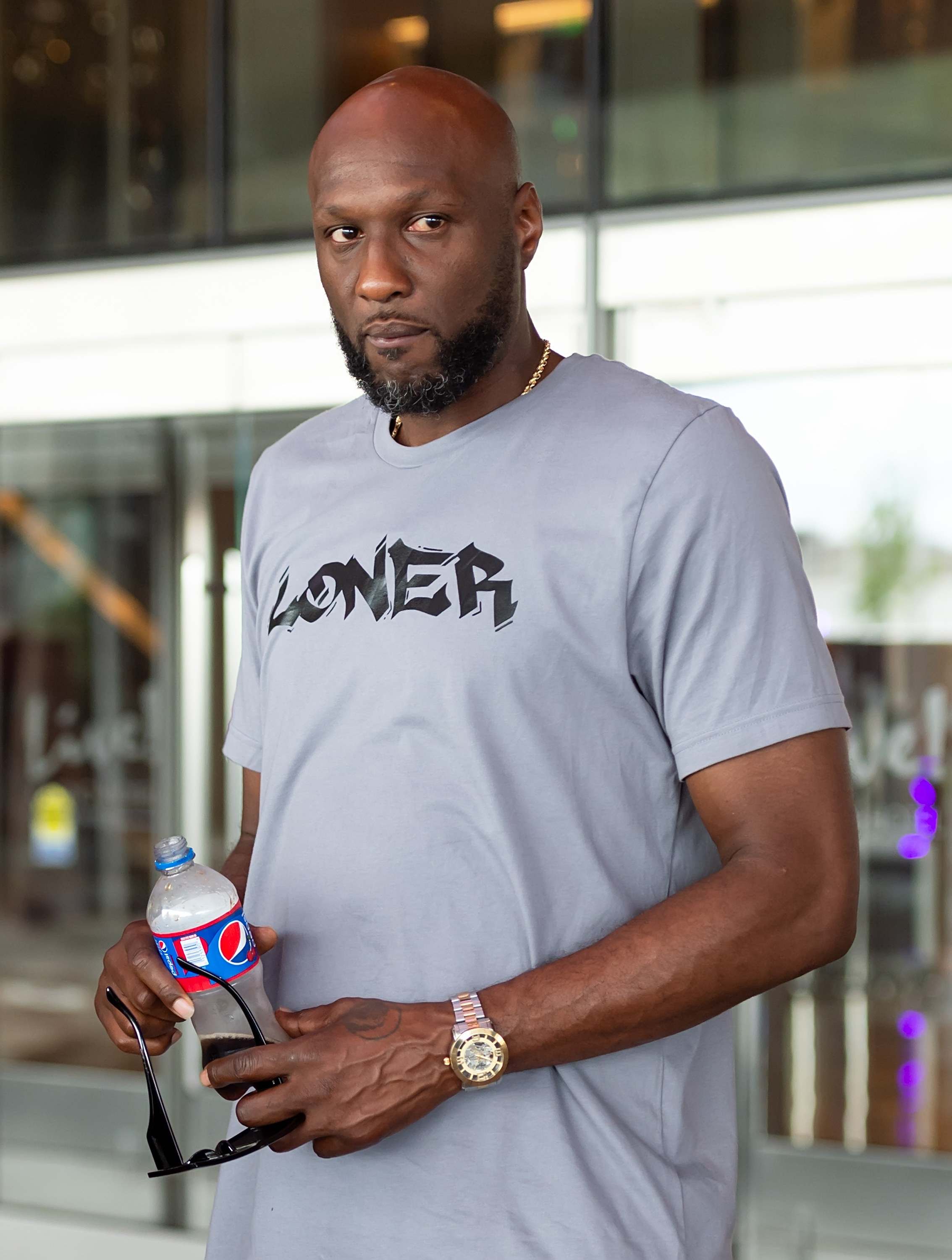 Reflecting on her support of Lamar during his recovery years later, Khloé said: "I always felt that after his overdose I did everything in my power to be there through sickness and health."
Well, seemingly referring to her past in the latest Kardashians episode, Khloé goes on to tell Kris that "marriage is definitely not easy."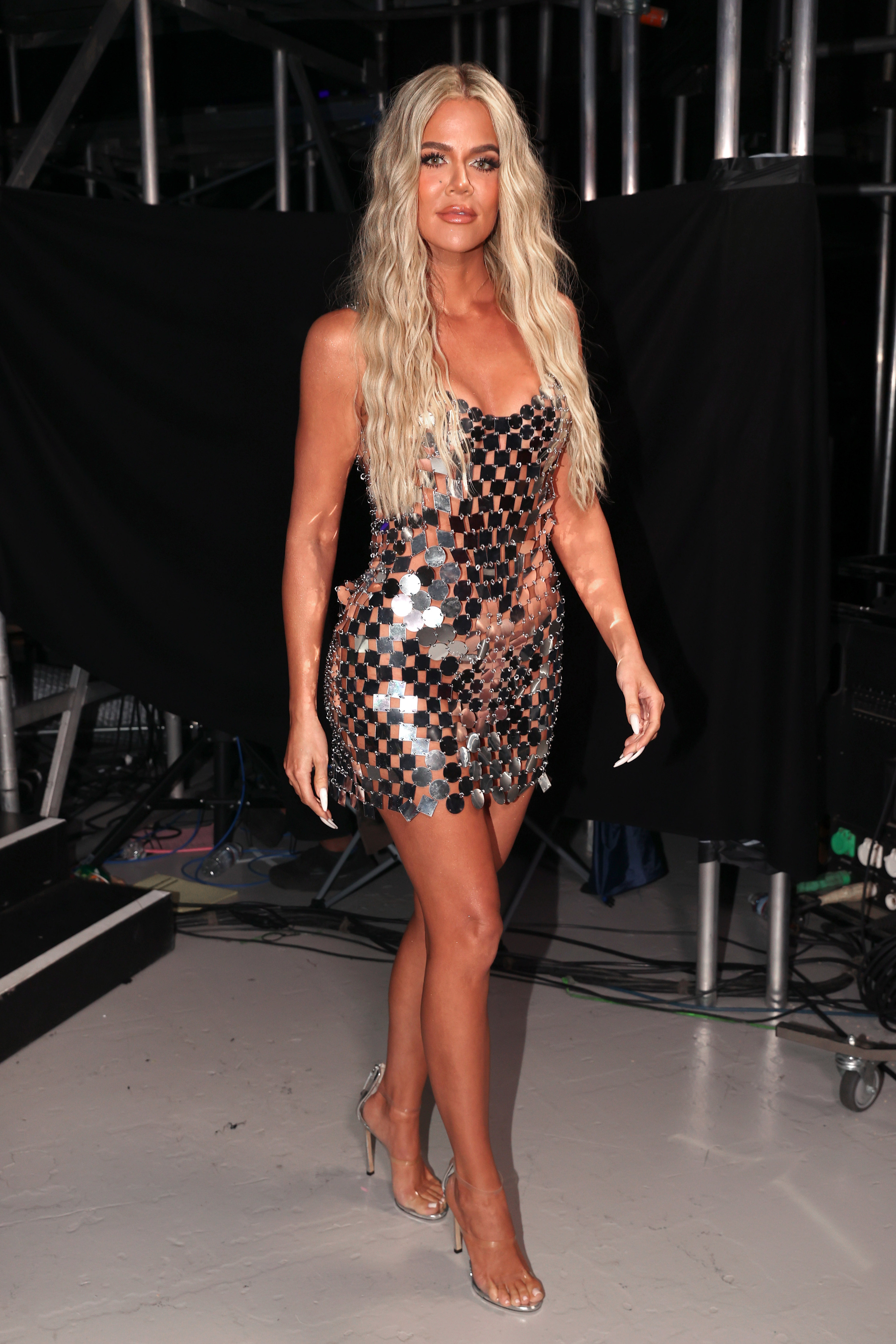 "I know what marriage is about," she adds, noting that she loves being married.
Kris appears to nod toward the tumultuous past marriage too, as she calls Khloé the "best wife."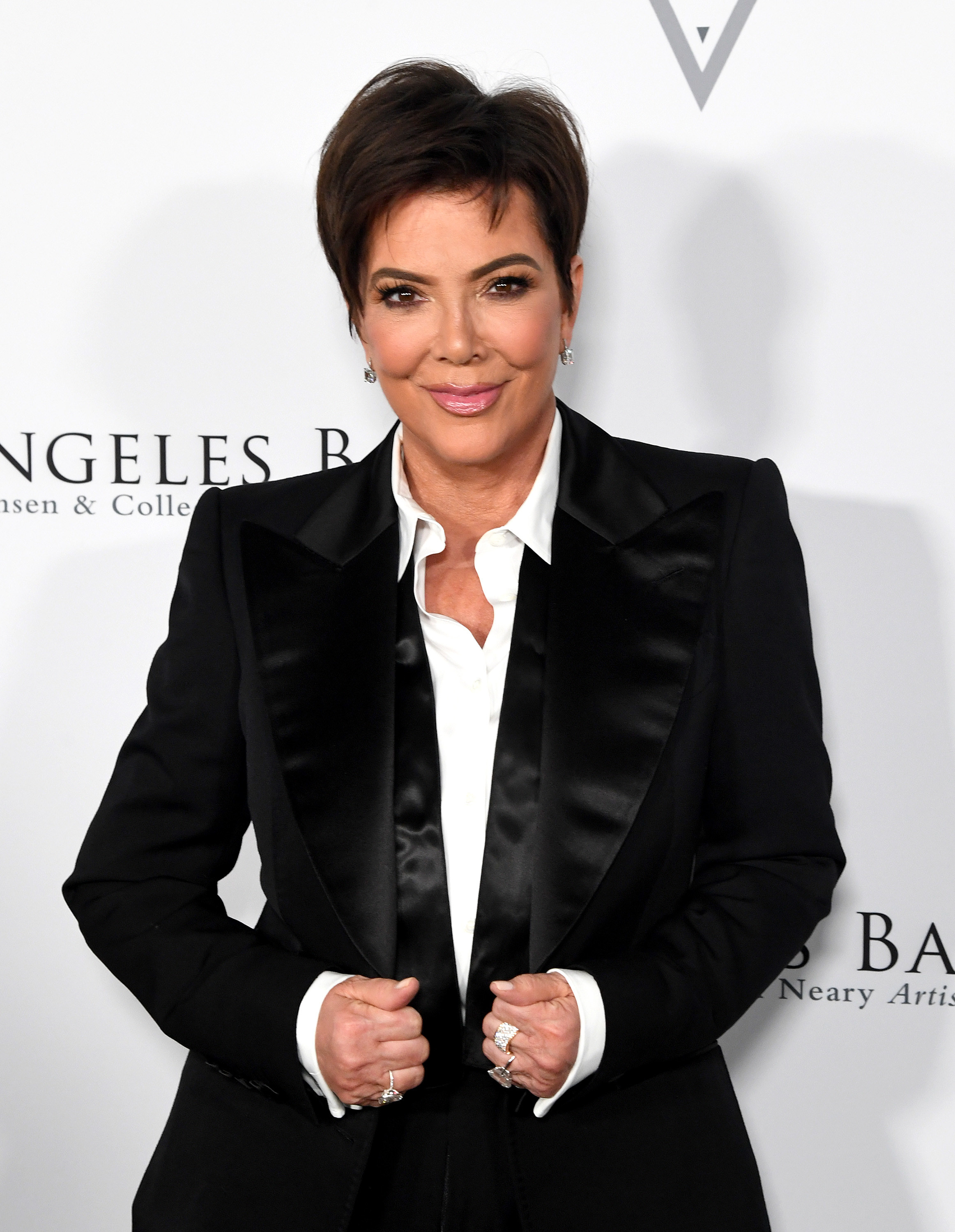 Of course, we now know that shortly after this conversation took place, news of Tristan's paternity scandal broke — and it caught Khloé completely off guard.
At the end of the episode, in fact, we see a little preview of Khloé and her sisters' reactions to the legal filings surrounding Tristan and Maralee that were first released in December last year — just a month before his admission of paternity — with Kim Kardashian frantically phoning each of the family members at 6:30 a.m. to read his declaration.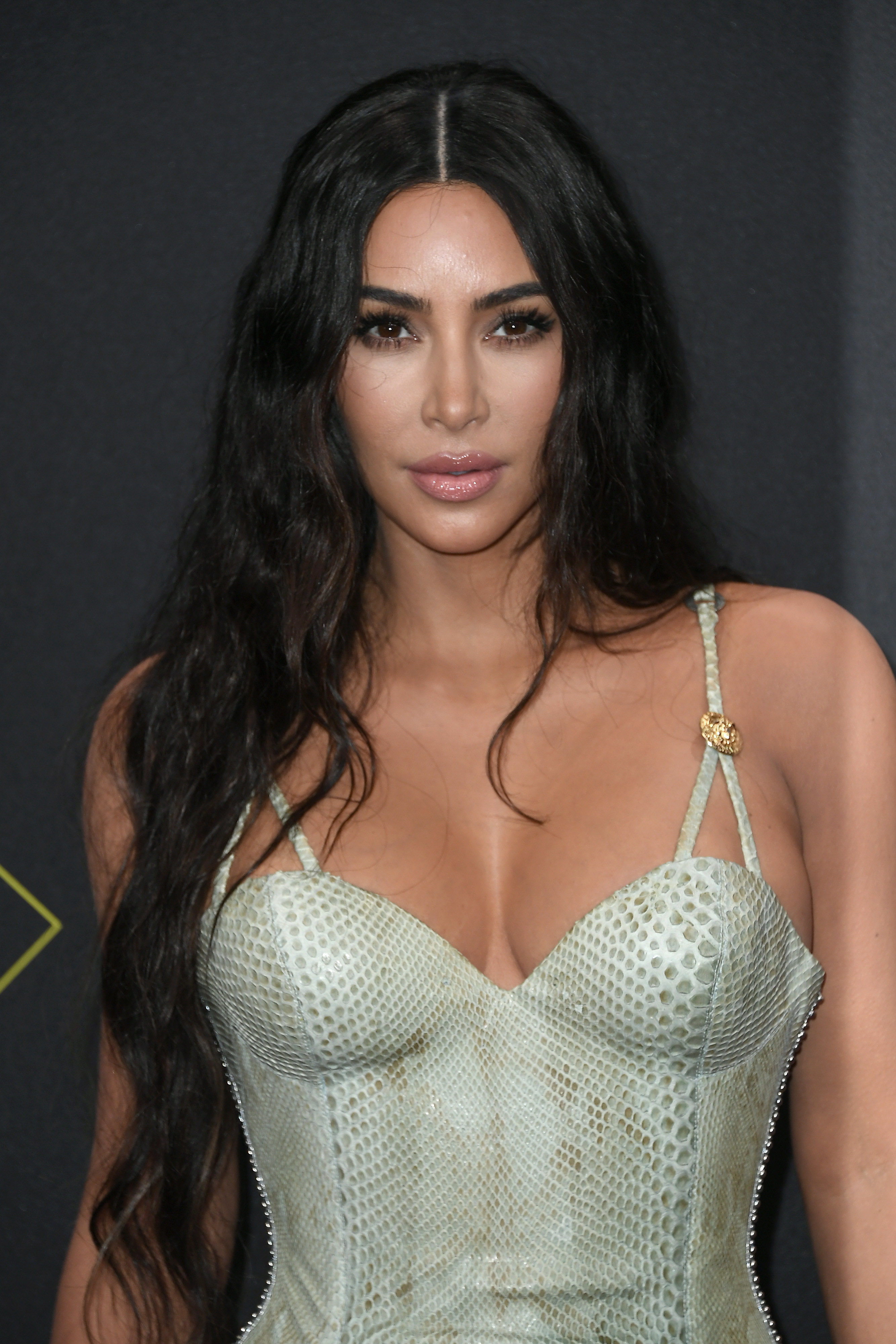 Firstly speaking on a call with Kris, Kim quotes Tristan's legal filing. "'I, Tristan Thompson, met this girl in Houston, I slept with her on my 30th birthday,'" she reads, before noting that she sent the document to Tristan directly and questioned whether or not Khloé knew about everything.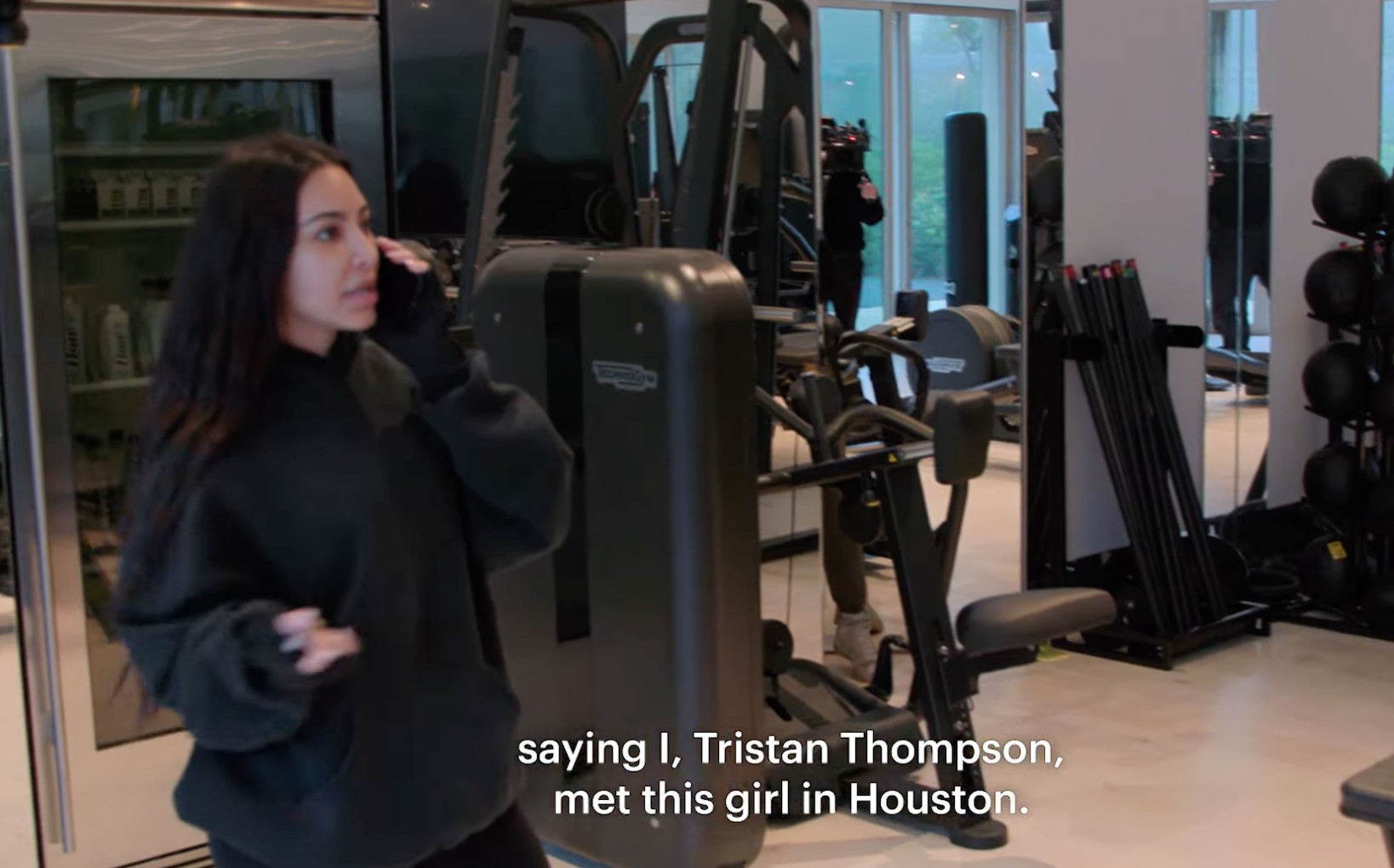 Kylie Jenner, the youngest of the siblings, then calls Kim, and she's equally as shocked about Tristan. "You're lying," she says as Kim picks up. "No, I'm not fucking lying. And I'm shaking for [Khloé]. My soul kills, dies for her," the Skims founder says.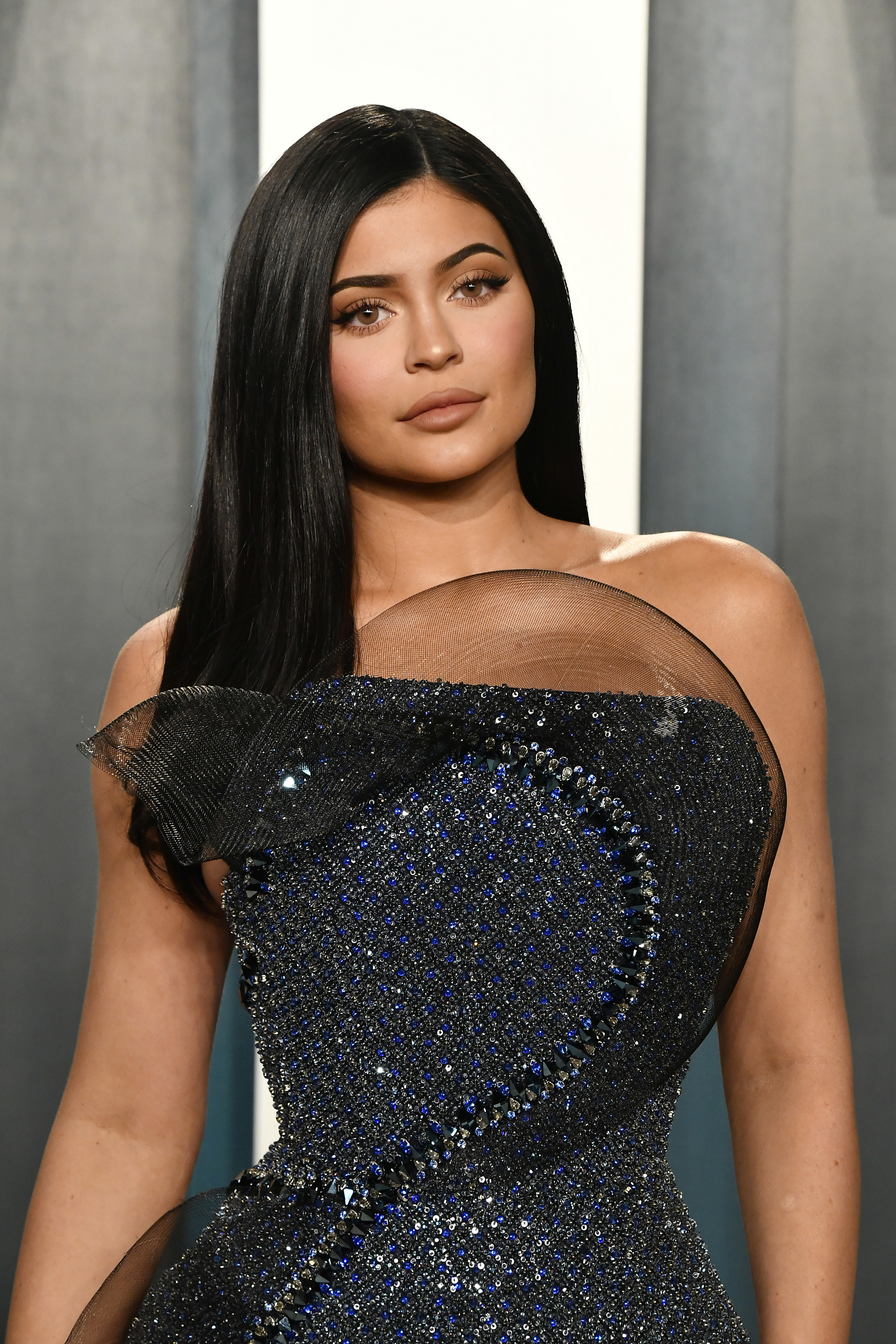 Seemingly unaware that Kim had cameras filming her for their reality show, Kylie questions: "Is Tristan, like, the worst person on the planet?"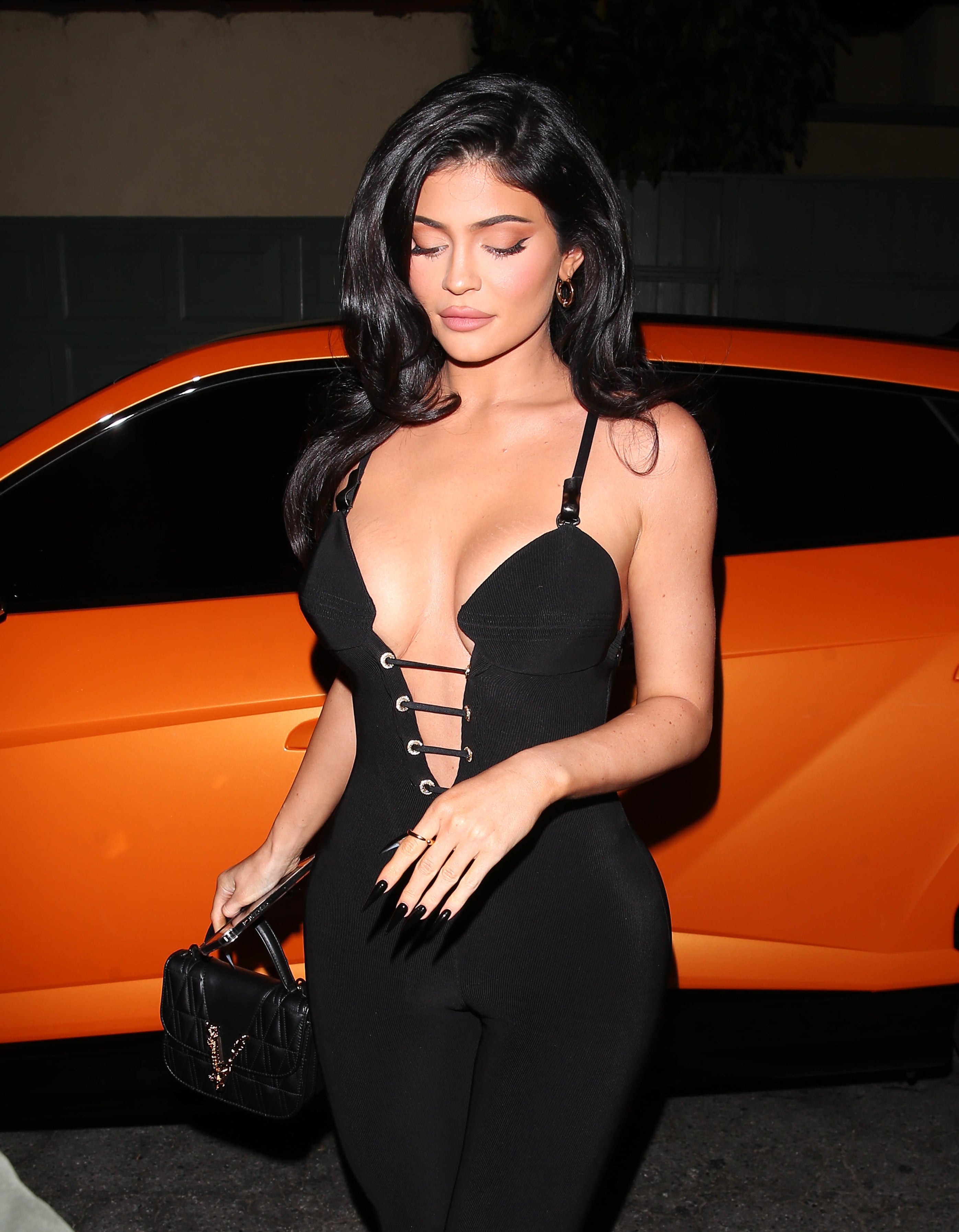 Moments later, their sister, Kourtney Kardashian, joins the call, and Kim reads more of Tristan's legal declaration. "It says, 'Petitioner [Maralee Nichols] initiated our [sexual contact] and never objected to having sexual intercourse. Petitioner insisted that she would meet me at my hotel and spend the night. She wanted to give me a special birthday surprise, which I understood to mean sex,'" she reads.
"'When we got to my hotel room, we immediately had sexual intercourse.' This is Tristan talking! These are his [words]," Kim continues.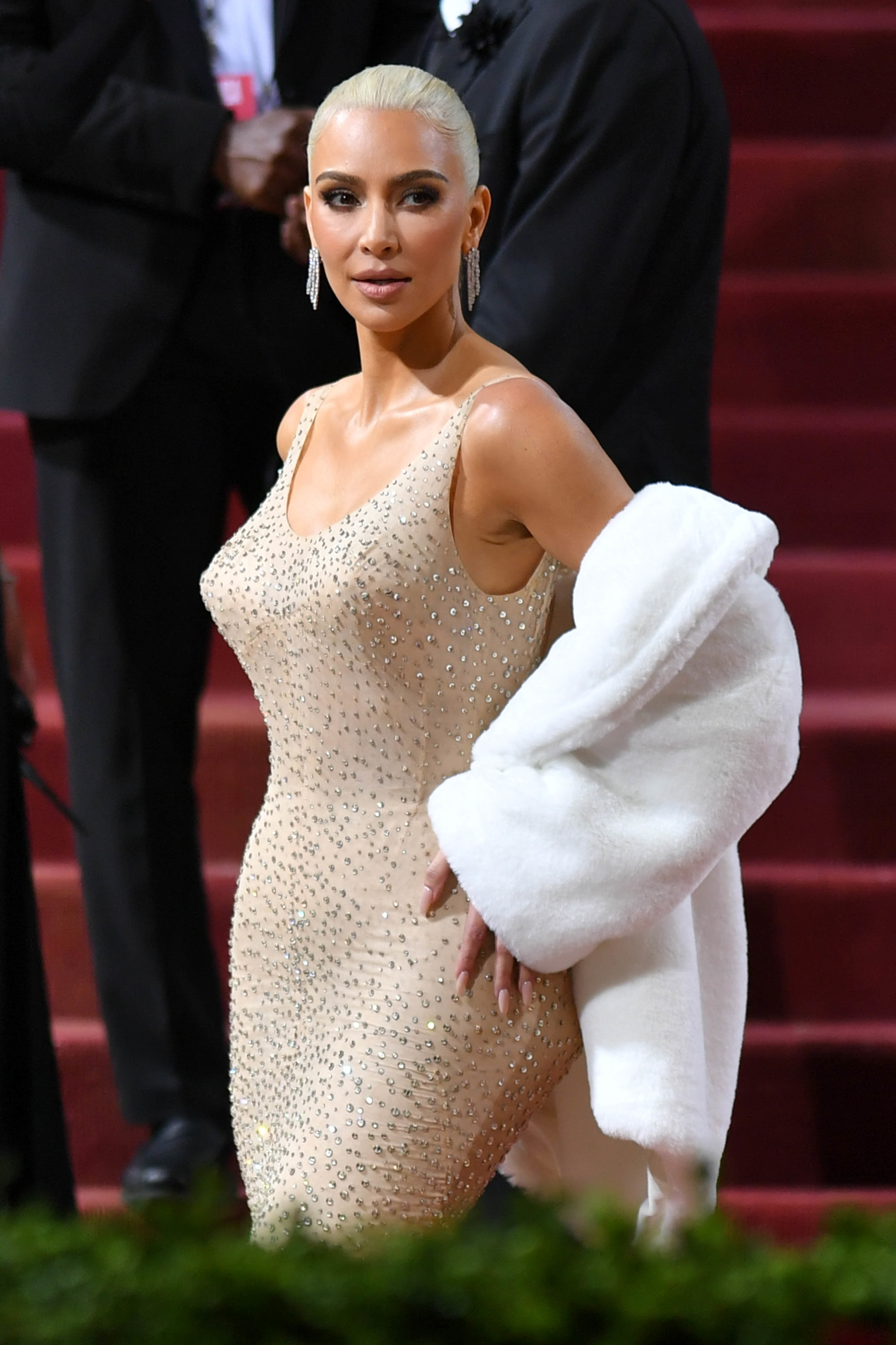 "He's asking for a paternity test and admitting that he had sex with her. Khloé threw him his 30th birthday! So he went home from the 30th birthday party, went to Houston to play on the road — we can check his schedule — and then slept with this girl," she adds.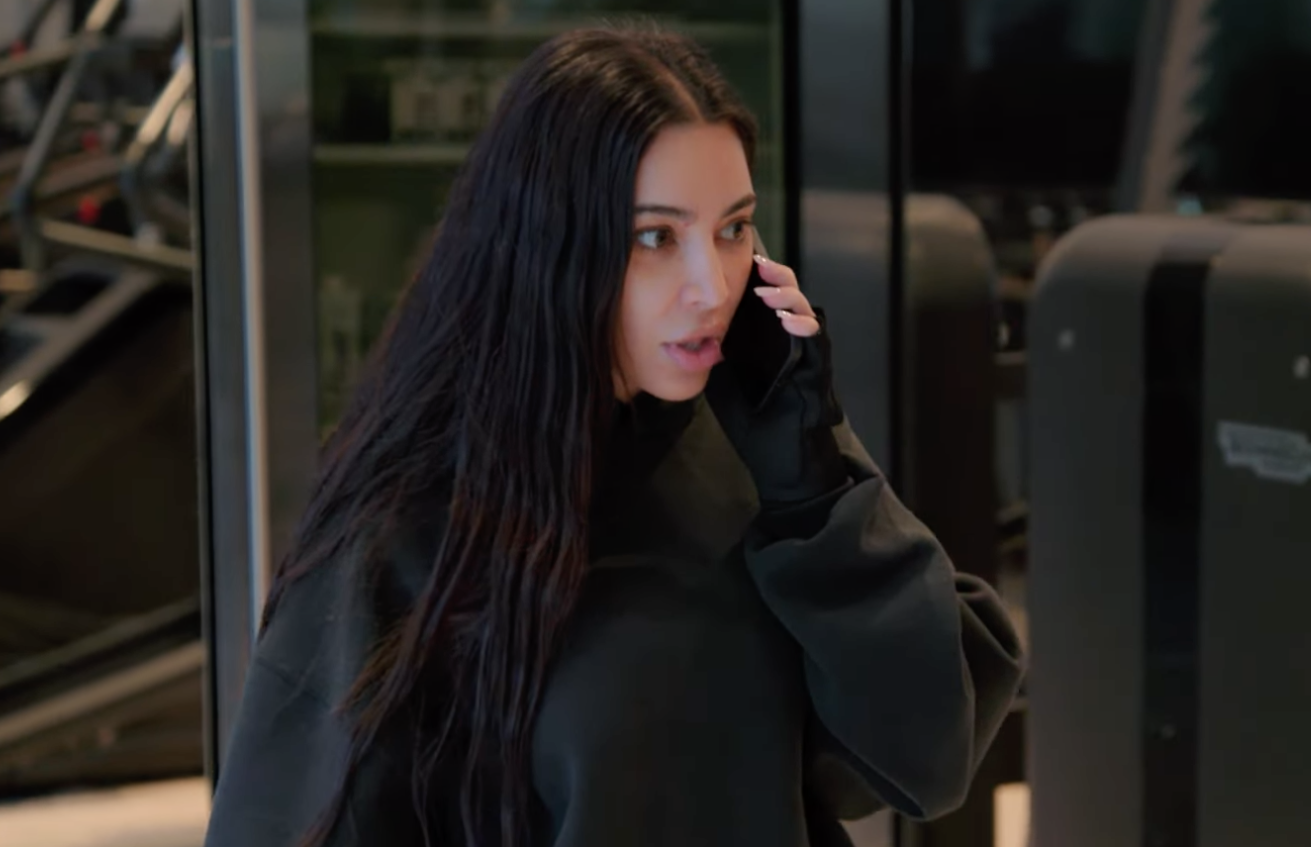 "The whole thing that's so sad is she wants a baby boy," Kim says. "And now this girl's having a fucking baby boy? A fucking random that he sleeps with one night? Fuck him. I was so team him."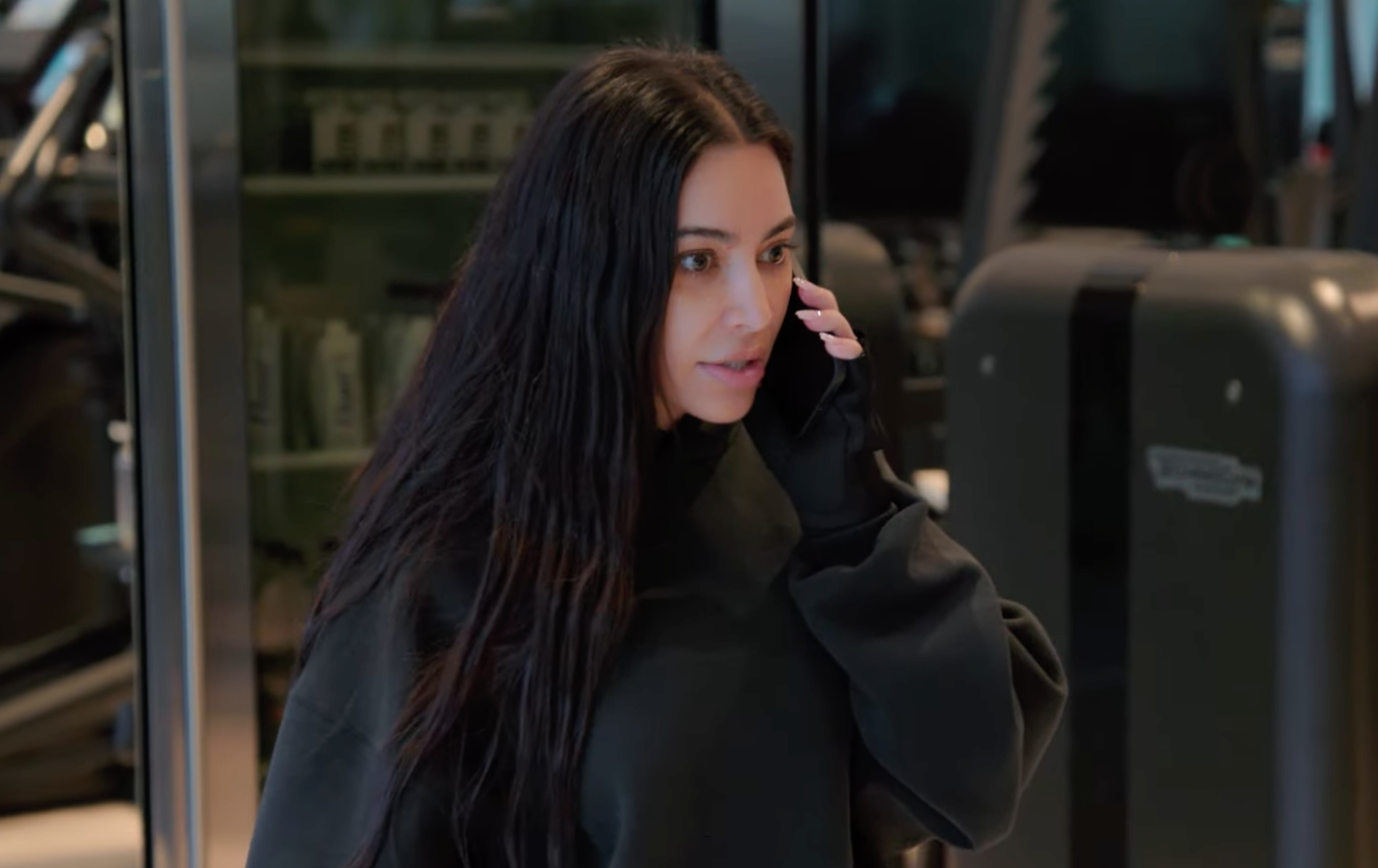 And in a split-second clip right at the end of the episode, Khloé calls Kim back, completely unaware of everything that's unfolded.
"What the fuck is this?" she asks as she sees the declaration from Tristan that Kim has sent her.
We can expect to see more of Khloé's reaction to the shocking news in the next episode of The Kardashians, which will be released on June 15. But for now, you can watch the latest episode on Hulu or Disney+ internationally.