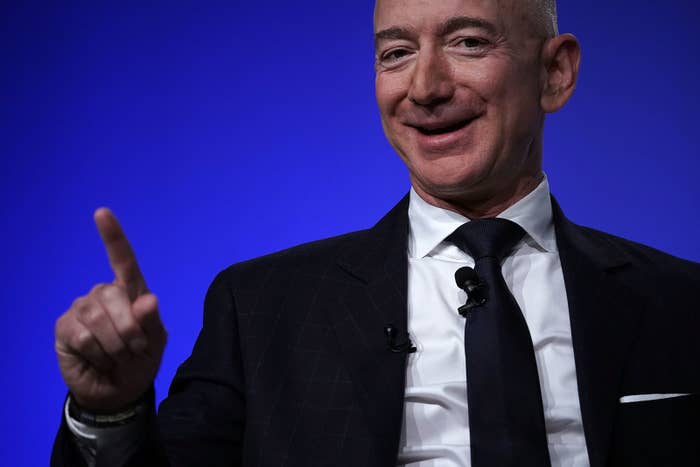 Amazon announced Tuesday that it will increase its minimum wage to $15 an hour for all US workers in a move that was commended by one of the company's fiercest critics, Sen. Bernie Sanders.
Beginning Nov. 1, all full-time, part-time, temporary, and seasonal employees at the online retailer in the US will be paid a minimum of $15 an hour. The increased wage will affect more than 250,000 Amazon employees, as well as over 100,000 seasonal workers who will be hired at Amazon sites for the holiday season.
The company said its public policy team will also advocate for an increase in the federal minimum wage. The company did not specify how much the minimum wage should be, but it said $7.25 is "too low" and it will look to Congress to decide the parameters of a higher federal minimum wage.
The wage increase comes a month after Sen. Sanders and Rep. Ro Khanna introduced a bill dubbed the BEZOS Act (Stop Bad Employers by Zeroing Out Subsidies) — a shot at Amazon CEO Jeff Bezos — to highlight concerns that many Amazon workers relied on food stamps and affordable housing to survive while the company thrived. Amazon surpassed $1 trillion in market capitalization in August, while Bezos currently has a net worth of $165 billion, according to Bloomberg.
"I think you don't become the richest guy in the world if you're a dummy, and Bezos is no dummy."
"I think you don't become the richest guy in the world if you're a dummy, and Bezos is no dummy," Sen. Sanders told BuzzFeed News in an interview. "I think he looked around him and saw there was a whole lot of public sentiment against the richest person in the world paying wages that were unlivable and being a good businessman he wanted to make sure that he could regain public confidence in what he was doing and in Amazon."
Sanders, who now says Amazon is leading the way on the issue of livable wages, also believes this will have a knock-on effect at other companies and in national and state legislatures. He told BuzzFeed News that he has yet to speak with Bezos on the matter but that his office had been in touch with Amazon's lobbyists and executives, and that he would speak with Jay Carney, a senior vice president at the company, on Tuesday.
When Sanders and Khanna first introduced the act, Amazon rejected Sanders' criticisms on what it paid its workers, calling them "inaccurate and misleading accusations." The company said at the time that the average hourly wage for a full-time associate in its fulfillment centers, including cash, stock, and incentive bonuses, was over $15 an hour before overtime.

Still, the company decided to make changes. "We listened to our critics, thought hard about what we wanted to do, and decided we want to lead," Bezos said in a statement. "We're excited about this change and encourage our competitors and other large employers to join us."
"What Mr. Bezos has done today is not only enormously important for Amazon's hundreds of thousands of employees, it could well be, and I think it will be, a shot heard around the world," Sen. Sanders said during a press conference on Tuesday.

He expanded on that view in an interview with BuzzFeed News.
"I think what Bezos has said is, 'We're going to raise the minimum wage to a living wage' and that's going to put enormous pressure on Walmart," he said. "It's going to put enormous pressure on McDonald's and the fast food industry; on the whole retail industry."

"In other words it makes the idea of a $15 an hour minimum wage not a very radical idea at all," he added.
"Many in the beltway criticized our bill as impractical," Rep. Khanna said in a statement. "But Amazon's action shows that our bill can inspire multibillion dollar companies to raise the wages of their workers."

Amazon joins a wave of retail companies increasing their company minimum wage over the last two years. Target announced last year that it will raise minimum pay to $15 an hour by 2020, and Costco raised its starting pay in 2017 to at least $14 per hour. In January, Walmart raised its starting wage for US employees to $11 after the tax reform package passed, although the company also laid off workers and attempted to quietly shut down 63 Sam's Club stores as it increases its focus on e-commerce.

Some critics, while optimistic about the wage hike, are still wary of Amazon. Stacy Mitchell, the co-director at the Institute for Local Self-Reliance, noted that while raising the minimum wage helps workers now, companies like Amazon are moving toward greater automation in warehouses, leading them to need "fewer and fewer workers over time."
"Clearly revolutionary developments in automation and artificial intelligence are going to have a profound impact on the economy, and it's something the Congress has got to look at," Sanders said when asked about the issue.
Mitchell also viewed the decision by Amazon on Tuesday as a move to appease some of its harshest critics and avoid further government scrutiny, particularly as some Washington circles begin to examine antitrust criticisms. "Amazon's biggest fear is around antitrust, and the government is going to start looking at how much power they have in the economy," she said. "That's their biggest existential threat, and no competitor is going to pose that kind of threat."
It's unclear how Amazon's decision will affect the outlook of unionization efforts with Amazon and its subsidiary Whole Foods. Sen. Sanders said that he still supports the right of employees to organize, but said that "it's a question for the workers."
For Mitchell, the decision to raise the minimum wage "shows that this company is movable."
"It's possible that this will dampen unionization efforts by Whole Food and Amazon warehouse workers, but I also wouldn't be surprised if it goes the other way," she said. "It could be like, 'We achieved something that was real and that shows what we can do by organizing.'"