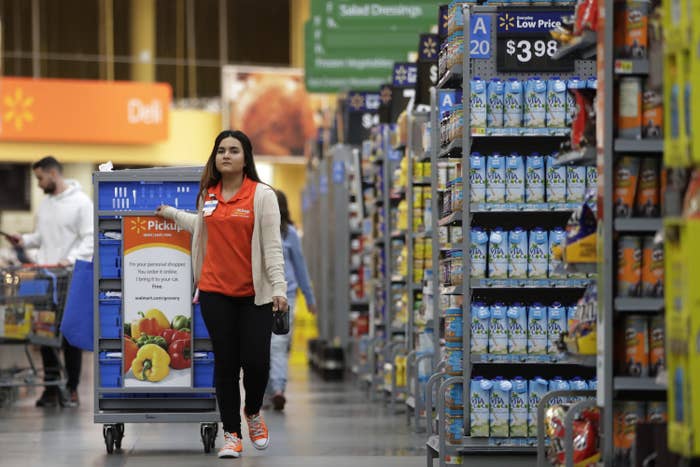 Walmart will increase starting hourly wages to $11 in February and begin offering 10 weeks of paid maternity leave for full-time hourly associates, the company said Thursday.
It will also give a one-time bonus to associates who already make $11 or more that will range from $200 to $1,000, depending on how long they've been with the company. In addition to changing its benefit for mothers, the company will begin offering full-time hourly and salaried associates six weeks of paid parental leave, and associates who adopt a child will receive $5,000 in financial assistance.
Walmart's CEO Doug McMillon said in a statement that the combined wage and benefit changes, which will benefit more than 1 million US hourly associates, are a result of tax savings from this year's tax reform that reduced the country's corporate tax rate to 21%.
"We are early in the stages of assessing the opportunities tax reform creates for us to invest in our customers and associates and to further strengthen our business, all of which should benefit our shareholders," said McMillon. "However, some guiding themes are clear and consistent with how we've been investing — lower prices for customers, better wages and training for associates and investments in the future of our company, including in technology."
Treasury Secretary Steve Mnuchin thanked Walmart in a press conference with reporters on Thursday for investing its tax savings in raising its minimum wage.
"I think the most important issue is for companies to increase their wages," he said. "And Walmart's numbers [are] already above the minimum wage. This is obviously an issue for the federal government. It's an issue for states. But I'd say the real focus, which is what the tax cuts act has been all about, is putting more money in companies who settle along."
Not all of the company's employees will get to enjoy the benefits. Walmart also said Thursday that it will shut down about 50 of its Sam's Clubs, while roughly another dozen will be converted to distribution centers.

Walmart's wage hike comes as retailers focus on customer service and reconfigure how they use their brick-and-mortar stores to compete with the fast delivery and convenience that Amazon offers. Costco's starting wage is at least $13 an hour while Target is gradually raising its starting hourly wage to $15 by 2020.
A part of Target's plan to compete with Amazon rests on investing in its store associates. The strategy paid off over the holidays: Target's store associates fulfilled 70% of its online sales, which helped to dramatically boost online sales compared to last year.
"Investing in employees is beneficial on multiple fronts, including reductions in turnover, as well as potentially enhancing the store experience for customers, which in the current shifting retail environment, is critical for any brick-and-mortar retailer," Moody's lead retail analyst Charlie O'Shea said in a statement.

A Walmart spokesperson told BuzzFeed News that the company will continue to look at how it will use its tax savings over the year, but that it is focused on investing in its associates, technology, and cutting prices.
The increase in Walmart's starting wage to $11 an hour will become effective in the Feb. 17 pay cycle.