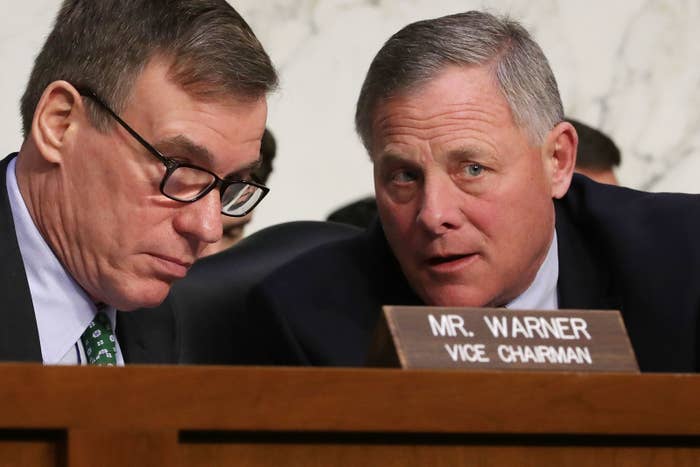 In its investigation of Russia's interference in the 2016 election, the Senate Intelligence Committee has spent more than a year trying to follow the money. But its efforts, unparalleled on Capitol Hill, have been hampered by a surprising force: the US Treasury Department, which has delayed turning over crucial financial records and refused to provide an expert to help make sense of the complex money trail. Even some of the department's own personnel have questioned whether Treasury is intentionally hamstringing the investigation.
Little is known about what, exactly, goes on behind the locked doors that lead into the committee's offices. But now, interviews and emails obtained by BuzzFeed News lay bare the numerous hurdles the secretive committee has faced in its mission to obtain and decipher troves of banking records that could shed more light on the Russian scheme — and whether the current president had anything to do with it.
Treasury has at times been reluctant to cooperate with the committee's requests for sensitive financial documents that are significant to the Russia probe, at one point going at least four months without responding to one of the committee's requests.
Last year, Treasury rejected the committee's request for help from one of its experts, even as Treasury officials have speculated — behind closed doors — that the Senate committee would not be able to follow the twisting financial trail laid out in the documents they had turned over, a path that often passes through offshore shell companies or untraceable cash transactions.
In emails reviewed by BuzzFeed News, personnel within Treasury's Financial Crimes Enforcement Network, or FinCEN, discussed in 2017 whether Treasury was trying to thwart the committee's investigation. Additionally, some FinCEN personnel questioned whether they had the proper legal authority to share confidential information about US persons with committee staffers.
Despite committee chair Richard Burr's insistence to BuzzFeed News that the panel has received "every financial document" it has requested from Treasury, sources inside FinCEN told BuzzFeed News that they were initially instructed not to hand over financial documents on certain individuals. The directive, these sources said, came from senior Treasury officials in the General Counsel's Office. To this day, FinCEN sources insist not all of the records requested by the committee have been turned over.
A spokesperson for FinCEN declined to answer specific questions about its cooperation with the committee. "FinCEN is in regular contact with congressional committees to provide documents responsive to their requests," the spokesperson said. "We don't discuss the specifics of requests related to committee investigations."
Within the windowless walls of the Senate Intelligence Committee's secure office spaces, a small staff pores over stacks of financial documents, working to analyze the complex banking records of dozens of key figures in the Russia investigation.

For more than a year and a half, the seven core staff members assigned to the committee's Russia investigation have often worked late into the night and in some cases through the weekend, according to a person familiar with the matter.
Like special counsel Robert Mueller, who is running a criminal investigation into Russian election interference and potential collusion between the Kremlin and Trump campaign, the committee has in its possession thousands of pages of financial documents from the Treasury Department, sources say.

The documents are largely suspicious activity reports, often called SARs, handed over by FinCEN, which receives thousands of records every day from banks and other financial institutions. By law, bankers must alert Treasury to transactions that bear hallmarks of money laundering or other financial misconduct. Such suspicious activity reports can support investigations and intelligence gathering, but by themselves are not evidence of a crime; many suspicious activity reports are filed on transactions that are perfectly legal.
It is the focus on following the money that sets the Senate investigators apart from their counterparts on the House Intelligence Committee, which was also charged with investigating Russian meddling. While the reports include some of the president's current and former associates, even the Senate committee did not ask the Treasury for financial records on Trump himself or his family members.
The financial documents "play a part of a very important roadmap just like every other piece of evidence," Burr, a Republican from North Carolina, told BuzzFeed News. "They tell us whether you turn right or you turn left."
But unlike Mueller's team — which is stacked with attorneys from various fields and whose probe has already led to 35 indictments and guilty pleas — the Senate committee is short on financial experts, limiting its ability to follow the money. The seven core staff members are assisted by two staff directors and two lawyers, the source said, and their expertise lies mostly in national security rather than finance.
Seemingly aware of its own limitations, the committee made its doomed request for Treasury to send an expert to help analyze the documents. That request was shot down last year, FinCEN sources told BuzzFeed News, because Treasury did not want to be seen as playing a part in the committee's investigation.
A couple weeks ago, the committee renewed its request for an expert. This time, FinCEN sources say it will likely be approved by Ken Blanco, FinCEN's new director.
FinCEN's slow response to document requests has already prompted backlash from senators. In April 2017, committee staffers formally requested a broad set of records, including "[a]ll documents that Treasury has sent to the FBI related to Russian attempts to influence either the 2016 U.S. election or individuals associated with it," according to a letter obtained by BuzzFeed News. The committee sent another letter in August 2017 requesting suspicious activity reports on three dozen individuals and businesses that were subjects of the panel's investigation. Then, in December, the committee followed up with still another letter requesting documents on more individuals or entities — and expressing concern that FinCEN hadn't responded to its earlier requests. The letters' existence was first reported by BuzzFeed News in January.
"We appreciate Treasury's ongoing commitment to working with the Committee's bipartisan inquiry into Russia interference in the 2016 U.S. elections," the letter read. "We are concerned however, that we have not received a response to our August 11, 2017, request for documents."
After months of waiting on some documents, one committee staffer, in an email to FinCEN's congressional liaison, agreed to narrow the committee's request for SARs in an effort to obtain the records in a more timely fashion. In another email, a FinCEN employee wrote that a committee staffer had said the reports would be used to help draft a narrative in the committee's final report about how money may have supported Russia's interference in the election. Treasury officials then agreed to turn over a limited number of suspicious activity reports.

So far, the committee has asked for financial documents on at least 45 people or entities, according to the committee letters obtained by BuzzFeed News. Those people and entities include some of those involved in the Trump–Moscow negotiations, the now-infamous June 2016 Trump Tower meeting between Trump campaign officials and a Russian lawyer, and former Russian ambassador to the US Sergey Kislyak. The committee has also obtained suspicious activity reports on alleged Russian spy Maria Butina; her partner, longtime GOP operative Paul Erickson; and Russian banker Alexander Torshin, BuzzFeed News has reported.
But at least one committee member feels Senate investigators have not done enough.
Oregon Sen. Ron Wyden has expressed frustration with how the committee has pursued — or not pursued — money matters. "I feel the committee has been AWOL on this," Wyden, a Democrat on the committee, told BuzzFeed News.
"What I have said — and I've had this conversation with the chairman — it's just a complete difference of opinion," Wyden said. "I feel that counterintelligence 101 is following the money, because if you're going to compromise somebody, the single best way to do it is money. So I said from day one, the very first hearing, that that was going to be the focus — my focus — and the chairman, he's been candid; he doesn't believe that's our prime responsibility, and I think it's a very substantial mistake."
Wyden, who has blocked Treasury nominees to force the department to turn over documents to both the Senate Intelligence and Finance committees, urged Burr and Intelligence Committee vice chair Mark Warner earlier this year to hold a public hearing on "the financial relationships between Donald Trump and his associates and Russia." He's also urged committee leadership to bring Trump's longtime personal lawyer and fixer Michael Cohen — "the president's go-to money person," as Wyden puts it — back for a public hearing with senators, which the committee initially said it would do but has since dropped. Committee staff interviewed Cohen behind closed doors in October. The committee has instead recently opted to hold public hearings on election security, social media, and the Obama administration's response to Russian meddling.
Wyden pointed to "other pieces to the puzzle" that he believes require additional scrutiny, such as Trump's attempted business dealings in Moscow before the election, his sale of a Palm Beach property to a Russian oligarch in 2008, and the alleged role of the recently indicted Butina in the Russian influence campaign. "You have to pull together the pieces."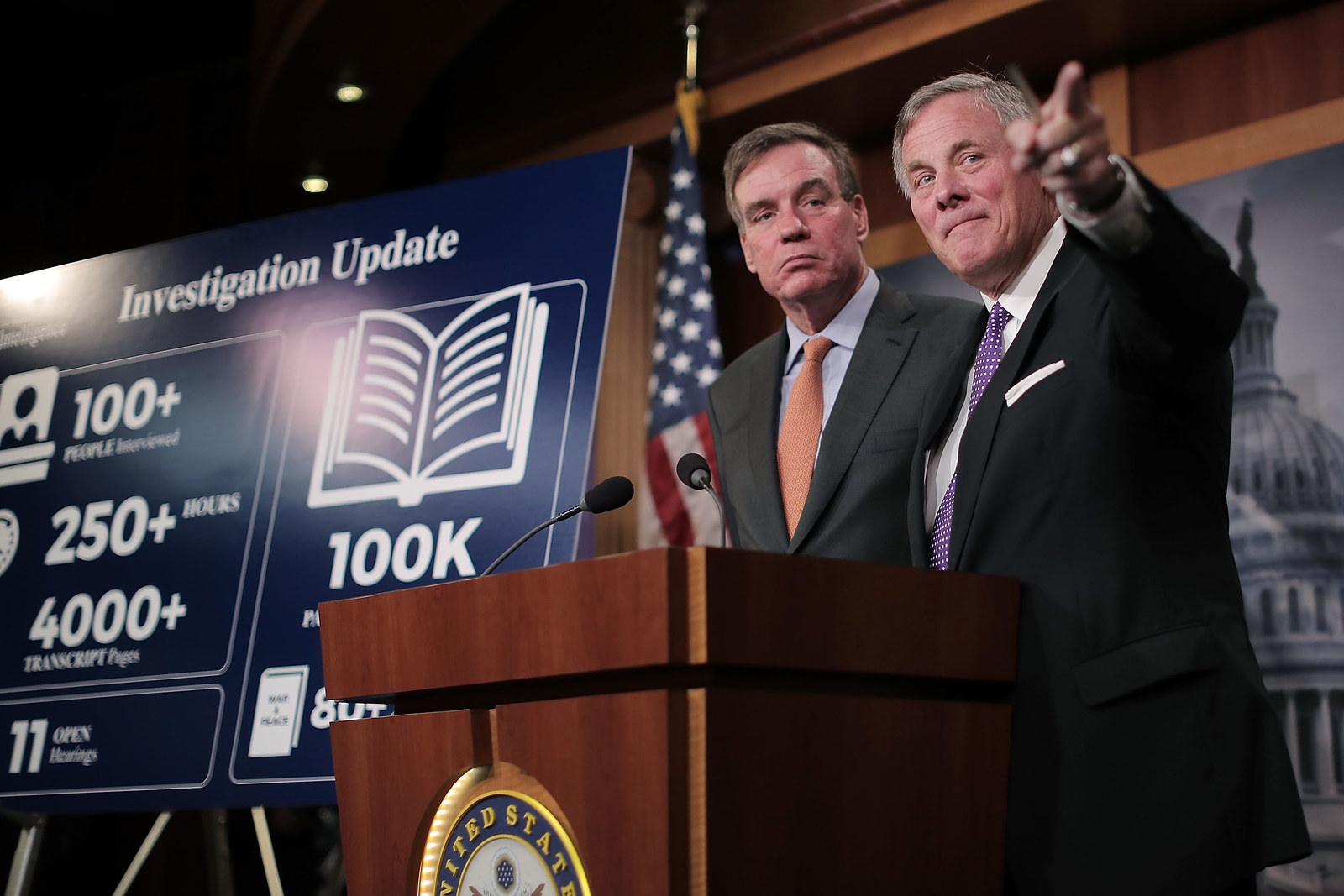 But Burr has dismissed Wyden's complaints. "Whether every member has chosen to come and actually spend the time to go through [the documents] is a whole other question. I'm tired of hearing the fact that we don't follow [the money]," Burr said. "We are investigating every avenue that gives us clarity into what the mission is of this investigation, but that's not to fall outside the mission of the investigation. I could care less how they financed a deal 20 years ago somewhere because I don't think it's relevant."

To be sure, other committees, such as the Senate Judiciary Committee, also asked FinCEN for financial documents, but their investigative efforts have been hampered by partisan squabbling, leaving the Senate Intelligence Committee as the sole remaining panel with the ability to produce a credible, bipartisan report about how the Russians meddled in American democracy — and whether the Trump campaign colluded with the Kremlin.
Whether the money trail leads to evidence of cash-backed Russian influence is a question that remains unanswered, Burr says. "You're asking me to make a judgment call on an end result that we're not at." The committee hopes to complete its final report before the end of the year.
The committee's work on follow-the-money issues isn't over, according to Warner. "I've got unanswered questions in that arena, but we're not finished," he said. Asked how much the final report will rely on the financial documents, Warner said, "I think that will depend upon what all those documents show, because I think we've not fully reviewed all of them."