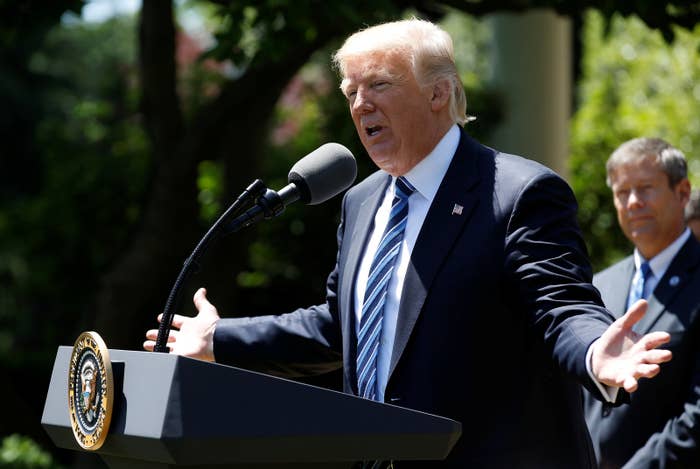 The Senate Intelligence committee has asked the Treasury Department's financial crimes network for information related to President Donald Trump and his team, as part of its Russia investigation, the top Democrat on the committee confirmed Tuesday.

CNN first reported that the committee had requested the documents from Treasury's Financial Crimes Enforcement Network, or FinCen, about Trump and officials. Democratic Sen. Mark Warner did not tell CNN what — or who — the committee's request involved.
Warner did tell CNN that the documents could show "what level of financial ties" exist between "some of the Trump-related officials, Trump campaign-related officials and other officials" with foreign entities, "not necessarily from Russia."
Shortly after, Warner confirmed to reporters on Capitol Hill that the committee had made the request.
Warner added that he told the Trump administration approximately one week ago that he will oppose their nominee to be Treasury's under secretary for terrorism and financial intelligence until the committee receives those documents.
"If it wasn't timely I would not be opposing a nomination at this point," he said, adding that he believes nominee Sigal Mandelker is qualified for the job. "I'm hopeful," he said when asked if he thought the administration would cooperate.
When asked about Warner's comments Tuesday, Republican Sen. Richard Burr, who chairs the Intel committee, told reporters he "won't confirm anything that the committee's working on."
"I'll let that stand," he said of Warner's comments.
On Wednesday, Democratic Sen. Ron Wyden announced that he had placed a hold on Mandelker's nomination to compel the Treasury Department to provide both the Intelligence and Finance committees with "information and documents related to Russia and its financial dealings with President Trump and his associates."
"I have stated repeatedly that we have to follow the money if we are going to get to the bottom of how Russia has attacked our democracy," Wyden said in a statement. "That means thoroughly review any information that relates to financial connections between Russia and President Trump and his associates, whether direct or laundered through hidden or illicit transactions."