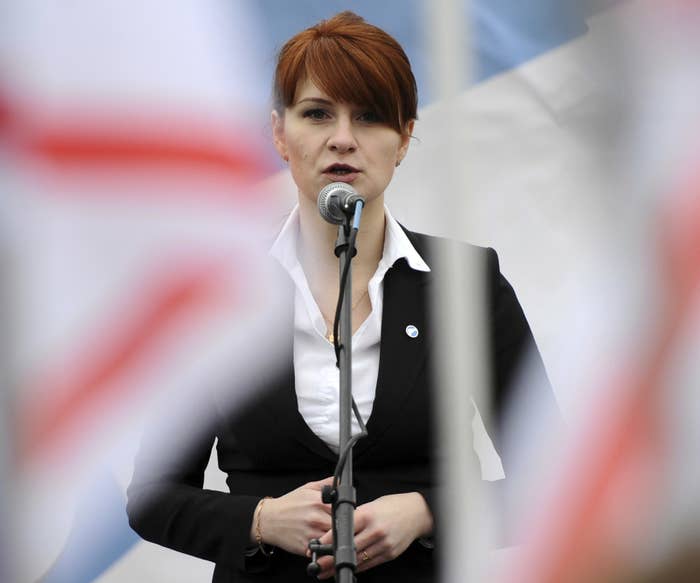 It's hard to tell how much of the story 29-year-old Russian graduate student Maria Butina told Americans about herself for years is real.
What is clear is that in Butina, the Russian government either found or created an irresistible persona for US conservatives. The story she repeated over years of speeches and interviews — of a scrappy girl from Siberia fighting for gun rights in Russia — was carefully calibrated to show a passion for self-defense, a yearning for America's easy access to guns, and a hint of criticism of Russia's own laws.
On Sunday, she was arrested by FBI agents and jailed, accused of being an unregistered foreign agent tasked with influencing US foreign policy toward Russia and directed by a senior Russian government official. On Wednesday, a federal district judge ordered her held without bond as a flight risk after prosecutors detailed her links to Russian intelligence agents.
Conservative groups that interacted with her declined, for the most part, to comment on the charges against her. But long before that, she had become an exotic but accepted fixture at conservative events. She regularly attended National Rifle Association conventions. Through these events she was able to interact with powerful conservative activists and politicians, including Scott Walker, Bobby Jindal, Rick Santorum, Donald Trump, and others, all meticulously documented on social media. At least once, she attended the Conservative Political Action Conference, an annual assemblage of influential Republicans.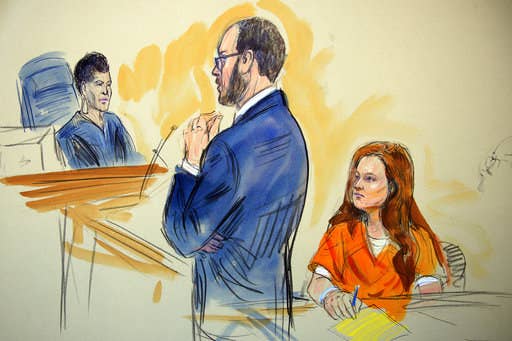 People who spoke to BuzzFeed News about their interactions with her, as well as a review of her interviews, writings, and extensive social media posts, paint a picture of someone who knew how to push all the right conservative buttons.

Hers was a startlingly effective performance.
By the time she appeared on the popular radio show of evangelical author Eric Metaxas, who later endorsed Trump and served on his evangelical advisory council, her life story — or at least what she said was her life story — rolled off her tongue with practiced ease.
"My story is simple — my father is a hunter, I was born in Siberia," she explained in the July 2015 interview, echoing previous talking points in which she often drew parallels to parts of the US, like South Dakota, where guns are "necessary for survival" to defend lives and property.
"That seems appropriate, somehow," Metaxas interrupted, sounding delighted, when she described founding her gun rights organization in a "Moscow version of a McDonald's," telling her friends "we need to fight for our gun rights."
"Wow, I just love the idea of this," he said. "To think…because you know, those of us in America can be very parochial, we forget that the fight for liberty goes on for all around the globe in different guises."
Metaxas did not respond to a request for comment.
Butina also seemed to know exactly what a conservative evangelical audience would want to hear, earnestly speaking about the growing number of churches in Russia after the collapse of the Soviet Union and the "great history of Christian religion" that she had in common with US evangelicals, her audience.
"When we talk about Russian and American relationships, the main point is Christianity, in both countries," she told Metaxas.
According to the story she has told in Russian- and English-language interviews, Butina was born in Barnaul, Siberia, in 1988. After graduating from Altai University in her hometown with a degree in political science and education, she started a small business selling furniture but "then moved to Moscow, where power and money is better," she wrote in an outline for a presentation she gave at the University of South Dakota in April 2015.
In Moscow, she began working for Alexander Torshin, a powerful Russian banking official and close associate of Russian President Vladimir Putin who was sanctioned by the US in April, and founded her pro-gun "Right to Bear Arms" group in 2011.
Some experts say that the very existence of such an organization in Russia, which has stringent gun laws and little public support for loosening them, should have tipped off US authorities from the start.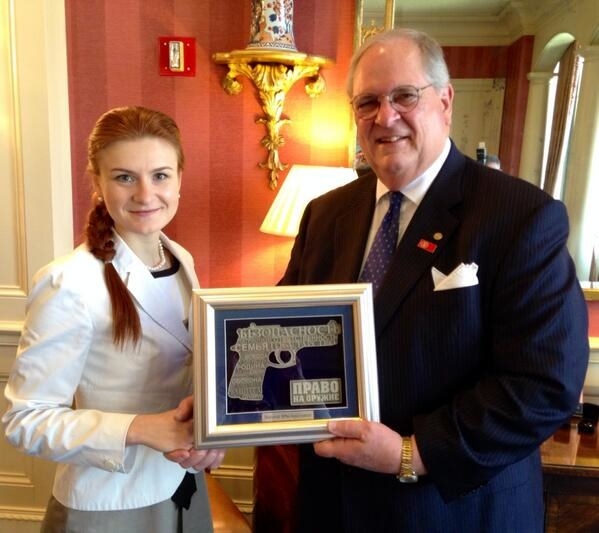 "It just doesn't exist," Anders Åslund, a senior fellow at the Atlantic Council and an expert on Russia's economic policy, said about what Butina and Torshin touted as a grassroots Russian gun rights group. "It's a ridiculous front organization with the purpose of infiltrating American groups and forging cooperation with the NRA."
That's the case made by US authorities. Over the course of five years, with the help of Torshin and an as-yet officially unidentified American ally, Butina relentlessly forged connections with NRA officials and others deemed to be influential in US policy. Long before she moved to Washington, DC, on a student visa in August 2016 to study at American University, she had logged thousands of miles in trips from Moscow to Tennessee, Kentucky, South Dakota, Florida, Nevada, and Wisconsin to build relationships with pro-gun advocates and conservative groups.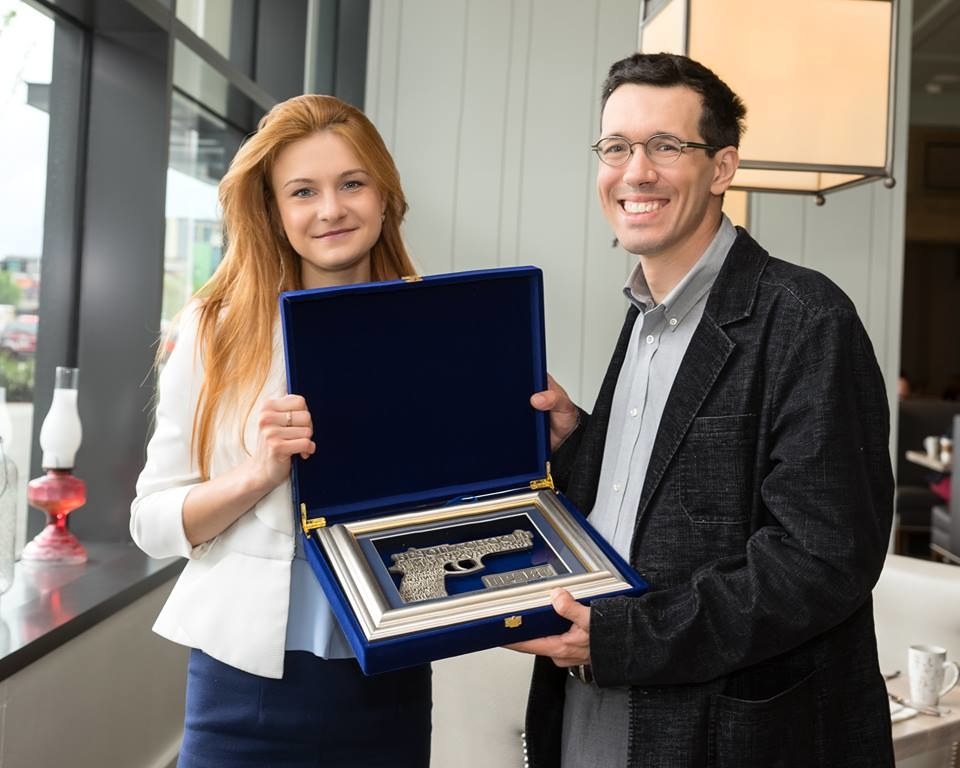 As part of her efforts, she gave out honorary memberships to her Russian gun rights organization in the form of ornamental blue and silver framed plaques, to people ranging from then-NRA president Jim Porter to Oleg Volk, a Tennessee-based photographer who makes pro-gun posters and graphics.

It went both ways – the connections she and Torshin made also visited them in Russia. David Keene, who served as NRA president from 2011 to 2013 as well as chair of the American Conservative Union, attended her organization's event in Moscow in 2013. The next year, Keene invited Butina to the annual NRA convention, where she attended the group's annual Women's Leadership Luncheon as a guest of former NRA president Sandy Froman. A larger group of NRA and Republican officials was hosted by Butina's group in Moscow in December 2015.
Butina was able to access "an extensive network of US persons in positions to influence political activities in the United States" through an American described in court papers as "US Person 1," whose description closely matches Paul Erickson, a 56-year-old veteran Republican operative from South Dakota with whom she had, federal prosecutors alleged Wednesday, a "personal relationship."
In the later years of her work she, Torshin, and Erickson tried to use these connections to set up a "back channel" to communicate with the Trump campaign, send a Russian delegation to the National Prayer Breakfast, and set up a meeting between Torshin and Donald Trump Jr. at the 2016 NRA convention.
Butina was not above using her youth to ingratiate herself, federal prosecutors allege. According to prosecutors' filing arguing against granting her release on bond, "on at least one occasion, Butina offered an individual other than US Person 1 sex in exchange for a position within a special interest organization."
All this was the result of years of inroads that Butina made by learning to speak the language of US conservative groups and presenting an appealing case for them to include her.
"What I saw here is great, and I believe it's the first step for Russia," she gushed in a 2014 video posted by all4shooters.com. "With the help of foreign circles, we can do more."
Butina adapted her message to her audience and current events. As early as 2012, Guns.com ran a piece on her organization calling for more relaxed Russian gun laws after the Sandy Hook shooting. In her conversations with older men, she reportedly often joked about her hunting skills and mentioned she had modeled in photo shoots to promote gun rights, including a glamorous spread in Russian GQ. In an interview with Fox News contributor Katie Pavlich for Townhall.com, she expressed admiration for the NRA's youth programs.
"Who is the average Russian gun owner and a member of The Right to Bear Arms today? A middle-class man with a family and a business — someone who has something to lose and to protect," she told a group of University of South Dakota students in April 2015, before ending with a Bible verse, according to an outline of her presentation posted on social media.
In a video posted by the organizers of FreedomFest, a libertarian political event held in Las Vegas in July 2015, she suggested, with a slight grimace, that she wished to bring the US concept of freedom back home.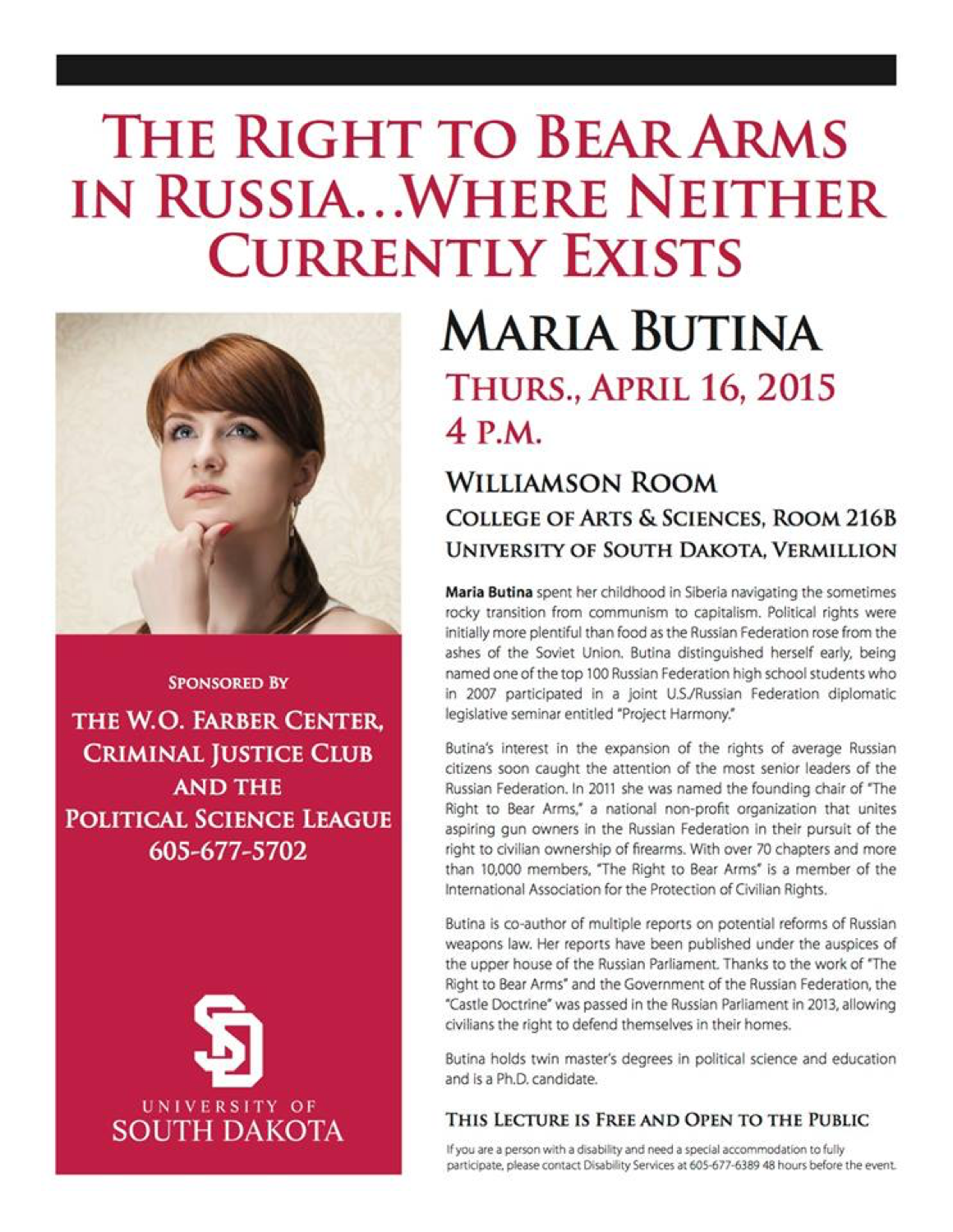 "I believe that freedom is very important, and the basis of freedom is, of course, gun rights and the economy and I would really like to know more and bring this knowledge to Russia," she said.
A lot of them were brief connections. Kevin Boyd, a freelance writer, told BuzzFeed News he met Butina at FreedomFest, the same event at which she asked Trump a question about Russian sanctions. She followed Boyd on Twitter, and the two connected on Facebook.
"I spoke to her a few times at the event and it was mostly about gun rights in Russia," he remembered. "We also discussed the upcoming US presidential election and she said she was a fan of Scott Walker, I believe."
According to people who met her at these events, Butina's formula was simple and effective – a friendly introduction immediately identifying herself as a fervent Russian gun rights advocate, emphasizing her desire to learn more about like-minded Americans, often asking to take a photo and connect, connect, connect.
Richard Hohlt, a longtime Republican lobbyist, was quoted in a recent book saying that when he met Butina at CPAC in February 2015, he "was struck by how overly solicitous she was."
"Could they be friends on Facebook? How could they stay in contact?" he recalled in Michael Isikoff and David Corn's book Russian Roulette, which was published in March this year. "All I can think was, what the fuck is this about?"
Tall and with long red hair, Butina wasn't exactly inconspicuous. She spoke in clear but Russian-accented English. To some political operatives — and apparently the FBI, which had monitored her activities for five years, prosecutors said — there was something odd about Butina's presence at so many conservative events.
After Butina asked Trump that question about Russia at the town hall, his advisers reportedly watched the video and wondered how that had happened and where she had come from. Trump adviser Steve Bannon told Reince Priebus, who would eventually become Trump's White House chief of staff, that it was odd that Trump had a fully developed answer to her question.
"Priebus agreed that there was something strange about Butina," Isikoff and Corn reported in their book. "Whenever there were events held by conservative groups, she was always around, he told Bannon."
Glenn Simpson, the ex-Wall Street Journal reporter whose research firm hired former British spy Christopher Steele to investigate Trump's links to the Kremlin, talked about Butina in a closed House Intelligence Committee hearing in November 2017, a transcript of which was later made public. He described her as "a big Trump fan in Russia" who "suddenly showed up here and started hanging around the Trump transition after the election and rented an apartment and enrolled herself at AU, which I assume gets you a visa."
"I think she is suspicious," he added, suggesting that she and Torshin were attempting "to infiltrate conservative organizations," including the NRA.
"And the most absurd about this is that, you know, Vladimir Putin is not in favor of universal gun ownership for Russians. And so it's all a big charade, basically."
Still, Butina has defenders in the United States. One of them is Volk, the Tennessee gun photographer who received an honorary membership from Butina and took glamour shots of her with the weapons in 2016.
"I consider the accusation to be quite silly, considering she's in opposition to the supposed Russian clients," he told BuzzFeed News.
Dmitriy Kislov, who served as an executive director of Butina's gun rights organization, setting up her media appearances in Russia and often tagged by her on social media, said he was "very surprised" when he heard that she'd been charged as a Russian agent.
"It is a serious mistake," said Kislov, who told BuzzFeed News he last spoke to Butina 10 days before her arrest. "I know for sure that Maria did not work for the Russian government. The topic of civilian weapons is not popular among official representatives of the Russian government…[so] I very much doubt that our officials would be engaged in this issue."
But federal prosecutors say they have emails that show she was taking instructions from Torshin. One exchange came on the night of Trump's election victory when she posted on VK, the Russian equivalent of Facebook: "Well that's it. America gets a Republican Donald Trump for the next presidential term. Supporter of gun rights and restoration of relations with Russia. Congratulations to all!"

That same night, prosecutors said in their court filings, she messaged Torshin: "I'm going to sleep. It's 3 a.m. here. I am ready for further orders.

Jane Lytvynenko contributed reporting.