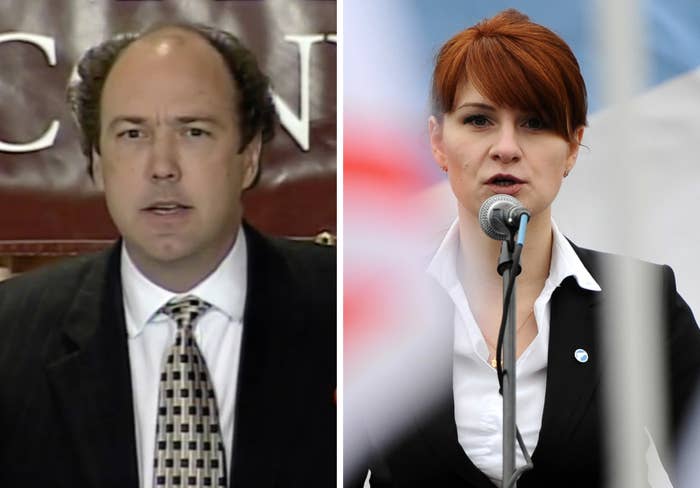 A $45,000 payment to an undisclosed law firm. A cash withdrawal for $14,000. Almost $90,000 sent to or from a Russian bank. These and other bank transactions totaling nearly $300,000, none of which have been made public, offer the first detailed look at how an accused foreign agent and a Republican operative financed what prosecutors say was a Russian campaign to influence American politics.
Anti-fraud investigators at Wells Fargo flagged the transactions — by Paul Erickson, a conservative consultant from South Dakota, and Maria Butina, who is in jail awaiting trial on charges of secretly acting as a Russian agent — as "suspicious," noting in some cases that they could find no "apparent economic, business, or lawful purpose" to explain them. Now FBI counterintelligence officers say the duo's banking activity could provide a road map of back channels to powerful American entities such as the National Rifle Association, and information about the Kremlin's attempt to sway the 2016 US presidential election.
Cash withdrawals, most of them from Erickson's personal and business accounts, make up $107,000 of the financial transactions now being investigated. The largest of those withdrawals — $14,000 — occurred in December 2015, when Erickson reportedly traveled to Moscow as part of an NRA delegation. The visit was sponsored by a Russian gun rights organization started by Butina, federal authorities say.
The duo also deposited about $90,000 in cash in their accounts, which has made it difficult for investigators to determine the source or purpose of the funds.
Bank documents indicate Wells Fargo's anti–money laundering team began checking Butina's and Erickson's bank activity in early 2017, after receiving a referral from the FBI. In a report the bank prepared and shared with the bureau and the US Department of the Treasury's financial crimes division, Wells Fargo officials expressed suspicion about the "significant control" Erickson had over Butina's account. He had access, Wells Fargo found, to her personal checking account, which she opened in 2014. He frequently made payments on her behalf; the recipients have not been identified. He sometimes appeared to write checks that Butina signed. The bank closed the duo's personal and business accounts in late 2017.
Erickson did not return a message left on his cellphone or detailed emails seeking comment. He has not been charged with wrongdoing.
Bank officials could find no "apparent economic, business, or lawful purpose" for the transactions.
Among the suspicious transactions cited by the bank and federal investigators:
• About $89,000 passed between Erickson's US accounts and one held by Butina at Russia's Alfa Bank. In 2014, Erickson received $8,000 from Butina's Alfa account. Between June 2016 and March 2017, Erickson sent a dozen wires to her Alfa account totaling $27,000.
• About $93,000 was sent or received during a single four-month period — from May to August 2017, after Butina had arrived in the US and was attending graduate school at American University in Washington, DC. Bank officials discovered wires, checks, transfers, and cash deposits totaling that amount, including checks made out to cash, between the duo's accounts last year.
• In June and July 2017, Erickson wired $45,000 to an unidentified law firm in Washington on Butina's behalf. It is not known why Butina retained an attorney at that point, and her current lawyer, Robert Driscoll, told BuzzFeed News that his firm was not the recipient of the money.
• Last summer, Erickson sent two wires for $15,000 to a California company established by the son and brother of Jack Abramoff, a disgraced former lobbyist who is Erickson's longtime friend, political ally, and business partner. The company, Landfair Capital Consulting, was incorporated in March 2017. Abramoff's son, Alex, a recent college graduate, is the CEO and sole director; Abramoff's brother, Robert, is the registered agent. Because the company was newly established and based out of the home of Alex Abramoff, who does not list it on his public profiles, bank investigators flagged it as a possible shell company established to hide Jack Abramoff's interests.
Abramoff has not been accused of wrongdoing and neither he, his son, nor his brother returned messages from BuzzFeed News.
Investigators from Wells Fargo flagged dozens of other suspicious transactions involving Butina and Erickson for FBI agents and the Treasury Department's financial crimes division. Bank investigators told Treasury officials they were suspicious about where the money came from and that they could find no "apparent economic, business, or lawful purpose" for the transactions. The cash withdrawals are of particular interest to federal agents, a source with knowledge of the matter told BuzzFeed News.
Last month, Butina was arrested and indicted on charges of "conspiracy to act as an agent of a foreign government." Court documents in the case state that she sought to establish relationships with American political groups, including an unnamed "gun rights organization" believed to be the NRA, as well as US politicians in order to establish a "back channel" line of communication "for representatives of the Government of Russia." The NRA did not return a message seeking comment. Her attorney, Driscoll, said she is innocent and will fight the charges in court.
In a statement, Driscoll wrote: "The truth is that a review of Ms. Butina's banking activities will show no illegal, or even remarkable, activity. As she is a Russian national with a Russian bank account, it is hardly surprising that some of her international transactions triggered reports. It is unfortunate that the FBI chose to leak information based on such reports and/or to allow its investigative concerns to become public."
Getting "the project" off the ground
According to federal prosecutors, Butina began her secret influence campaign in 2014 with the help of an unnamed US political operative. That operative, law enforcement sources told BuzzFeed News, is Erickson.
Court documents say the 29-year-old Butina was romantically involved with Erickson, a 56-year-old political consultant from South Dakota. Bank officials found that he paid her rent, her tuition at American University, and even a monthly furniture bill, and that he received money from individuals described as personal connections. Some of the funds were characterized as "family support."
But bankers also saw that Erickson was often in dire financial straits. His personal and business accounts were overdrawn by a total of $2,300. He was hit with 77 overdraft fees. He took out payday loans of about $3,000 and had a balance of just $9 in one of his accounts.
Butina, meanwhile, began visiting the US in 2014 and making allies in conservative politics, particularly among guns rights advocates, prosecutors say. In March 2015, according to an email in which the duo discussed what prosecutors describe as a covert influence operation, Erickson told Butina that she would need significant resources to get "the project" off the ground.
She moved to Washington on a student visa in August 2016 and enrolled in a graduate program at American University, a move that was part of her cover story, prosecutors alleged.
But her first known financial transaction with Erickson was much earlier than that. In December 2014, she sent a pair of wires from her Alfa Bank account to Erickson in the US. They totaled $8,000, and Butina noted they were for "grant assistant." Shortly after the email suggesting that she would need money to get her "special project" off the ground, Erickson sent a dozen wires to her Russian bank account for more than $27,000 and an additional $30,000 to a US account.
The two also appeared to use a company, Bridges LLC, to conduct suspicious transactions. Bank officials said they couldn't determine the purpose of the company, which was incorporated in South Dakota in February 2016. Butina was listed as the "sole signer" on its checking account, but Erickson wrote and signed checks from it. He told McClatchy that Bridges was formed to help Butina obtain financial assistance for her graduate studies.
Last year their financial activity seemed to escalate.
In summer 2017, the two made about $93,000 in wires, checks, transfers, and cash transactions that were deemed suspicious, including more deposits to Butina's Russian account. In June and July, Erickson sent two checks labeled "Butina retainer" to a Washington law firm. It appeared to bank examiners that he was filling out checks for her rent and utilities, but she was signing them. She paid a Washington limousine service $5,300.
But during their review, Wells Fargo officials paid close attention to how the duo handled cash. Through March 2017, the two had withdrawn about $107,000 from ATMs, bank branches, and checks made out to cash. Erickson made the vast majority of these withdrawals. Counterintelligence officials said they are trying to learn how the funds were used and whether they played a role in Butina's suspected operation.
Erickson is also the subject of a federal fraud investigation in South Dakota, and some of the transactions flagged by Wells Fargo pertain to that probe, law enforcement sources told BuzzFeed News. Last week, Driscoll, Butina's attorney, disclosed a letter from a federal prosecutor offering her a chance to provide any information she has on the "illegal activity of others."
Erickson has not been charged with a crime.
Torshin's role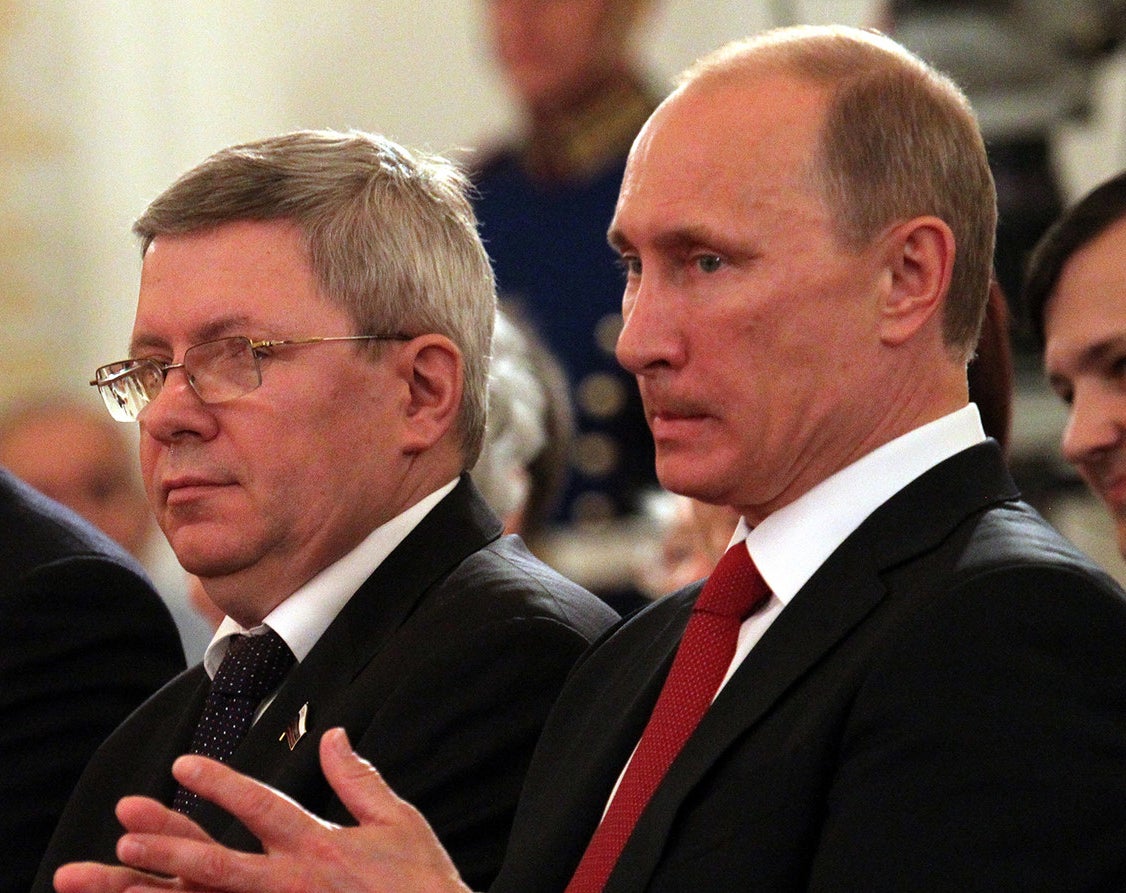 In addition to Erickson's help in the US, Butina, prosecutors say, had a powerful benefactor back in Russia. Her indictment said that she was communicating with Russian intelligence while here and was "acting at the direction of a high-level official in the Russian government."
That person, federal authorities told BuzzFeed News, is Alexander Torshin — Butina's former boss, once a member of Russia's upper house of parliament, and a close confidant of President Vladimir Putin.
In 2015, Torshin was appointed deputy governor of the Central Bank of the Russian Federation and Butina was hired as his special assistant. Torshin is believed to have close ties to gun rights activists in the US, and McClatchy reported that the FBI is investigating whether Torshin illegally funneled money to the NRA.
According to her indictment, Butina worked for Torshin until May 2016, and she came to the US on a student visa later that summer. The same month, Spanish authorities reported that Torshin had been laundering money for the Moscow-based Taganskaya crime syndicate.
This year, Torshin was among the Russian oligarchs sanctioned by the US Treasury Department for playing a key role in "advancing Russia's malign activities." Law enforcement sources told BuzzFeed News that tens of millions of dollars in his suspicious financial transactions were flagged by Treasury officials working on the FBI's counterintelligence investigation into Russian influence.
These transactions included large, round-number wire transfers — a hallmark of money laundering — from Istanbul and Dubai, the sources said. Reports on this suspicious behavior, which do not involve Wells Fargo, were shared with the FBI last year.
BuzzFeed News has also learned that financial dealings by Torshin, Erickson, and Butina were shared with special counsel Robert Mueller's team and the Senate Intelligence Committee, both of which are investigating Russian interference in the 2016 presidential election. It is not clear whether Mueller's team is involved with the Butina case, which was brought by prosecutors in the national security division.
Democrats on the Senate Finance Committee have also requested access to the records of suspicious financial activity by Torshin, Erickson, and Butina.
CORRECTION
Alfa Bank is not under sanction by the United States. An earlier version of this post said it was.