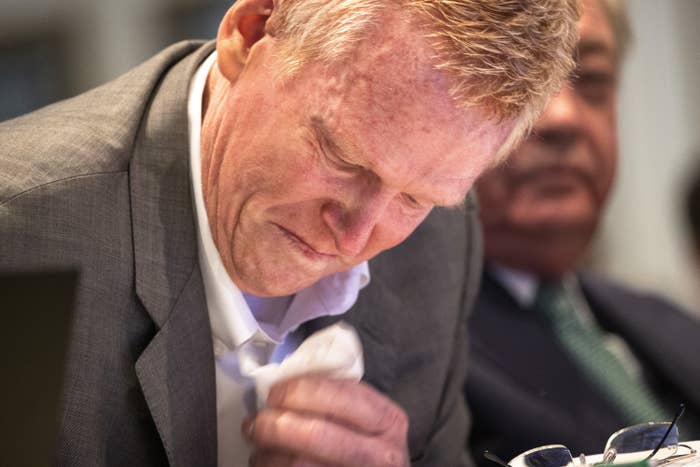 On the night his wife and son were shot dead, Alex Murdaugh told the first officer who arrived at the grisly scene that he had last seen the pair alive about 90 minutes before stumbling upon their bodies.
Three hours later, sitting in a car with investigators on the grounds of the Murdaughs' rural South Carolina hunting lodge, he repeated that same story. Alex told them how he'd been napping alone after dinner on the night of June 7, 2021, and when he awoke he was alone. He said he tried unsuccessfully to call his wife to tell her he'd be driving to his mother's house, and when he finally returned home, he found his family dead.
Three days later, on June 10, 2021, Alex again repeated this story to investigators. Paul and Maggie had gone down to the dog kennels on the property, he said, while he stayed in the house to watch TV, fiddle on his phone, and take a brief nap. He also said he hadn't seen either of them immediately prior to leaving to see his mother.
But at his murder trial at the Colleton County Courthouse on Wednesday, after days of buildup, prosecutors finally unveiled for the jury a crucial piece of evidence they had unearthed: a video that they say showed Alex's story was not true.
The 50-second video — filmed by Alex's slain 22-year-old son Paul approximately five minutes before prosecutors contend he was hit twice with a shotgun — was recorded for his friend Rogan Gibson at the kennels at around 8:45 p.m. that night.
In the minutes prior, Paul had called Gibson to share his concern for Gibson's dog Cash, who was staying temporarily in the Murdaugh kennels. When the weak cell signal in the rural area couldn't support a proper FaceTime call in order for Paul to show Gibson the dog's tail, he was instead planning to send a video — footage that was played in court on Wednesday.
But it's what the jury could hear in the video that will be critical in the trial: the voices of Paul, Maggie, and — prosecutors say — Alex.
"You hear three different voices in the video," Lt. Britt Dove, a cellphone forensics expert with the South Carolina Law Enforcement Division (SLED) testified. "Because they're so different, you can tell that they're different voices."
The video, which was played in court multiple times on Wednesday, showed Paul repeatedly trying to corral the chocolate Labrador retriever. "Quit, Cash. Come here," he says in the video.
"He's got a bird in his mouth!" Maggie can be heard saying loudly in the background.
"Bubba!" says a third male voice, using the name of one of the other Murdaugh dogs.
"It's a guinea," Maggie says.
"It's a chicken," Paul replies, as he returns his attention to Cash.
"Come here, Bubba!" the male voice says. "Come here, Bubba!"
Seconds later, the video ends. Prosecutors have alleged that Maggie and Paul were shot dead shortly after.
As the video played for the jury, Alex sat at the defendant's table with his head hanging low as the voices of his dead wife and son sounded in the courtroom. Appearing to sob, he soon picked up a tissue and wiped his face.
Testifying in court on Wednesday, Gibson told the jury how he'd known the Murdaughs since he was a child who lived next door to them. A close friend of Paul and older brother Buster, Gibson said he considered the Murdaughs his second family.
When Paul first called that night, Gibson said he could hear other voices in the background. "I heard Ms. Maggie…and I thought it was Mr. Alex that I heard," Gibson said.
When Gibson first spoke with investigators the day after the killings, he told them of the phone call and how he had been "99% sure" he'd heard Alex in the background.
But Gibson never received the Snapchat video Paul had recorded as it failed to send. Prosecutors were only able to retrieve it months later when they finally had technical experts crack Paul's iPhone passcode and analyze the cellphone.
When Gibson finally saw the last video his late friend had ever recorded, he said he instantly recognized all the vices with 100% certainty.
"Did you recognize the voices of your second family?" prosecutor Creighton Waters asked.
"I did," Gibson responded.
"And what voices did you hear?" Waters asked.
"Paul's, Miss Maggie's, and Mr. Alex," Gibson replied.
"And how sure are you now?" Waters asked.
"Positive," Gibson said.
Another close friend of Paul's who testified on Wednesday, Will Loving, said that he recognized with full certainty Alex's voice in the background of the video when he was finally shown it by investigators.
Buster, the surviving Murdaugh son, sat in court on Wednesday, leaning forward as he listened to his two friends say they could hear his father at the scene of the eventual murders of his brother and mother.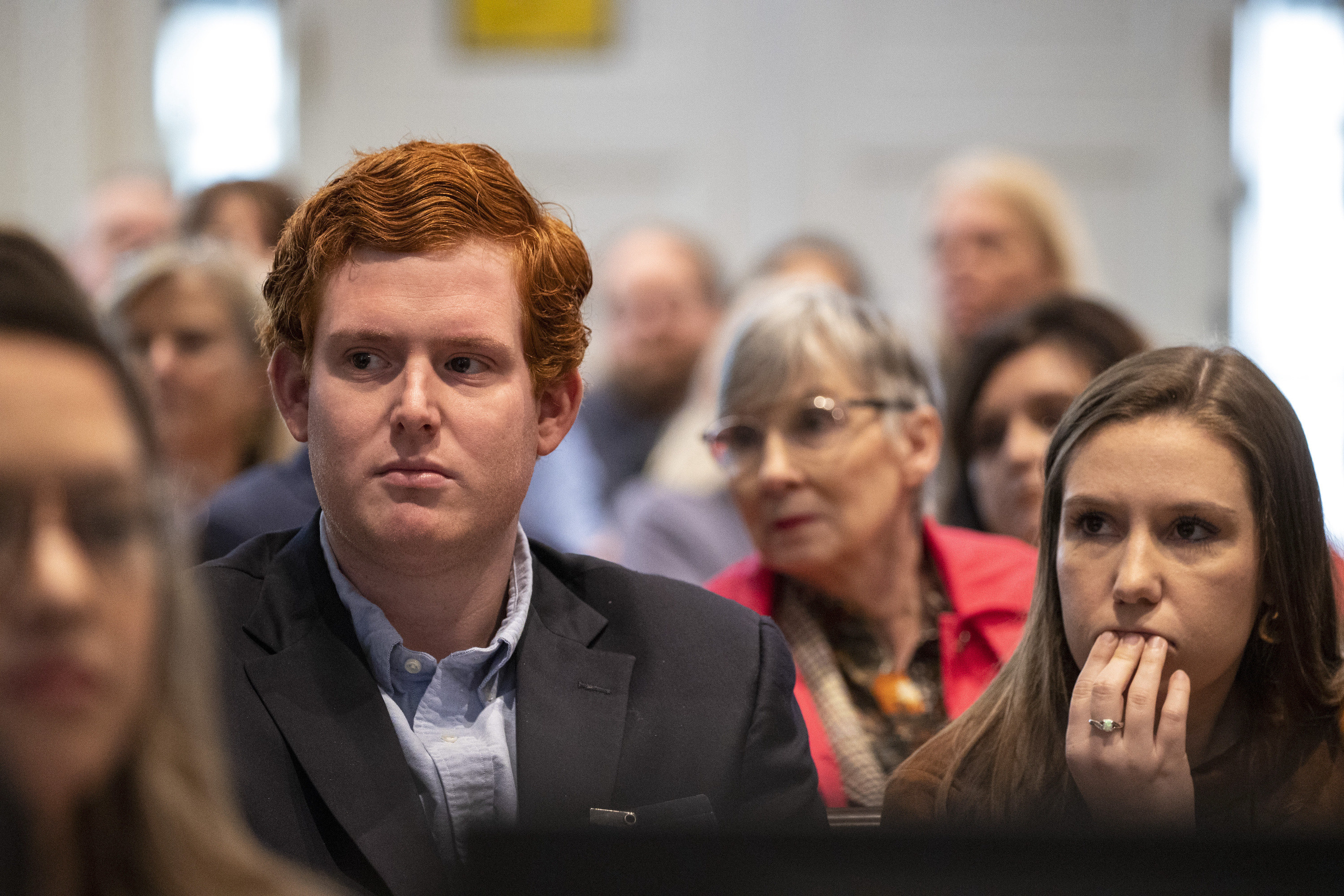 The testimony about the video came after almost a full day of evidence from Dove, the SLED lieutenant, about the extensive data that was recovered from the cellphones of Paul, Maggie, and Alex. The information included calls and texts, as well as the timing of the communications and whether they were ever opened or answered.
But it also included deeper technical evidence about whether the phones recorded any steps taken by a person holding it, whether their cameras were activated intentionally by people using apps or trying to unlock the phone, and whether the orientation changed from portrait to landscape.
The evidence showed Paul read a final text on his phone at 8:48:59 from a woman friend about what movies she should watch that night. A text received from Gibson 36 seconds later was never read.
Data from Maggie's phone showed she last read a text less than 30 seconds later. But data also showed about five minutes later that her phone's camera had been activated for a single second, which Dove said can happen when an iPhone tries to detect a face from someone trying to unlock it. The device did not unlock, but it subsequently recorded steps and orientation changes.
Maggie's text messages showed she'd been communicating with family members and friends earlier in the day about the health of Alex's father, who was critically ill in a hospital. That night, instead of returning to the family's beach house where she usually preferred to stay, she returned to the rural hunting lodge. "Alex wants me to come home," she texted a loved one that afternoon.
Data from Alex's phone showed it was inactive and not moving between about 8.10 p.m. and 9:02 p.m. He subsequently tried to call his wife unsuccessfully, then texted her to tell her he was going to his mother's place.
His defense team seized upon some of the data to suggest that Alex and Maggie's phones were not together when hers changed orientation for a final time as the two devices were not simultaneously recording steps.
Data showed Maggie's phone recorded a final orientation change at almost the same time Alex tried to call her around 9:06 p.m., when he was also starting his own vehicle to drive to his mother's.
Defense attorney Phillip Barber suggested to Dove that this indicated someone had thrown the phone out a car window in surprise, but the SLED agent said he couldn't testify at what angle the phone might have been tossed or landed. Maggie's phone was found the following day a half-mile from the property.
Dove also testified that when he reviewed Alex's phone he found that much of the call log from the night of the killings had been manually deleted.
At the end of Wednesday's case, prosecutors also opened the door to evidence they hope to introduce about the troubled finances of Alex, who has since been charged with dozens of crimes for allegedly stealing funds from clients and the law firm where he worked as an attorney.
Waters asked Loving whether he knew about Alex's finances, the debt he was carrying, or the risk of civil discovery Alex was facing in connection with a lawsuit that had been filed against the family in connection with a fatal boat crash for which Paul had been charged with manslaughter. Loving testified he did not.
Waters then asked whether Loving was aware that on the morning of the killings, Alex had been confronted by law firm staff about $792,000 in missing funds. After the judge overruled the defense team's objection, Loving said he was not aware.
The judge is expected to make a ruling on Thursday about whether Alex's alleged financial thefts can be admitted in court.
Prosecutors have said this is key to his alleged motive for murder, contending he killed his wife and son to distract from his financial misdeeds and gain sympathy.
To try to divert attention to other suspects, they allege he immediately began pointing to Paul's boat crash as a possible motive for someone to seek revenge against the family, telling the 911 operator, first responders, and investigators about the threats he said Paul had received.
But testifying Wednesday, Gibson said he never had the sense from his friend Paul that there were any serious threats against his life. "He mentioned that people would comment about it, but nothing that I thought was real serious," Gibson said.
Gibson also told the court it was tough for him to be taking the stand to give evidence against Alex.
"We had a good relationship," Gibson said. "He treated me like one of his own."