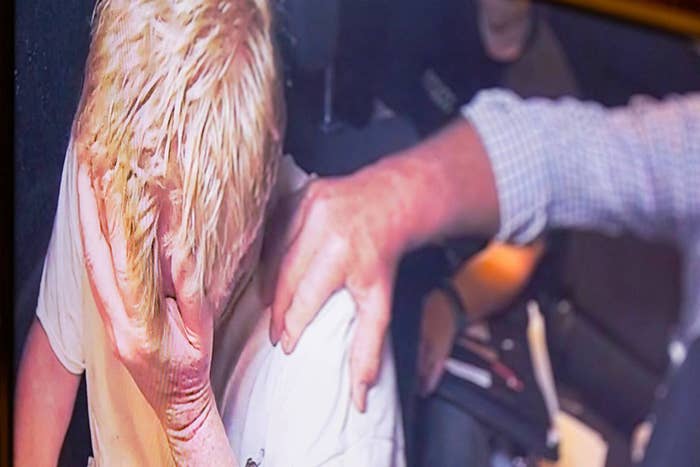 Roughly three hours after he claimed to have first come across the bodies of his slain wife and son at their rural South Carolina hunting lodge on June 7, 2021, Alex Murdaugh gave his first interview with investigators.
Sitting inside a vehicle parked on the property just before 1 a.m. and joined by his lawyer, Murdaugh spoke with Colleton County Sheriff's Detective Laura Rutland and a state agent. He told them how he'd found his family shot dead near dog kennels on the property after returning from a visit to his mother.
"I knew something was bad. I ran out and then it was really bad," he told the authorities in the interview, a video recording of which was played Friday in court at his closely watched murder trial.
Both Maggie and Paul Murdaugh were laying in pools of blood and brain matter, having been shot in the head. Distraught, Alex described seeing his son's brain exposed from the gunshot wound.
"I think I tried to turn Paul over first. I tried to turn him over," Alex said, describing how his son's cellphone had fallen out of his pockets when he did so.
"I touched them both. I tried to do it as limited as possible, but I tried to take their pulse, both of them," Alex said.
Testifying in court on Friday, Rutland said that while she was sitting in the car with Alex she made a mental note: "That he was clean," she told the jury.
Reenacting the physical effort Alex would have needed to exert to move his son's body in order to check his pulse, prosecutor John Meadors asked Rutland if she observed any blood at all on Alex's hands, arms, shirt, shorts, or shoes. Rutland said she did not. "They were clean," Rutland testified.
"Is the individual you describe as clean from head to toe in this courtroom?" Meadors asked.
"Yes, he is," she responded, pointing to Alex.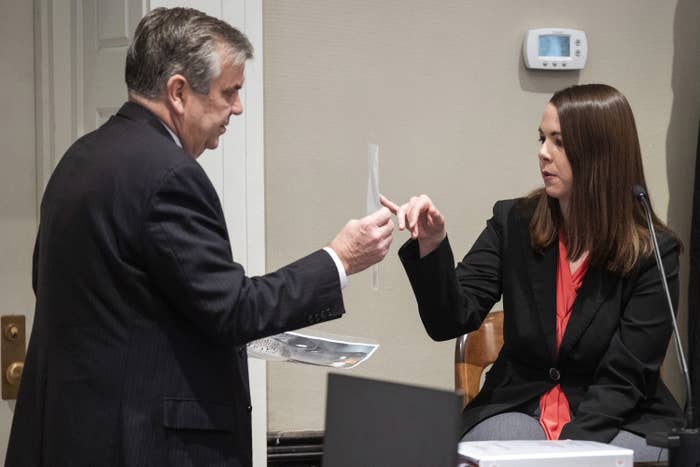 South Carolina officials say Alex, 54, shot his wife and son in a bid to gain sympathy and divert attention away from his alleged financial crimes that were close to being exposed. Maggie, 52, had been shot several times with a rifle, while 22-year-old Paul had been shot twice with a shotgun. Prosecutors allege Alex drove to his mother's house after killing the pair in order to create an alibi, then pretended to stumble upon their bodies when he returned home.
In court on Friday, the defense team sought to turn the lack of blood on Alex into an exculpatory piece of evidence for their client, given the extensive blood spatter inside the large kennel structure where Paul had been shot.
"To your visual eye, [Alex] did not look like he had just blown his son's head off in the confines of a feed room where splatter is everywhere?" defense attorney Jim Griffin asked Rutland.
The detective responded that that would depend on a multitude of factors, including the distance from which the fatal shot was fired.
But prosecutors even speculated whether Alex may have changed his clothes.
"Did those clothes appear to be fresh? Like they'd just come out of the laundry?" Meadors asked Rutland, who agreed they could have been washed.
"He's sweating and they are dry, so I would say yes," Rutland said.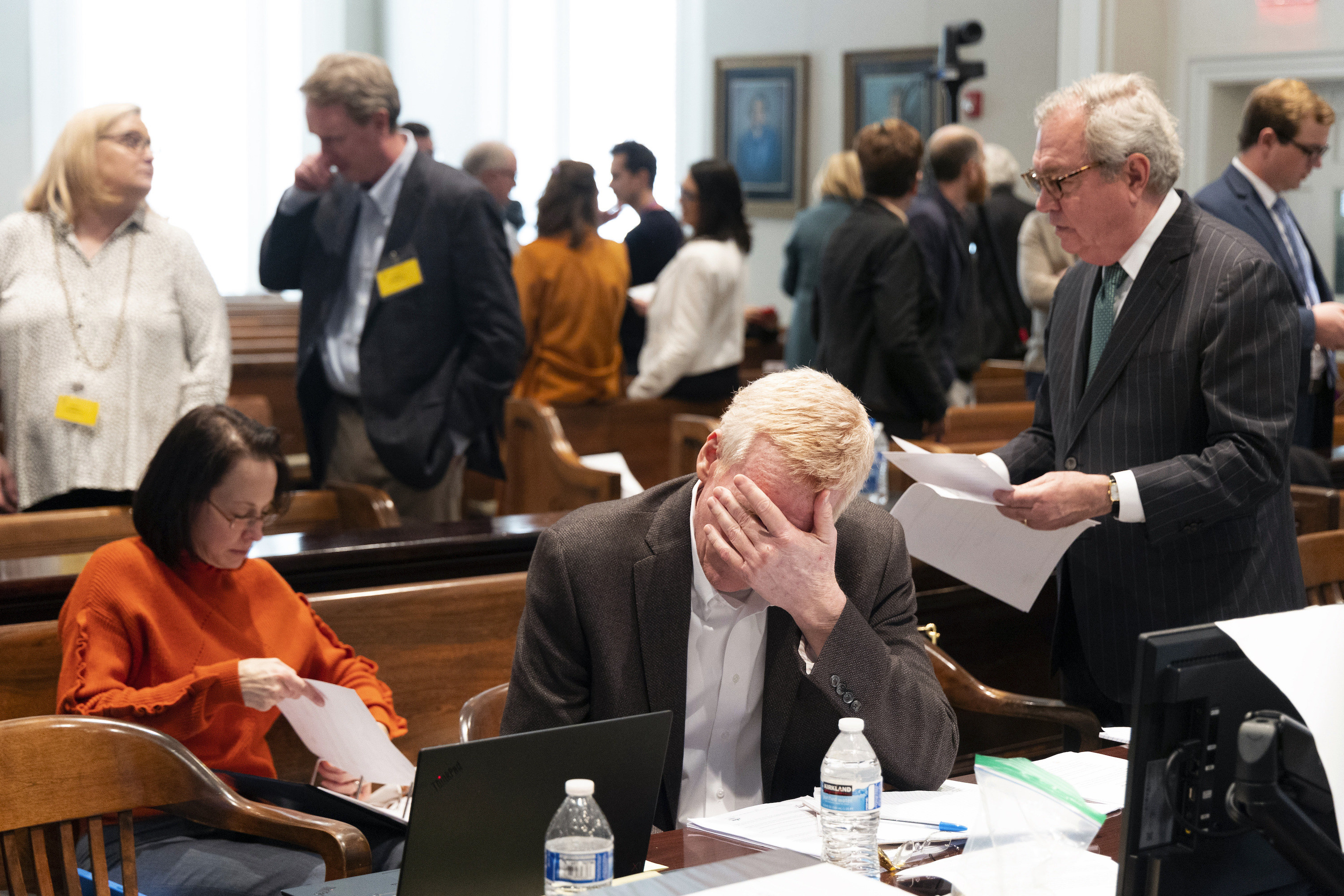 Speaking with investigators that night in the car, Alex said he had not communicated with his wife for almost an hour before he left to see his mother. He said he'd been napping on the couch after dining with his family, before trying unsuccessfully to call his wife to tell her he would drive to his mother's. Alex had made the same claim to the first sheriff's deputy who arrived on the scene after he called 911.
But in their opening statement on Wednesday, prosecutors said they had video evidence that this was not true. Maggie and Alex could both be heard in a video that Paul had sent to a friend from the kennels just a few minutes before his phone was locked for the final time, according to lead prosecutor Creighton Waters.
Testifying on Friday, Rutland also said she found it unusual that Alex would visit his mother, who had Alzheimer's disease, after 9 p.m., believing her symptoms would likely be worse if she were tired at the late hour.
But Griffin, the defense attorney, noted that Alex's father had been taken to a Savannah hospital earlier that day and was seriously ill.
"In that context, you don't criticize a son who goes to visit his mother who has early-onset dementia on the very day... the father is admitted to the hospital," Griffin said. "You're not here to criticize him for that, are you?"
"No, I didn't criticize," Rutland replied. "I just made a mental note that was interesting."
As he spoke with investigators that night in the car, Alex told them he had a "wonderful" relationship with his wife and son. He also said he'd been immensely proud of Paul for how the young man had handled "the pressure and adversities" that came as a result of a fatal boat crash for which he had been charged with involuntary manslaughter.
Just as he had done with the 911 operator and the first deputy at the scene, Alex again told the investigators in the car that the boat crash was "the only thing" that came to his mind as a possible motive. (Prosecutors have said these early mentions of the boat crash were attempts by Alex to divert attention away from himself.)
Paul had been getting threats and was physically attacked following the death of 19-year-old Mallory Beach in 2019, Alex said. "He gets them all the time," Alex said of the threats. "He gets them all the time."
"He's been punched and hit and just attacked a lot," Alex added. "Nothing like this."