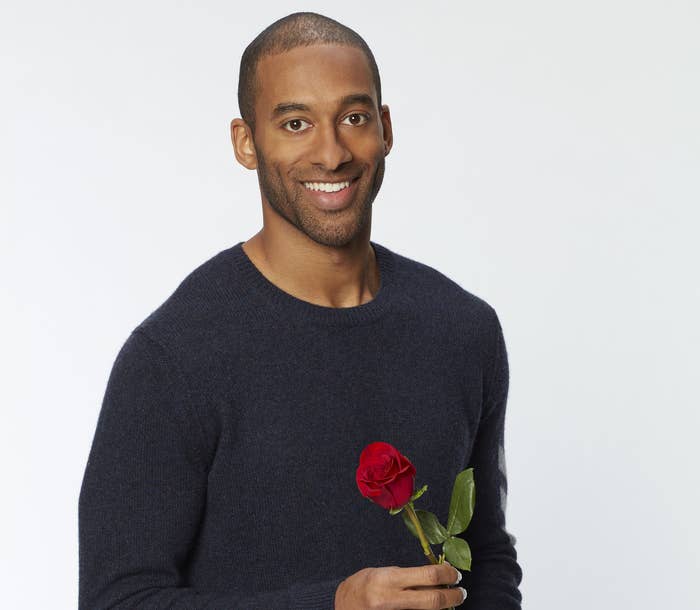 Matt James, a contestant on Clare Crawley's Bachelorette season, has been named the new Bachelor, the first time the long-running franchise has cast a Black man as its lead.
Crawley's season was postponed in March due to the coronavirus pandemic, before production could begin. ABC has said Crawley's season of Bachelorette will go ahead at a later time, though it's clear that James bowed out of the contest for Crawley's heart.
ABC Entertainment President Karey Burke said in a statement that James had been on their radar since February when they invited him to join Crawley's season. James is friends with Tyler Cameron, a contestant on Bachelorette Hannah Brown's season.

"When filming couldn't move forward as planned, we were given the benefit of time to get to know Matt and all agreed he would make a perfect Bachelor," Burke said.
She also acknowledged the show's longstanding failures to diversify.
"We know we have a responsibility to make sure the love stories we're seeing onscreen are representative of the world we live in, and we are proudly in service to our audience," Burke said. "This is just the beginning, and we will continue to take action with regard to diversity issues on this franchise. We feel so privileged to have Matt as our first Black Bachelor and we cannot wait to embark on this journey with him."
The announcement comes amid a national reckoning over race. The outrage over George Floyd's killing in Minneapolis police custody, which sparked weeks of heated protests, has bled over into scrutiny against white power structures upheld by private companies, in public squares, and in pop culture.

The Bachelor franchise has faced years of criticism over the whiteness of its contestants and leads. Some fans had hoped that Rachel Lindsay's casting as Bachelorette in 2017 — the franchise's first-ever Black lead since it debuted in 2002 — signaled that the producers were finally ready to address the show's long-standing refusal to pick a lead of color.
But she remained the only Black lead for years. In 2019, fans were livid after the show passed over the widely beloved Mike Johnson for Bachelor for another white man. Lindsay herself expressed disappointment at the time.

Last week, Lindsay called out the franchise in a statement on her website, saying that she had hoped accepting the Bachelorette role in 2017 would lead to the show becoming more diverse.
"Well, I am sad to say that after almost four years in this franchise, we still don't have the diversity that this show needs, and that our audience deserves," she wrote. "The sad reality is that people of color become placeholders as the token person of color to add some flavor to the second half of the season."
ABC has long ignored the criticism, but the show has found it harder to turn a blind eye now, given the recent protests and turmoil within companies now forced to confront their treatment of Black employees.

James' new season of the Bachelor is scheduled to air in 2021.