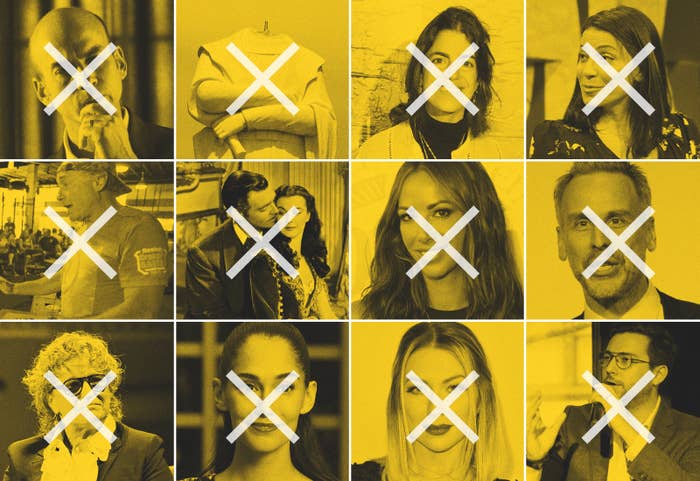 Heads are rolling, quite literally. Brass bodies are being dragged through the streets and dumped into the ocean; meanwhile, many of their real-life counterparts have been demoted from their treasured places atop of mastheads, fashion companies, and Bravo reality TV shows.
We are in the midst of a great racial reckoning.
The past week alone has seen a dizzying number of high-profile white people in positions of power resign or be fired. On Sunday, June 7, New York Times editorial page editor James Bennet, who oversaw the paper's Opinion section, announced his resignation after signing off on an op-ed written by Sen. Tom Cotton, which called for the military to be dispatched to forcefully suppress protests against racism and police brutality across the country and which Bennet has since admitted to not having read before it was published.
Monday night, Bon Appétit editor-in-chief Adam Rapoport announced his resignation after food writer Tammie Teclemariam tweeted a 2013 photo of him evincing Puerto Rican stereotypes. Condé Nast Entertainment vice president Matt Duckor, who oversaw video for Bon Appétit and other lifestyle brands, has now followed him out the door. A damning Business Insider report on how Bon Appétit has treated its few nonwhite employees prompted a public apology posted to the magazine's website on Wednesday. On Tuesday, CrossFit CEO Greg Glassman resigned, after audio leaked of him telling employees on a private Zoom call that he didn't think George Floyd was worth mourning for, in addition to perpetuating other conspiracy theories about Floyd's death. (And after he tweeted in response to a public health organization's tweet that racism was a public health matter: "It's FLOYD-19.")
The editors of Variety, Refinery29, and Man Repeller have also stepped down for reasons relating to lack of diversity at their publications and toxic racist behavior toward their employees. The founder of the "sustainable" fashion company Reformation issued an apology for being racist. Audrey Gelman, the founder of the women's working space The Wing, announced that she would be stepping down. Bravo fired two stars of Vanderpump Rules for calling the police on a Black coworker for no reason and two new cast members for recently surfaced racist tweets.
Across the country, cities previously hostile to taking down Confederate statues are considering passing resolutions to do so. Authors have been revealing what they got paid for their book deals, highlighting the disparities between the amounts Black authors received and what was given to their non-Black counterparts. Cops (cops!) and Live PD have been canceled, while HBO Max announced that it would be temporarily pulling Gone With the Wind from its streaming services while it prepared a note with additional context about the film's white supremacist roots.
And my own employer, along with tech companies Twitter and Square, just announced that Juneteenth is going to be an official company holiday for the first time.
What to make of all of this? As Lauren Michele Jackson put it, "Race is happening" — and the speed with which this racial reckoning is bringing about visible changes across a wide spectrum of industries and organizations, after so many years of stubborn inaction, is almost disorienting. This moment has echoes of those first heady days of the #MeToo movement, back in 2017, when it seemed as if every week news of a high-profile man who had allegedly sexually harassed or assaulted someone was coming to light, and occasionally forcing resignations and even criminal charges. Those weeks felt oddly giddy with the exhilaration and naive hope that maybe, finally (finally!) justice was being meted out to longtime abusers of power.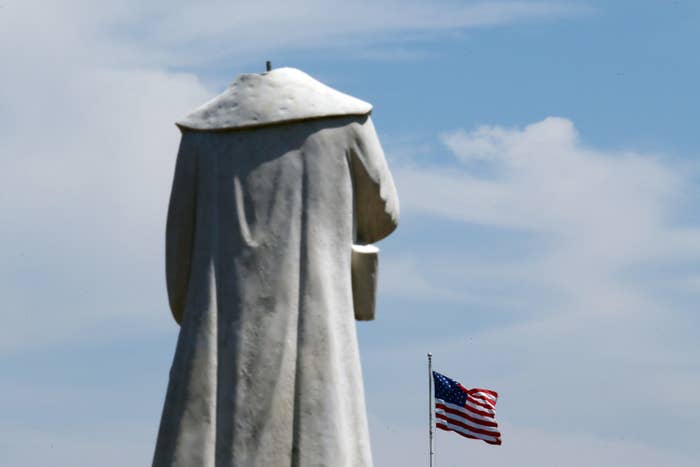 Credit for what has happened in the past week goes first and foremost to the organizers of the sprawling, decentralized protest movement. It is abundantly clear that these protests have yielded concrete results and changed public opinion. But it is hard, as a Black person and a journalist, not to be deeply, deeply skeptical of these recent mea culpas from powerful people, and to question if the resignations will enact any meaningful change. Already, I'm wondering who will actually do the hard work of revamping these companies. To quote another skeptic: "all the horrible white women [and men] stepping down from their horrible companies so they don't have to responsible for the anti-racist overhaul and they can go on being rich and rely on the networks they already had ... boring!"
The Black Lives Matter movement has always been holistic. Early on, as Keeanga Yamahtta-Taylor writes in her 2016 book From #BlackLivesMatter to Black Liberation, organizers of the movement recognized that they could not just be advocating for the end of police brutality — that the ailments plaguing Black life in the US are much more varied and must be toppled systematically. Hence their focus on initiatives like the fight for increasing minimum wage.
But already the changes that this later iteration of Black Lives Matter have been advocating for have become obscured. The emphasis on the systemic nature of racism has inadvertently fostered a lot of navel-gazing quasi confession and fixation on how racism expresses itself in white-collar workspaces that are already wildly inequitable for a whole host of reasons. The vigor of the first two weeks of riots and protests (still ongoing), as the writer Tobi Haslett noted, has been overshadowed by people in their hermetically sealed white-collar jobs railing about racism in their workplaces.
This is not to say that the racism shouldn't be railed against. It's a reckoning that's long overdue. But we have been here before. There have been discussions — countless discussions — about the predominance of whiteness in book publishing, in the corporate world, in film and TV for literal decades. As the writer Kaitlyn Greenidge pointed out in her recent review of Raven Leilani's forthcoming novel Luster, the publishing industry has sporadic love affairs with Black authors before forgetting all about them, usually when there's an economic downturn.
The Cooperative Children's Book Center has been tracking the diversity of the publishing industry since 1984 and the number of Black authors publishing children's books is still so low. The #OscarsSoWhite campaign, which started in 2015, got a lot of steam and press coverage, but only one nonwhite person, Cynthia Erivo, was nominated in an acting category at the 2020 Academy Awards. Each time corporate leadership, middle management, and the heads of power offer the same refrain: an all right, we'll do better that results in temporary change before a return back to stasis.
But there is also danger in suggesting — as many of these conversations around racism in the workplace have — that putting a few more "black faces in high places" and paying them handsomely for it is a panacea to the all-consuming perniciousness of white supremacy. As my colleague Shannon Keating notes, there is the substantial risk that these acts amount to hollow gestures: a few token hires who are placed into the same system, forced to do all the hard work of undoing years of systemic harm, and eventually burn out and leave the industry altogether, thoroughly disillusioned.
Already we are seeing the cracks in these companies' largesse. Amazon just announced that it is banning police use of its facial recognition technology for exactly one year. (Will racism be over by then? And how about giving their employees working through the pandemic hazard pay?) Starbucks recently declared that Black lives matter, but won't even let its employees wear any paraphernalia displaying this fact.
What about a justice that is more radical, more forward-looking, one that does not perpetuate existing power structures with a slightly browner tinge?
There's a conversation happening in the poetry community that offers hints of what this upending could look like. The Poetry Foundation, the most well-funded organization solely devoted to poetry, was recently called out by a group of more than 1,000 poets for its weak statement of support for the Black Lives Matter movement. "For years, your constituents have been calling on the Foundation to redistribute more of its enormous resources to marginalized artists, to make concrete commitments to and change-making efforts in your local community and beyond," they wrote in an open letter. "We find this statement to be worse than the bare minimum."

A number of those poets were recipients of a Ruth Lilly Fellowship, which gives out $28,000 grants, a life-changing amount of money in a low-paying field. These fellows include some well-known contemporary writers like Danez Smith, Franny Choi, José Olivarez, and Justin Phillip Reed. Many of these poets know each other and are part of a broader community of critically acclaimed, racially diverse, social media–savvy poets, some of whom emerged from the spoken word scene. In their letter, they called on the president of the foundation to resign and for the organization to direct more of its endowment toward anti-racist efforts in Chicago, the city where it's based.
What about a justice that is more radical, more forward-looking, one that does not perpetuate existing power structures with a slightly browner tinge?

But one former Ruth Lilly fellow, poet Phillip B. Williams, did not sign this letter. Instead he wrote an open letter of his own: "For years white writers had been getting away with giving each other prizes or having someone in power bestow their entire cohort with grant after prize after fellowship," he writes. "Hardly anyone made a sound. So, why not allow for writers once left out of this patronage to for once be included? Weren't we just as talented? But the problem lies in the desire to replicate or at least the unwillingness to stop said replication of divisive and intrinsically anti-Black-queer-POC practice of pretending entitlement is reparations and that our hoarding power and resources is the same as power being given to all."
Pretending entitlement is reparations. And that our hoarding power and resources is the same as power being given to all. Such damning phrases. So much of the corporate rhetoric around "diversity and inclusion," yet another phrase that has become bleached of all meaning, just replicates existing power structures — structures that contribute to a scarcity model of value, that suggest that people's worth is tied to arbitrary numbers.
Some people in media have been tweeting their salaries in the interest of transparency, and the lucky few people of color who have been compensated handsomely declare they're worth every dollar. I want to cheer for them, but I also wonder, Shouldn't everyone be worth that amount? Why should a grocery store clerk or certified nursing assistant earn so much less than someone who writes or edits articles for a living?
Williams' letter made ripples across the poetry community. Danez Smith responded beautifully in turn on Twitter: "I'm walking, sitting, and listening these days. My city is getting rid of the police, we are rebuilding from the fires. My other city, the city of poetry, is in need some of rebuilding and reimagining too. I am listening, learning, and walking with you all. I love you. I'm ready."
In some ways, it feels fitting that the poetry community is already doing this work. Poetry is a genre that lends itself to ideas that seem intangible. There's so much about our current society that remains rooted in a limited understanding of where we can go from here, a paucity of imagination. So many people still can't conceive of literally defunding the police or of a society that isn't so fettered by capitalism. These past two weeks have prompted me to do my own reckoning in terms of my relation to power structures. The "plug in a few more Blacks" model yields limited results, as Obama's presidency, under which the Black Lives Matter movement emerged, showed us. The ideal result from this reckoning is one that imagines radically new futures, new models, new hope. That's the only way forward. ●