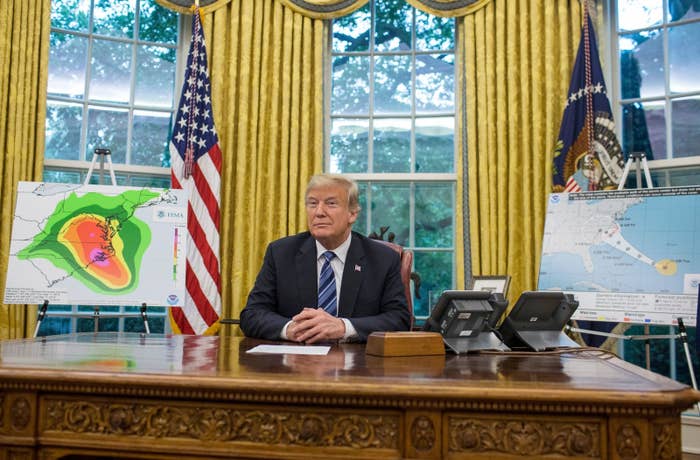 President Trump on Tuesday sought to assure the nation his administration is prepared for Hurricane Florence by pointing to the government's "incredibly successful" response in Puerto Rico, which was ravaged by Hurricane Maria last year.
The president has continued to defend the response in Puerto Rico, despite a recent study confirming that nearly 3,000 people had died in the months afterward as medical facilities were left in dire conditions and millions of the country's residents had to grapple without clean water, electricity, or cell reception. An internal FEMA report also acknowledged that the agency was woefully unprepared to deal with the Category 5 storm, as well as hurricanes Harvey and Irma.
On Tuesday, however, Trump offered a different outlook.
"I think [the response in] Puerto Rico was incredibly successful," he told reporters at the White House. "I actually think it was one of the best jobs that's ever been done with respect to what this is all about. Puerto Rico got hit not with one hurricane, but with two."
Critics, including Puerto Rican politicians, have consistently slammed the government's slow and disjointed response after hurricanes Irma and Maria decimated the region last September.
Carmen Yulín Cruz, the mayor of San Juan, Puerto Rico, again criticized the president on Twitter after his comments Tuesday, saying, "Unfortunately, it seems he will never get it."
Later on Tuesday, Puerto Rican Gov. Ricardo Rosselló also pushed back on Trump's rosy description of hurricane response efforts and the "successful" relationship between his government and federal agencies.
"No relationship between a colony and the federal government can ever be called 'successful' because Puerto Ricans lack certain inalienable rights enjoyed by our fellow Americans in the states," the governor said in a statement. "It is certainly not a successful relationship."
While he did not directly address Trump's characterization of how the government aided Puerto Rico — saying that "now is not the time to pass judgment" — he called the storms the "worst natural disaster in our modern history."
"Our basic infrastructure was devastated, thousands of our people lost their lives, and many others still struggle," Rosselló added. "There is work that needs to be finished before we can completely move on to a different stage in the recovery."
However, the governor had contended for months that his officials had adequately responded to and cared for its citizens in the wake of the catastrophic hurricane and that the situation was not as dire. Then, in May, Harvard published a damning study estimating that nearly 6,000 died after Maria.
In his statement, he noted that he is still waiting for Trump's response to a petition to extend full federal coverage to complete the "unfinished work" on creating emergency housing and removing debris, more than a year after the hurricanes struck.
Others were also a bit stunned and repeatedly pointed to the massive death toll, which had officially stood at 64 before the George Washington University published a study last month confirming that nearly 3,000 people died.
Hurricane Florence, which was a Category 4 storm on Tuesday, is expected to wallop the Carolinas this week with devastating flooding and storm surges.
Trump tweeted Wednesday morning that "we are ready for the big one that is coming," once again praising the government's response to last year's hurricanes, including the "unappreciated great job in Puerto Rico, even though an inaccessible island with very poor electricity and a totally incompetent Mayor of San Juan."
The president also released a video message on Twitter about the incoming storm, saying the government is prepared with food and medical supplies.
"But despite that, bad things can happen when you're talking about a storm this size," he said. "It's called mother nature, you never know. But we know."