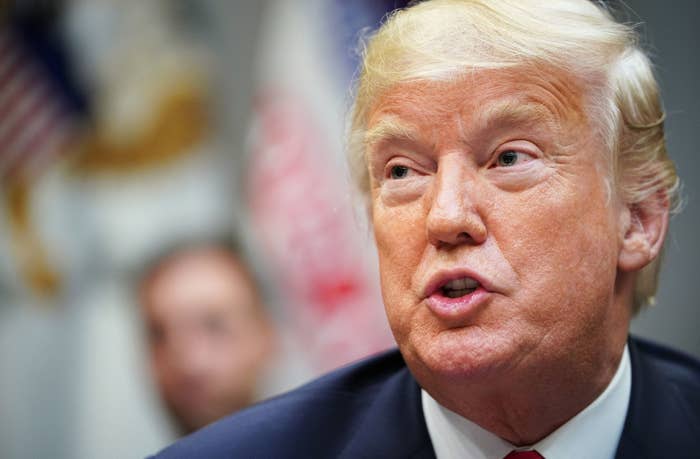 The day after Puerto Rican authorities acknowledged that 2,975 people died as a result of Hurricane Maria, President Donald Trump told reporters his administration "did a fantastic job" there after the storm.

"I think, Puerto Rico, we did a fantastic job in Puerto Rico. We are still helping in Puerto Rico. The governor is an excellent guy and he is very happy with the job we've done," Trump told reporters in the West Wing on Wednesday afternoon.

On Tuesday, a study commissioned by Puerto Rico's Gov. Ricardo Rosselló was published by George Washington University after months of criticism over the inaccuracy of the official death toll.
Researchers estimated that 2,975 people died from September to February during the hurricane and in the months after, according to the study, while medical facilities struggled and millions of people lived without clean water, electricity, and reliable cellphone connections.
In his comments Wednesday, Trump went on to say, falsely, that electricity on the island was "gone before the hurricane."
"We have put billions and billions of dollars into Puerto Rico. And it was a very tough one, don't forget, their electric plant was dead before the hurricane," he said. "If you look back on your records, you'll see that the plant was dead and was shut. It was bankrupt. It was out of business. They owed tremendous amounts of money, they had it closed up. And then when the hurricane came, people said, what are we going to do about electricity? That was not the hurricane, that was gone before the hurricane."
While it is true that PREPA, Puerto Rico's power company, was $9 billion in debt and the island's infrastructure was already fragile, Puerto Rico did have electricity before hurricanes Irma and Maria wiped out the island's power lines and shut down the system completely. Full power was just restored to the island earlier this month, 11 months after Maria.
Two weeks after the hurricane, Trump visited Puerto Rico and took a walking tour of a neighborhood in Guaynabo that suffered relatively minor damage compared to the rest of the island.
During his visit he said Hurricane Maria was not a "real catastrophe" like Hurricane Katrina, specifically referring to the official death toll, which at that point stood at 16 people.
"Sixteen people certified. Sixteen people versus in the thousands," Trump said at the time. "You can be very proud of all of your people, all of our people working together. Sixteen versus literally thousands of people. You can be very proud."
Puerto Rico's governor and local leaders, including San Juan Mayor Carmen Yulín Cruz, expressed frustration with the federal response from the US Army Corps and FEMA in the aftermath of the hurricane.
A Politico investigation found that Houston received more aid faster after Hurricane Harvey than Puerto Rico received following Hurricane Maria.

According to the report, nine days after Hurricane Harvey, FEMA had approved $141.8 million in individual assistance to Harvey victims, compared to $6.2 million for Maria victims in the same time frame. During those first nine days, FEMA provided 5.1 million meals, 4.5 million liters of water, and more than 20,000 tarps to Houston. They provided 1.6 million meals, 2.8 million liters of water, and around 5,000 tarps to Puerto Rico.
The GWU study published Tuesday also criticized the lack of federal standards for counting disaster-related deaths, which contributed to the confusion over how many people were dying because of storm-related conditions, something experts warned about in the weeks after the storm, when discrepancies in the death toll were first reported.