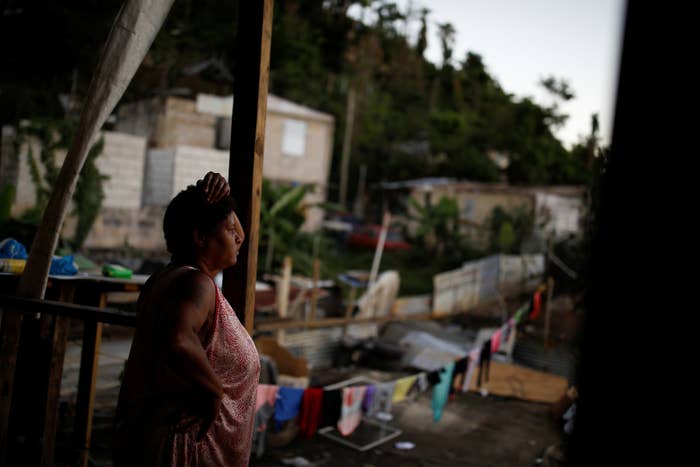 An internal assessment by the Federal Emergency Management Agency has found that the agency was woefully unprepared to deal with a set of storms of the size and strength of Hurricanes Harvey, Irma, and Maria, the last of which devastated Puerto Rico in 2017.
FEMA's own findings confirm what has been reported for nearly a year: that the government's handling of the catastrophe in Puerto Rico was dramatically inadequate. The report also cuts against President Donald Trump's glowing comments about how his administration handled the recovery — at one point he downplayed the severity of the storm's aftermath.
Advocacy group Democracy Forward filed a lawsuit last week for the report after the agency did not respond to their May FOIA request for its findings, and the document was released late Thursday night.
The study found severe personnel shortages, difficulties coordinating relief logistics, a lack of basic aid supplies, and a lack of local preparation, among other shortcomings.
Notably, for the first 72 hours after the storm hit Puerto Rico, FEMA "had little information about the status of infrastructure, including hospitals, roads and water facilities," according to the agency.
"Because FEMA and its partners lacked situational awareness early in the response, the Agency initially could not be certain that FEMA and interagency partner efforts were sufficient to stabilize the incident," it found.
For one week after the hurricane, FEMA did not have information about the status of 24 out of 52 wastewater treatment plants or 37 of 69 hospitals.
This was the same week in which there was a spike in the number of deaths per day, as BuzzFeed News has reported. Several people also died of leptospirosis, a waterborne disease, in the days following the hurricane, reports have found.
Despite efforts to provide relief and supplies to impacted areas in a timely way, the agency rapidly found itself overwhelmed by the storms, its internal assessment shows.
"In response to Hurricane Irma impacts, FEMA distributed more than 80 percent of its inventory for selected commodities from the Caribbean Distribution Center warehouse," it states. "Hurricane Maria struck before supplies were replenished."
It also took several days for food and fresh water to reach the island, and distribution, once the supplies arrived, was challenging with a lack of diesel, functional roads, and available drivers.

In response to the agency's findings, FEMA recommended that the local Puerto Rico government and authorities build "a culture of preparedness" by investing in more supplies and "more resilient infrastructure," such as electrical grids.

The internal assessment of FEMA's response to the storms stands in high contrast to President Trump's most recent comments on relief efforts, in which he praised his administration, saying it "leapt into action to coordinate the response."